Shaynna Blaze Judge from The Block tells Insider Style how to choose the perfect artwork for your home
I've always loved having art in my home. Art helps to create a home's soul and puts your personality into the house. And let's face it, bare walls can be quite boring! A lovely artwork visually helps to create a feeling of movement compared to everything else in the room that is static, adding instant colour and pizazz. From there you can add complimentary colours in things like the rugs, cushions and lamps creating a truly finished look. Here I've put together some tips to remember when choosing art for your house.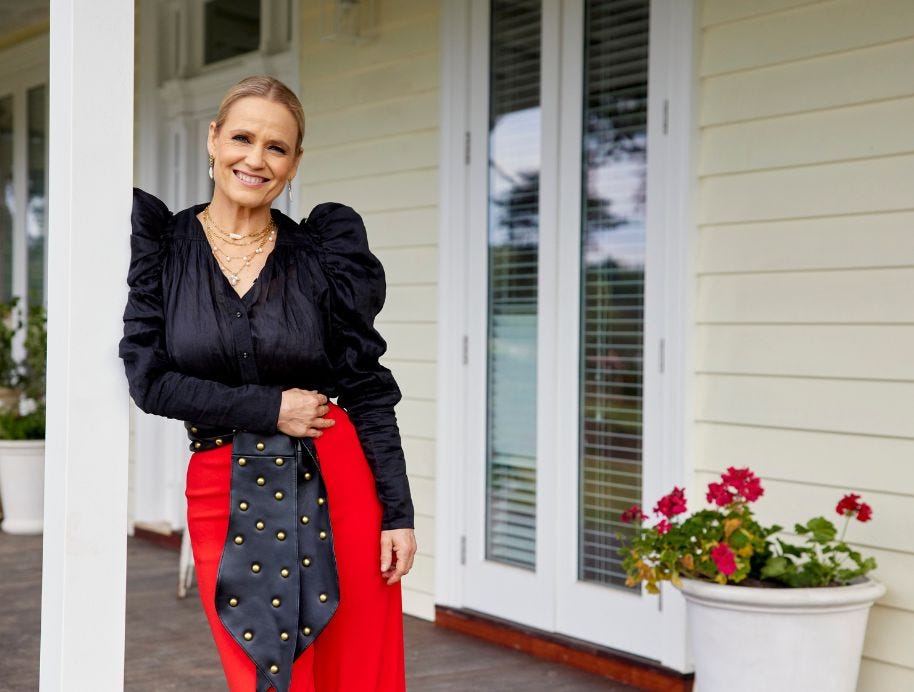 Shaynna pictured outside Scott Cam's house on The Block Treechange in 2022.
Shaynna Blaze's 6 tips on selecting the perfect artwork
1. Setting the tone
Before you select your art, decide whether you want your home to have a casual or formal vibe. Light and bright colours give off a casual feel, particularly on unframed canvas. Whereas a framed piece with images featuring distinct lines and structure in darker colours will create a formal tone.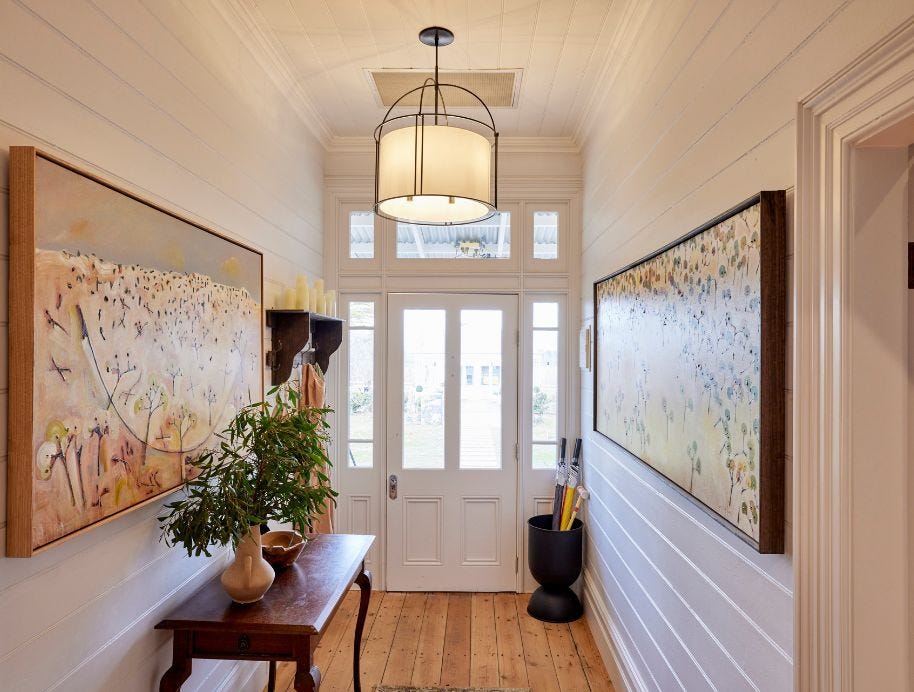 In a Block first Scott Cam had a house to build in 2022 and we have to say it the artwork in here, was incredible! Maybe he had a quiet word with good friend Shaynna?


2. Selecting the style of artwork
What you choose to put on your walls is a very personal choice, however, don't rush into it. Ask yourself what appeals about a piece – is it the colour, subject or something else? Don't just go on your gut instinct as an instant impulse buy can be a mistake. View it again in an hour's time or the next day. If you still love it, then get it because you've made a connection with it.
Shop different art styles HERE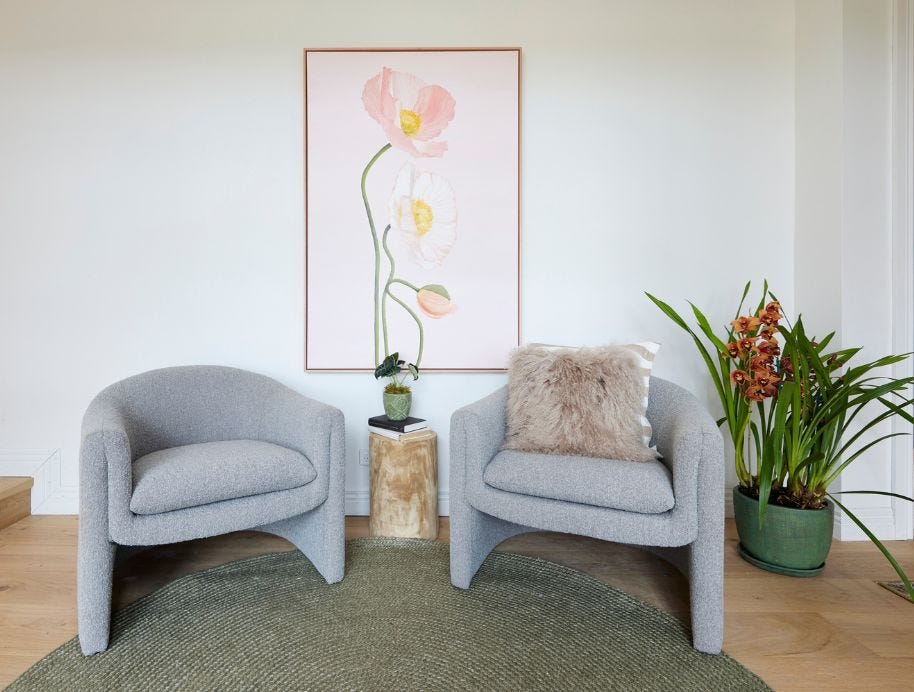 This beautiful artwork from Angie Summa titled 'Three is not a crowd' was a crowd favourite after appearing in Jenny and Dylan's winning hallway.
3. Choosing colours
The colour of an artwork can influence the look of the whole room. If you want the art to show off a main colour, then everything around it has to support it. For example, if the artwork's colour is warm, make sure the pieces around it are in cool colours because it will make it stand out more.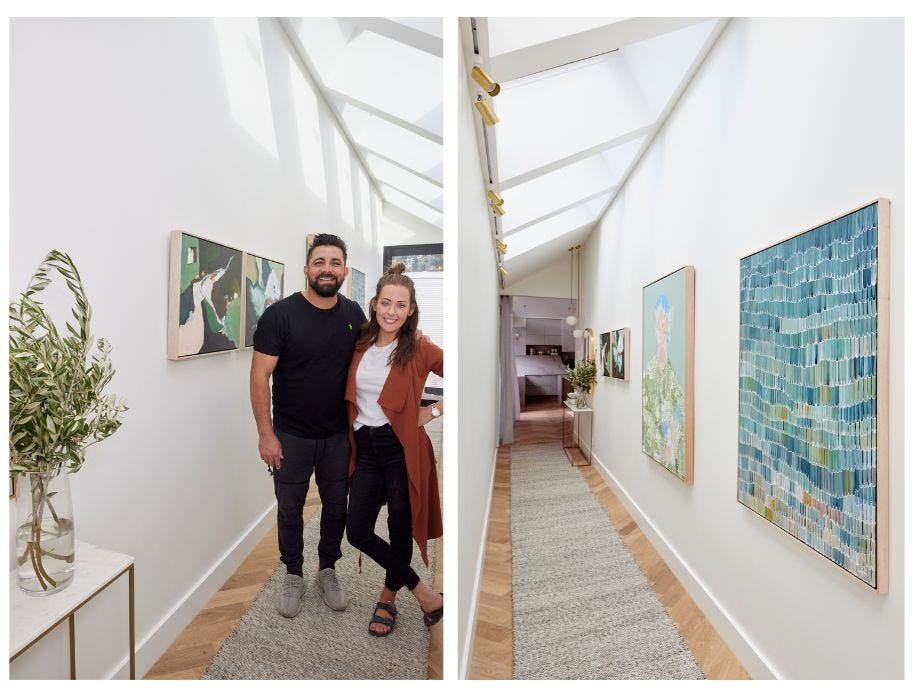 When I hear colour selection my mind immediately goes back to the magic which Ronnie and Georgia created in 2021 when we discovered Lizzy Stageman.

4. Picking the right frame
As a general rule black and white frames never go out of style and gold and silver are also stylish. While timber frames can work in a timber house, pay attention to your floors. A dark mahogany frame won't look great in a house with blonde timber floors.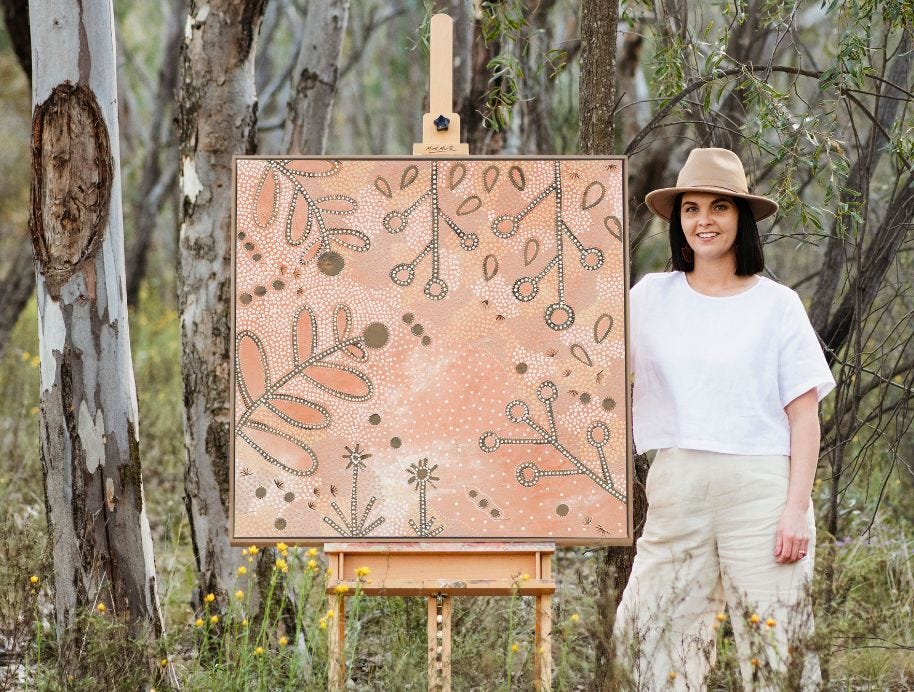 Amanda Hinkelmann became one of the most popular artists to come from The Block 2022, 'Bila'was featured in Omar and 0z's house, Amanda is pictured here with framed artwork 'Dharrabu'
5. Size of artwork versus the size of the room
Generally, if you have a small room, one big piece of art can make a room feel bigger. Lots of smaller pieces can make a small room feel cluttered. Also if you have furniture like an entertainment unit that is 1500mm wide, go for an artwork above it that is 1200mm so the pieces "frame" each other.
One of the most memorable artworks from The Oslo in 2019 'Jaanymili' by Miimi and Jiinda in Andy and Deb's living room.
6. Multiple artworks
If you're keen to have more than one piece of art in a room, there should be a "hero" and a secondary piece.
Selecting artwork can at times be a fun case of trial and error to see what fits. Sometimes, despite doing everything right, you still won't know if something will really work until the art is up in front of you. But remember if you change your mind, you can always take something down or move it to another room!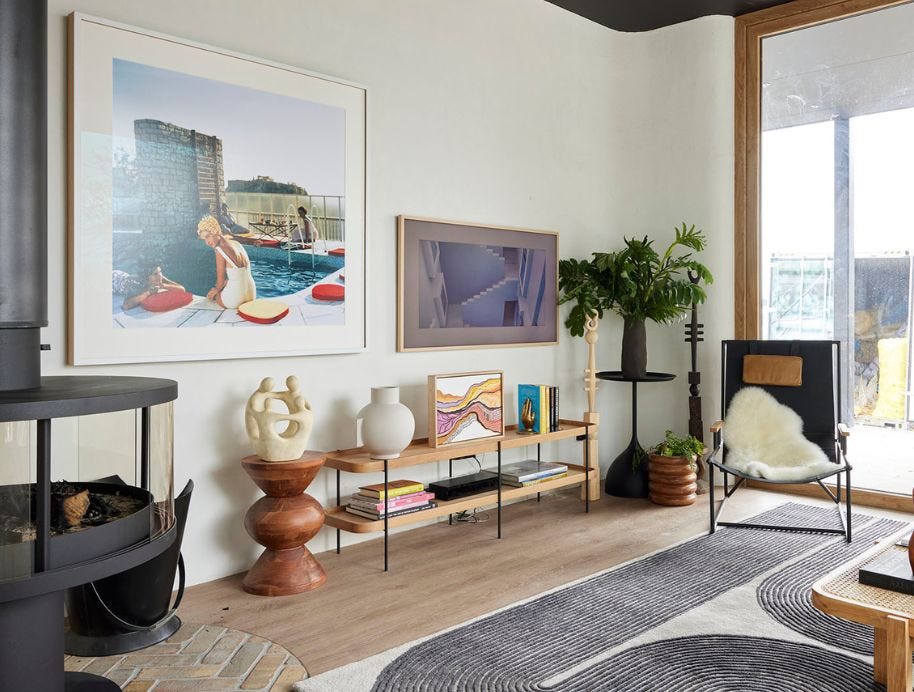 We weren't lying when we said Scott Cam nailed the artwork in 2022, but the pool cabanna, well that was pure magic, styled by our Block Shopper Sarah, she's the queen of maximilism.
Thanks again, Shaynna!

To find out more from Shaynna read HERE

Shop artworks HERE