Reports have surfaced online of another "Block Crisis"

Images surfaced online stating yet another "Block Crisis" for the 2022 Tree Change. Images show scaffolding on houses and muddy building sites, inferring The Block will struggle to be completed prior to auction day.
Rest assured, we have our The Block Shop Girls onsite that have confirmed the schedule is all going to plan. No doubt every year seems to attract this controversy but we have every faith that the contestants, cast and crew are working their backsides off to get these homes ready to go under the hammer.
With just weeks left for the build, anticipation for The Block 2022 Tree Change seems at an all time high this year, after all this season was always marketed as the biggest one yet!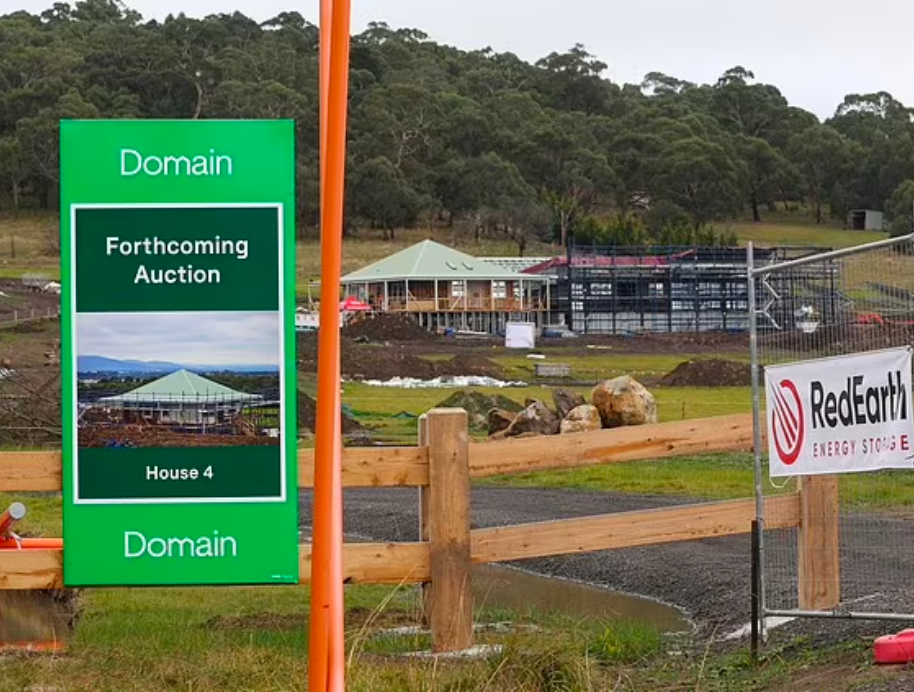 With just weeks left of the build, "Forthcoming Auction" signs have been erected on site by Domain.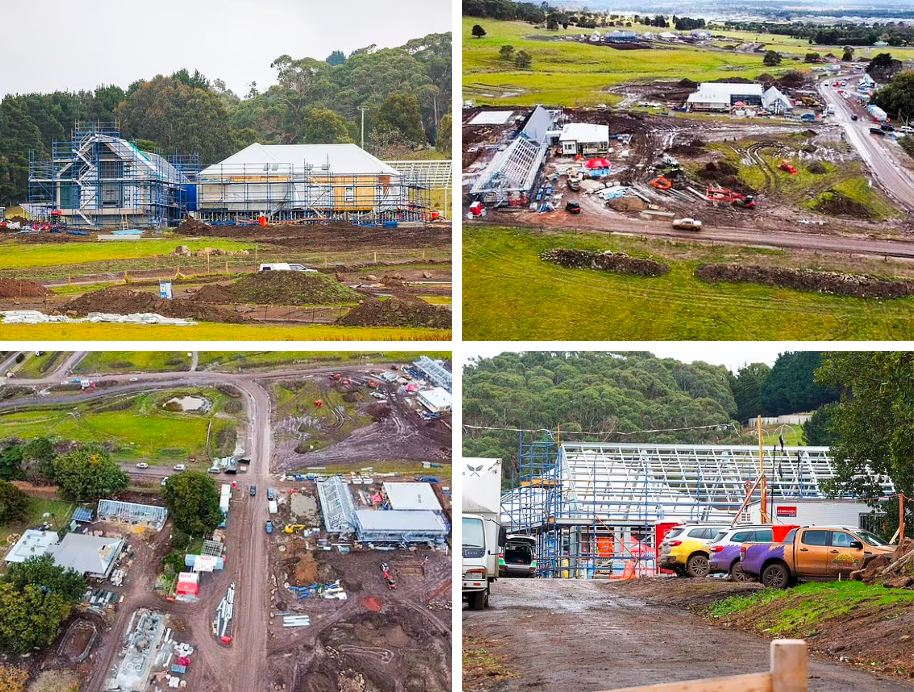 Images surfaced online of a very big, muddy, busy The Block site via @thedailymail.
Block producers have issued a desperate plea for tradies needed onsite in the
Macedon Ranges.
Nine in Six, the construction company behind The Block Tree Change in 2022, which is based in Gisborne, Victoria, "desperately needs help to complete the series," it posted on Instagram this week.
"We desperately need help completing the current series of The Block Tree Change. Carpenters, Cladding Crews, Skilled laborers, Trade Assistants," the company's official account wrote.
The Block executive producer Julian Cress also said building materials have been "incredibly hard to come by" for the worksite, blaming a "pandemic hangover" for the multiple issues plaguing the popular home renovation series.
He said it has been a "tough ride" for creators this year.
Skilled worker shortages from overseas due to closed borders since the onset of the Covid-19 pandemic has also crippled the industry, sending labour costs soaring.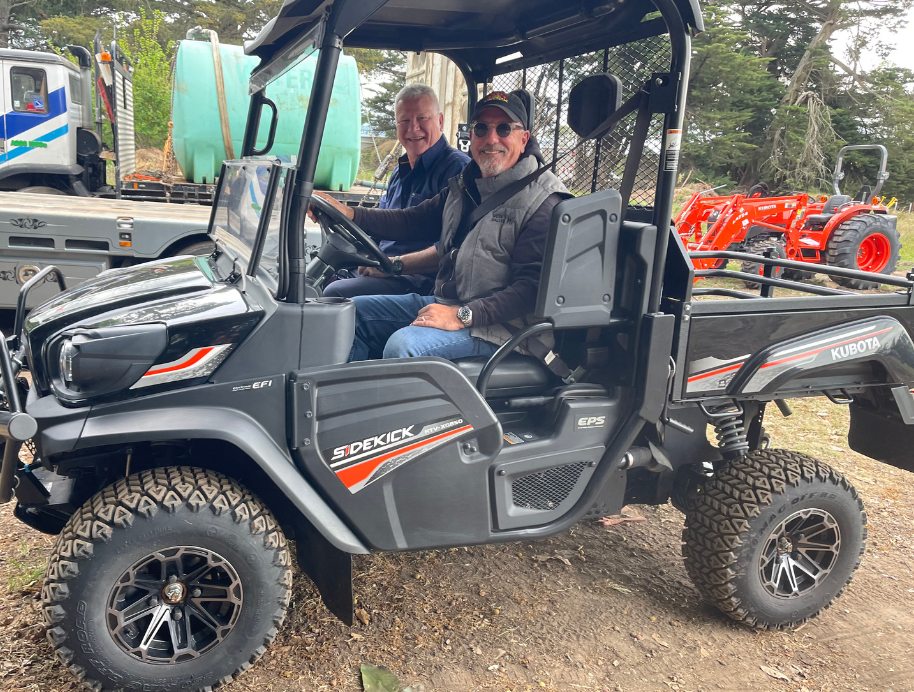 Executive producer of The Block, Julian Cress and host Scott Cam, who in a show first, will renovate his own house this season.
Executive producer Julian Cress spoke on Melbourne's 3AW Afternoons with Dee Dee yesterday, describing the situation as a "real challenge".
Asked what they're missing most – materials or tradies - Cress explained that getting the show off the ground has been a "real challenge" this year due to disarray and uncertainty in the construction industry.
"We've battled through a lot over the last two years making the show with the pandemic, and I think we're just seeing a bit of a hangover with Covid now. Materials have been incredibly hard to come by, a lot of the things we take for granted are just unobtainable … but how we've run into a real shortage of labour as well."
He said he was hopeful the builds would be able to finish, but revealed there had been "crisis meetings" this week to discuss the challenge ahead.
Block Producers reject claims of a lack of food and poor living conditions in
The Blocks 2022 Tree Change.
As we buckle up for another fun filled season of The Block, early reports indicate the drama of the show will be centre-stage as reports surfaced this week of contestants doing it tough on this year's building site, which is being filmed in Gisborne Victoria.
Reports surfaced this week of contestants doing it tough on this year's series of The Block, which is being filmed in Gisborne Victoria as the show undergoes a 'tree change' for 2022.
"They barely have any food" an unnamed insider told reporters, who also went on to claim car keys were taken from contestants, and that living conditions were "freezing".
Executive producer Julian Cress has said contestants "absolutely have access to food and transport."
"On two nights of the week, (host) Scott Cam personally cooks a sit down meal for all of the contestants. On another day of the week, they're at our HQ for the room reveal and we provide breakfast, lunch and dinner. When we often take them away for a challenge we have full catering available. So that's four out of seven days."
For the remaining days couples can draw upon their $1,400 weekly per diems.
"They all have their own cars. If they want to, they could drive five minutes down the road and use the voucher that they have, to buy any groceries they like from our major sponsor, Aldi. They have a voucher to buy anything they like from the menu at McDonald's."
The Block site is also home to a purpose-built McCafe and a food truck on site, providing lunches for all of the contestants, crew and trades at retail prices.
"The car keys are only ever taken away so that we can do maintenance on car cameras and things like that. It's not a site where contestants are ever locked out. We've had plenty of occasions where contestants have gone out to dinner at night, or even gone home for the night if they need to visit a child. We're not those kinds of people."
There are also portaloos all over the site in addition to the three bathrooms contestants have already renovated inside their homes.
But Cress admits to being disappointed at the claims being alleged in print.
"No contestant came into this show, not knowing that they were coming to the Macedon Ranges to do a tree change. And honestly, I'm not making any excuses -we have never, ever held back the fact that if they do get on the show, it's going to be incredibly hard," he insisted.
"But this isn't Nazi Germany. We encourage our contestants to speak their mind. I would rather, if they felt this way, that they perhaps made those comments to me first, rather than to a newspaper.
"If they feel like they're not eating enough, then I'll cook them a meal." Cress Said.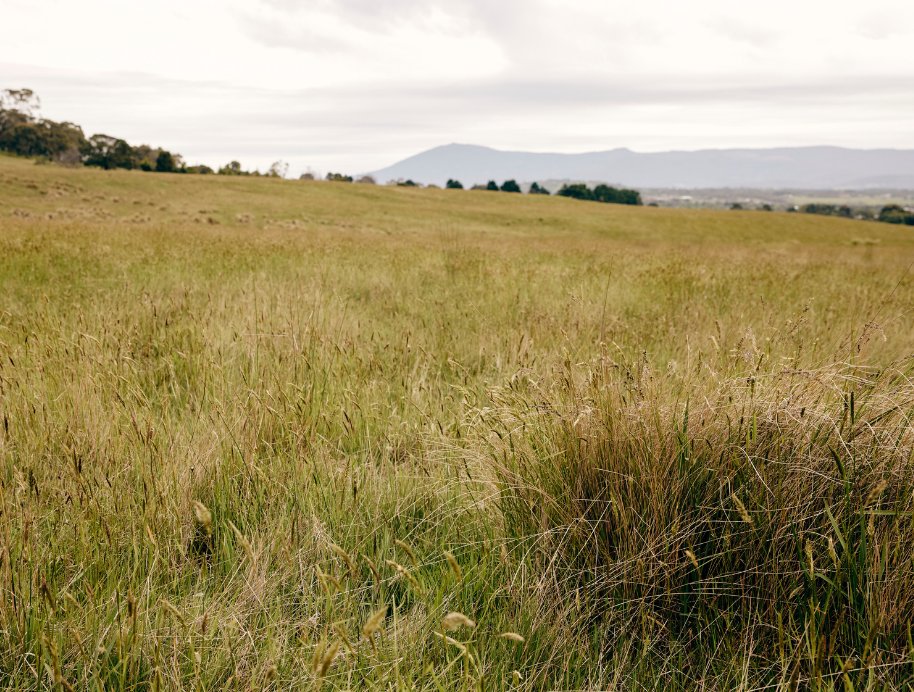 The Block 2022, a 'Tree Change' set in Gisborne, Victoria, what will unfold as Scott Cam and contestants transform these rural properties.
New Block contestants Elle Ferguson and Joel Patfull leave the show just three days into filming the 2022 season.
In a shock move never before seen on The Block, Influencer Elle Ferguson and her partner, ex-AFL player Joel Patfull, have quit The Block a few days after filming started on the 2022 season.
The couple were one of five new teams who had arrived at The Block three days prior, to compete in the Tree Change edition of the show, which is underway in Victoria's Macedon Ranges.
The couple who are yet to officially address their departure from the show posted a cryptic message on Elle's Instagram hinting their departure is due to family reasons. "Wherever you are in the world. Whatever you are doing. Family always comes first," the text in the post said. That message was posted along with an image of Joel sitting on their luggage at the airport.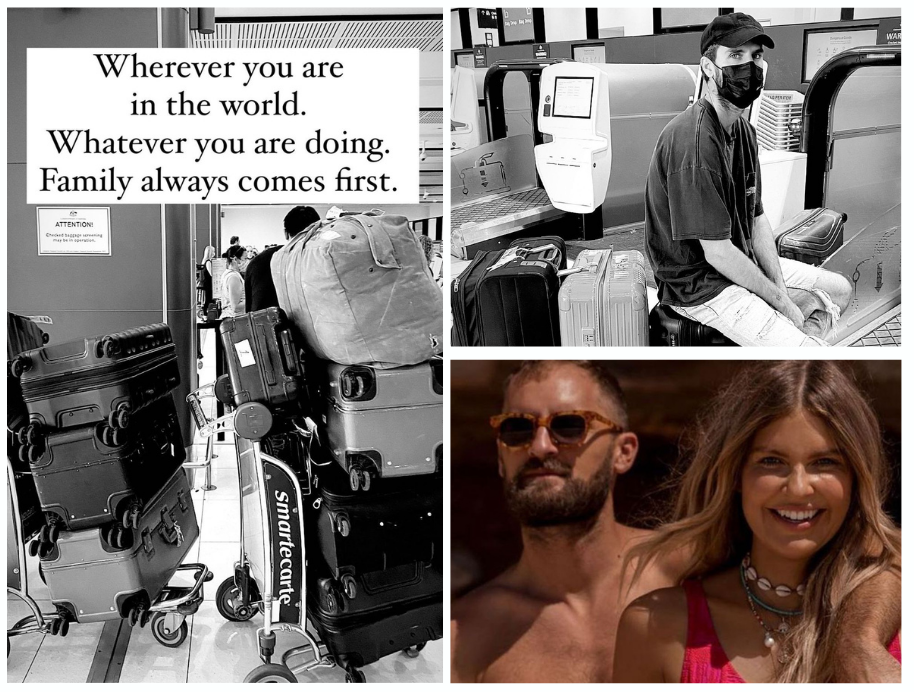 Elle Ferguson has posted a cryptic message on her Instagram, hinting the sudden deaprture is due to family reasons.
A Nine spokesperson has confirmed Elle and Joel have left the show and that a new team will be cast to replace them.
"Over the weekend, we were surprised to have one of our new contestant teams depart The Block a few days into filming for the upcoming season," they said in a statement.
"We wish them all the best for the future and we're excited to cast two new Aussies for the opportunity of a lifetime on The Block. The Block Tree Change will air as scheduled later this year."
The Block Tree Change is a departure from previous seasons of the show which typically involved contestants renovating properties in the suburbs of Melbourne.
This season teams will each transform a house on 10 acres of land in Gisborne, and for the first time ever host Scott Cam will be building a house too.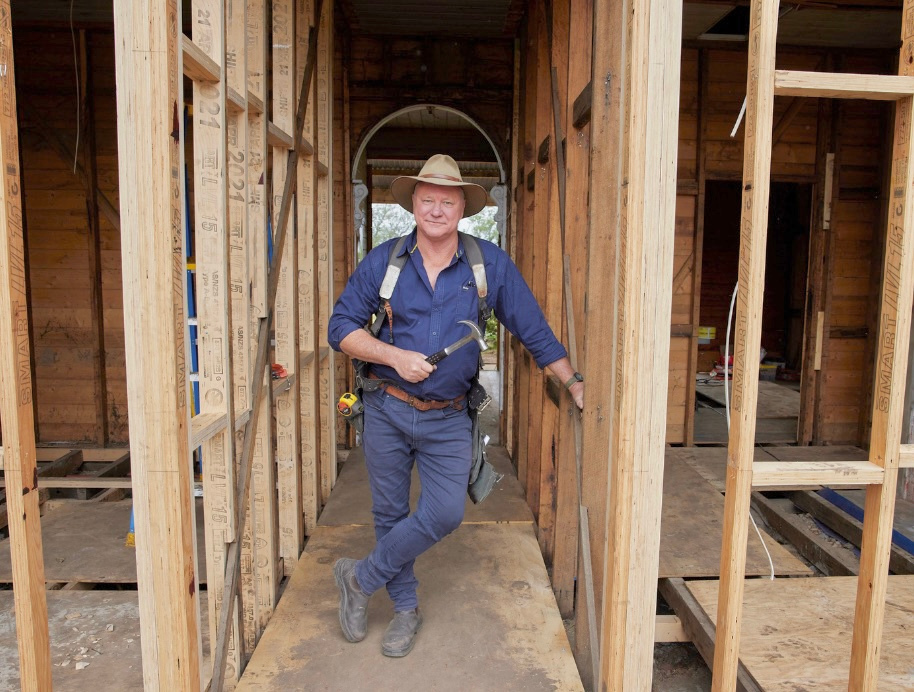 Scotty is already on site working on the show, as are Foremen Keith and Dan alongside judges Shaynna Blaze, Neale Whitaker and Darren Palmer. The other four teams cast for Season 18 are yet to be officially announced.
After renovating apartments, houses, a hotel, a hostel and much more, finding a new challenge for the 2022 Block was always going to be tough. But Scott Cam showed he still has some tricks up his sleeve when he confirmed season 18 of The Block is going where no Blockhead has ever gone before – they're heading bush.
After one of the biggest Blocks ever, what's next? A Tree change!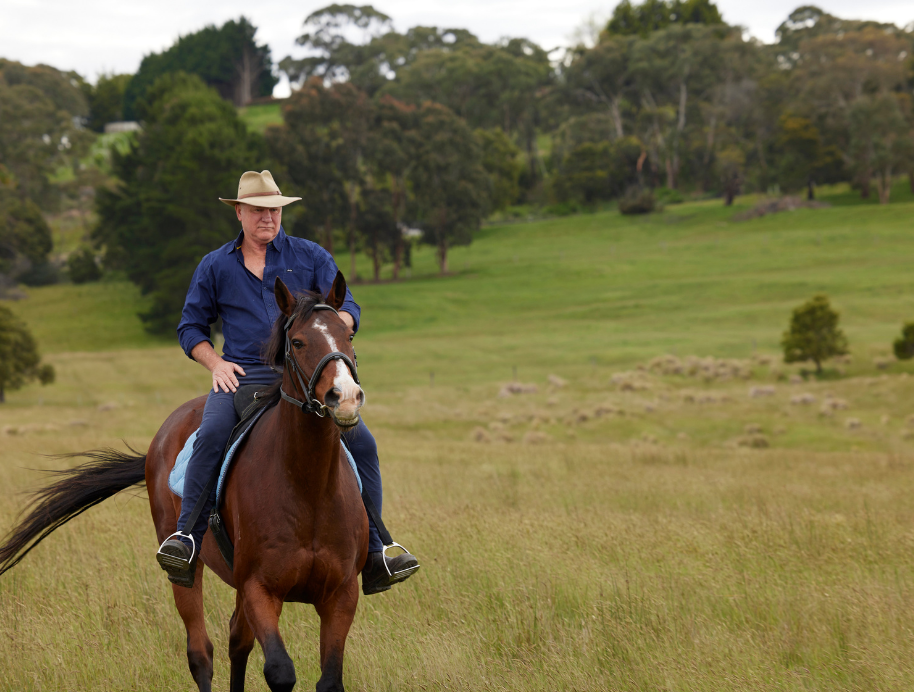 Scott Cam Onsite for The Block 2022 embracing the Tree Change.
Announced at the Nine Network 2022 upfronts (where new programming is revealed) was a plan for Scott to take the next crop of Blockheads out of the city to a rural location in the Macedon Ranges north of Melbourne for a build like no other, with the contestants given more space and more challenges than ever before to create their dream homes.
As usual, exactly what that Tree Change will be is a secret, but from what we learned at the upfronts, through the screening of a teaser aired during The Block 2021 finale, reports since then and a few clues from the man himself, here's what we do know. It'll be huge. "The Biggest Block Ever" screams the Tree Change promo, with Scotty riding a horse through a field to plant a flag marked "House 1" in the middle of nowhere and a voiceover confirms the contestants will take on 10 acres each.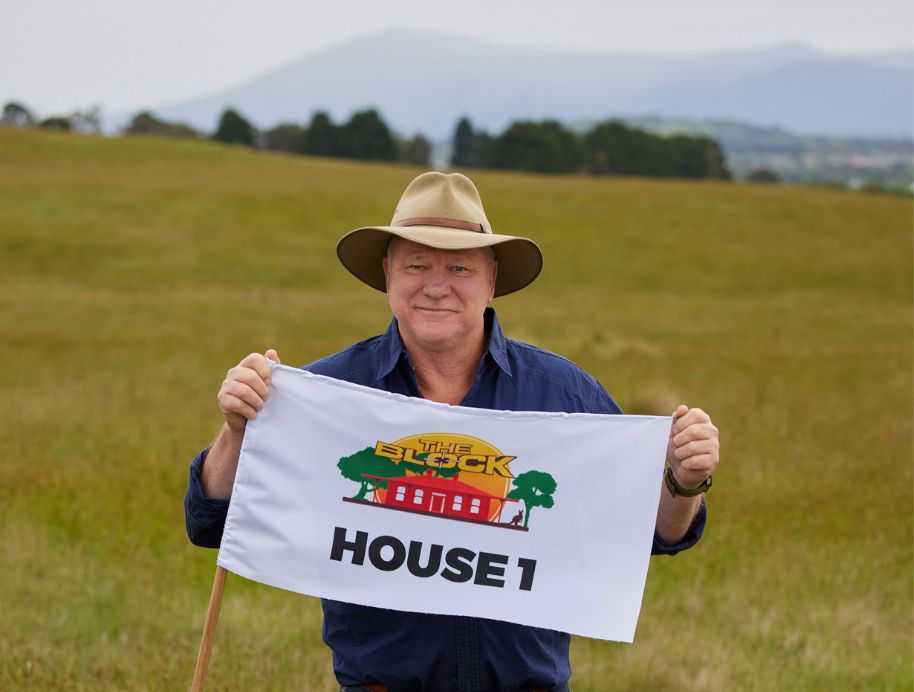 Scotty marks out where House 1 will sit on The Block 2022.
Scotty will be building too along with the contestants, Scott Cam will have his own house to renovate.
Whether he gets to bring a partner with him or he manages by himself is still to be confirmed, but with tool belt strapped on and hammer in hand, he's in for the long haul.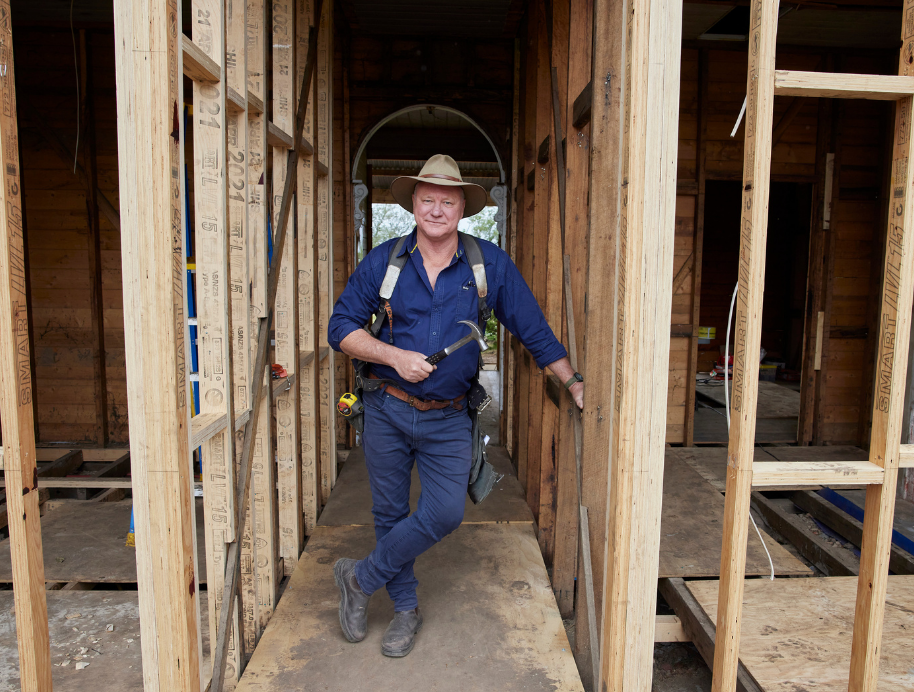 Channel 9 has confirmed Scotty will be involved in the build.... we cannot wait to see what he does to his own place!
Forget the power tools, there will be tractors. Earthmoving equipment will be a major feature of the massive build, with tractors, excavators and off-road dirt buggies used to help the contestants (and Scotty) get the job done.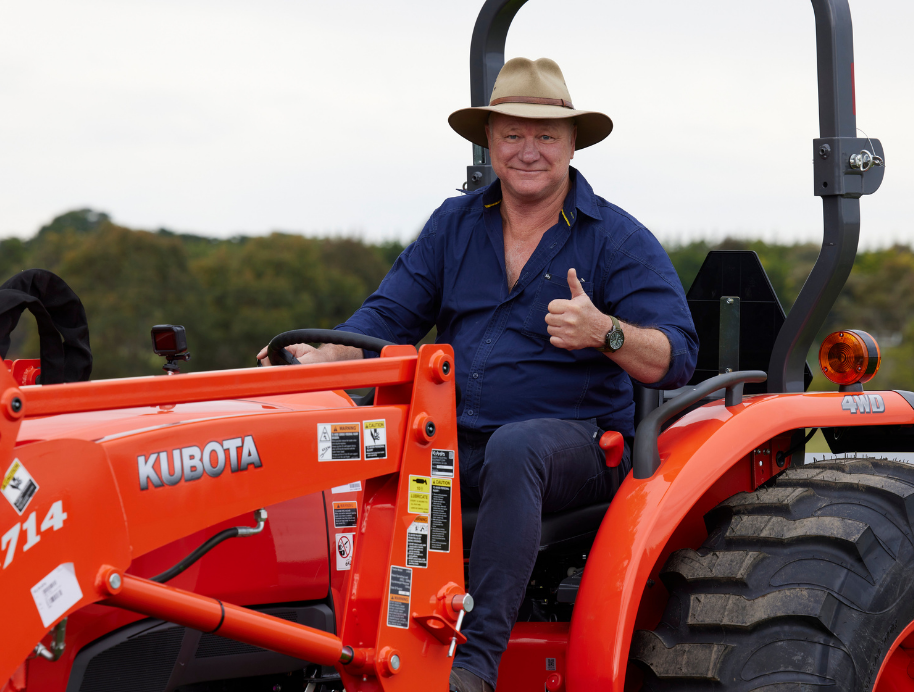 The Block 2022 is set to be BIG, literally, with big machines and big spaces, we see a theme emerging.
Adding to the intrigue is a report from real estate website Domain.com.au identifying a 79-acre property at Gisborne in the Macedon area as purchased by Nine's production company MicJoy Pty Ltd. The report said the property had been bought for $11 million and had already been divided into seven lots, with a creek running through the site. In late November new details surfaced from Gisborne locals who reported the arrival of relocatable homes to the properties, similar to what happened at The Block Elsternwick and Brighton with a fan of the show identifying a newly arrived home as a Queenslander-style house, trucked down from Brisbane.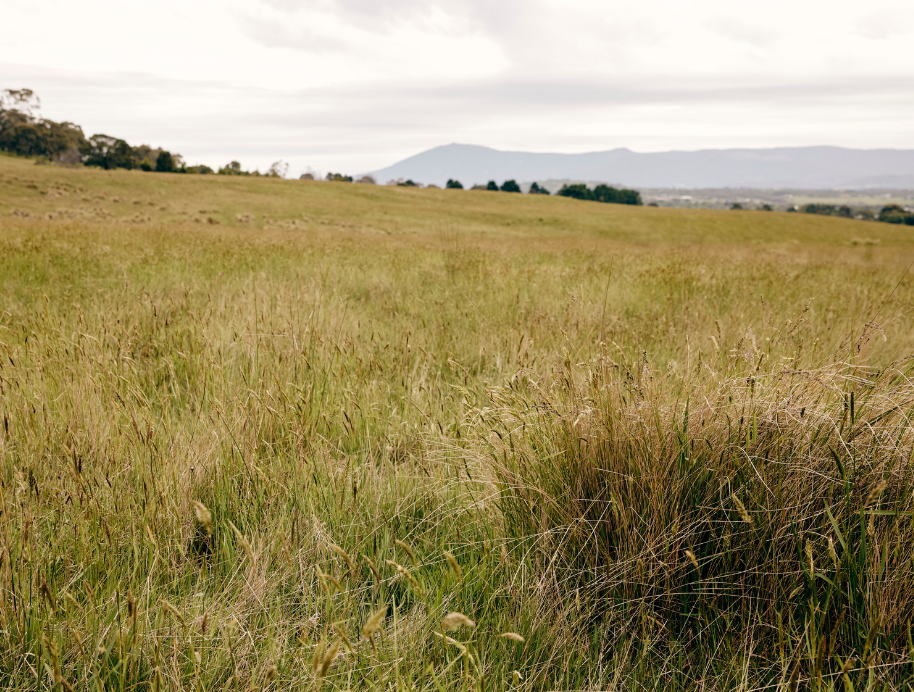 The Block 2022 will take place in the Macedon Ranges in Victoria, a simply stunning backdrop for The Block family to create magic.
The big difference between how this style of home has been used before and The Block Tree Change of course is that this time they'll have MUCH larger yards. And that, Scott Cam says, will be where the contestants' imaginations can run free. "It's the opportunity of a lifetime to build a house on 10 acres, who gets to do that!" Scott tells Insider Style.
"The amount of things you can put on that 10 acres! I mean goodness me if you've got enough money you could put a tennis court down you could put a big swimming pool in you could put a pond in, you could put a chook shed in, you could put a veggie garden and a kitchen garden, who knows!".
And just as it's going to mean thinking very differently for contestants, Scott says it'll mean a big change for The Block too. "It's going to be a very interesting situation I think, because number one it's almost a kilometre between houses 1 house 5 and I don't know how that's going to work logistically," Scott says.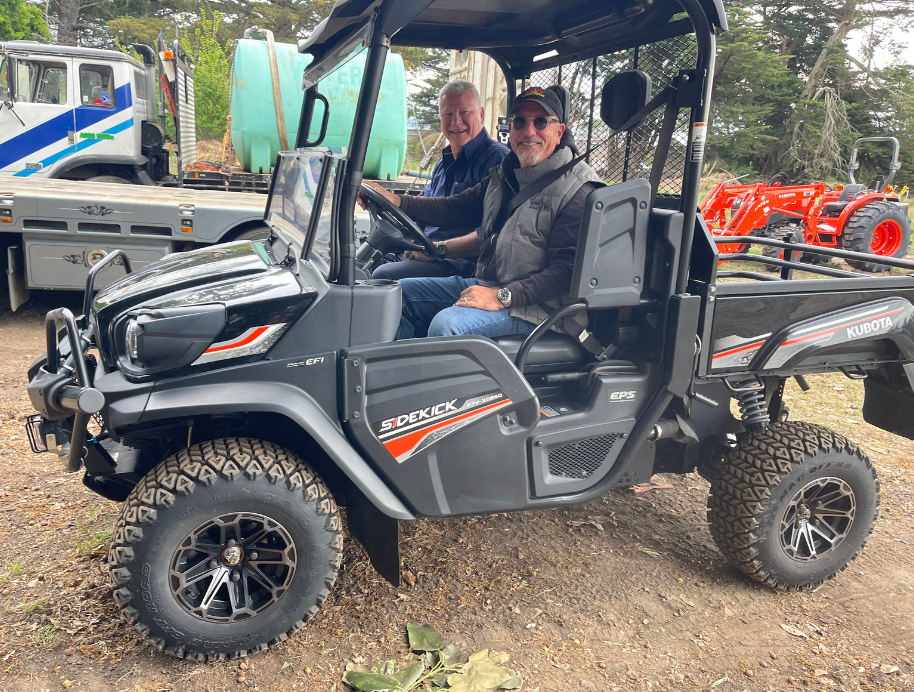 Scott Cam and Executive producer of The Block, Julian Cress , getting around site.
"We're going to have to really change our style of filming and things like that because we're going to be so far apart."And a key to that, he hinted, might be the fact that right in the middle of it all will be the house that Scott (and his team) is building.
"Because of that (the separation) we're going to need to bring our contestants together at some point to have some kind of relationship and interaction so we're going to have to hold a lot more barbeques and little body corporate meetings and get-togethers.
"I've got to style and put together a house at the same time as the others and I'll be living there too, so that place could become our meeting point, I think. "It could be our HQ away from HQ, a little home away from home. It could make a good little town hall that house which we might need in this series."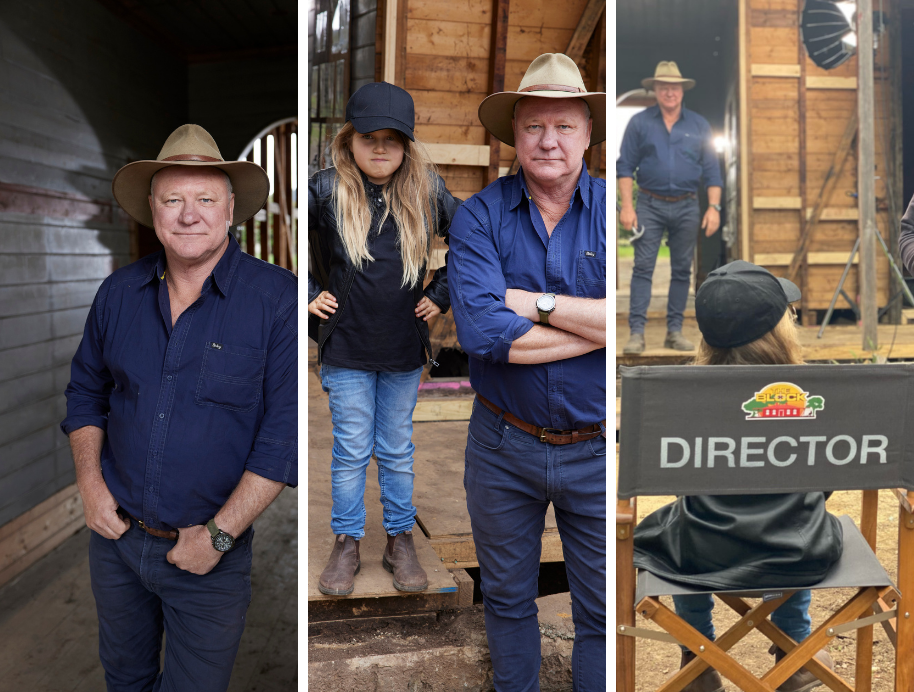 Scottys House on The Block 2022 looks set to be the "HQ away from HQ" Scott tells Insider Style Blog.
No matter what happens – and there are still more surprises to come, Scott says - one thing is certain, he's very much looking forward to a reset of the Block and a chance to try something that's never been done before. "I love the bush, I love open fires and being out of the city, so it'll be great fun," Scott says. "I can't wait!"