We get to know the Country New South Wales contestants
ANDY, 48, & DEB 46
This mum and dad duo from country NSW won't let the chance of a lifetime go to waste
Experience Level
These two might be from the country, but don't write them off as a couple of bumpkins. They have style in spades and have renovated five properties together over the years. Down-to-earth, laidback and friendly, they're looking forward to competing on The Block for the experience, and if they make some money for their family along the way, all the better.
Down-to-earth, laidback and friendly Deb and Andy.
Andy, 48
Andy
is a stand-up comedian who also works for TAFE designing training packages for disadvantaged communities and individuals. He is extremely proud of his heritage. "I am Australian Aboriginal, from Biripi country, which is beautiful Taree," he says.
Proud family man and partner to Deb, he says he's looking forward to showing Australia that Aboriginals and Torres Strait Islanders are "normal people who need and want the same things as everyone else in Australia". Or as he cheekily said during auditions, "You can't have diversity on TV with spray tans, it's gotta be natural."
Andy, whose background also includes child protection, might be The Block's most laidback contestant but don't let his amiable charm and larrikin sense of humour fool you – he's one heck of a hard worker. Fiercely loyal, he'll always fight for what's right and stand up against bullying and injustice.
No stranger to the limelight, this budding stand-up star has appeared on a range of televised comedy specials and galas and toured with the Melbourne International Comedy Festival Roadshow. Something tells us The Block will provide him with plenty of new material.
Deb and Andy pictured with their kids have said if they make some money for their family along the way, all the better.
Andy toured with the Melbourne International Comedy Festival Roadshow.
Deb, 46
A country girl through and through,
Deb
is also a woman with her finger firmly on the design pulse. Along with her sisters she owns The Shed Luxe, a stylish homewares and fashion retailer based in their home town of Taree, on the Mid-North Coast of NSW.
Organised to a fault, Deb is the driving force in this family of six, which includes the couple's two kids, Luca, 14, and Tyler, 9, as well as their foster children Leilanie, 22, and Gregg, 21, who both joined the family when Tyler was a baby.
"I think our paths were meant to cross with these particular kids," Deb says. "It just felt very right and happened quite organically because the connection was there."
Deb is an expert at juggling work and home life, and single-handedly keeps the wheels turning while husband Andy – who she has known for 35 years, together 28 and been married to for 19 – is on tour with his stand-up comedy.
Deb's a Blockaholic who loves to watch the show with her son Tyler. "He says he's watched it since he was born! He loves it and I have no doubt he'll be my phone-a-friend throughout the series – he's got great taste," she said.
Deb and Andy have been together 28 years and married for 19 years.
Together
You have to give
Andy
credit for being optimistic. When he found out he and
Deb
had been accepted for The Block this year, one of his first questions was whether he'd still have time to do his comedy gigs in the evenings.
"I had to turn down a 21-night show starting next month," he says. "I asked someone in production if I could skip off and do a one-hour show every night for 21 nights, to which he replied 'no' pretty forcefully." Although Andy may not be entirely up to speed with The Block's crazy schedules, that's not to say he and Deb don't have what it takes. These hard-working childhood sweethearts are no strangers to renovating, having overhauled a number of properties together.
They're also no strangers to sleepless nights. Both of their youngest children suffered from severe eczema when they were little, which meant they were up through the night nursing them when they were often in excruciating pain. Tyler's condition was so bad that from six months old his hands had to be taped into socks because of his incessant scratching.
"His face looked like he belonged in the burns unit," says Andy. "And we couldn't treat it, because we couldn't find the right combination of drugs. We had to wet-dress him all the time."
"Often I would pop him in the car, bandage him, give him some medication like antihistamine or something, and try and distract him by driving," says Deb. "It would be nothing for Tyler and I to be up the highway at two in the morning, looking at stars and trucks because he just didn't sleep."
It was a heartbreaking time for the family, with Deb working around the clock to try to find solutions for her son's condition.
"There is no better detective or researcher out there than a mum with a sick kid," Andy says. "Deb was amazing. She read everything there was and did all she could to find help."
Eventually, they found a doctor overseas with a treatment regime that worked for their son.
"Until we found the doctor who has more recently helped us we honestly wouldn't have even entertained the thought of being somewhere like this three years ago," Deb says.
Now that their family life is back on track they are looking forward to embarking on The Block as their next big challenge.
"We came on The Block to catch up on sleep," Andy laughs.
Yeah, Andy. We'll see about that.
Family is everything to Deb and Andy - pictured with Luca, 14, and Tyler, 9, as well as their foster children Leilanie, 22, and Gregg, 21.
Flashback to young love! We wish these two all the very best on The Block - we cannot wait to tune and watch you both.
View Andy and Deb's completed rooms
HERE
Turns not Andy and Deb are not the only ones in their family that have skills to pay the bills! Deb and Andy's four kids also have some serious talent. Watch the incredible video in celebration of their Indigenous heritage HERE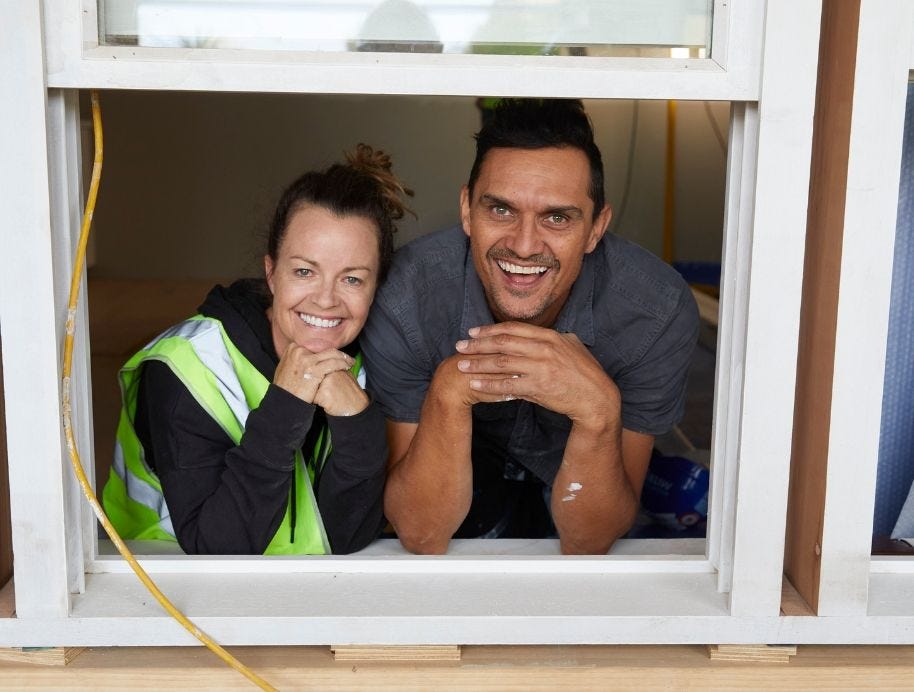 Shop Andy and Deb's rooms HERE
Andy and Deb open up to Insider Style about their gorgeous blended family, and how they became foster parents to their two eldest children HERE
Take a tour of Deb and Andy's finished Block home!A wrap up of all the room results and images HERE


Did you like this blog? Subscribe to our newsletter to be the first to receive news from The Block!
Subscribe now
to receive $20 off your next order