We take a tour of their real life house. And it's DIVINE!
Deb takes The Block Shop - Insider Style into her 'California Casual' Mid North Coast home (Photographer: James Cause Photography)

Andy and Deb from country New South Wales have style for days - and it's all on show in their absolutely gorgeous, recently renovated Wallabi Point home. Deb takes us on a tour:

What is your favourite room in the house?
I love our living, kitchen and dining space as it all opens up onto the deck and yard, and we spend a lot of time there together.

How much renovating and building have you guys done together?
Andy and I have built three houses, cut a house in half and relocated it, and renovated a cottage (which was the base for Deb's business @theshedluxe in nearby Taree, which she runs with her sisters).



Deb and Andy have created a stylish, yet functional, kitchen for their gorgeous family - will they reveal something similar at The Oslo?

Do you have a favourite piece of decor in your home?
The floating wall unit in our living room - I love it because Andy built it!

Do you have a favourite piece of artwork?
A photograph from 1963. It's Black and White and it's of my Dad & my Uncle on their trawler. It was hung in a local primary school - the school my sisters and I went to. When the school closed down, the picture was handed back to my parents. I had it blown up to 2m x 1.2 metres and framed. It's amazing and very meaningful.



"The floating wall unit built by Andy was a hack, turning kitchen cabinets and benchtop into a credenza. That's also our gold from The Block dig proudly displayed in our lounge room!" Deb tells Insider Style.

What is your most treasured possession - other than Andy and the kids, obviously!
A piece of coral my Dad gave me - he built a little stand for it by hand. It's beautiful and very precious.

If you could renovate one room in your house which would it be?
I would love to re-do the tiles in all of our wet areas.



Andy and Deb's stunning light, bright bedroom opens up onto their deck and backyard.

Leilanie, the couple's eldest, enjoying a morning cuppa with Deb. "Andy built the deck. It was to be a tool shed, but I claimed it and turned it into guest accommodation, adding a kitchenette and toilet. It has an outdoor shower too - it's basic, but we love it. And in summer the kids are always in here if we don't have guests," Deb tells Insider Style.

Just to make you smile - Deb and Andy's Jack Russell, Ollie! "He decided to take himself into the pool area and get himself onto the board - no help from humans (he's got the life)!" Deb says. Photographer James Cause loved it, and snapped this shot - awwww!


"I love my splashback tiles! Purchased after I spotted them in The Block a few years ago (I'm a Blockaholic from way back!)," Deb says. We love your style Deb!!
We spy that Block gold bar again! Inside the shed Deb describes as "basic and hard-wearing, to stand up to sand and water!"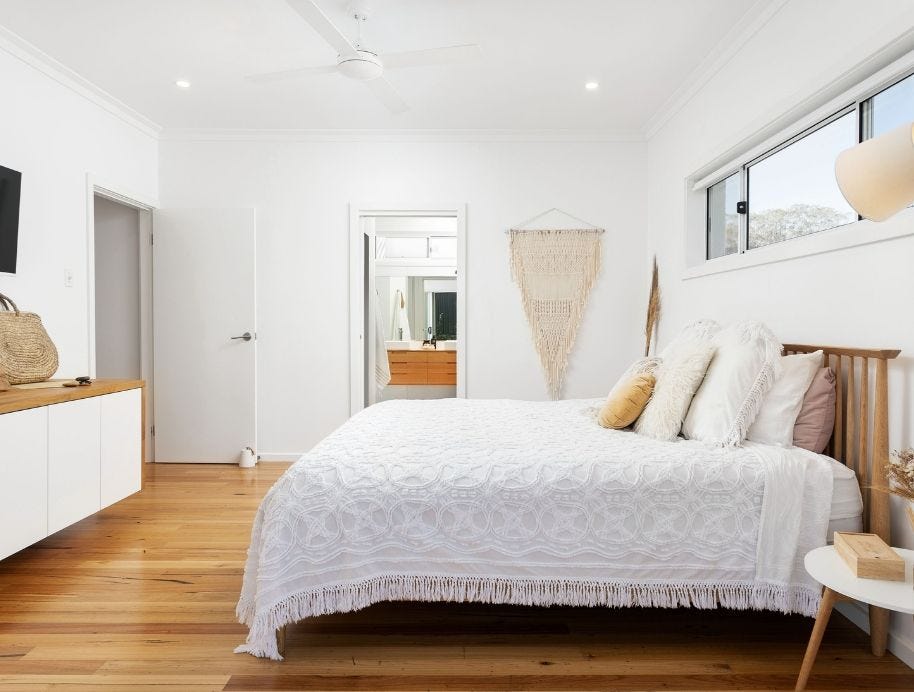 Deb and Andy purchased the timber vanity after seeing it on The Block! "Andy built this wall unit in the bedroom, too. Another hack using kitchen cabinets!"
Images with thanks to James Cause Photography.

Get to know Andy & Deb further HERE

Deb opens up about her style, The Block and who she loves most from past seasons HERE

Did you like this blog? Subscribe to our newsletter to be the first to receive news from The Block! Subscribe now to receive $20 off your next order