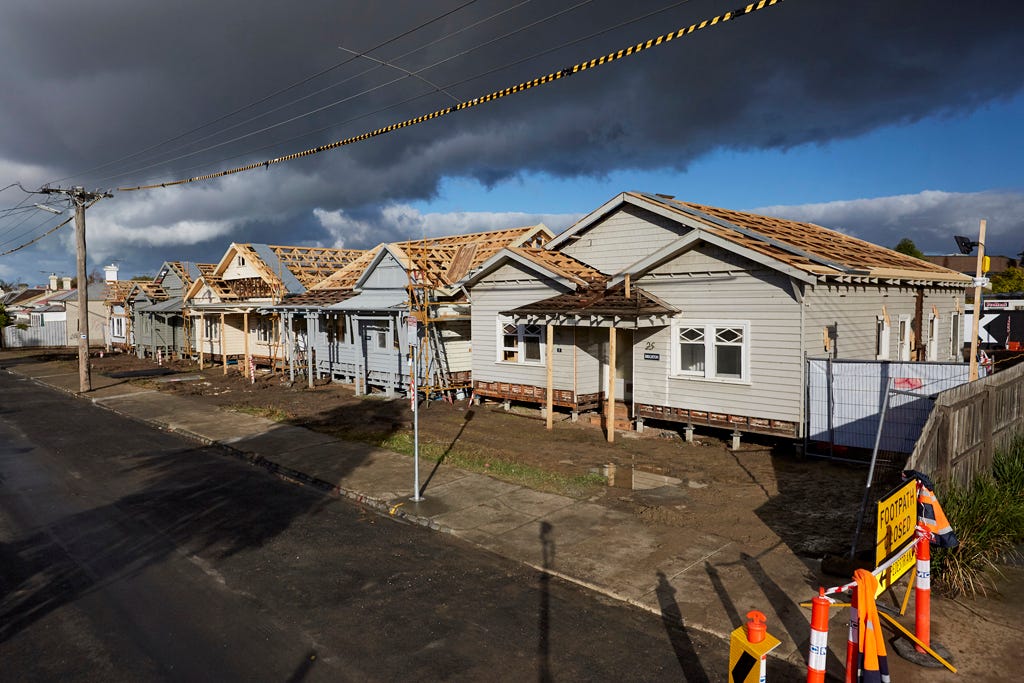 Now that this season is all done and dusted, how do you feel about it all?
What an incredible series! To see these period homes transformed into what they are, with the extensions, is just unbelievable. This is the first series I have been envious of NOT being a contestant. I mean, who doesn't want to do a period home and an extension out the back? It's been great.
Were you blown away by the standard? Who do you think has improved the most?
House Two (Hannah & Clint) - without a doubt. From Week One, when they had no idea - to now. You can see them develop through the series, and how much better they've got with the processes - even their design. Also, as a couple, they're the ones that have grown the most. They were the least experienced, so that's been good for them.
Who do you think had the most fun?
House Three - Ronnie and Georgia. They have renovated 10 properties, so they should have been good. And their place is great. Also, Sticks and Wombat - they have achieved a really good house too, which is quite surprising.
What about Jason and Sarah…
They have had an interesting journey.
You've had to come down hard on them over the series...
We have had to. Jase was hard to handle. Very stubborn. They got there in the end. Their house has actually come up really well. Towards the last two, to three, weeks, they came around and were much more positive, which was good to see.
What do you think was their turning point?
When they got read the riot act [by Scotty]. And then they came equal-first in the kitchen. Then they got a bit of positive feedback on upstairs [for their master bedroom], and that gave them their mojo back. That was enough to keep them driving through the competition.
It must have been frustrating to watch what was happening…
Not even as an ex contestant - even as a fan of the show, just to see someone give up the way they did. You are given one of the best opportunities you will ever get, to be a contestant on The Block. And to nearly throw it away like that, was just disappointing. So look, they had a big moment, they were at the lowest of the low, but they pulled themselves out, and you have to give them credit for that.
In terms of the logistics - has this been the most stressful Block ever?
It has been the biggest site we've been on. More so in the handling of the amount of trades we had on, to get the extensions and the garages and upstairs built. That was probably the hardest part of it all for us - managing them. And then on, top of that, looking after all the contestants and their trades.
Yes, that must have been like herding cats!
That was really hard. And obviously landscaping week - we have never had a week like that. Ever! Keith and I, I think we had eight Scissor Lifts out the back, we had two cranes, we had maybe 150 tradies in the backyards - it was so manic. We could not believe it.
And of course all those pool dramas…
Yes, and then we wanted to use the front yard [for the crane], and we had a screaming match with Jase. That was very hard!
How did you go being the intermediary between Ronnie and Georgia and the others…
Yeah, it was an interesting scenario...
Did you feel stuck in the middle?
We didn't want to be involved in the politics, but we kind of had to, because it was our obligation to get that pool in. And obviously we had to use Jason and Sarah and Hannah and Clint's backyard to do that. So we were stuck in the middle. But at the end of the day, it all worked. They got their pool in, and those guys all benefitted with money. It was delicate very at the time, though.
And how is it all now?
I am not sure. It is still a bit...House Three (Ronnie & Georgia) are still a bit on their own.
Did you like this blog? Subscribe to our newsletter to be the first to receive news from The Block! Subscribe now to receive $20 off your next order.