What excellent viewing last night was! A return to my favourite Sunday night Block room reveals and not three but SIX with three by the newbies and three by the returning all-star couples. Plenty of emotion (mainly from a tearful Bec, bless her) and some honest judging that spanned from downright harsh through to glowing. This is what reality TV's all about!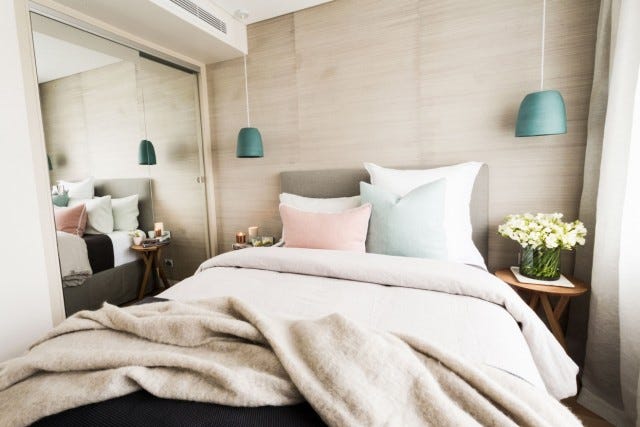 Judges Darren Palmer (we love his new specs!) and Neale Whitaker were joined by real estate guru John McGrath for the big task this week. The winners of the newbie round were my current faves Ayden & Jess and Bec & George and Matt & Kim went home, despite producing great rooms, while Darren & Dee got to stay and become the fourth couple.
First, to the newbies. The judges didn't think any of their rooms were really good enough. The judging was pretty harsh but, in my opinion, warranted. It's early days though!
Charlotte & Josh (second place)
Charlotte spent up big at Coco Republic but expensive furniture was not enough. Darren said there was a lot of stuff in the room and loved the wall finish, the simple linen and smart choice of flooring. The bedside is one of his favourite pieces out there at the moment but he felt it too big for the room. Neale had an issue with the art, even though it referenced the neighbourhood (too young and poppy to go with the furniture). The art jarred with the neutral look and feel. John agreed the decor didn't quite work. Darren and John hated the built-in doors and handles (a bit dated). No more Mr Nice Guy with Darren tonight who said the window dressing was a bit asylum-y. Eek! Neale said their elimination challenge rooms were better and he was disappointed. John said it seemed they hadn't realised the competition had started. Ouch all round!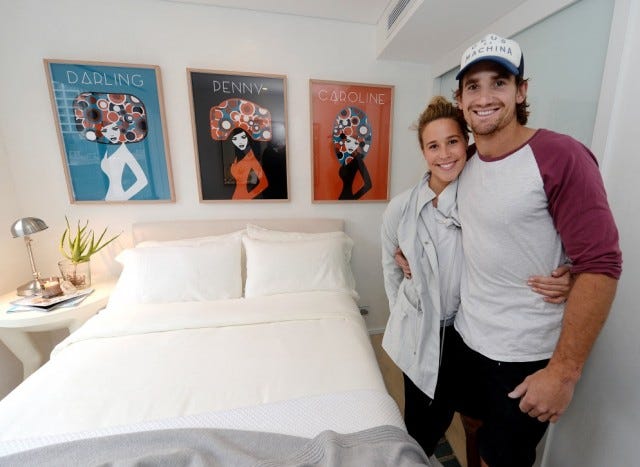 Our pick to buy: The go-with-everything Azure bedhead from Forty Winks.
Tim & Anastasia (third place)
The automatic blind impressed Darren and John who said it was what buyers in this market were looking for. Not surprisingly, the judges spotted the hideous toy cat on the windowsill (why?!) and they were NOT impressed. Neale said he felt he'd seen everything in the room many times over and called it generic. John said it felt decorated out of a seaside gift store. Cringe! Neale was again disappointed. John found the crosses theme "annoying" and said the room was not all things to all people and rather nothing to no one. At this point, Darren declared himself definitely cranky Daz! Distinctly awkward!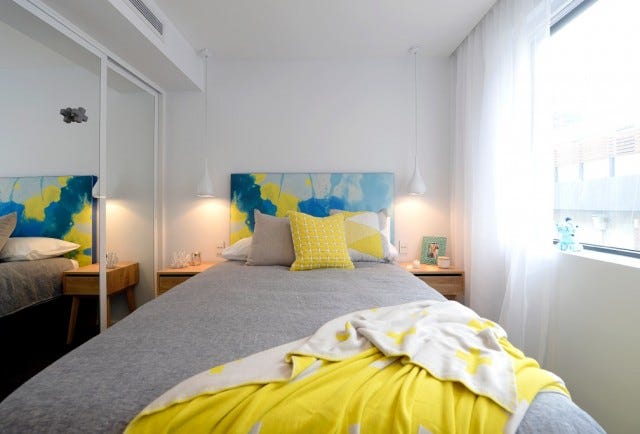 Our pick to buy: Karpenter bedside table by Curious Grace.
To read the entire post by Jen Bishop from Interiors Addict, click here. Or to go shopping with our couples, click here.