Bianca and Carla are netballing besties from Victoria with a competitive edge, ready for their biggest challenge yet.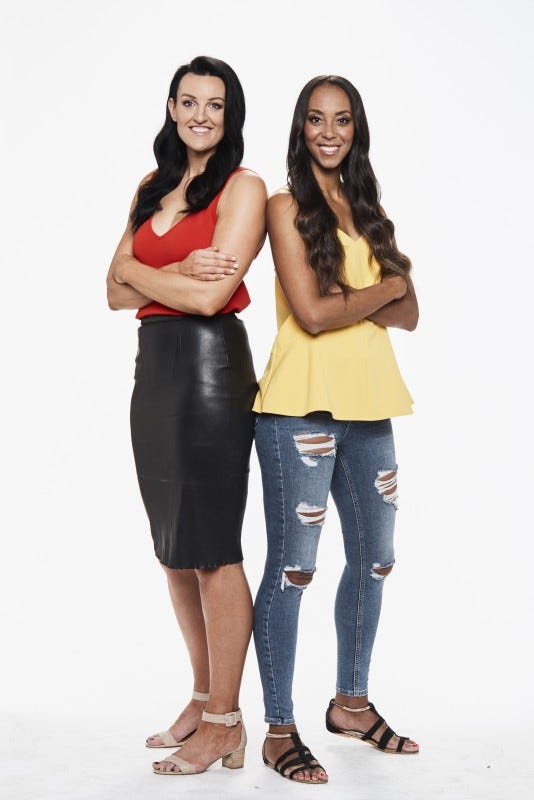 Experience Level: Bianca has plenty of experience, but Carla's a bit of a rookie.
Bianca, 35
Ex-professional netballer, now in sports welfare

Bianca played on the Australian Netball Team for 11 years, vice captaining her squad to a gold medal victory at the last Commonwealth Games four years ago. It was while competing there that she found out she was being considered for The Block with another one of her friends.
But the stars just didn't align.
"I was going to be overseas for five weeks, and it just wouldn't have worked, so I had to say I couldn't do it," she says.
Bianca, who no longer competes professionally, now works in sports commentary for TV and radio.
She is also an experienced renovator.
"It's in my family, renovating - my dad's a builder," she said. "I did my first property in Kew and then in 2015 I bought a little art deco apartment in St Kilda - just down the road from The Gatwick, actually."
Carla, 35
Ex-professional netballer, now in sports management

Originally from Adelaide, Carla has spent the better part of the last fifteen years travelling around Australia playing for different national teams. She briefly relocated to the UK, where she played for a time, before coming back to Aus, where she finished her last year playing professionally with The Vixens, alongside Bea.
After retirement, Carla began working with the Australian Cricketers Association.
"I case manage all cricketers when they come off contract and into retirement," she explains. "So it's very similar to what Bianca and I have been going through."
Now settled permanently in Melbourne, Carla recently renovated a warehouse apartment in trendy Prahran.
"I dragged Bea in to help me when I first found my place," she says. "It stank and was really gross. But Bea took a look and said, 'That's just cosmetic, if you did this, this, this...'
"And I was like, 'Yeah! Right - you're helping.'"

Together

These two stand head and shoulders above the competition - literally!
Firm friends for over 15 years, Bianca and Carla first met when they both made the Under-21s Australian Netball Team - and they've been stuck like glue ever since.
Though they mostly played AGAINST one another during their netball careers, you'd be hard-pressed to find two individuals who work more cohesively as a team.
"Bianca was a Defender and I was a Shooter - so we actually played against each other," Carla explains. "But we do work really well together. And we actually renovated my apartment together last year.
"We did all the demo stuff and the builders did all the proper building stuff.
"We had one Friday night where we were hauling a whole heap of rubble down Chapel Street in wheelbarrows while Revs (Revolver nightclub) was kicking off!"
Both Carla and Bianca admit they've felt a bit lost after their respective retirements.
"When you retire, you realise how different real life is," Carla says. "It sounds crazy, but you have to learn what life is like when you're not a professional athlete.
"It's really been quite challenging."
Bianca actually applied for The Block four years ago, with another friend, but was unable to take part due to her playing commitments. Then life took over and she shelved her Blockhead ambitions.
"I went off the radar a little bit," she explains. "But after I finished playing, as soon as Carla started getting into renovating, I was like, 'We should go on The Block - let's apply for it!'
"And I was like, 'Let's do it!'" Carla adds.
The girls made it through to the final round of casting for Elsternwick, but missed out. Not to be deterred, they put in another application this year - and voila!
They now can't wait to get back into that competitive headspace.
"We'll actually be building while this year's Comm Games is going on," Bianca says. "It's going to be strange not to be there, but I can't wait to get started on this."
"We are certainly not in this to come last. Or even second," Carla adds.
Both single, they also haven't ruled out the potential of finding love on The Block.
"A couple of hot eligible tradies would be nice," Carla laughs.
Did you like this blog? Subscribe to our newsletter to be the first to receive news from The Block! Subscribe now to receive $20 off your next order.