Here's how you can make your guest bedroom feel welcoming and comfortable
It's an oft-forgotten space in our homes. But there's no reason your guest bedroom can't be just as impressive as all the other rooms in your home.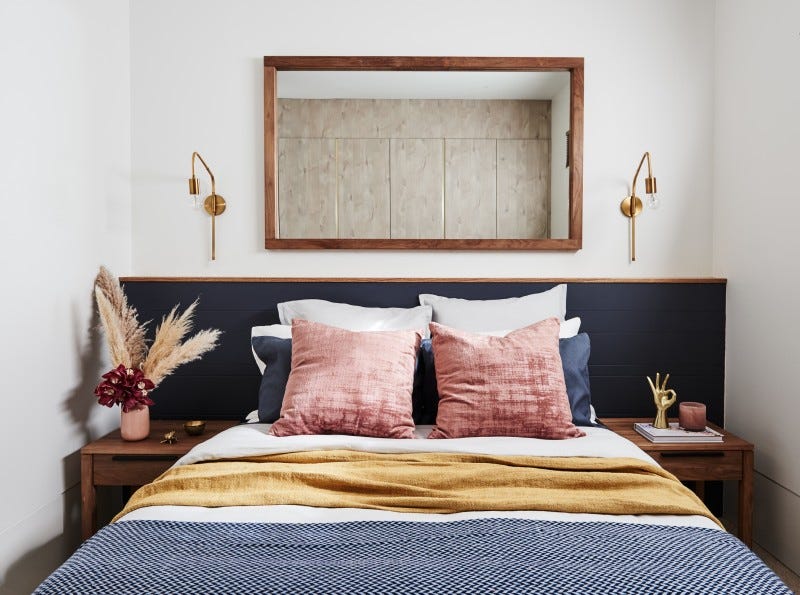 This simply stunning guest bedroom created by Alisa and Lysandra at their Albert Park property. (Photography: Lisa Cohen)

Top 9 things to consider when planning your guest room revamp:

1. Think like a guest
When planning your guest bedroom, it helps to 'think like a guest'. Really take some time to consider what your visitors might need during their stay. Top of your list should be space to hang clothes, a good reading lamp, a throw for chilly nights, and readily-accessible powerpoints for charging devices overnight. Once you've finished putting together your space, spend a night in there to get a sense of how it feels.



We love this dreamy guest room by Daniel and Jade in 2020.

2. Make the bed inviting
You want your guests to feel at home after a long journey, so make the bed they're about to fall into comfy and inviting. It's tempting to place your old bed in a guest room, but really think about how comfortable that's going to be for your guests - no one likes a saggy mattress! If budget is a concern and you can't splurge for a new one, mattress-toppers can be purchased fairly cheaply and can make all the difference in the comfort stakes. It also goes without saying that making the bed look inviting by using lovely linen, throws and cushions, will add to your guest's experience and make them feel right at home.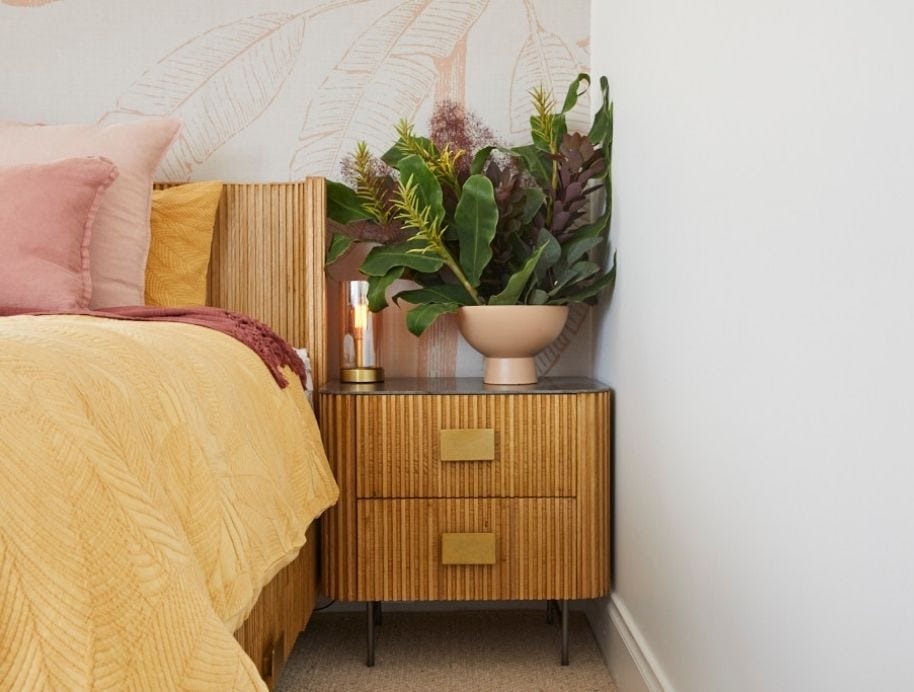 Jimmy and Tam created a near-perfect room on The Block 2020- The timber bed and matching bedside tables for the WIN!

3. Create a multi-functional guest bedroom space
Most of us aren't hosting visitors on a regular basis, so dedicating one room solely to housing guests might be a luxury. If this is the case, there are great ways you can make guest rooms multi-functional. Using sofa beds or pull-out futons is a good idea when paired with a desk - that way your room doubles as a guest room, as well as a place to work. Just remember to keep your decorating palette nice and neutral, so it serves two purposes.



Neale Whitaker compared this guest bedroom by Bianca and Carla in 2018 to a luxury hotel room. "Guest bedrooms need to be a little like hotel rooms because we all live through our laptops," he said, admiring their study nook.

4. Have some fun with your colour palette in the guest room
Guest rooms are a great space in your home to really have some fun. After all, they're not a room you're likely to get sick of in a hurry - you'll never be in there! This is a great room to try out bold colour choices or have some fun with quirky decorator items or linen choices. Go wild! But be warned - you might end up loving your newly-created space so much, you'll want to swap and move in there instead!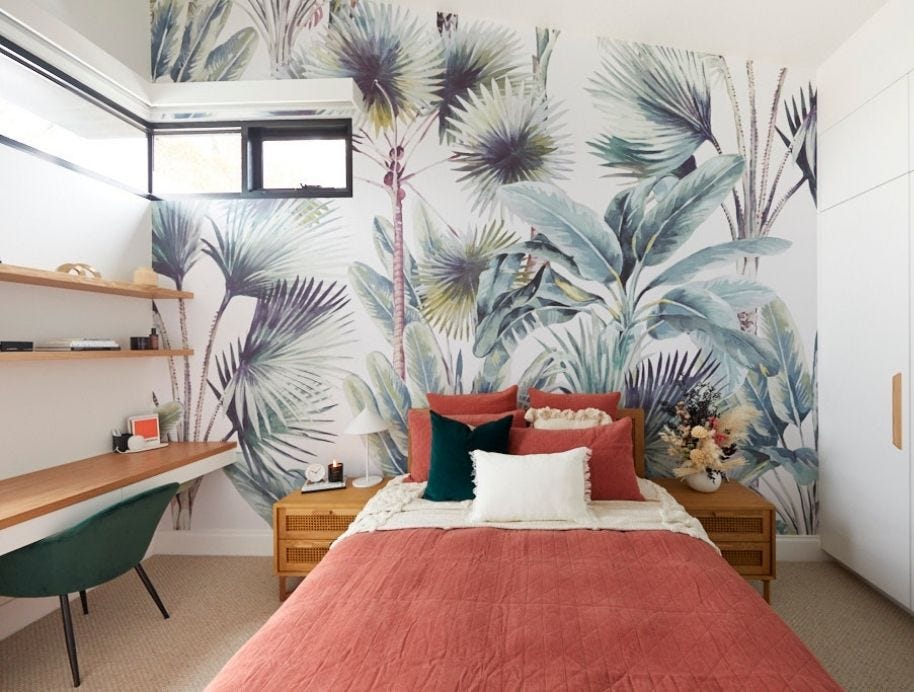 A guest room is a great room to try out bold colour choices or have some fun with quirky decorator items or linen choices - Jimmy and Tam definitely nailed the brief with this room.


5. Include a spot for guest luggage
This is something that is often overlooked in guest bedrooms, but, in our humble opinion, making sure your guest room has space for bags and suitcases is a must. You can purchase luggage holders from many homewares stores - they're a great way to get suitcases out of the way, and off the floor. They're also perfect if your room is on the small side with no room for wardrobes.

6. Get creative with hanging space in the guest bedroom
Speaking of which - if space is at a minimum, consider other ways for guests to hang their clothes. Racks hung from the ceiling have become a big interiors trend in recent years and look particularly good in guest bedrooms. They're also great if budget is a concern. Why not get creative, and look up ideas on Pinterest or Instagram - there are some fantastic 'hacks' out there involving brass fittings and dowl suspended from a wire. If that's not your thing, there are plenty of cheaper clothes racks available in varying sizes.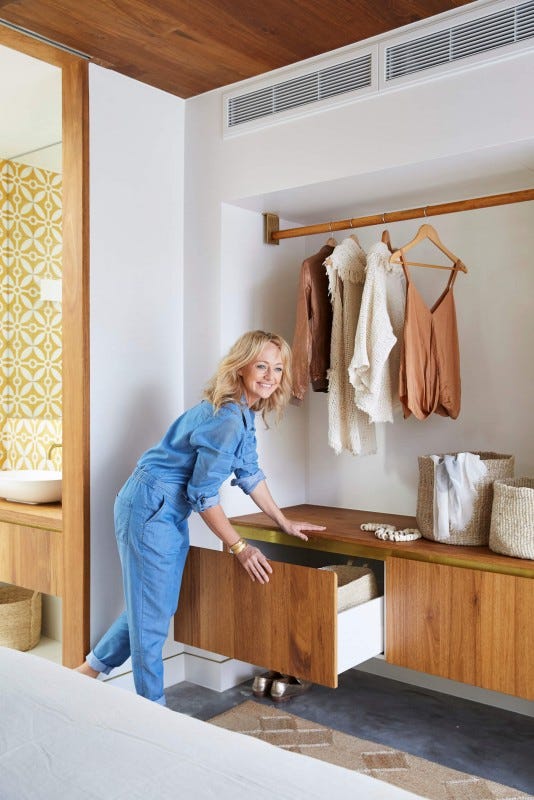 Shelley Craft in her recently built garden studio - created as their Byron Bay home didn't have enough space to accommodate guests. (Photographer: Jessie Prince)


7. Get creative with your bedside
If you're working with a limited floor plan, or your guest bedroom also doubles as another room in the house (like a study or kid's playroom), consider using storage boxes as bedside tables. They're great for hiding away clutter and are a great design feature in the room. Stacks of books or magazines can also work well as a makeshift bedside table.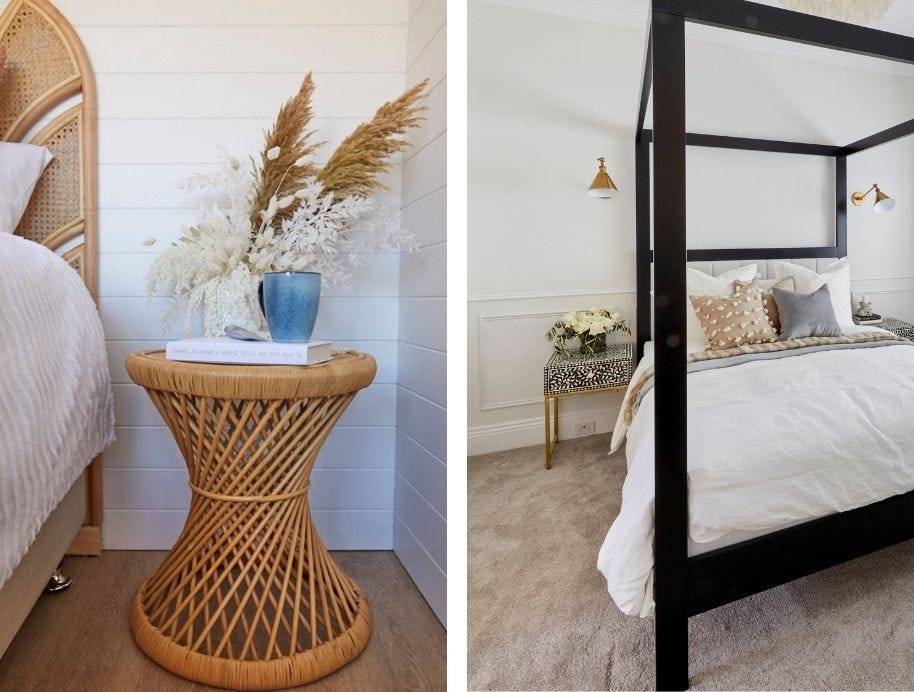 Some stunning alternative bedside tables have been seen on The Block in 2020 in the guest rooms.

8. Add personalised touches in the guest bedroom
Guest bedrooms are often sparsely furnished 'forgotten' spaces in people's homes. But adding personal touches, like framed photos, or knick-knacks can make all the difference to your visitors stay and make them feel much more 'at home.' We personally love making up little 'care packages' for our guests, including soaps and shampoos, and maps of the local area. Oh, and everyone loves a choccie on the pillow!



When can we move in? Deb and Andy added art and knick-knacks to make their guest rooms feel much more 'at home.'

9. Cut out what the guest room doesn't need
Think about what your guest will actually need during their stay, and cut back on all the other stuff. For example, chances are they're not going to be spending a great deal of time in there, so luxury add-ons like TVs aren't entirely necessary (unless you're actively trying to create a space for them to 'escape' to). Your guests might not always have a lot of luggage, so including a wardrobe AND tallboy might not be necessary - most guests would be happy with a few drawers, as long as there was somewhere to hang at least a few of their clothes - hooks on the back of the door may suffice.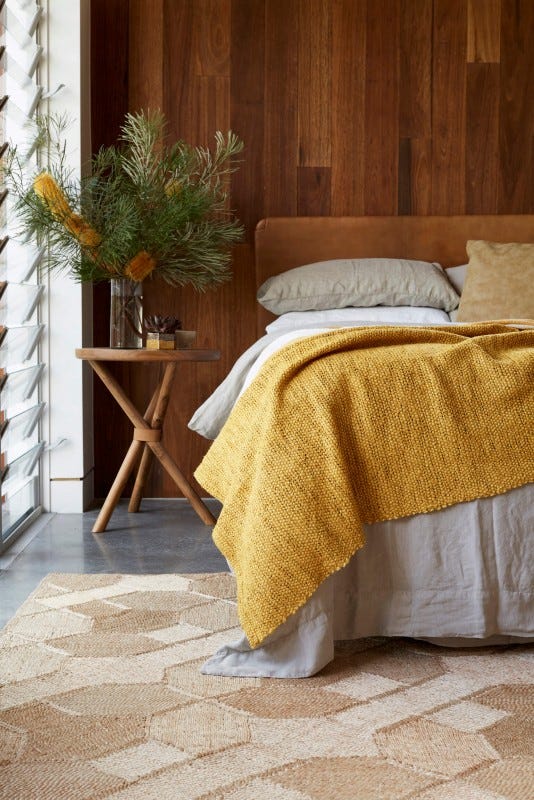 Shelley Craft's guests will never want to leave this gorgeous guest garden studio (Photographer: Jessie Prince)


Looking for an easy way to transform your bedroom? The Block Shop has a great range of bedroom furniture and accessories HERE