We take a look at the contestants stunning second guest bedrooms and ensuites...

Luke and Jasmin Kids Bedroom & Ensuite
Score: 30/30 - winners with a perfect score!

The Perth couple had the most dramatic week on The Block, with disagreements between each other and some of their trades.
There might have been a few tears and some arguments, but in the end of the drama was worth it.
Luke and Jasmin delivered a kids bedroom and bathroom that was practically perfect according to judges Shaynna, Darren and Neale.
With the kids bedroom, Darren loves the dowel rails and ladder and the hanging chair.
"Playful, whimsical and gorgeous," he said.
They were the work of some very clever carpentry from Luke, using his years of training on the job back in Perth.
"It was custom made and we put it high up to make it very functional with space underneath," Jasmin said.
"Obviously we put Luke's carpentry to test and I thought he did really well," she said.
Darren loved the laminate on the wardrobes, saying it looks it could be real timber.
Shaynna also loved the colour palette, in fact, she adored it.
Neale also loved the storytelling of the bedroom, including the touches of the artwork, toy lion and elephant.
He believes any child who saw this room would fall in love with it immediately.
"The way that the prints on the wall reflect the print on the bed, and we have got this beautiful lion here and the elephant, it's just lovely," Neale said.
The praise didn't stop for Luke and Jasmin when the judges walked through the sliding door from the bathroom into the ensuite.
The "wow" factor was immediate.
Neale loved the terrazzo tiles.
"It's a beautifully resolved bathroom," he said.
Shaynna thought the bathroom was faultless and executed incredibly well, down to the soaps. Darren agreed.
"It's so light and spacious," He said.
"The colour palette is just stunning. I love the tile choice, I love the terrazzo and that subway tile. It works beautifully."
Jasmin and Luke made some changes to the floor plan of their upstairs house and it paid off.
"We made a decision to flip the floor plan because it meant a bigger window in the bathroom and more light because you can't put skylights up there, and this also meant we were able to make it into an ensuite," Jasmin said.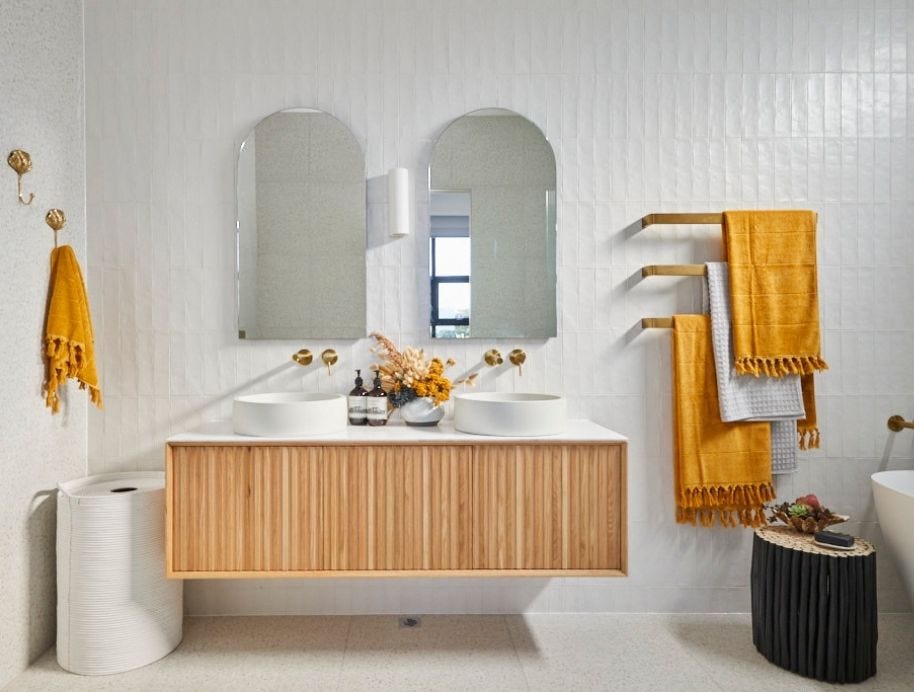 The only real negative from judging this week for the couple was that Neale didn't like the dried flowers in the bathroom.
In a nice touch, Jasmin gave Jimmy and Tam $2000 of their $10,000 prize money as their neighbours in house five helped them through the night to finish and make sure they delivered both rooms to such a perfect standard.
You've got to love teamwork on The Block.
Take a close look and shop all the details in Luke and Jasmins incredible kids room and bathroom HERE

Sarah and George Guest Bedroom & Ensuite
Score: 29/30 - equal second place
Sarah and George have come back from the break-in isolation ready to work and with a good attitude, and that certainly showed this week.
The couple from Western Sydney produced two stunning rooms that the judges universally loved. Neale Whitaker gave them a score of a perfect 10.
Starting with the guest bedroom, Sarah and George designed it for a child of any age, from toddler to teenager.
The first thing they wanted to do is provide enough storage space, and they certainly did that with their wall-to-wall Kinsman wardrobes.
"I know from experience, growing up I had such a small cupboard and it was never enough," George said.
"You always used to throw so much stuff out because you couldn't accommodate it.
"We didn't want that for this room."
As soon as the judges walked in, the initial reaction from all three was - WOW.
"It's breathtaking, that's not often a word I use when talking about a guest bedroom," Neale said.
All three judges loved the wallpaper – a giant mural of a tree.
Darren isn't normally a fan of wall murals in houses, but he liked it in this case.
"I knew we had huge ceilings and I wanted to draw the eyes up when people walk in the room," Sarah explained about the wallpaper mural.
"I thought what better way to do that, then with a massive tree."
Sarah found the design then gave it to Grafico, and she couldn't be happier with the result.
As far as the bathroom is concerned, Shaynna loved the big shower but did think the taps could have been closer to the shower.
Darren loved the tiles.
All three judges thought each room had an emotional connection.
Sarah was incredibly happy with the tiles as she said she took a risk when she ordered them before The Block shut down production because of coronavirus.
All the contestants had to do a mass order before filming stopped.
"I remember picking our tiles when we had to do our mass order," she said.
"I was itching to get upstairs to do it because I knew I could go a bit more moody because we were up in the new section, I wasn't so confined by the 1940s."
The couple admits they took the judges criticism to heart in the first couple of weeks of The Block, but both say now they have decided to just concentrate on the job and not let anything get to them.
However, with a brilliant score of 29/30, they had nothing to worry about this week when it came to judging.
Take a close look and shop all the details in Sarah and George's room HERE

Jimmy and Tam Guest Bedroom & Bathroom
Score: 29/30 - equal second place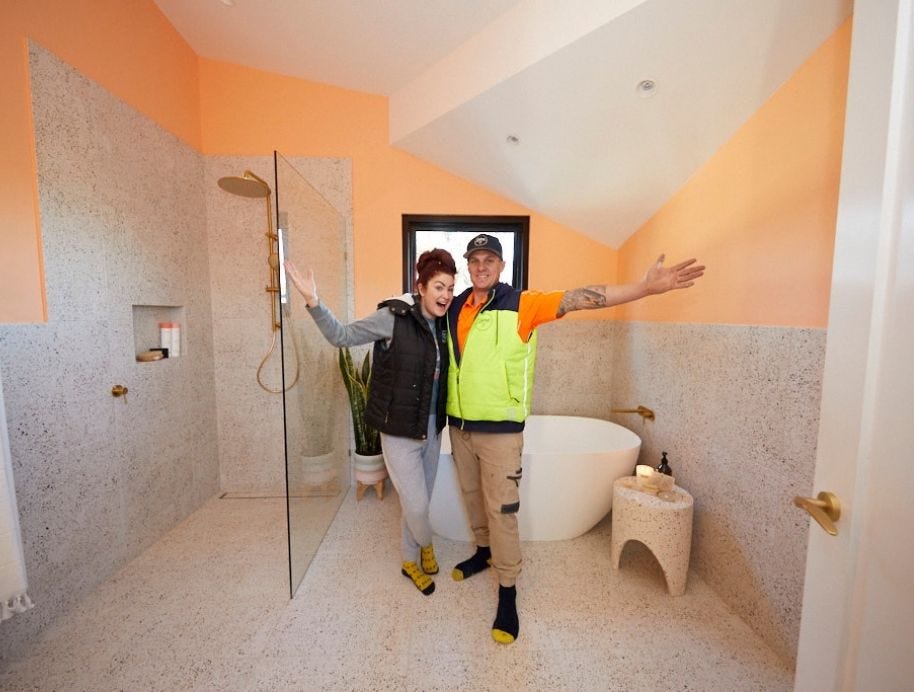 In their break in isolation, Jimmy and Tam watched four seasons of The Block with their eye never far away from the prize.
In the first few weeks of the build, the couple from Brisbane has developed a reputation for being hard-working, organised, and willing to take risks.
This week was no different.
Sticking to their fifties era, the guest bedroom and bathroom upstairs continues the Palm Springs inspired architecture, design and style, right down to the wallpaper in the guest bedroom and the peach paint in the bathroom.
While Neale and Darren liked the peach paint, Shaynna thought it was a bit much.
"This is the Donald Trump of bathrooms," she said.
It was in reference that everyone looks orange in the bathroom and it would be impossible to get your skin tone right because of the reflection of the paint.
Jimmy and Tam, however, love it, and despite Shaynna's suggestion of making it a darker tint, they won't be changing anything.
"We are trying to be bold here," Tam said.
"We don't want to go under the radar.
"We want to do something that hasn't been seen before.
"We know this bathroom is full-on, but we are so proud of it."
As for the bedroom, the wallpaper 'Retro Palm' was again a standout.
The pair also designed a custom made desk and seat by the window, which Jimmy hopes the buyers will relax on and look out to the pool with a cup of tea or a glass of wine.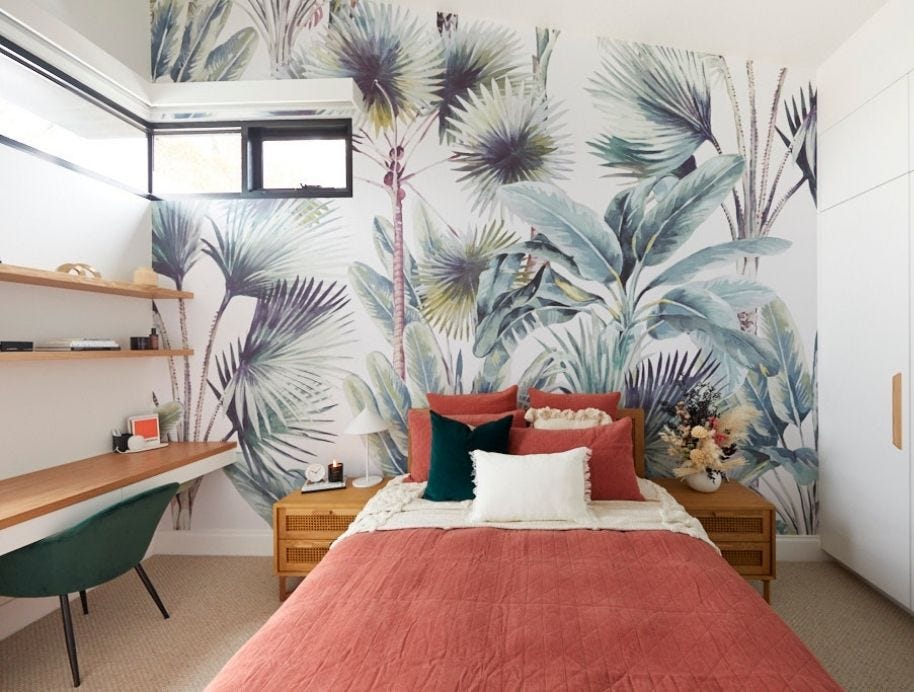 Darren was impressed by how they used the space and noted how difficult it would have been to design around the windows.
Shaynna loved the overall Palm Spring feeling to the room and the continuity the couple have done from downstairs to upstairs.
"Modern, sleek, retro, fun and happy," she said about the bedroom.
With one point away from a perfect score, Jimmy and Tam continue to impress the judges week after week.
Just what they will do next in kitchen week?
Let's wait and see what happens.
Take a close look and shop all the details in Jimmy and Tam's room HERE

Daniel and Jade Guest Bedroom x 2 & Bathroom
Score: 25 1/2 /30 - third place
Daniel and Jade were the only couple on The Block to deliver three rooms this week, making two guest bedrooms and a bathroom.
They did so because they want to deliver a house that will appeal to family buyers.
The extra bedroom despite the hard work it took to deliver the room, it would help them in the long run.
"The upstairs space, when we got our plans it was huge," Jade said.
"Daniel and I have three kids, and we wanted to create a house that has more rooms with more space, so hence we cut our space in half and added an extra room."
The judges immediately loved the two bedrooms, one themed for a girl, the other for a boy.
Darren described the fact the couple delivered two bedrooms could be a game-changer in the end.
"It's really well planned, and finished," he said.
He especially loved the Stars Wars helmet and wanted to wear it around The Block for the rest of judging day.
One thing Jade said was concerned about this week was her styling.
She filed the rooms with accessories including gorgeous linen, cushions and that stunning artwork that all work so well together.
"I had issues with styling this week," she said.
It was more filler stuff, with accessories and things like that.
"I had orders that didn't show up, I had six or seven nos, and they kept coming at me."
She had nothing to worry about, style queen Shaynna just didn't like Jade's work, in fact - she loved it.
She thought the styling of the two bedrooms was the best she had seen on The Block so far this season.
One thing though all three judges thought, execution wise they thought it was pretty good, but they were surprised to find some paint and filler missing around the doors and skirts.
Daniel agreed with them.
"It's probably not to where Jade and I would have liked it, we would have liked it finished with more detail," he said.
"But it was such a big project for us, it turned into a bigger process than we thought, for me especially as the builder on site."
However, it wasn't all rosy with the couple's bathroom.
Darren in particular didn't like it.
When asked what he didn't like he was blunt.
"Pretty much all of it," he said.
Jade said she took a risk, especially with three different tiles in the bathroom.
"I'm getting a bit more adventurous, it's exciting," she said.
That adventurous streak included installing a mint green basin.
Shaynna loved the colour of the basin and Darren would have too if the benchtop was a different colour.
In the end, though Daniel and Jade had a mixed week of judging
But as always leading into kitchen week they will bounce back with sheer hard work and determination.
They always have each other's backs.
Take a close look and shop all the details in Daniel and Jade's room HERE
Harry and Tash Guest Bedroom & Bathroom
Score: 23 1/2/30 – fourth place

All was very positive at the beginning of the judging for Melbourne father and daughter couple Harry and Tash.
The initial feeling from all three judges was of calmness as they walked up the stairs into the guest bedroom and bathroom.
It was the first two rooms the judges checked out for the new TRUCORE steel part of the house build.
Neale thought the geometric shapes of the bedroom referenced the Art Deco period of Harry and Tash's house.
"It's simple but powerful, it's a room that feels like it's glad to be back," he said.
Shaynna loved the wardrobe and thought it was ample and well designed and the cute koala vase.
Tash was very happy with the styling and in particular, is a fan of the artwork in her guest bedroom.
"I feel like I'm really bad with artwork," she said.
"But when I saw this one I knew it would be perfect for the space" "It works perfectly with the bed linen."
In the bathroom, the judges were also very impressed.
Darren in particular loved the Terrazzo tiles, calling them "stunning."
"When you lay them down, the tiles are really warm and beautiful," Tash said of the tiles.
However, and it's a HUGE however, Darren noticed on his way out the builders had put in a perfectly straight steel wall, out of plumb by what looks like 40mm.
It means that Harry and Tash will have to spend thousands of dollars on getting the bathroom fixed, an unwelcome distraction not to mention expense.
All three judges were devastated for the couple, considering besides that they delivered two very strong rooms.
"I'm spewing about it because it's such a beautiful bathroom," Tash said.
Take a close look and shop all the details in Harry and Tash's room HERE
Everything you need to know about The Block 2020 HERE

9 ways to create the perfect guest bedroom HERE