Need a home office? Here are Darren Palmer's top tips on turning that spare spot in your house into the perfect work space.

Even before COVID-19 hit, workers around the world were starting to ask: "Do I really need to go into the office?".

Spending hours commuting to sit in a cramped cubicle and do a job that could have been done any place with a wifi connection, queueing up to buy an over-priced sandwich or coffee, then spending even more time to get back home again just didn't seem like such a great idea.
And increasingly, bosses agreed.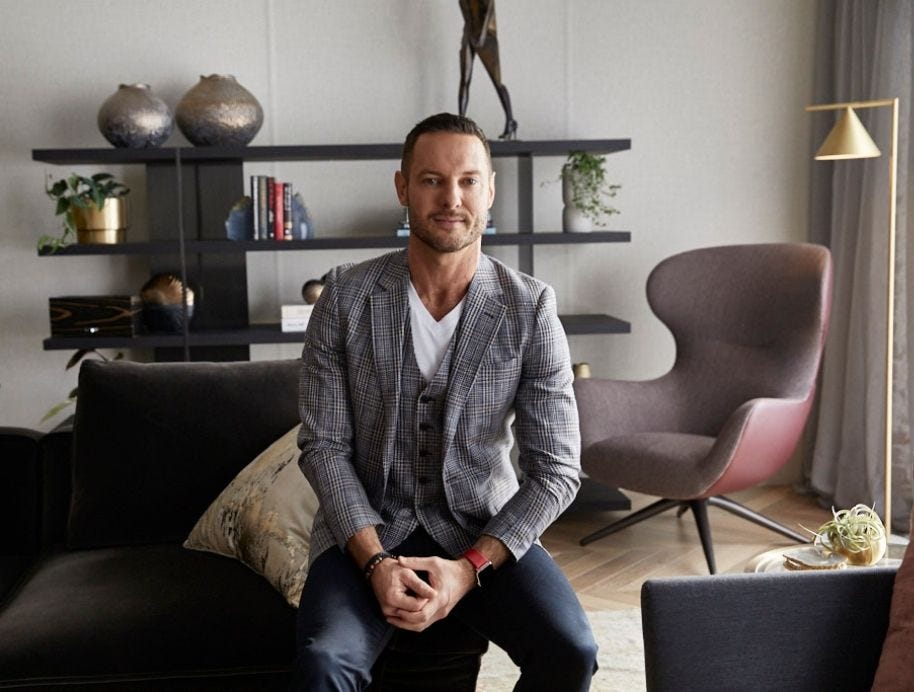 Design guru, Darren Palmer shares his tips to make your home office work as hard as you.


Working from home at least part time became a serious option for many, who would "hot desk" with other colleagues if they needed to physically come to their office and get by with a laptop at home if they didn't.
In 2020, however, it all became a little more serious when the order came down from doctors, if there's any way you can work from home, do it!
And suddenly, that cleared space on the kitchen table just wasn't cutting it as a home office.
But just what do you need to make a good home office? We spoke with design guru and The Block judge Darren Palmer who said a lot of what we need to know comes from ideas that have been a part of workplace design for years: "Now we have to think about them in home as well!"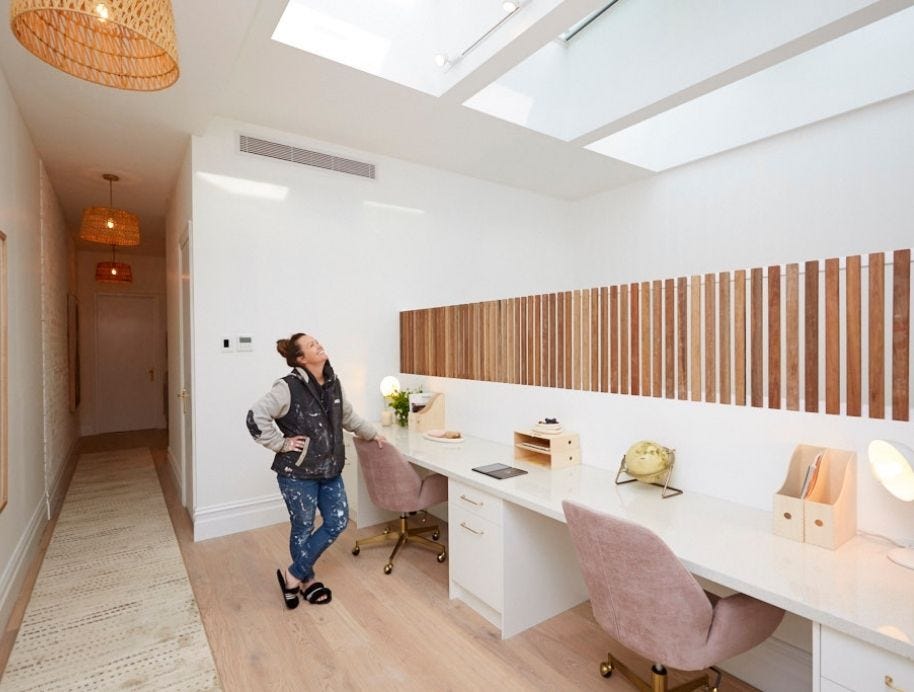 Deb and Andy's simple study nook with a nice neural palette featuring on The Block in 2019.

Six points to remember to make your home office work as hard as you.


1: Location, location, location. "In the past a power point near an island bench with a spare drawer nearby was fine, but now, you need a separate designated location where you can go to work, then leave at the end of the day.
"By keeping them separate physically you can help get that work/life balance right too, you're not always in the space where you work."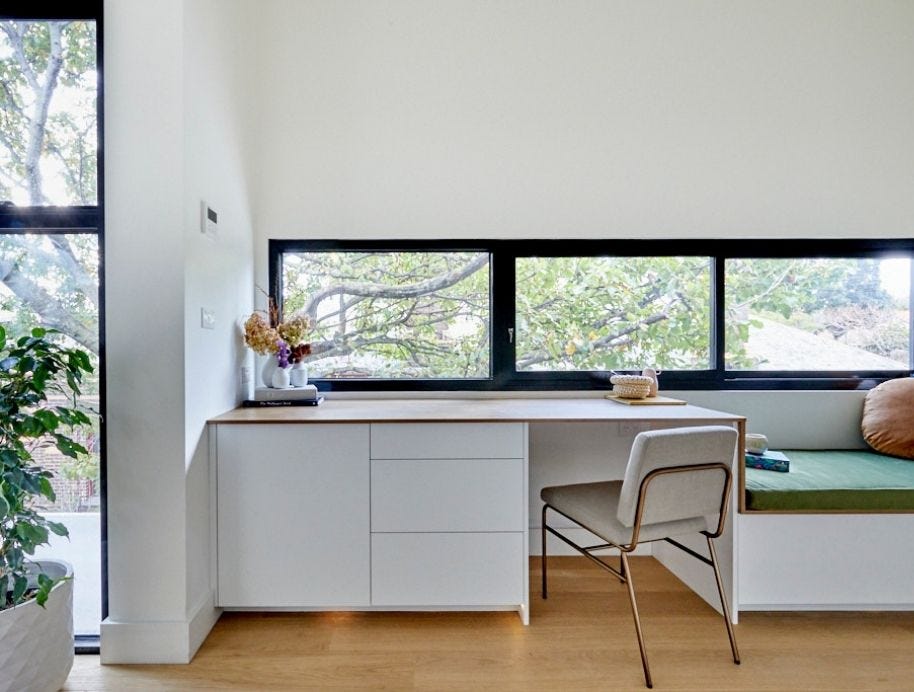 Harry and Tash created a stunning work from home space on the Block in 2020.

2: Get the look. Much of the modern work day involves virtual meetings, Palmer says, so be aware of what is behind you when a camera is turned on.
"It's astounding how many interviews I see on television with an expert whose message is derailed by what we see behind them. Get the lighting right, have a businesslike background and it makes the world of difference."
3: Set for success. "Make sure the space is set up ergonomically so you can be comfortable there through your work day," Palmer recommends.
A full office is preferable he adds, but even if it's a small study nook, make sure you're not cramped, your chair is set up properly and you're comfortable. If not, it just won't be a place you'll want to spend time.
4: Keep it quiet. You don't want distractions while you work and you don't want your work conversations to be heard throughout the house, Palmer warns.
"It's perfectly appropriate if your work from home space is near your kids' bedroom for example if they're going to be at school," he says, "but if everyone is at home trying to be productive, acoustic privacy is an absolute must."
5: Remember the office storage. "You can't overlook the importance of storage. Think about what you need and make sure you have the space for it, whether that's space for any documents you need, or a library, samples, whatever it is you need for your job," Palmer says.
Keeping it separate physically, he adds, will help keep work separate mentally from the rest of your home life.
6: Get Tech savvy. For a start you have to make sure this is where your computer is, with reliable internet connection, either cabled or via wi-fi.
Make sure the camera you'll use for virtual meetings is up to the task – there's nothing worse than a blurred jittery image – "and if you need printers or a scanner, this is the place to keep them!"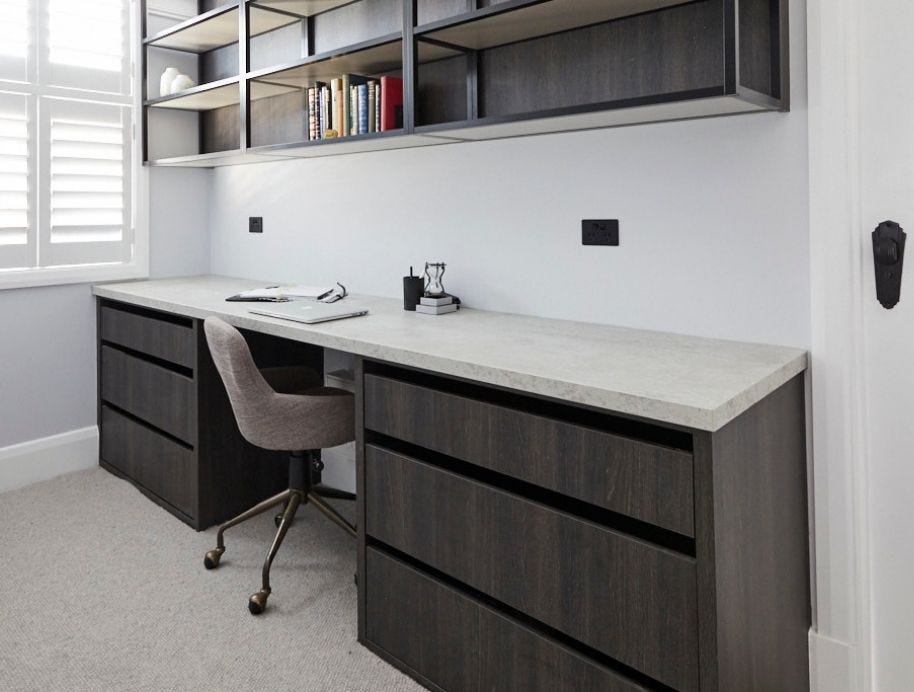 Darren was a fan of Sarah and George's 2020 home office especially the benchtop, and the draws from Kinsman.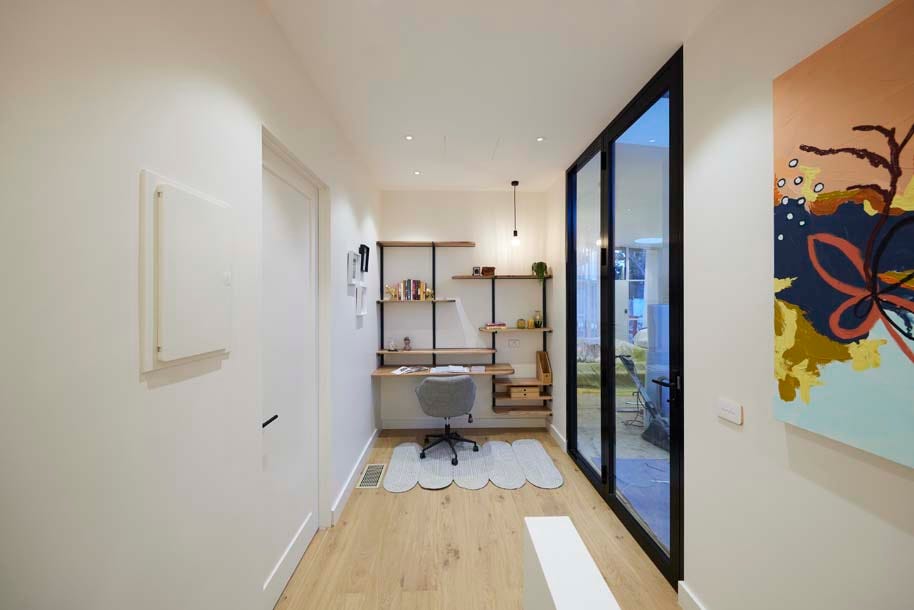 Tanya and Vito created a functional office space in their Block home.


The Block Shop's range of office desks, office chairs, desk lights and organisational accessories will have you efficiently working from home in no time - start shopping HERE
Thank you, Darren.
Love The Block Shoppers x