We take a look in the contestant's guest bedrooms...


Jimmy and Tam Guest Bedroom Reveal
Score 25 ½ /30
Spent: $14,258.07
First place


Our Brisbane plumber and bowling club bar manager Jimmy and Tam came on The Block in the hope to secure a rosier financial future for their daughter, Frankie (4).
Having never renovated a house before and not owning their own home, they weren't expected to be the early favourites. But that's exactly what they are after they took out their second win in The Block 2020's beach box House Decider challenge.
From the moment they stepped onto The Block Jimmy and Tam wanted the 1950s house, House No.5, and they have embraced the era from the beginning.
The judges Darren, Shaynna and Neale did however think they just scraped in this week – after much debate, they came up with the year 1959 when it came to the look of Jimmy and Tam's guest bedroom.


They loved it, immediately noticing the four VELUX skylights as they walked in.
"I've walked into this room with an evident, powerful, emotional connection and I'm in love," Darren said.
They all thought the wallpaper from Grafico, the drapery and the bed were perfect choices.
Jimmy and Tam also produced what appears to be a secret door into what will be their Guest Ensuite Bathroom, which is a clever extension of their Kinsman wardrobe.
"That's a level of finesse and detail I applaud," Darren said.
Every year on The Block we hear that term 'emotional connection,' and that's exactly what Jimmy and Tam delivered.
"This one has got me by the heartstrings, it really does," Neale said.
"It feels so beautiful."
Taking out first prize this week won them the $10,000 cash from Ford AND also awarded them the coveted Gaggenau kitchen appliance upgrade - an incredible $120,000 worth. It's fair to say it's been a brilliant start to The Block for the couple.


More importantly, both Jimmy and Tam have the confidence that they belong on The Block. "Prior to coming on The Block, you go through an emotional roller coaster," Jimmy said.
"One of those emotions you go through is are you even good enough to be on The Block?
"So it's so gratifying to hear the judges comments."
With two weeks in a row, Jimmy and Tam will have everyone watching their backs on The Block.
They certainly are the early favourites now.

Take a close look and shop Jimmy & Tam's winning room HERE

Daniel and Jade Guest Bedroom Reveal
Score 25/30
Spent: $15,691.96
Second place


During the week Jade had a lot of self-doubt as she got used to shopping on The Block, but she passed with flying colours.
All three judges were impressed with the choices Daniel and Jade made for their 1930s inspired period home.
The styling was on point.
The couple found a beautiful old original pendant light from the house and restored it to its' original glory, and the judges loved it.
"Look at that ceiling rose and that light, it's spectacular, it literally just drew my eye straight up to the centre of the room," Darren said.


"It accentuates the ceiling, it's absolutely beautifully art deco, it's 1930s."
Shaynna loved the bamboo picture frame that Jade got from Keeki.
"There was a very big Asian influence in deco that not a lot of people brought forward, and I'm very happy with that," she said.
However, she wasn't a fan of the plantation shutters in keeping with the era of the house and thought Daniel and Jade could have gone for curtains or drapes instead.
Neale loved the colour palette choices on the bed, including the cushions and bedding.
"The combination of the greys and the pale greens has been beautifully done, and to pick sheets that have got that marble vein through them too, that's a very subtle and clever way of bringing deco into now," Neale said.
Darren's favourite feature of the room was the curvaceous Kinsman wardrobe handles.
In the end, the word "spectacular" was thrown around by the judges at the week one efforts of our farmers from South Australia.
"How is this week one?" Darren asked the question.
The first week on The Block had been very positive for Daniel and Jade, including working with the other couples.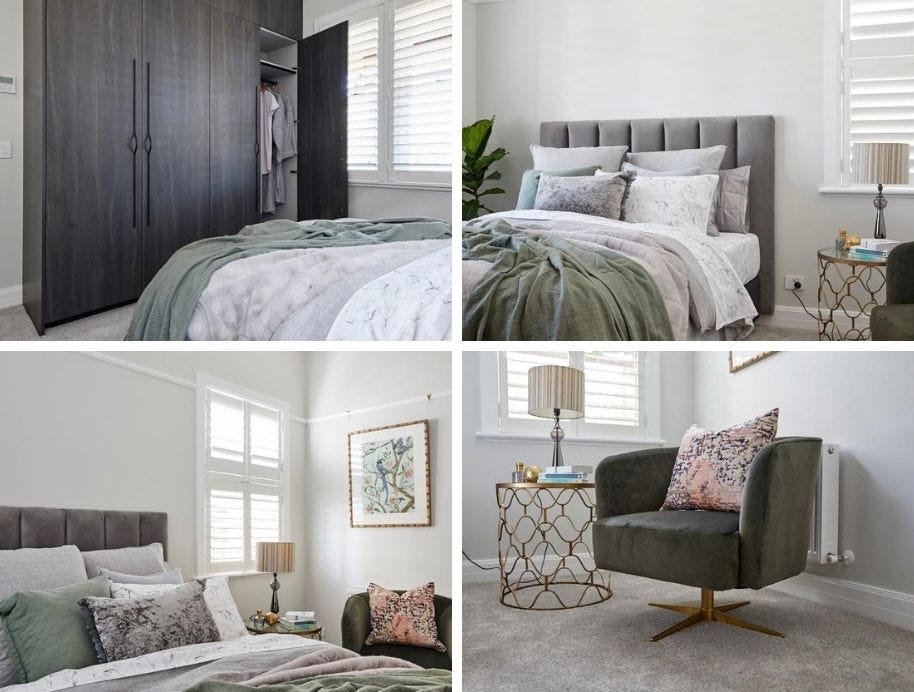 "We all get along really well," Jade told The Block Shop,
"It's like we have been friends forever.
"We said that at the beginning, we didn't come here to make enemies, we didn't leave three months of our lives behind to make enemies on The Block."
They go into week two full of confidence, realising they are up to the challenge.

Take a close look and shop Daniel & Jade's room HERE


Harry and Tash Guest Bedroom Reveal
Score: 24/30
Spent: $14,152,24
Third Place

It was a tough week for Melbourne's father and daughter Harry and Tash, with lots of tears from Tash as she struggled with the reality of The Block.
But they were tears of relief at Scotty's HQ after overall positive feedback for their first room reveal on The Block.
Just a week ago Harry and Tash finished last in the House Decider challenge and Darren, Shaynna and Neale all acknowledged just how far they have come.
"They've really, really listened hard to the comments we made last week and to come through with something so accomplished as this, I think it's amazing," Neale said.
Walking into the bedroom Darren loved the raised ceilings and the three VELUX skylights, which immediately had an impact.
"I feel like these houses are so Australiana, and then we walk in and we catch this view with the Velux's here (pointing up towards the view), and it brings that (feeling) inside," he said.
"I think it's amazing."
Shaynna thought their use of the space was planned and their decision to install Venetian blinds from (insert name) was a great nod to the 1920s era.
"I commend them for putting in Venetians," she said.
"That works for the period and I adore it."
Neale also thought the styling and the choice of furniture were perfect for the 1920s including the art deco bedhead and the bedside tables from Fenton and Fenton.
Shaynna also loved the beautiful black slippers from Carpet Court, saying it was a lovely touch.
In fact, the use of touches of black across the guest bedroom including the handles of the Kinsman wardrobes was applauded.
Tash couldn't hide the smile of her face after the positive judging.
"I'm so proud of what we have done," she said. "It also means second guessing yourself is OK.
"If I hadn't of second guessed myself, a lot of those things would not have happened."
Harry told The Block Shop it was an emotional week for the father and daughter, but it was all worth it.
"I didn't want to see her so emotional, there were some emotional moments for both of us," he said.
"You don't want your kids to feel that way, but seeing the judges comments tonight makes it all worth it."
Harry and Tash will go into week two of The Block 2020 working on their Guest Ensuite bathroom full of confidence. But will that confidence last?
Take a close look and shop Harry & Tash's room HERE


Sarah and George Guest Bedroom Reveal
Score 21/30
Spent: $15,137.16
Fourth Place


Lovable Western Sydney couple Sarah and George delivered two spaces this week, as well as the guest bedroom they installed a home office or study, that they hoped would give them an extra edge.
On first look, Darren was impressed with some of the 1940s period features.
"I love the rose in the ceiling, I love the door handles from Schots, they are really period appropriate," he said.
He was also a fan of the Kinsman wardrobes, as was Shaynna.
However, Darren struggled with the positioning of the door and the layout of the bedroom.
Neale acknowledged that the 1940s is a tough era because of the time in history, coming out of the art deco period in the beginning of the decade and then austerity because of the world war at the end.
Shaynna, out of all three judges, was the least impressed with Sarah and George's efforts.
She believed they didn't look at the rest of their (dilapidated) home's beautiful square details, and delivered lots of curved features instead.
"They have decided to create their own version of the 1940s ….. and I'm actually now getting upset," she said.
One positive for Shaynna though – she thought the execution of the room was a step up from house one.
As for the home office or study, Darren was a fan, especially the benchtop, and the draws from Kinsman.
"I love the allocation of the draws," he said.
"The shelves are at the right level so you can reach things….. I'm satisfied this would add value to the house."
Shaynna thought this space would've been better suited to a walk-in wardrobe and not a home office study.
She believes Sarah and George didn't quite get the 1940s brief.
"They have gone down that road of a very generic, boutique, apartment renovation," she said.
Sarah admitted she was a bit confused with some of the judges' feedback.
"To be brutally honest I'm very confused, I don't know how to take it," she said.
"I don't know what to keep the same."
Despite the feedback don't count our Western Sydney couple out yet, as we all have to remember, it's only week one on The Block.
Take a close look and shop Sarah & George's Block room HERE


Luke and Jasmin Guest Bedroom Reveal
Score 20 ½ / 30
Spent: $17,156.89
Fifth place
When they came into The Block, Perth married couple Luke and Jasmin had a clear vision of what they wanted to deliver in a house.
It's fair to say they didn't have the 1910s in mind, at all.
"We came in with an idea of creating our dream house, and we realised that the competition would play heavily on the era and we would have to throw that idea out of the window because our dream house is not 1910s," Jasmin told The Block Shop.
This could not be more clear this week with judges Darren, Shaynna and Neale rejecting Luke and Jasmin's contemporary room and the fact it appeared they have shown no attention to the 1910s era.


"I think it's a crying shame," Shaynna said.
"They have been given a specific decade, you don't have to be a slave to it, but this is confused to what it wants to be."
"The shutters Carpet Court, the wardrobes and the doors, tick, but the rest of it – goodbye."
Some very harsh words by our very honest and direct judge, Shaynna.
In the end, Neale agreed with Shaynna, but he did however praise Luke and Jasmin for the room, despite the fact there wasn't much of a nod to the 1910s.
"I think they have delivered a very accomplished, glamorous, contemporary room," he said.
Despite the criticism Jasmin still has a contemporary home in mind in coming weeks, so she could be on a collision course with the judges.


"I keep thinking about my master bedroom, and what I've got in mind," she said.
"I'm probably going to push on and do it anyway."
So there could be some more fiery comments from Shaynna as Luke and Jasmin struggle with coming to terms with their 1910s home.
The Perth couple has a very strong vision about what they want to do on The Block, but will it pay off in the end?
Take a close look and shop Luke & Jasmin's room HERE


Meet the 2020 Block Contestants HERE
Everything you need to know about The 2020 Block HERE