His stunning artwork hangs pride of place in Deb and Andy's formal lounge.
We get to know artist Jonathan Gemmell.


Your art features on The Block this year - congrats!
Yeah, what a rollercoaster! I'm very excited to see what fun times are ahead and to meet a lot of interesting people and show off what I enjoy doing so much, to such a large audience.



Deb selecting her very special artwork which has lots of meaning behind it. "Rainbows are significant in our family and I'm proud to have a piece as special as this on The Block" said Deb.

How did it come about?
Sarah and Harrie at The Block Shop came across my art on Instagram @artbymejwg and were keen to have it in The Block Shop. This was huge for me! Then, two days later, I got a phone call from Harrie - The Block Shop was open to the 2019 contestants and one of the couples came in and fell in love with my painting! I was stoked, to say the least.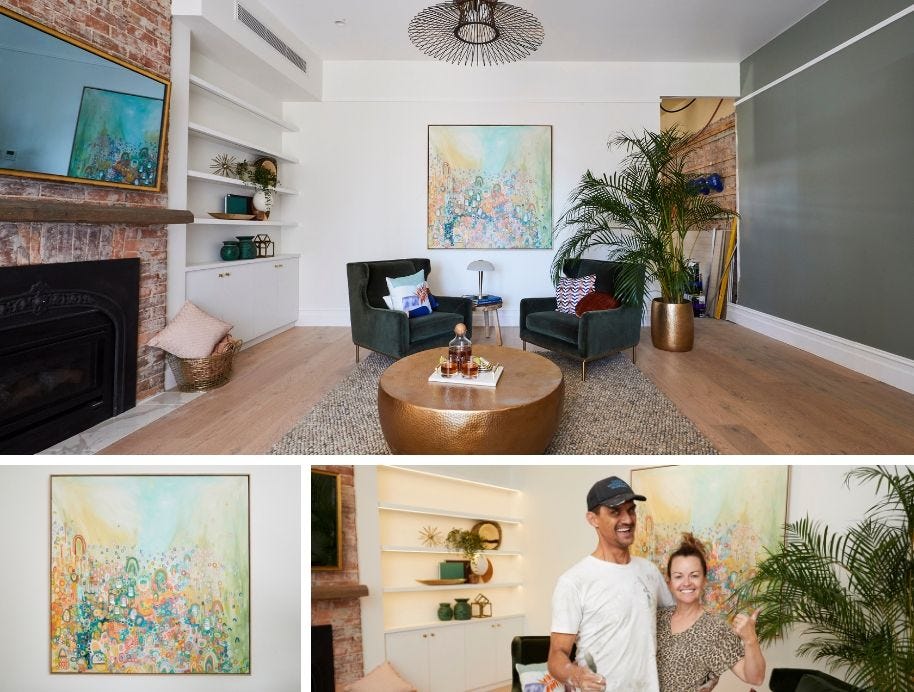 Andy and Deb's stunning use of art was noted by the judges, who said their choice of hero piece by artist Jonathan Gemmell was genius. "The colour of the artwork and the vibrancy, it goes with the colour of the chairs really well," Shaynna noted. 

What does it mean for you to have your art featured on the show?
As an artist, each and every piece of exposure is amazing and helpful. It's very hard to get your work seen and known, so to have such a wide audience is massive.

How long have you been producing art?
I started painting when I was five and my art class was run in Warrandyte, along the Yarra River. I then started selling when I was 19. Now, at the age of 30, my art adventure is still something I really enjoy.

Where do you draw inspiration from?
Being in the outdoors, whether that's by the ocean, or in our area - that's easily my biggest go-to for inspiration. I love visiting different places throughout Victoria to get ideas for colours and textures.




Are there any particular artists that inspire you?
Gustav Klimt - his details and use of colour is stunning

How long does it take you to create a piece?
It does vary from size to size, but normally two to three weeks. I work on about four pieces at a time, so when one isn't working I can move to another to avoid destroying anything. But if it's a biggie, a 2m x 2m commission, they can take months.



Jonathan at work in his Melbourne studio who juggles between being a full-time artist and running a landscaping business.
How would you describe your art?
Bold shapes, colour, maximalist, modern, positive and captivating!

How do you come up with names for your artwork?
I find this part of art quite hard. When I finish my piece, I have a coffee and just stare at it for a bit. I draw from my thoughts of where the colour idea came from, where the shape ideas came from and basically how I'm feeling on that day. My names are mostly open, so the viewer can write their own story.


Jonathan's latest artwork is luxury velvet cushions. "I get velvet printed using cropped photos of my original paintings. I wanted everyone to be able to have art in their home whether it's on a wall, couch or floor."

See more of Jonathan Gemmell's art HERE 


Did you like this blog? Subscribe to our newsletter to be the first to receive news from The Block! Subscribe now to receive $20 off your next order