Welcome to The Block: Gold Rush. This year's show is shaping up to be bigger than ever

Five couples. Five gargantuan terraces buried under a century of neglect. A renovation that's bigger, tougher and longer than ever before. Could this be The Block that finally pushes its contestants too far?
Welcome to The Block 2019.

Once the jewel in St Kilda's crown- we cannot wait to watch the transformation.

Built more than 150 years ago on the back of the goldrush, The Oslo – or Killeen as it was first known – was one of Australia's premier addresses.
Home to society families, the newly rich and the nation's elite, it was the jewel in St Kilda's crown.
But through the years the building changed hands and uses again and again until it became a low-rent backpacker hostel, with walls burrowed out to give access from house to house, foundations moving and problems galore.
What better location for The Block?
With the bones of its old beauty still there, new building technologies to help and a lot of hard work, the dream was born to bring The Oslo back to life.
The sheer scale of the build, however, was more like a nightmare.
At an average 460 square metres per home – that's twice the size of last year's average Gatwick build – and with 57 tonnes of steel reinforcing needed and almost 4500 cubic metres of rubbish, rubble and refuse to get rid of, this was always going to be the biggest Block ever.
"At the start I looked at this and thought that's impossible," says Scott Cam, who is returning to host the show for its 15th season.
"Here we have double the size of what we did last year, and more than four times the size of the original Block in Bondi. That's a big ask."
Throw in the fact that large parts of The Oslo were heritage listed but in need of serious help and the whole back of the building had to be built from scratch – there's not a single wall or floor left – and what you end up with is one huge rebuild.
"What we've seen in the past is The Block contestants never shying away from a challenge," says Executive Producer, Julian Cress. "And make no mistake, this really is a challenge."
Stepping up to the line this year are five of the toughest couples ever to pull on The Block boots.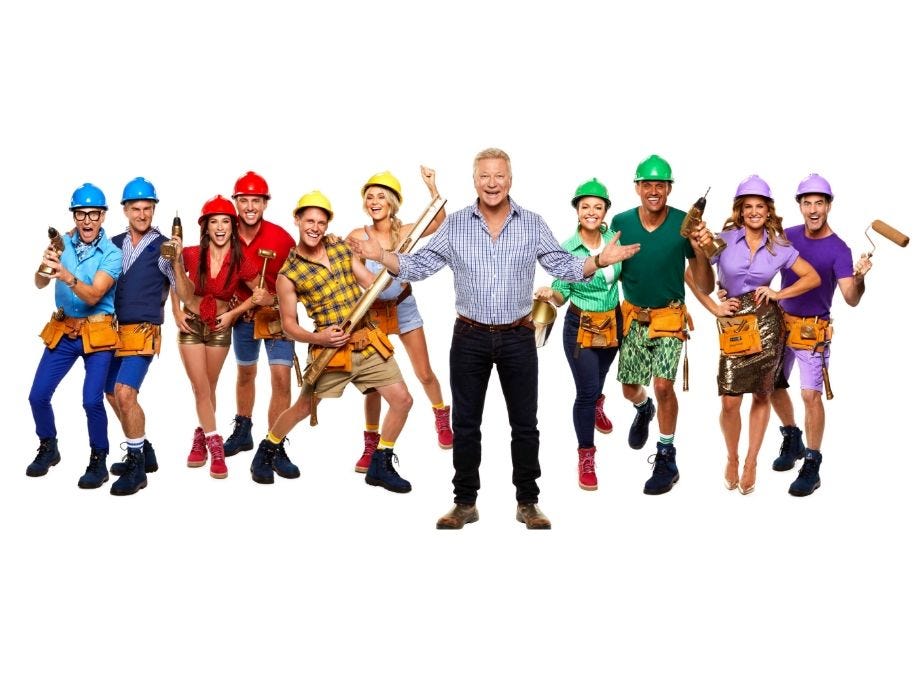 Chosen from more than 45,000 entries (that's a match on last year's record) are Queenslanders Tess (28) and Luke (30), WA's El'ise (33) and Matt (39), Victoria's Jesse (29) and Mel (30), and from New South Wales Mitch (56) and Mark (57) and Deb (46) and Andy (48).
At stake is $100,000 for The Block winner plus whatever profits their home can make on auction day.
To get there they'll have to stay on budget and on time transforming the old hotels into five top-end homes, delivering a room a week for the judges' assessment.
And from day one they learn exactly what they've taken on.
Heading back to the goldrush, these Blockheads will have to dig through layers of rubble and mud with their bare hands just to find out which home is theirs.
Then they'll have one week to deliver a bedroom complete with ensuite to move into. Miss that mark and it's back to the bunks of an Oslo dorm.
But that's a fight they're all more than willing for, and it's only the start of their journey to return The Oslo to its former glory.
Day 1 at the Oslo - Mitch and Mark have arrived! Overwhelming much?!

"These houses are going to marry the best of the old and the new," says The Block's resident architect, Julian Brenchley.
"The plans include four bedrooms, four bathrooms, living areas, media rooms, luxurious kitchens, terraces, gardens, garages and more. There's even a lift. And of course, they can make changes as they go.
"This is by far the most ambitious Block ever attempted, but we're aiming for the stars. In every sense of the word, this is going to be huge."
Overseeing the renovations once more will be site foremen Keith Schleiger ("The Blockinator") and Dan Reilly ("ForeDan"), with the weekly room reveals judged by Darren Palmer, Shaynna Blaze and Neale Whitaker.
Also returning to keep an eye on progress will be Managing Editor of Domain magazine Alice Stolz, plus Block veterans Scott Cam and Shelley Craft.
"Even more than The Gatwick last year, this is a building that deserves a second chance," says Shelly Craft. "You only have to look at it to know that lurking under the old façade is a beauty just waiting for us."
But to get to that beauty the contestants will have to get past a beast.
"This will be a very big challenge for everyone, and to be honest I'm worried that not all of them will make it to the finish line," says Scott Cam.
"But we've got the right people, the right attitude and we're giving it a red-hot go – stand by for the miracle of Melbourne!"

The Location: St Kilda at a glance
· Seven kilometres from the CBD.
· Median three-bedroom house price: $1,572,500 million  (as at June 27, 2019) (refurbished four-bedroom terrace homes can fetch in excess of three million).
· This inner-city seaside suburb with its grand esplanade has been a popular spot with Melbourne's well-heeled since the early 1900s.
· In the 1960s it also became popular with the Bohemian set, and has continued to boast a thriving live music, arts and cultural scene.
· Famous landmarks like Luna Park, the Palais Theatre, St Kilda Baths and the Esplanade Hotel ("The Espy" to locals) are all still standing – as popular now as they were decades or more than a century ago.
· In recent times the suburb has undergone massive gentrification, though its darker side (prostitution, drugs, homelessness) still remains in pockets.



Did you like this blog? Subscribe to our newsletter to be the first to receive news from The Block! Subscribe now to receive $20 off your next order