As one of The Block Shop's favourite suppliers, Martini Furniture is responsible for some of the fabulous upholstered bedheads you've seen on The Block.
We thought it was about time we sat down with husband and wife team, Erin and Leif to chat about where it all began and why you should shake up your home with décor and colour!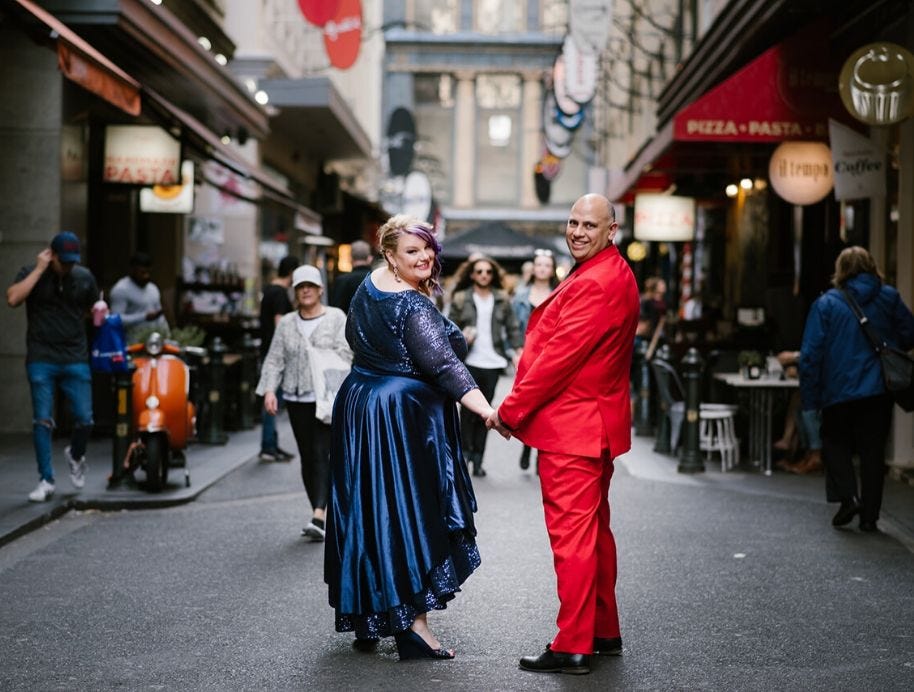 The vibrant and extremely talented duo Erin and Leif who are the husband and wife team behind Martini Furniture.

Tell us a little about Martini Furniture and how it came to be?
The idea for the business came from our mutual love of colour and a desire to get out from behind our computers of our day jobs and work with our hands. I run a marketing agency and my husband, Leif is a writer, so we are both creative in our own way, and have a similar taste in homewares, art and decor, so we thought, why not start a side business making luxurious upholstered bedheads?

We are do-ers, so once the idea was formed, within 8 short weeks, we had designed our first range, photographed samples, built a website and launched the business into the world!

Within the first 6 months, we had made contact with The Block Shop, and were thrilled to be accepted as a retailer, but better still, a few months later, were even more thrilled to be invited to supply our products to contestants in The Gatwick, The Block 2018 season! I (Erin) am a HUGE fan of The Block (like, seriously, I binge old series' in the off-season!), so getting our products onto The Block was an absolute dream achieved!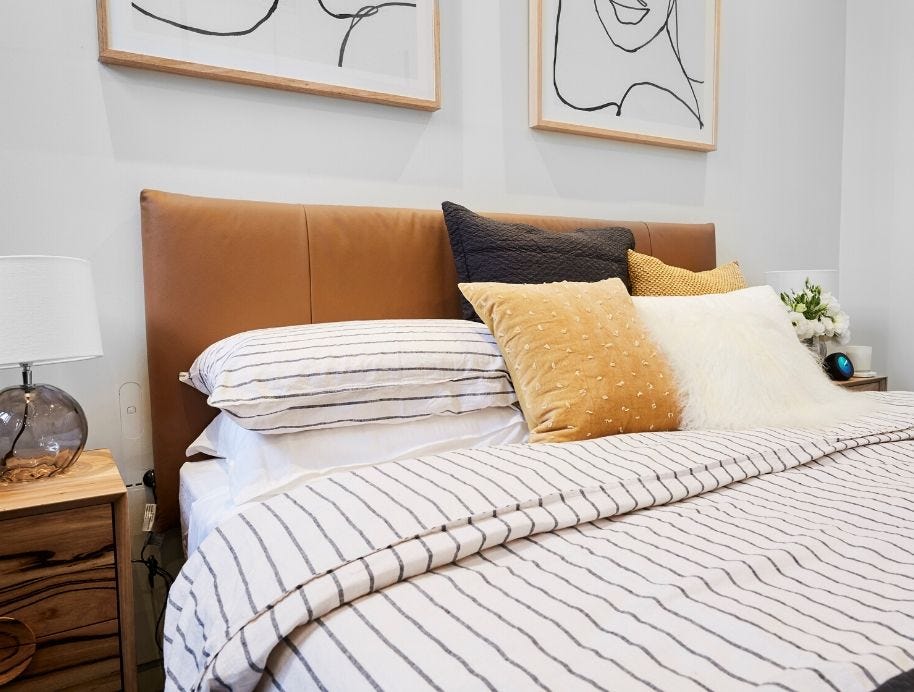 Martini Furniture custom-made tan leather bedhead featured in Bianca and Carla's winning Guest Bedroom."This is by far our most popular selling bedhead since that episode went to air… it's sleek, stylish and there's nothing else like it available in Australia," Erin tells Insider Style.

How long have you been in operation?
Almost 3 years!

Where are your products manufactured?
We handcraft all of our products in our Melbourne Workshop.

What sort of things do you sell?
At first we the focus was on custom made upholstered bedheads, but we have now branched into velvet cushions and custom-made upholstered blanket boxes. Our cushion range was created as a sustainable solution to using some of the off-cuts and waste created by our upholstered bedhead manufacturing. Win, Win!

We also offer a design service to create custom bedhead's that bring our customer's visions to life. Upholstered Bedheads are pretty big statement pieces, and not one that people are going to replace often, so we love working with our customers to create one that they are going to LOVE!

Our favourite and most challenging custom order to date has been a king-size, 1.5m high, tufted buttoned bedhead with curve top and studded wings in our gorgeous Royal Blue velvet, with a matching gas-lift storage bed base. That one was a monster, but turned out beautifully!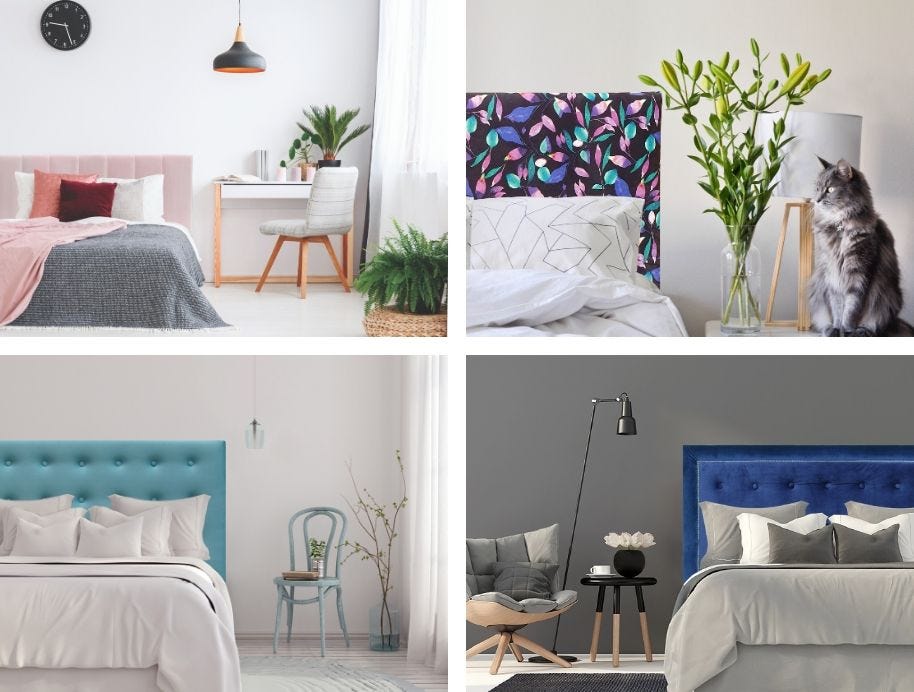 "Bedheads are pretty big statement pieces, and not one that people are going to replace often, so we love working with our customers to create one that they are going to LOVE!"

What is it like working so closely with your husband and juggling home/work life?
Leif and I have lived and worked alongside each other on our separate businesses pretty much since we met, so we thought adding another business into the mix would be a breeze! Turns out, once we started working together in partnership on the same business, it took us a little while to find our groove and work out how each other works, but now we are like a very well-oiled machine!

There's no such thing as work/life balance for us. We just juggle everything as it needs to be juggled, constantly coming up with new ideas and giving them a go at bringing them to life. At the end of the day, we both have the same "can-do" attitude, and believe that any good idea is worth pursuing, so why not dedicate the time and give it a go? Sometimes our ideas work, sometimes they don't, but we will never die wondering.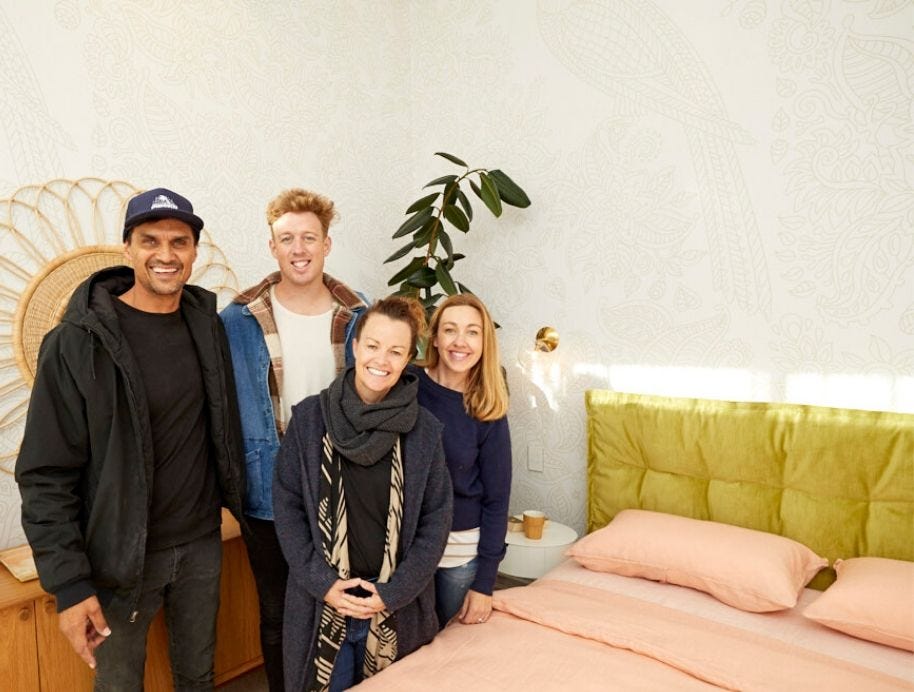 Deb and Andy with help from Block mega-champs Josh and Jenna presented a stunning guest bedroom in 2019 with a stunning green velvet bedhead by Martini Furniture "This is incredibly hard to fault," Shaynna Blaze said.

How does being an online business differ from being a regular 'bricks and mortar' store?
We decided to launch Martini Furniture as an online-only store, so that we could keep our overheads low and launch quickly. By working with The Block Shop and getting our products onto The Block tv show, we were able to reach a national audience, which really helped to get our brand out to thousands of people who are interested in renovation, interior design, homewares and decor. We could never have done that with one "bricks and mortar" store in our local area.

The decision between online and bricks and mortar in terms of costs and logistics is not the only metric for success though.

The clincher is making sure we offer exceptional customer service to all of our customers and prospective customers. We make sure that we respond quickly to every enquiry and go above and beyond to make sure our customers are happy with their purchase from us. We believe that it is the experience our customers have with us that will make us memorable to them, so we do our absolute best to make sure they know they are valued by us.
How did you feel when you found out you'd be featured on the show?
Absolutely thrilled! I (Erin) am a Superfan of The Block and have watched and re-watched every episode since The Block started way back in Bondi in 2003. So when we got the call from Jess in 2018 asking us to make them a bedhead for their challenge room, we leapt into action!

That experience of running to source fabric, make the bedhead and drive it across town in under two hours gave us a very real taste of what it must be like to be a contestant, and as much as we loved it, we're glad we don't have to do that for 12 weeks!

What products of yours have been featured on The Block?
As previously mentioned our exciting first call-up to The Block was to supply a custom bedhead in under 2 hours to Jess & Norm for their Style to Sell Challenge in The Block 2018 season, and much to our delight – they won!

We then supplied the charcoal velvet bedhead to Bianca & Carla for their master bedroom, followed by a custom-made tan leather bedhead for their winning Guest Bedroom! (This is by far our most popular selling bedhead since that episode went to air… it's sleek, stylish and there's nothing else like it available in Australia).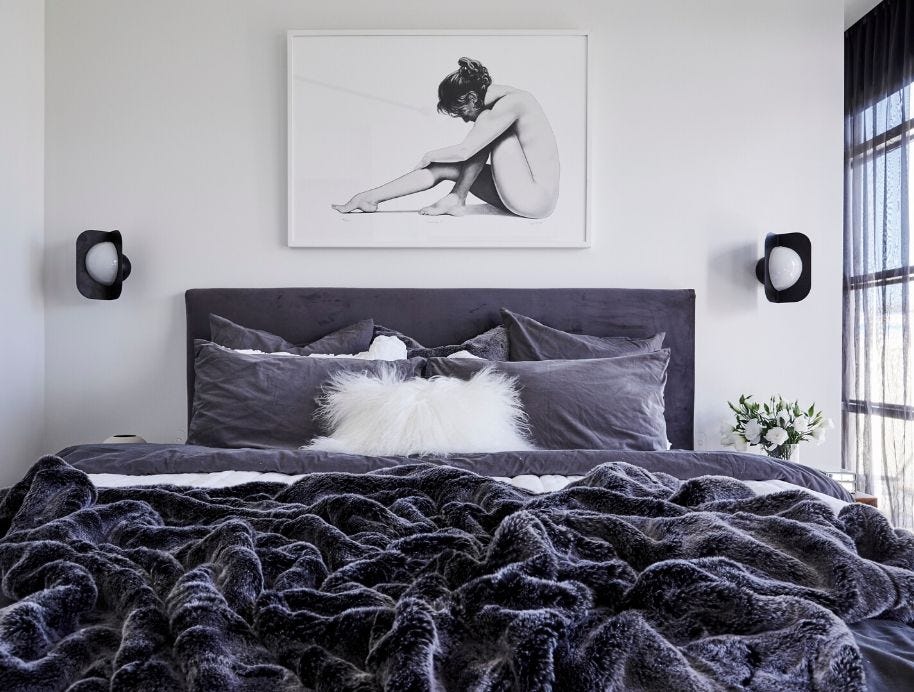 As seen in Bianca and Carla's Master Bedroom in The Block 2018. This gorgeous charcoal velvet upholstered bedhead not only looks classy, but feels amazing! Wouldn't you just LOVE this luxuriously soft velvet bedhead with delicate buttoned detail in your bedroom?

In 2019, Mitch & Mark chose our gorgeous Olive Buttoned Velvet Cushion for their formal lounge room, and then Andy & Deb trusted us to make their green velvet, relaxed cushion style bedhead for their Guest bedroom, (you know, the prawn cocktail one?!), and despite polarizing everyone in the country, they won the room!

What's new for Martini in 2020?
We have a few more product designs in the works which we'll be launching in the latter half the year, as well as looking into partnering with local artists and creators to curate a homewares range to not only help us support other small businesses, but to also help complement our range, so that people can have a little Martini in every room.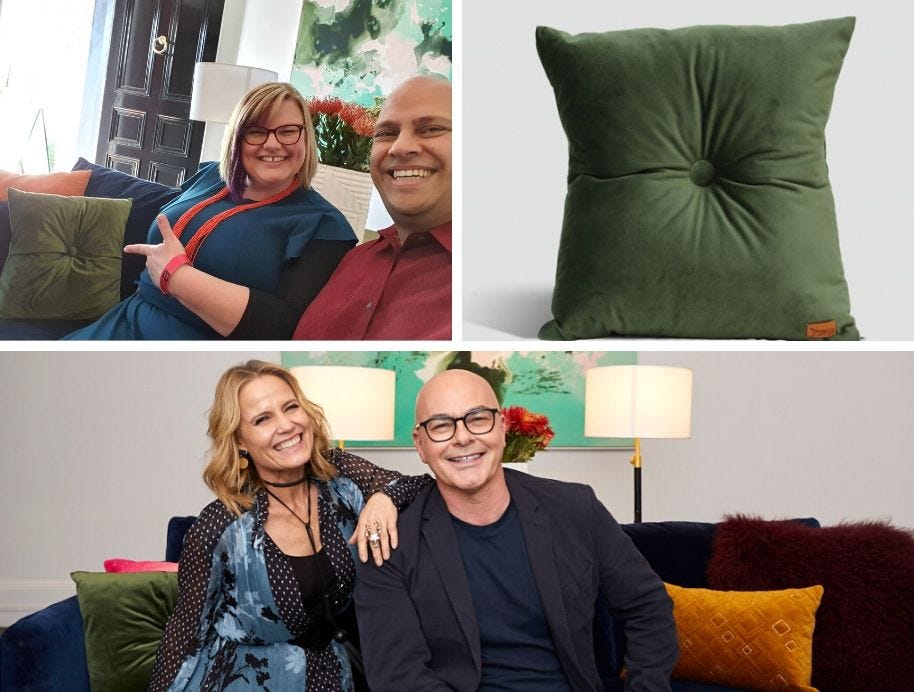 Martini's gorgeous 'olive buttoned velvet cushion' sits with amazing company in Mitch and Marks formal lounge room.

What are your favourite design trends for 2020?
We are loving the move away from neutrals and into the more rich, jewel tones like emerald, sapphire and ruby. Our most popular bedhead this year so far has been our Red Wine Buttoned Upholstered Bedhead - we just LOVE it when our customers embrace colour!

Shop Martini Furniture HERE or contact info@theblockshop.com.au who will work with Erin and Leif to create your dream bedhead.


Did you like this blog? Subscribe to our newsletter to be the first to receive news from The Block! Subscribe now to receive $20 off your next order