Meet Dolly, the latest grand ol' gal to get a makeover from our talented Block couple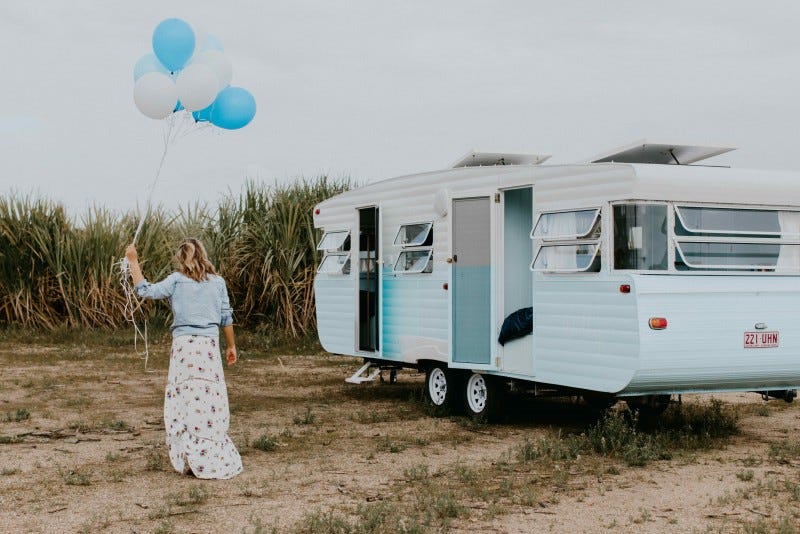 Photography: Cait Meirs
Turns out Michael and Carlene Duffy aren't just supremely talented home renovators - they're actually dead-set superstars at flipping old caravans as well! And we are absolutely SWOONING over the newest in their fleet, 'Dolly'.
Renovating vintage caravans is something of an obsession for Michael, who documents his progress through the couple's very excellent Instagram page, 'This Old Van'.
"Michael and I have been long time campers, way back from when we were kids but the pace of our lives has been gaining speed in recent years, making it more and more difficult to find the time to prepare for camping trips. You know what I mean, all the packing, all the unpacking!" Carlene recently posted on the couple's website. "A caravan was the answer. We can keep it stocked, locked and loaded and ready to roll on out of town for short or long getaways."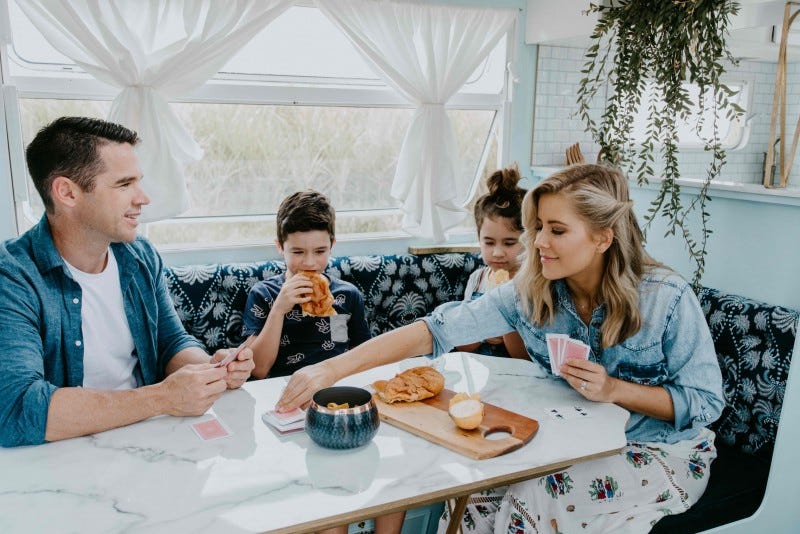 Family goals - we just love you guys! Michael and Carlene have styled 'Dolly' to perfection (Photography: Cait Meirs)

Michael tries to keep everything in his vans original where practical, but he's not afraid to get in there and gut things where applicable, to restore these grand old vans to their former glory.
The couple began their first caravan reno in 2016, 'Millie', before undertaking their next project, 'Vonnie' last year - both have now gone to new homes. 'Dolly' is their latest baby - and we are absolutely in love with the caravan's vintage features, especially those gorgeous cupboard doors! Michael used lightweight ply and placed brass wire mesh inserts into the doors. "Not only do they reduce weight but look [great]," he says.
SWOOOOOOON!

Check out more stunning photos below: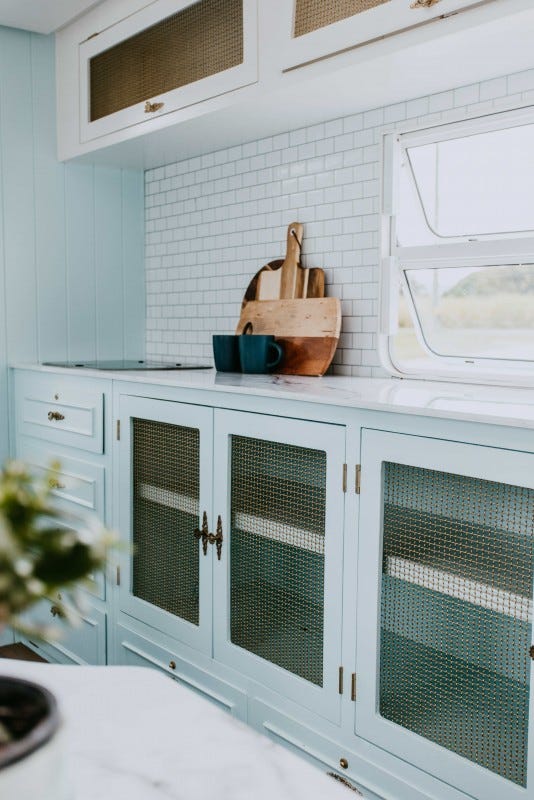 "My favourite detail [are] these brass mesh inserts into the cabinet doors. Not only does it reduce weight but it looks perfect."​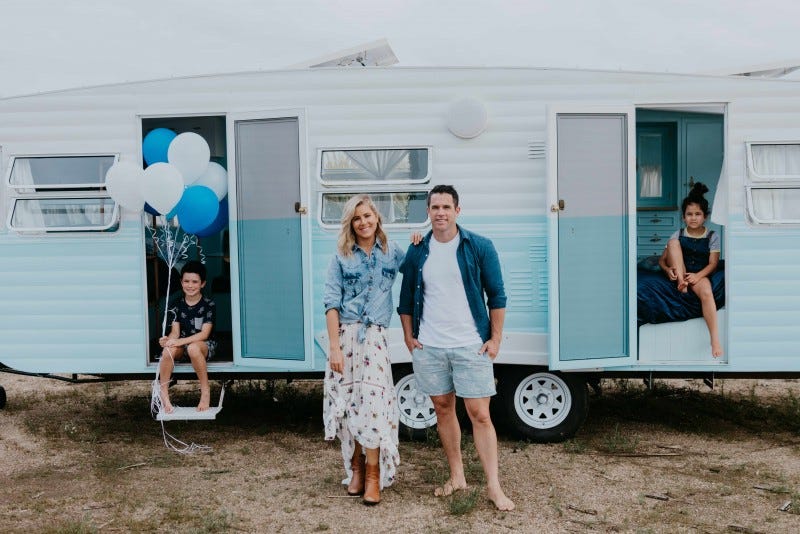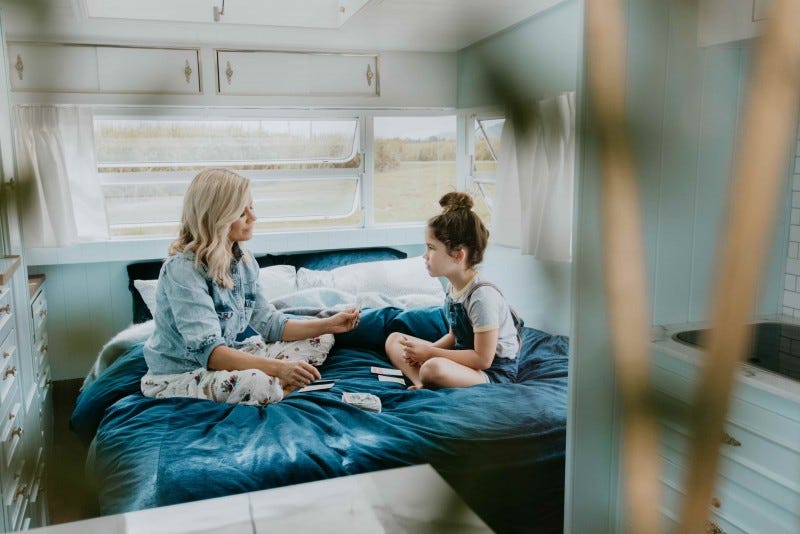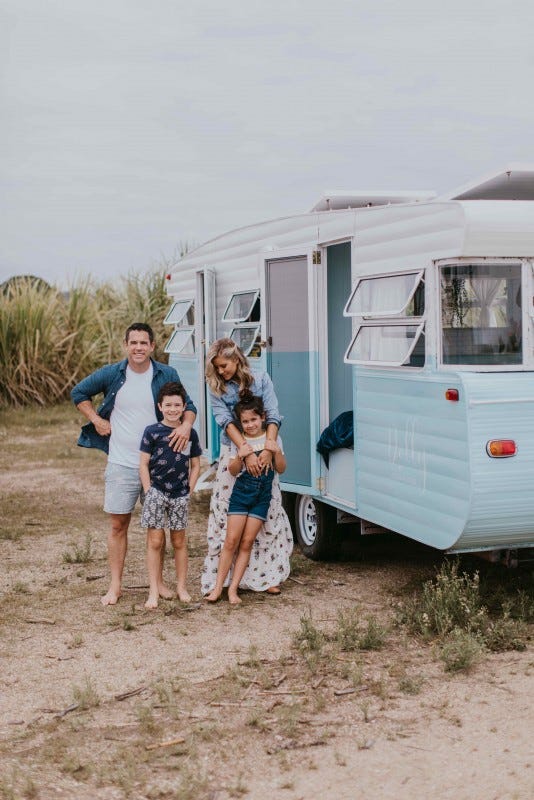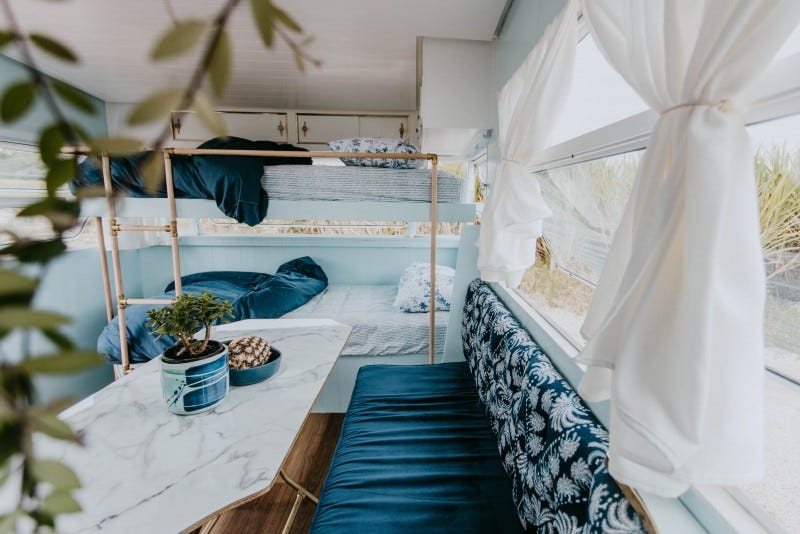 Michael has used a lightweight ply for the benchtops with a marble look laminate.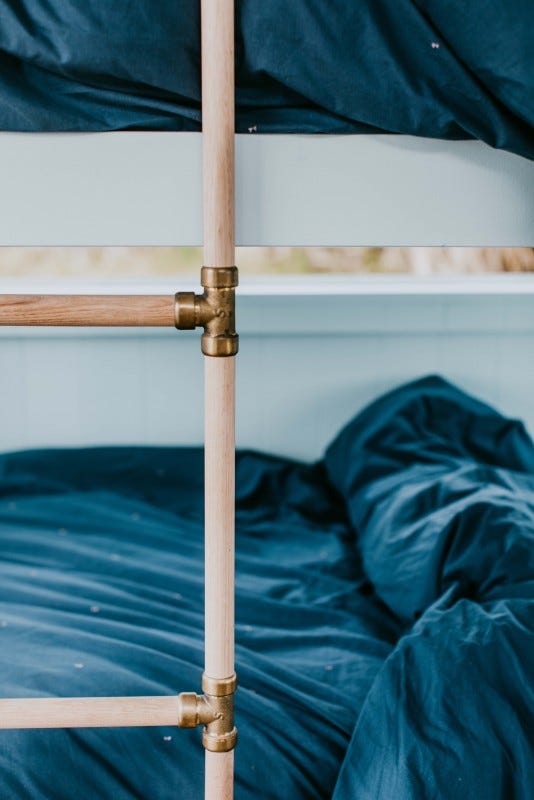 Michael used a simple brass fitting and dowel from the local hardware to make the very clever bunk bed ladder.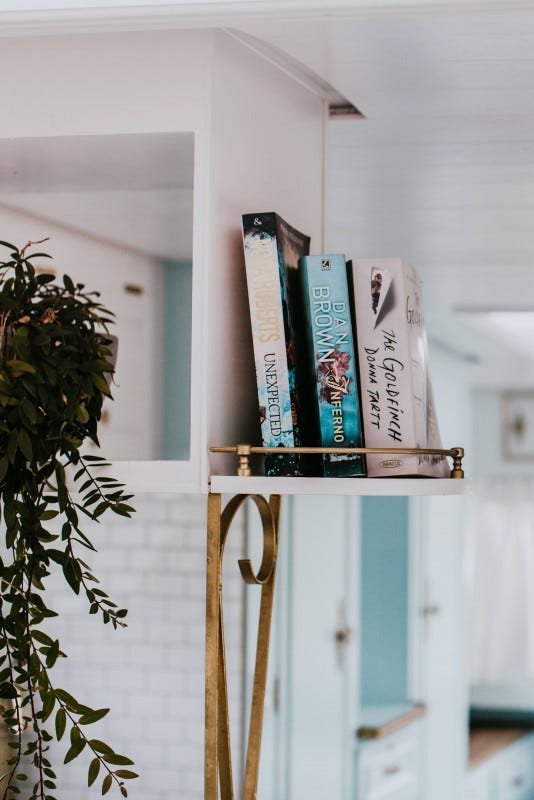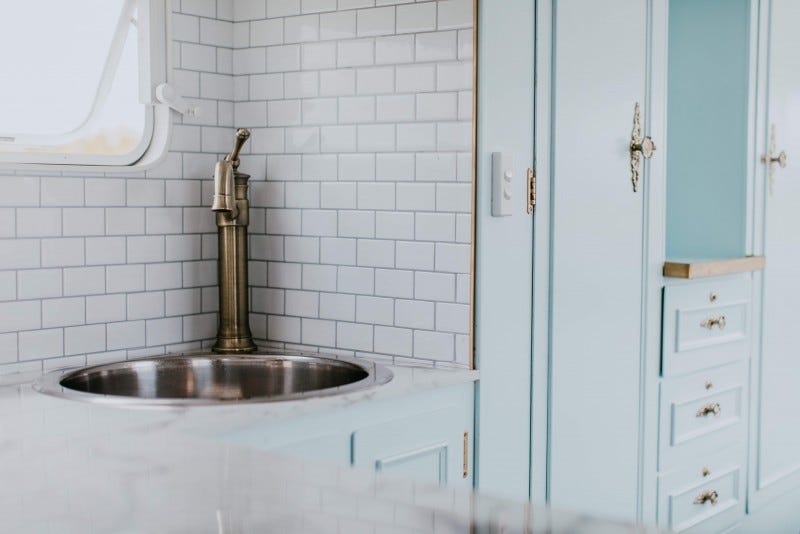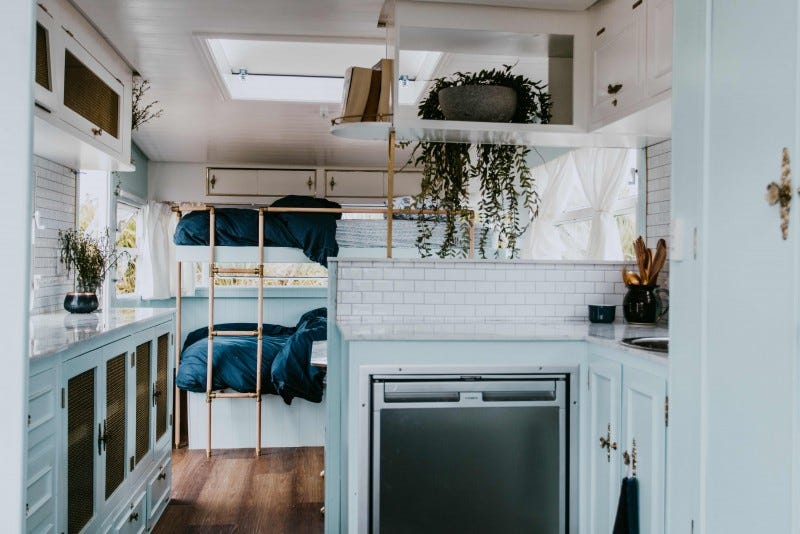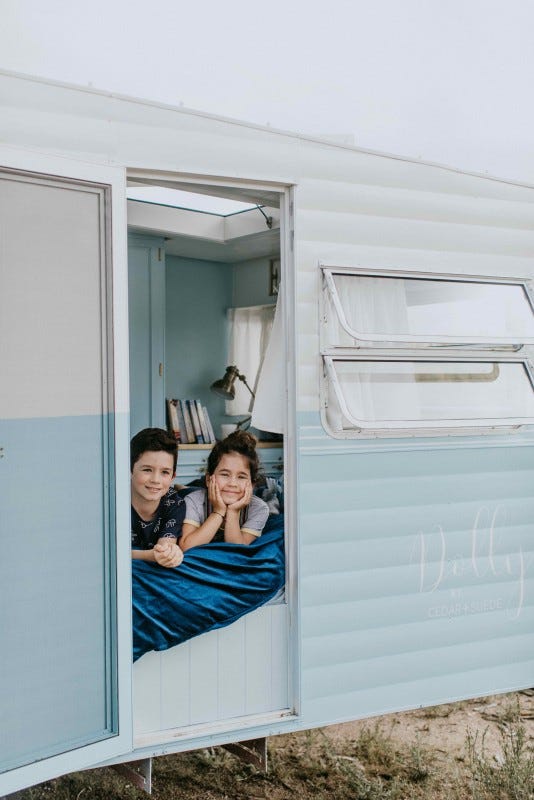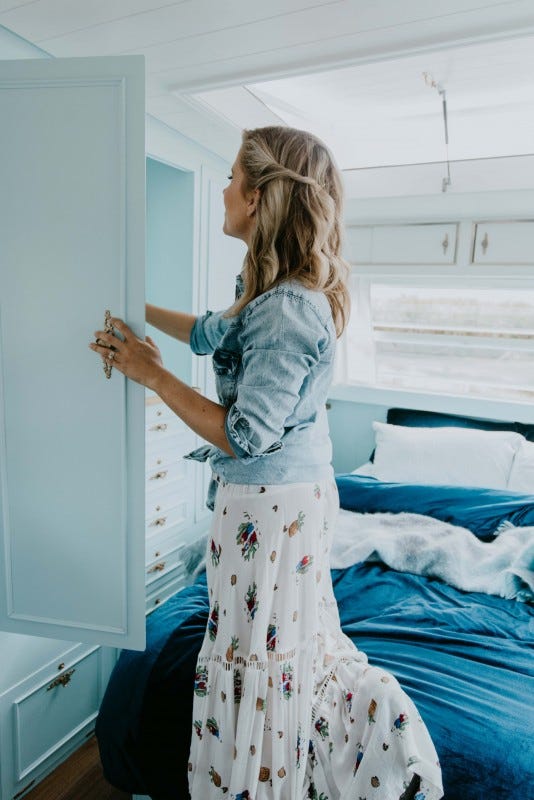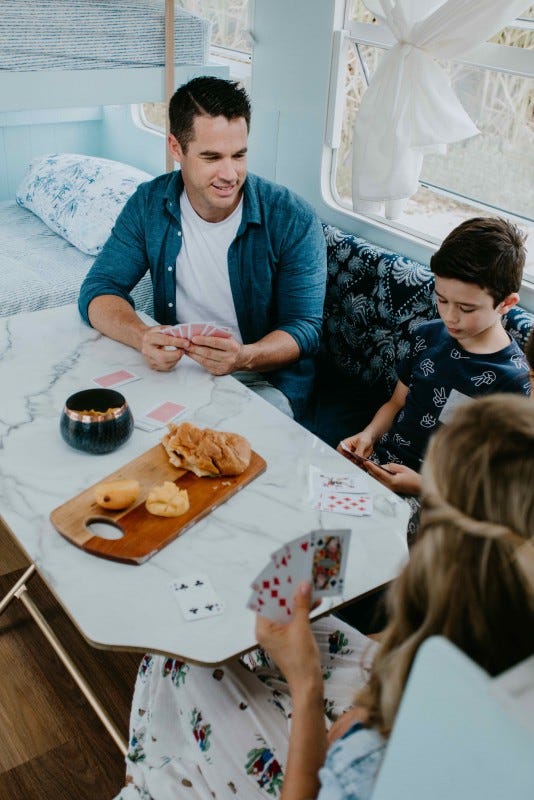 All these stunning images shot by the very talented photographer: Cait Meirs

Need some more stunning van inspo? Take a look at 'Vonnie' another gorgeous caravan renovated last year by our caravan conversion king's Michael and Carlene.

Did you like this blog? Subscribe to our newsletter to be the first to receive news from The Block! Subscribe now to receive $20 off your next order.