When your storage needs start to outgrow your home, it's time to call in the experts.



Ask any Block contestant what's most important in a home and at the top of the list is storage.



Location and styling might be what catches the eye, but storage – bedroom wardrobes to kitchen pantries, laundry cupboards and more – are the difference between a comfortable home and an over-crowded squeeze.
If you can somehow blend style with that solution, it's a winning combination, but for many, just how to do that is hard to understand.
The answer, as The Blockheads quickly learn, is to talk to the experts.



Alisa and Lysandra know well, that Kinsman is more than just kitchens and wardrobes using the modular capabilities of cabinetry extensively in their current builds.


"It's always good to call on someone who knows what's possible," says Kinsman Wardrobes design manager and The Block veteran Phil Ryder.
"And no matter your choice, you can be confident you've made the right decision with Kinsman.
"Our experts know that we can design with a variety of different storage solutions at various sizing to get the most value from the storage space.
"Customers have come to us and said: 'Can I use this as an entertainment unit?' and the answer is of course, why not? That's how we developed the ability to put our joinery into other areas of the home."
That versatility is something Block contestants and now Kinsman Brand Ambassadors Alisa and Lysandra know well, using the modular capabilities of Kinsman cabinetry extensively in their current builds.
"Having that ability to use existing cabinetry configurations or adapt them to suit a space makes things so much easier," Lysandra says.
"When you're in planning stages, to be able to talk to the one person about your kitchen, laundry, bedrooms or even for the TV unit in the living room is such a gift.
"And you can do that because the Kinsman ranges are so versatile."
Just visiting a Kinsman showroom will kickstart your plans, she adds.
"We went into the showroom recently and our brains immediately started going a million miles an hour because we could see how we'd be able to incorporate different aspects into new designs."
This year, that "think outside the box" philosophy combined with Kinsman's "more than just kitchens and wardrobes" mission statement to create some of the most innovative storage solutions The Block has ever seen.
Utilising the existing Kinsman options with a range of finishes, doors, and fittings allowed the contestants to set the styling tone for a room or their whole house.
Here's how Kinsman have helped the 2021 Block contestants unlock their storage potential so far this season.
Block House 1
In Ronnie and Georgia's basement cinema room, storage was always a key part of what the pair wanted to achieve.
Taking advantage of the space under the screen, they installed a generous entertainment unit made up of Touch Catch Cabinetry and two Deep Internal Drawers to hide the electronics needed to bring the room to life, as well as space for a built-in fridge and lolly drawer!
Kinsman's dark Bottega Oak Woodmatt joinery helped create the mood Georgia was after, enhanced with a Vanilla Noir Caesarstone® top. And for a finishing touch, the inclusion of LED Strip Lighting underneath for a floating effect.


Cinema Room Key Features:
Cabinetry: Bottega Oak Woodmatt
Benchtop: Caesarstone® Vanilla Noir
Kickboards: Matching Bottega Oak Woodmatt
Handles: Touch Catch
Accessories: Internal Drawers
Lighting: Häfele LED Strip
Block House 2
Mitch and Mark's master bedroom walk-in wardrobe showcased a range of Kinsman solutions, from the NEW Stone Grey Matt Montauk profile doors combined with Natural Oak Matt interiors to the Black Frame Glass Shelves to highlight styling items and Kinsman's new Brass Barrington Bar handles, but it was their bedroom credenza that lifted everything to a new level.
With matching Montauk Stone Grey Matt doors and internal drawers, capped off with a Caesarstone® Aterra Blanca surface, the credenza brought the style of the walk-in to the rest of the bedroom space and added to the level of storage – the perfect example of thinking outside the square!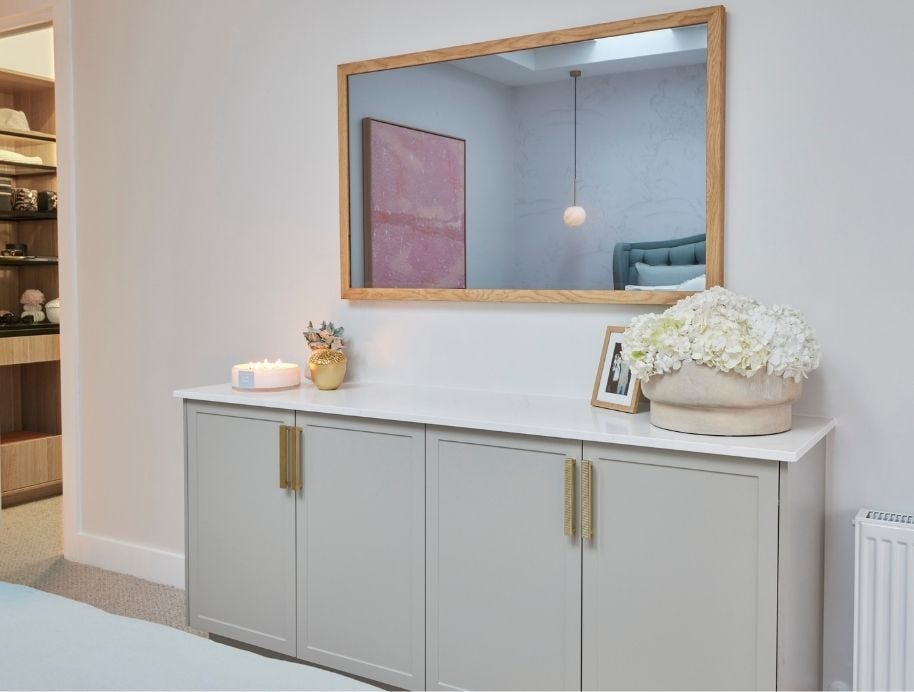 Credenza Key Features:
Exterior doors: Montauk Stone Grey Matt
Interior finish: Natural Oak Matt
Handles: Brass Barrington Bar 38-M-30
Credenza Benchtop: Caesarstone® Aterra Blanca
Accessories: Internal Drawers
Block House 3
Practical storage in Tanya & Vito's master bedroom was always a prime concern. "We focused on creating the most amount of usable storage that we could within our designs," Vito says and that led to a Walk in that included clever storage solutions such as Wire Pull-outs, a Trouser Rack Pull-out and a Laundry Hamper, all lit by Black Light Bars.
But in addition, they found room for even more storage thanks to a Hinged wardrobe design which doubled as an entertainment hub. In Natural Oak Ravine cabinetry with Ribe Oak Timber handles and a mix of Black Framed Glass Shelves and Black Hanging Rails, it was the perfect surround for their Mirror Television!


Straight-line Wardrobe with entertainment hub Key Features:
Exterior doors: Natural Oak Ravine
Interior Finish: White Satin
Kickboard: Volcanic Black
Handles: Ribe Oak Timber 34-K-152
Accessories: Black Framed Glass Shelves, Häfele Black Hanging Rails
Lighting: Häfele Black Light Bar
Block House 4
Another team out to make the most of their basement entertainment area, Josh and Luke went for an option that worked with the idea of a cinema room but allowed for greater versatility – and space!
With open shelving in Estella Oak Matt, a blend of tall and lower cabinetry in White Cement doors from the Kinsman FX Series complemented with Square Hook Matt Black handles and Inner Drawers and accessories such as Lift Down Doors and Premium Verti-Strip lighting, the result was more storage than even the twins knew what to do with!
Topped with Caesarstone's® Frosty Carrina, the area showcases just how much storage can be found – and how stylish it can look.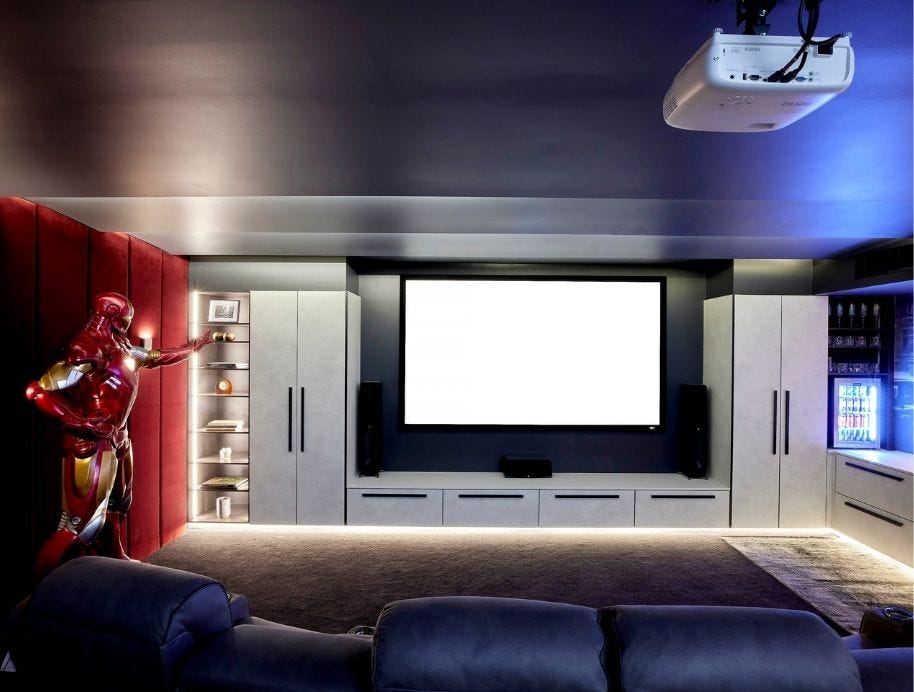 Entertainment Area Key Features:
Exterior doors: FX Series White Cement
Interior finish: Estella Oak Matt
Benchtops: Caesarstone® Frosty Carrina
Handles: Square Hook Matt Black 34-K-125
Accessories: Häfele Lift Down Doors, Inner Drawers
Lighting: Häfele Premium LED Verti-Strip
Block House 5
In Kirsty and Jesse's second guest bedroom, the challenge wasn't just to provide a stylish storage solution, but how to do so in a room where the wall best suited for a wardrobe featured a large window.
The Kinsman answer was to turn that negative into a positive, designing a U-shaped robe around the view, complete with a bench-seat reading nook.
Using white Shaker Style -profiled Montauk doors along with Satin Brass Rounded Bar handles to contrast with the greenery outside the window, interiors featuring Premium LED Verti-Strip lighting and lower storage cabinetry below the window, the result is a highly functional and beautiful continuation of the Hamptons style found throughout their home.


U-Robe Key Features:
Exterior doors: NEW Montauk White Matt
Interior finish: Natural Oak Matt
Handles: Satin Brass Rounded Bar 34-K-155
Lighting: Häfele Premium LED Verti-Strip Lighting
In each house, it's the versatility of the Kinsman cabinetry that allows for unique solutions, creating more storage than the contestants had imagined, but everything they had wished for.
"Whether renovating or updating spaces in your home, there are so many decisions you need to make and get right," Phil says.
"But like I said, no matter your choice, you can be confident you've made the right decision with Kinsman."
Check out the Kinsman collection here and ask the experts for a solution to your storage questions.