I really enjoyed last night's room reveals. I'd almost go as far as to say it was worth the wait until after the cricket (wow, that upset a few people, didn't it?!). It just made for refreshing viewing to see all the contestants working on the same apartment for a change, with varying degrees of success. And I also agreed with the order the judges scored the rooms in, with Shay and Dean's en suite an out and out winner for me too. That brass hardware and the feature herringbone tile alcove! Loved it! So much wow in a tiny space!
Shay and Dean, Caro and Kingi and Luke Ebony were the winners, getting 15, 10 and 5k respectively to either spend on their apartments or take off their reserves (to be revealed next week). Poor Suzi and Vonni and Andy and Whitney got nothing.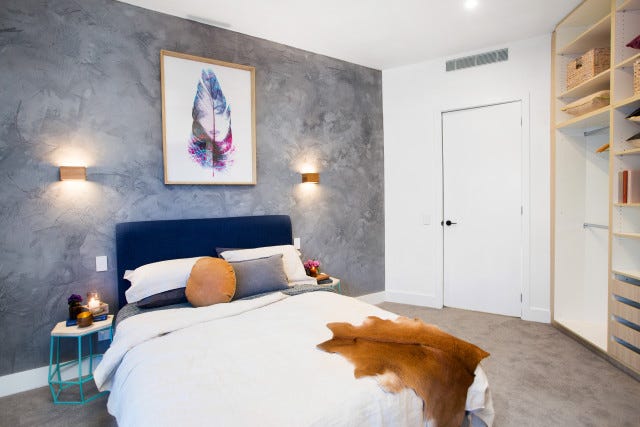 These two had the massive bonus of winning a professional painter for this week in the karaoke challenge. It gave them more time to concentrate on their render feature wall and styling! Shaynna said it felt peaceful and serene. Darren liked the stepladder in the wardrobe and said there wasn't much to pick on, save for a few exposed screws. He even described the styling of the bed as stunning. Shaynna would have preferred storage in the bedside table but let it go on account of it being a guest room. All the judges, not knowing about the challenge win, commented on the excellent paintwork!
Our pick to buy: Round leather cushion | Blue bedhead | Timber wall lights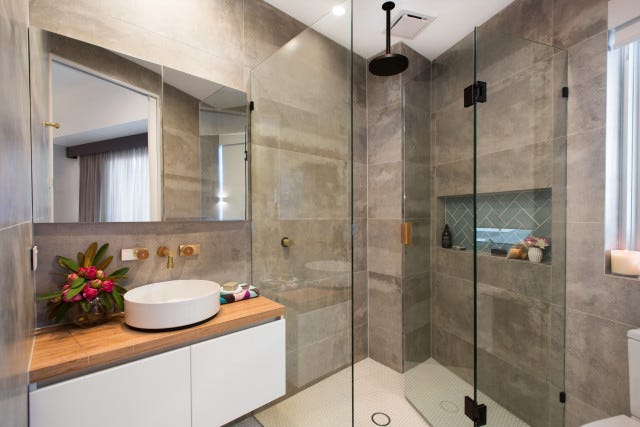 Gosh I loved this room, the en suite of Kingi and Caro's bedroom. The shower with its herringbone recess, the timber vanity, brass tapware and pennyround tiles on the floor. Sigh…
Shaynna said it was beautiful, Darren loved the hardware and said the room was 'so cool'. Neale guessed it was Shay and Dean's work due to its luxury touches. Darren thought the tiles were expertly put together. Save for the lack of a proper towel rail, rather a double hook on the wall, the judges praised the underfloor heating, storage and lighting plan. Neale said he'd be a very happy guest staying there.
Our pick to buy: Timber and brass taps | Marble soap dish | Brass spout with timber
To read the entire blog by Jen @ Interiors Addict, Click Here.