I loved the variety in last night's room reveals. Whether good, bad or ugly, they were all pretty unique. There wasn't much shock factor in the judging though, with the same couples coming first and last as last week! While Dean and Shay took home a sweet 10 grand again (got to pay for that 40 grand bathroom somehow!), poor Luke and Ebony were in fifth place yet again. I'm really feeling for the second chance siblings and really hope they can get some confidence in their ability and personal style and take things up a notch next week. Fingers crossed.
Kingi and Caro: 26.5, 2nd place
I think these two are really likeable, don't you? They're doing so well and must be frustrating (if encouraging!) to be so close behind Dean and Shay and their $10,000 wins!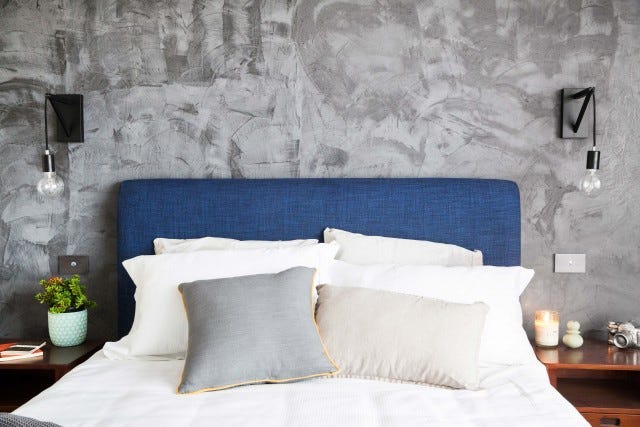 This pair stayed consistent with last week's room, using a vinyl wrap on the en suite door like they did on last week's showstopping bath tub. And there was more of Kingi's lovely rendering on the bedroom feature wall and in the en suite vanity top, to great effect. Their raw industrial aesthetic is very obvious and they seem confident of their personal style.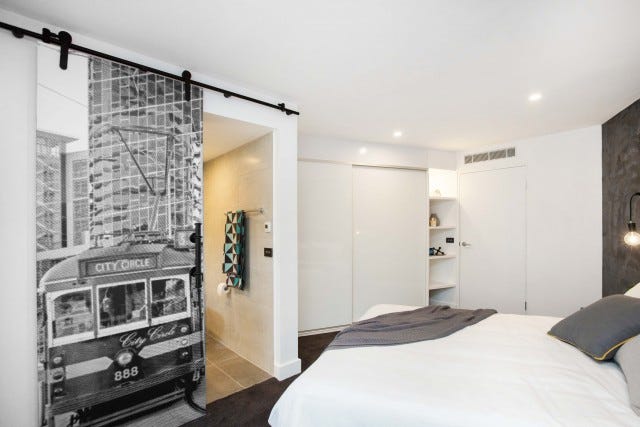 The judges, as hoped, all touched the rendered wall as soon as they came in and all loved the dark, rich colour. Neale loved the bedside table and light combination and Darren said he could really see the vibe they were going for: edgy, urban and a little bit industrial. He said the bedhead was the right choice as it softened the texture of render and the tram graphic on the en suite door worked a treat. Shaynna said it was sensational and that the door handle spelled luxury and money.
Shaynna also complimented the labour and the way they had worked with angles of the room. Neale said they'd made the most of the space and it felt big. They all slammed the styling though and said the cushions were ordinary.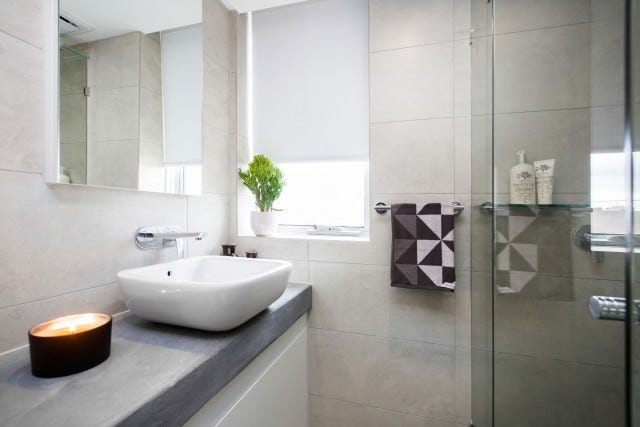 The en suite got positive feedback too with Shaynna noting it felt a lot bigger than it was and she loved the custom concrete top, the taps, basin and bench space. Darren said they'd squeezed more storage into the tiny bathroom than they'd seen in many main bathrooms and that it was a very successful room.
– Our pick to buy: Basic Habitat slate tray | Beacon Lighting adjustable floor lamp | Linen & Moore Throw | Bedsides
Whitney & Andy: 18.5, 4th place
I loved the exposed whitewashed brick and the copper pendants in this room. The less said about the rest of it the better but I can't not mention that rug?! Gah!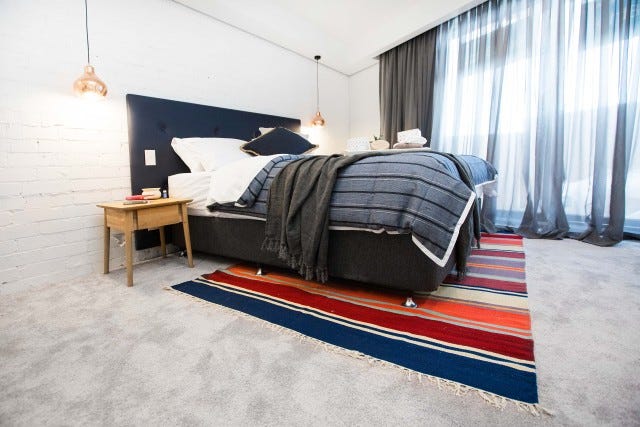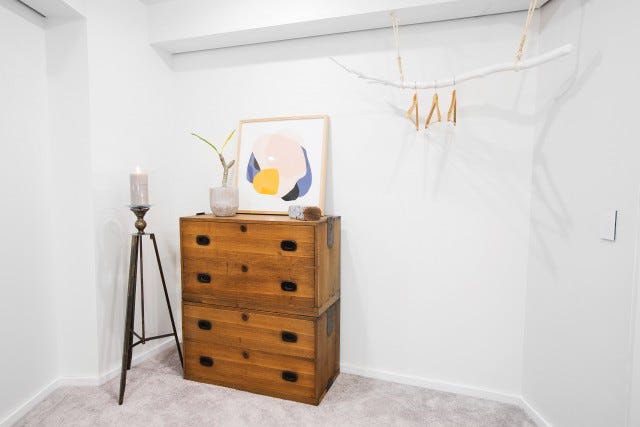 On entering, Neale said "wow" and Shaynna said "oooh" but not necessarily for the right reasons! Darren immediately said it was a guest bedroom because there was no way there was enough hanging space for a 'real' bedroom. Shaynna went so far as to say the choice to install a hanging stick rather than a wardrobe was ludicrous and while that would usually seem over the top, I have to agree! Neale said it was a big mistake and Darren said he wouldn't try to sell the place without a wardrobe.
On the plus side, the room felt very spacious (that'll be the lack of wardrobe!) and Shaynna liked the bulkhead all the way round, saying it showed the thought process was great. Darren liked the bedhead but said the rug was very wrong. Again, agreed! Neale said it was a very confused room. "I don't know if I'm in an old motel or a luxury apartment." Shaynna went one further and called it a mishmash.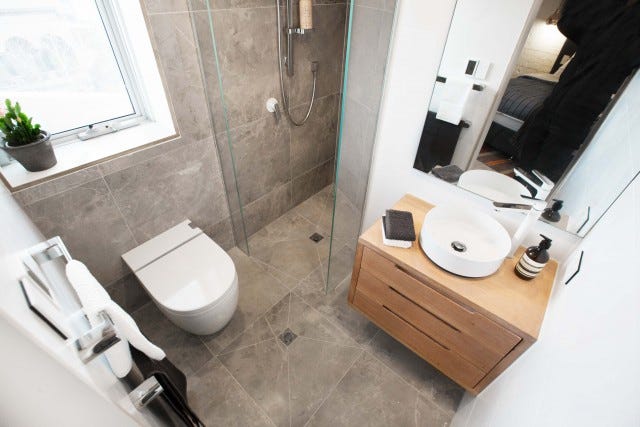 When it came to the en suite they were pleasantly surprised although the lack of doors would surely lead to flooding the first time the shower was used. Darren said it felt a little eighties.
Overall, the judges' advice was to put this week's rooms behind them and refocus. Owch.
–Our pick to buy: Curious Grace bedside tables | artwork | navy quilt cover set
To read the entire post by Jen at Interiors Addict, click here.