We take a close look at the breathtaking Brighton front gardens...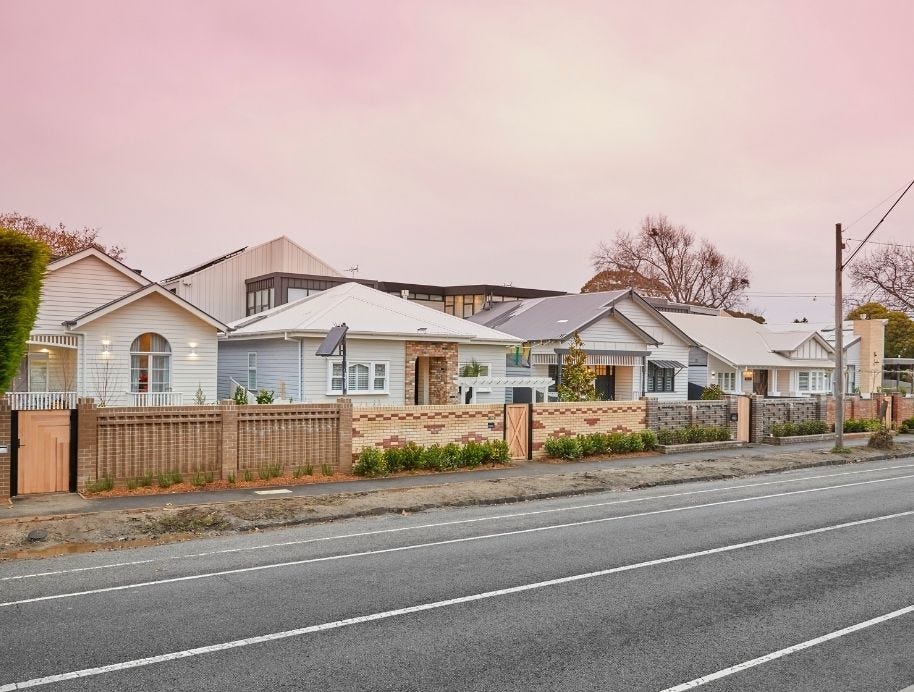 Jimmy and Tam's Front Garden and Façade reveal
Score 29 / 30
Spent: $51,697
Equal First Place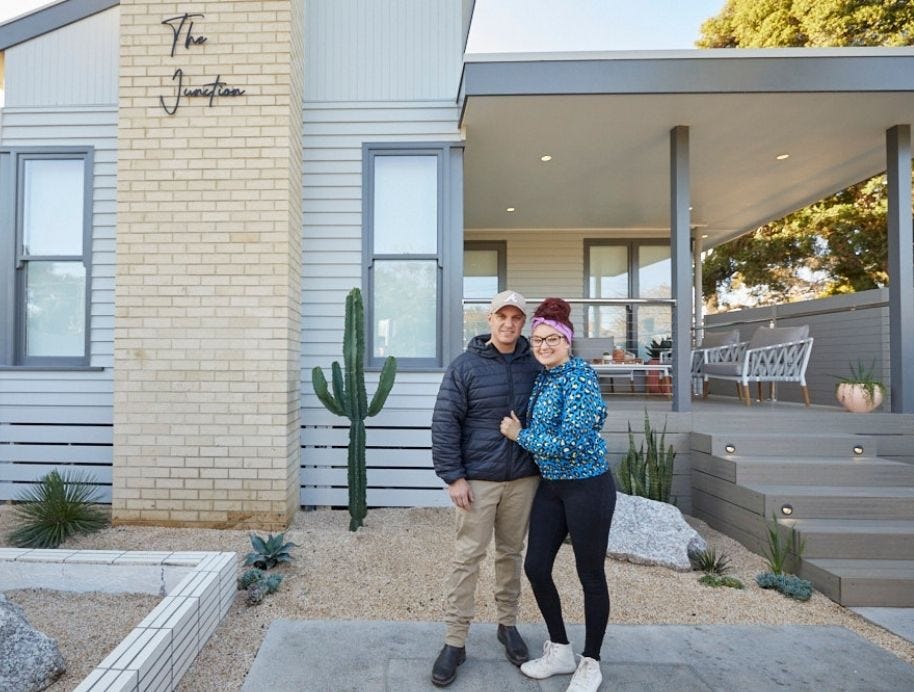 The 1950s Palm Spring inspired front garden and façade is like no other The Block has seen.
Jimmy and Tam's front garden could easily be the desert in California.
It is that different to the rest of the gardens, and that's why the judges loved it.
Talk about nailing the brief.
"We are in Palm Springs, absolutely slap bang in (the middle of) Palm Springs," Neale said.
Darren agreed.
"We are in heaven," he said.
Shaynna said immediately when a buyer walks into the front yard, they will understand this is not your usual everyday house.
It is unique.
The front garden included a beautiful full-scale cactus and a palm tree they named 'Darren Palmer,' which was gifted to them from one of the Brighton neighbours.
With rocks and little lawn, it's a garden that needs little maintenance.
One negative – Darren would have liked to have seen more plants like the cactus, considering Jimmy and Tam have so much money in the bank.
The front door and its' peach colour was once again different, but it fitted the 1950s vibe of the house.
The deck chairs were great to sit in.
Darren was full of praise for Jimmy and Tam.
"Jimmy and Tam have barely missed a beat," he said.
"It's a really special and really interesting and saleable house.
"It's going to be very interesting to see on auction day, just how many people are going to be interested in this house."
So after a couple of weeks of negative feedback, Jimmy and Tam are back on top of the leader board.
"It was really amazing to get so much positive feedback this week," Tam told The Block Shop.
"We had a couple of weeks of feedback where it was pretty tough, but you have to take that on board which we did."
As usual, Jimmy and Tam's attitude to what they do has also impressed everyone on The Block.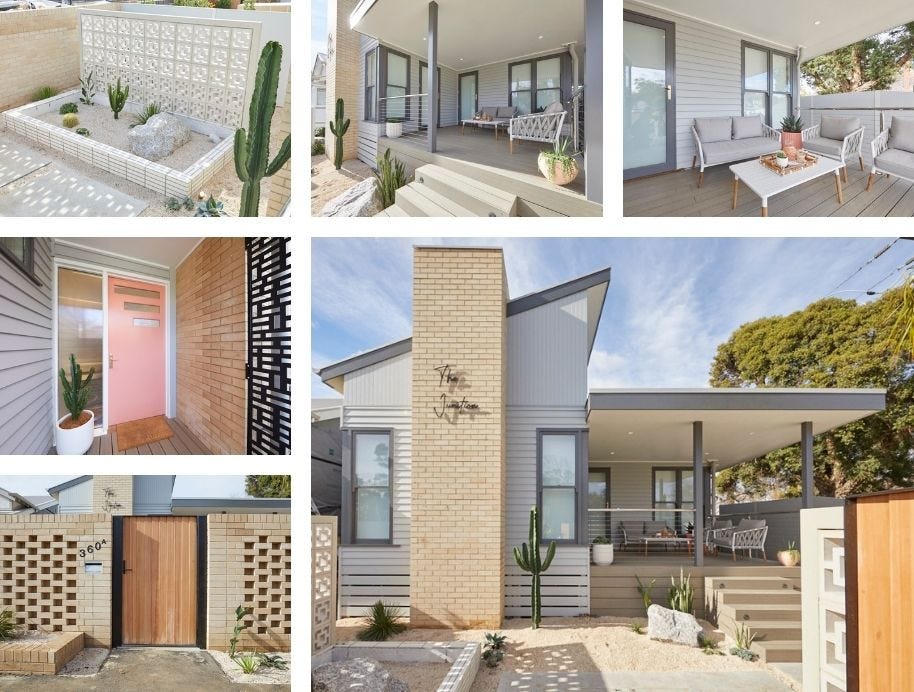 Take a close look and shop Jimmy and Tam's winning front garden HERE
Sarah and George Front Garden and Façade reveal
Score 29 / 30
Spent: $40,089
Equal First Place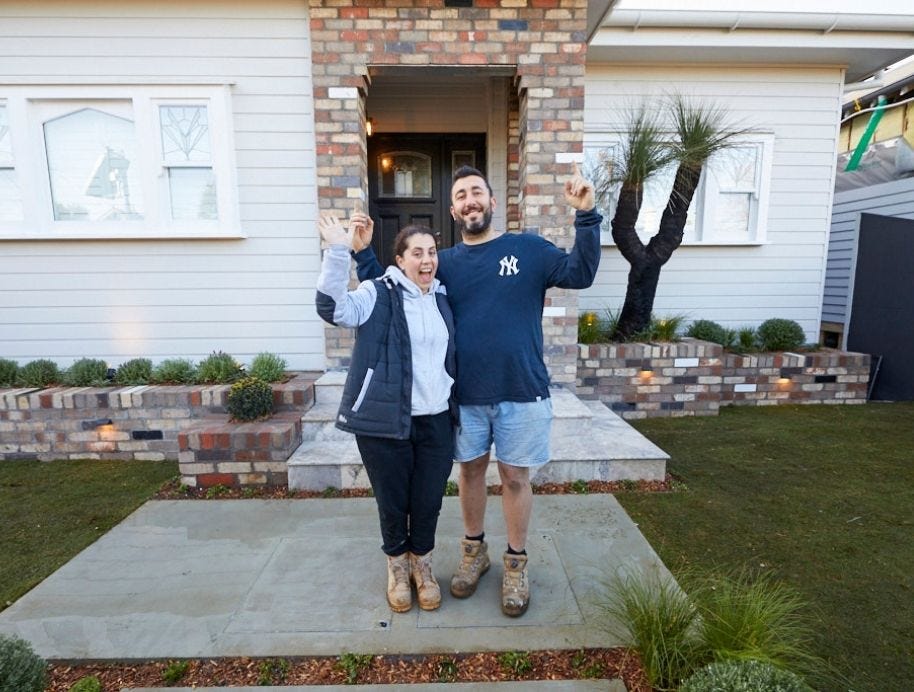 The Western Sydney couple had a secret weapon this week – Dave Franklin.
As usual, Dave and his team delivered in spades to help Sarah and George take the win.
Walking into the front yard the judges noticed the 200 year old grass tree, that Sarah named Lola.
"You had me at the grass tree," Darren said.
The other plant choices, including olive trees, and wisteria also impressed the judges.
Whereas their neighbours had a complicated garden, the judges loved the simplicity of Sarah and George's garden.
"This garden is engaging in its simplicity, you couldn't get more different to next door," Neale said referring to Harry and Tash's garden next door. "It's lovely, it's really lovely and paired back."
The choice of multi-coloured PGH Bricks worked, hitting the 1940s brief according to Shaynna, as did the use of Travertine concrete on the stairs to the entry of the house.
Sarah and George's front garden is smaller than Harry and Tash's, but it felt bigger because it was less crowded. The judges felt there was enough room for a child to play, perfect for the family buyer in Brighton.
The landscapers led by Dave Franklin got a shout out.
"It's remarkable, it's outstanding that you can get this amount of landscaping done in this amount of time," Darren said.
So after a slow start on The Block, Sarah and George continue their impressive run home.
They simply loved what they achieved in Front Garden and Façade reveal week.
"Our vision was to make it homely and it's a beautiful front garden," George said.
Looking back George said despite tough times they always had a fighting spiriting that is shining through now.
"There were times I wanted to go home because I missed home, but I never wanted to quit," George told The Block Shop.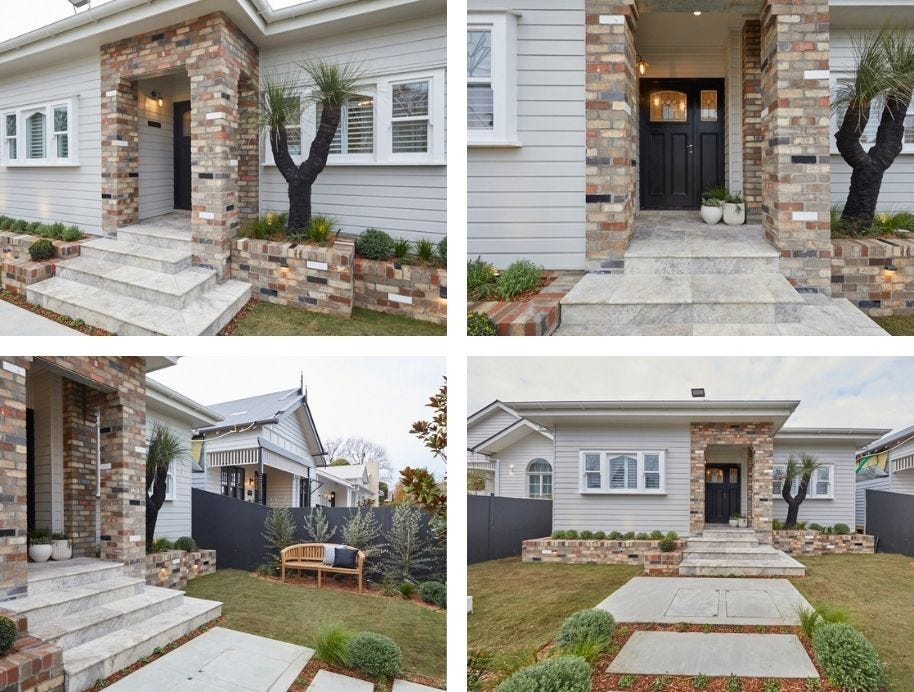 Take a close look and shop Sarah & George's winning front garden HERE

Luke and Jasmin Front Garden and Façade reveal
Score 28 / 30
Spent: $32,366
Equal Second Place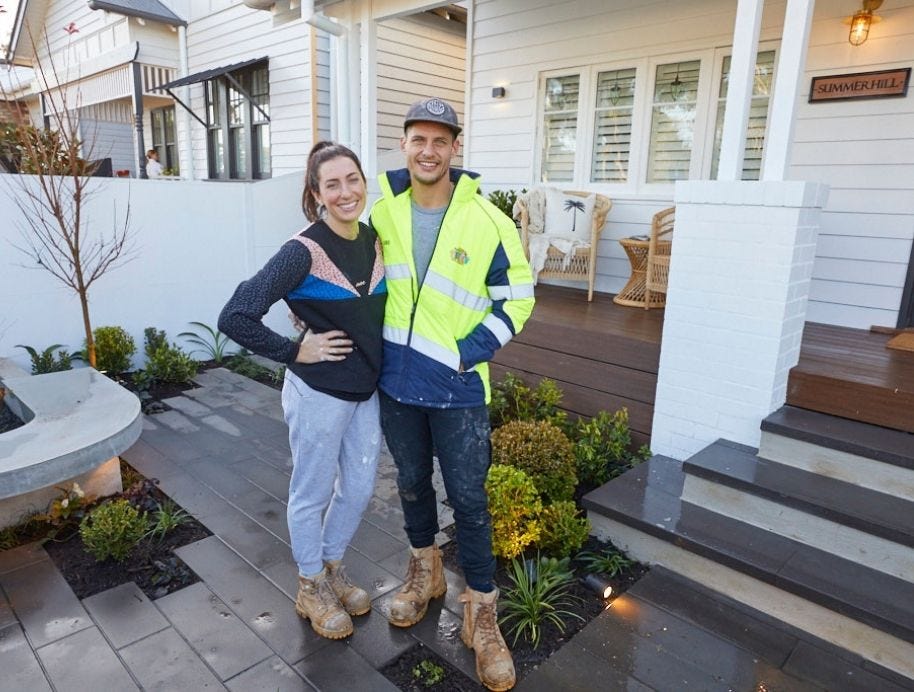 The 'house of curves' is what Luke and Jasmin have dubbed their 1910s house on New St, Brighton.
That theme continued in the garden, with a beautiful curved seat to the left of the house entrance that is unique on The Block.
Shaynna has had some tough words for Luke and Jasmin this year on The Block, accusing them of copying their winning upstairs children's bedroom.
But she was all positive this week.
"This actually says home to me," she said.
"We have got that beautiful Federation front, Summerhill, the little cane wicker chairs that give you an idea of what to expect when we get inside.
"It's gorgeous.
Luke and Jasmin also had two trees planted in front of the house fence which, in summer will provide their property with all-important privacy.
Shaynna was impressed.
"They will all join up together and give them incredible privacy at the front," she said.
The only thing Neale didn't like was the water feature. He felt it wasn't at all contemporary and a bit dated.
"I have bigger fish to fry than a water feature, honestly," Jasmin said after hearing the feedback.
Sitting on the 'very comfortable' chairs on the balcony of the façade, Darren was impressed.
"My heart belongs to Summerhill," he said.
"This is quaint, this is contemporary."
Darren gave the couple some advice about the 1910s era early on in The Block and what the buyer might want, and Luke and Jasmin have listened.
House No.4 is coming along rather nicely.
They had big plans coming into The Block and were devastated to change them when they got the 1910s house, but in the end, it all worked out.
"We thought we were going to come and build a super modern, Melbourne house with our little twist on it," Luke told The Block Shop.
"But then to find out we were going to have to tweak it and change it all to a Federation coastal bungalow was a shock to the system.
"But I think we adapted really well and our end product is very us and it's beautiful."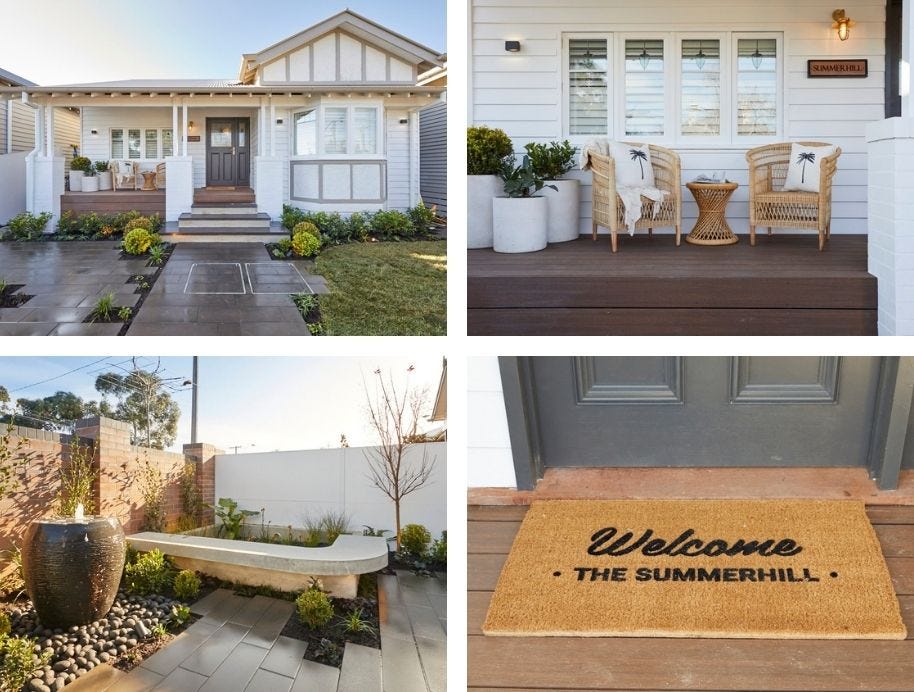 Take a close look and shop Luke and Jasmin's front garden HERE


Daniel and Jade Front Garden and Façade reveal
Score 28 / 30
Spent: $25,812
Equal Second Place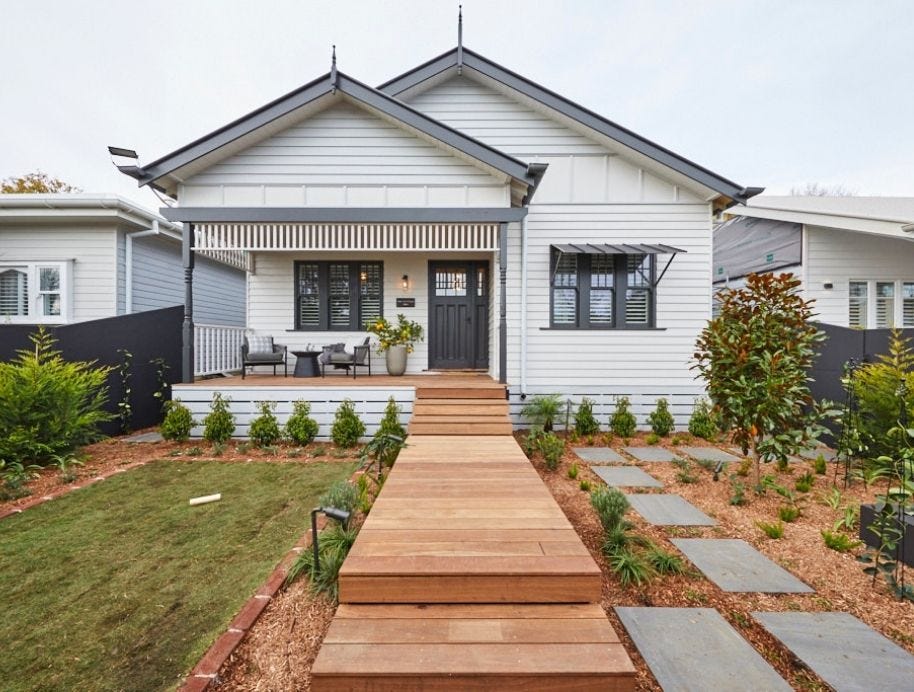 Detail, so much detail.
That sums up Daniel and Jade's brilliant effort this week.
Walking into The Mayfield, the name Daniel and Jade have given the 1930s inspired house, the judges immediately were impressed.
"All the different timber details, the weatherboard, the simple contrast of the black and white palette, it has got so much impact it's just gorgeous," Darren said.
The lemon tree under The Mayfield sign was a beautiful touch.
Shaynna was also a fan of the plant selection that the married farmers from South Australian chose.
That includes some plants that will create a hedge and give House No.3 all-important privacy from Sarah and George's house next door.
"I'm loving the traditional selections they have chosen," Shaynna said.
There were two things that probably stopped Daniel and Jade was taking out the win this week.
One was the brickwork on the fence which wasn't cleaned.
The other was the sides of the decking steps were not dressed, they should have had some black panelling to finish it off.
"It's breaking my heart looking at this because this is perfect," Shaynna said.
Daniel and Jade have only had one win on The Block this year after using the gnome in Living and Dining Room reveal week, so they would have dearly loved to have taken it out this week.
But it wasn't to be, and they were still very proud of what they achieved.
"We do our very best every week," Jade said.
"We don't give up we try our hardest, we are here doing things we haven't done before."
Now looking into the house from New St, Daniel gets goosebumps at what they have done.
"One of my favourite things is to look at the house from the road and look at how we have restored it and how beautiful it looks," he told The Block Shop.
"Now this house will stand for another 100 years, that's pretty special."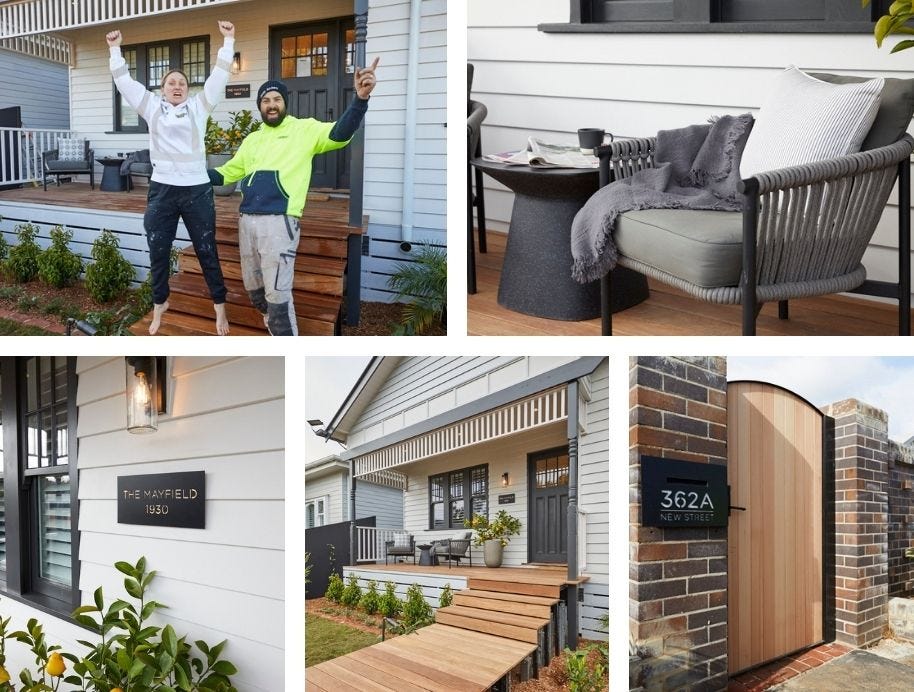 Take a close look and shop Daniel & Jade's front garden HERE



Harry and Tash Front Garden and Façade reveal
Score 26 / 30
Spent: $41,987
Third Place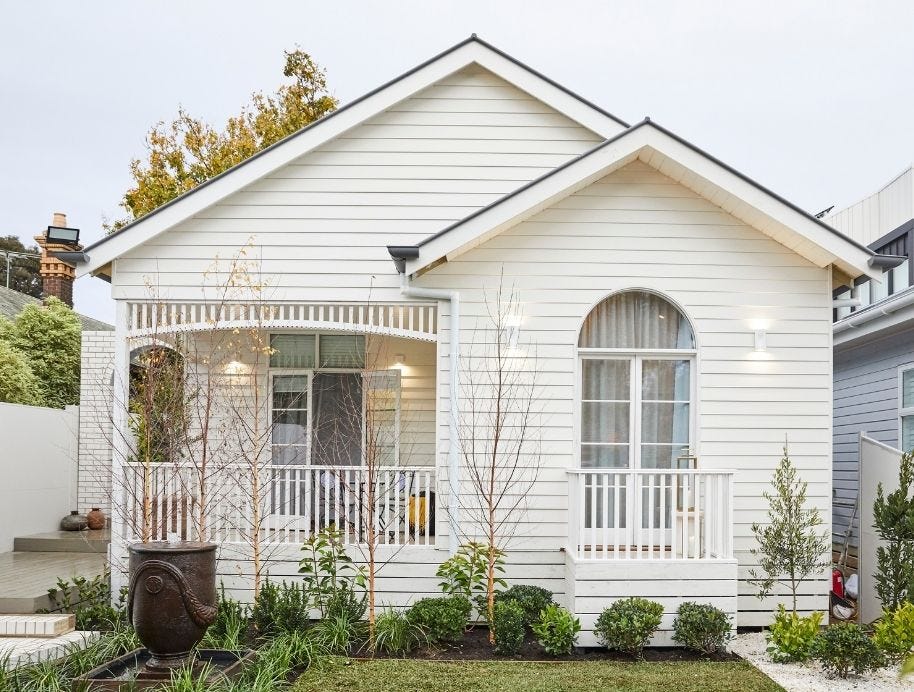 Melbourne's father and daughter were left devastated after the feedback this week as they and their team poured everything into their Greek-inspired front garden.
Tash was in tears at Scotty's HQ as it dawned on her that they now have serious budget issues after not winning.
"We weren't expecting the feedback, that really hurt us," she told The Block Shop.
"We came last, it was crap."
Walking into the front garden initially, the judges were all smiles about the impact of the front garden and façade, especially the white PGH Bricks.
"How beautiful is that house, it's stunning," Shaynna said.
Darren felt the same.
"There is massive street appeal coming in, the shapes, the archway, all those details are elegant and calming," he said.
Neale was Harry and Tash's biggest fan this week.
"We have all been doing The Block for a very long time, and I guess we should be used to transformation, but this is something else," he said.
So where did it go wrong for Harry and Tash?
Shaynna and Darren's main issue was that the front garden was too crowded with plants.
"I've got to say I just find it too much, there are too many heroes," Shaynna said.
"I can't breathe in here to take it all in, to me it needs to be simplified."
Harry and Tash had the biggest front garden on The Block, and while Darren recognised there was a 'hell of a lot of work' that went into it, it could have been better laid out.
There wasn't enough grass for children to play on for example, because there were too many plants and it was too crowded.
Shaynna in particular thought this was a real negative, especially if Harry and Tash are trying to attract a family buyer.
So after so many tears and hard work this week, Harry and Tash could hardly hold it all in after the judge's feedback.
Despite the feedback and the tears, Tash was still incredibly proud of what they had achieved.
"It's such a special feeling when you walk into it, it feels magical," she said.
"I'm so proud of what we have done."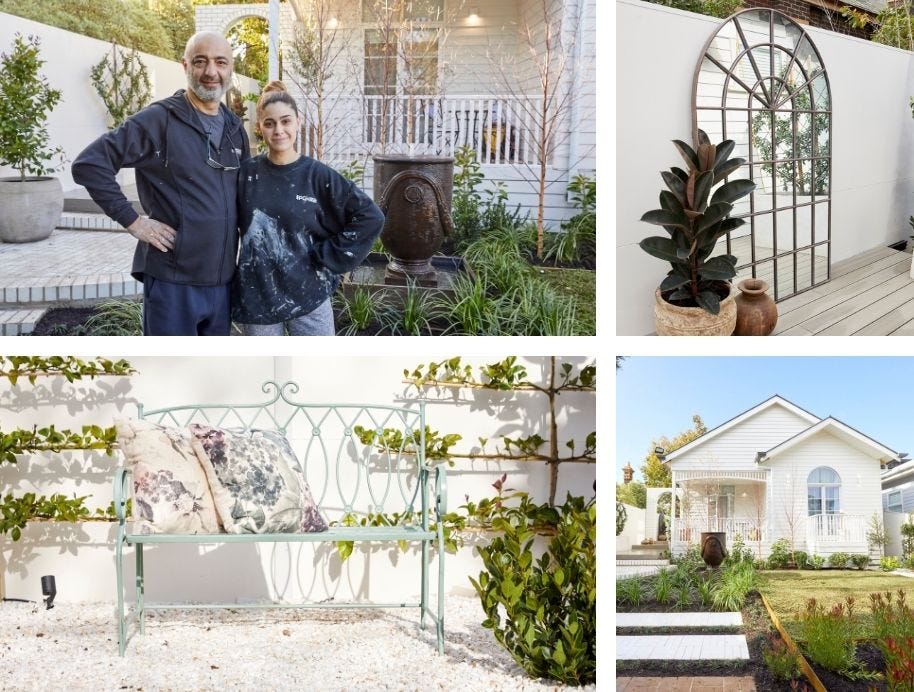 Take a close look and shop Harry & Tash's front garden HERE



At The Block Shop, you are sure to be able to find something for your outdoor space that you will love and NEED now!

Recap all the Block room reveals HERE