For the finishing touch in making a house into a home, The Block contestants turn to Artist Lane
When it comes to finishing a home on The Block, construction is only half the story.
Designing and building a house is the first step, but the contestants know there's still one vital part of the process to bring character and style to the home.
And that's art.


Anna Blatman 'Orange Galore' art print is a standout in Kirsty and Jesse's winning kitchen.

A key component in any home, art can set the tone for a room, tie furnishings and colour choices together and help stamp a personality on any space.
"Artwork can either be a feature you immediately see or something more subtle that you may not even necessarily notice straight away, but either way it's usually what makes a room work or not," says Block all-star and artist Mitch.
"And that's why you need to be very considered with your art. It has to tie into the overall story of the home as well as being something beautiful in its own right."
There are two ways to make sure the art suits a room, he adds. Either find a statement piece you want to use and furnish/style to match or select artwork that complements the existing décor choices.
That's what most people do and why Mitch says choice – and a lot of it – is key.
"I think it's great to have choice," he says.
And the perfect place to find that choice is Artist Lane.



Mitch and Mark selected artist Lisa Wisse Robinson 'Melon & Lime Daquiri' in their Block bedroom and later moved it to feature in their hallway.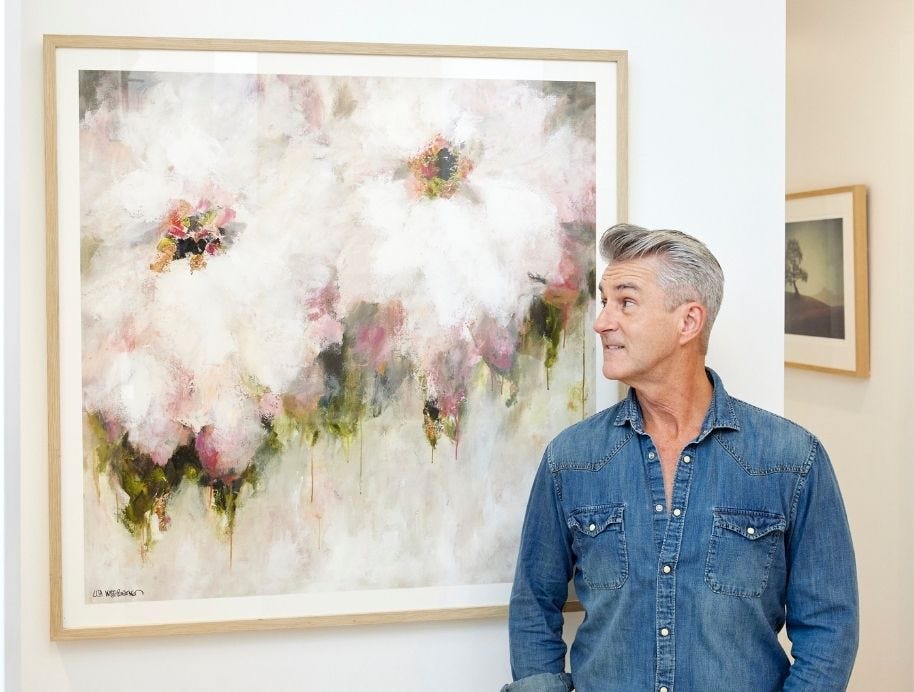 Lisa tells The Block Shop " I love to use delicious titles for my work, I see both flavours and colours as interchangeable!. Art should grab your heart, lift your soul and make you turn back to drink in the story told by the Artist," we think Mark agrees!

An Australian company now operating on three continents, Artist Lane provides open edition reproduction art prints from award-winning local and international artists in multiple sizes and styles.
From paintings and photography to abstract art and graphic design, the huge curated collection is instantly available online for selection, purchase and delivery at an affordable price.
"Original art can cost thousands of dollars and that often puts it out of reach for many people," says Artist Lane director Adrian Portelli.
"Our idea was to create a place where a customer could find good affordable art pieces to bring the artists and styles people love into their homes at a fraction of the cost.
"Our collection is curated and quite broad so we have the ability to cater to a young person who has an apartment through to someone older who might be fitting out a family home.
"We have contemporary art, traditional, photography and more - a whole range of different pieces to suit a whole range of different people and prices."


Kirsty and Jesse are the biggest Anna Blatman fans! Featuring her art exclusively in their hallway and upstairs rumpus room.

Three examples of very different styles that Block contestants used this year to bring their rooms together include the trio of Anna Blatman paintings used by Kirsty and Jesse – "Orange Galore" in their winning kitchen, "Summer Trees" and "Lemon Tree" in their living/dining area; Fern Siebler's paired "We'll Fly Free" prints in Josh and Luke's bathroom and the photographs "Live Bait" and "Bar" in Tanya and Vito's basement.
All three choices – just some of the numerous Artist Lane artworks used by The Block's contestants this year - change the mood of the rooms they inhabit, tie existing furnishings and colour palette together and elevate the style.


Anna Blatman paintings "Summer Trees" and "Lemon Tree" in Kirsty and Jesse's dining area.

"Fern Siebler has been very successful on The Block and in Josh and Luke's bathroom it's a great example of how works can really set the tone for the room," Adrian says.
"And Anna Blatman is a great example of how being on The Block opens an artist up to a world of different people who are looking for art but aren't sure what they want.
"She has around 700 pieces available and it's everything from florals to seascapes, animals people and more.
"Her style is extremely popular so when someone sees one particular piece, they will take a look through her other works and discover so much more."
Another key Artist Lane feature available to the public is that a collection can be individually curated to suit specific needs.
"Someone might call us not sure what will work and we'll ask: 'OK, what do you have in the room?'," Adrian says.
"If they say there's blue cushions, a yellow vase, then OK, we can find a piece that works with yellow and blue, curate a collection of pieces that will suit and then the customer can take a look through and choose the ones that they like best."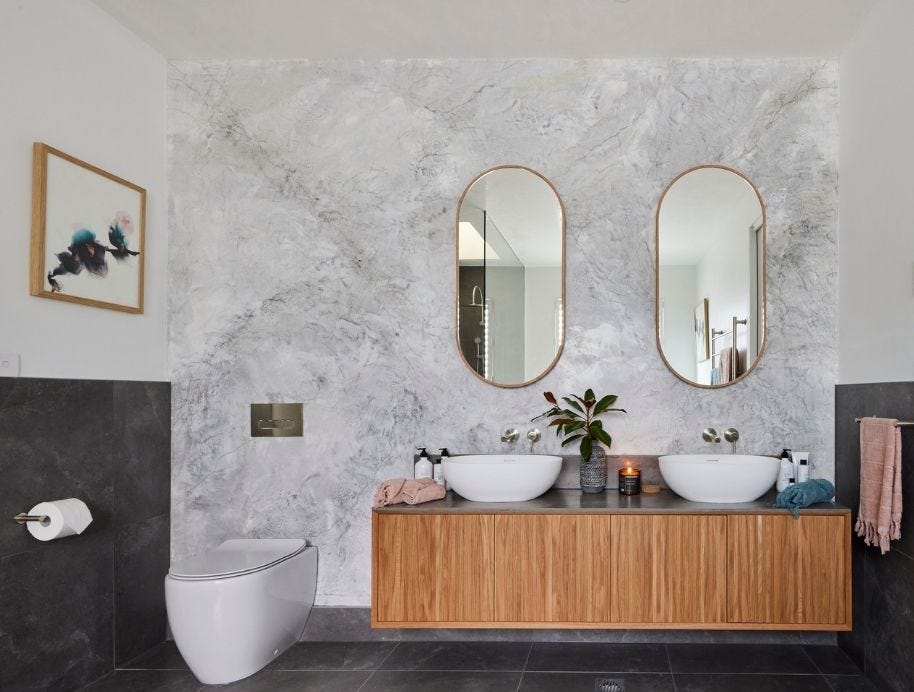 Josh and Luke selected 'We'll Fly Free II' by Fern Seibler from the Hannah and Clint X Artist Lane collection for their guest bathroom.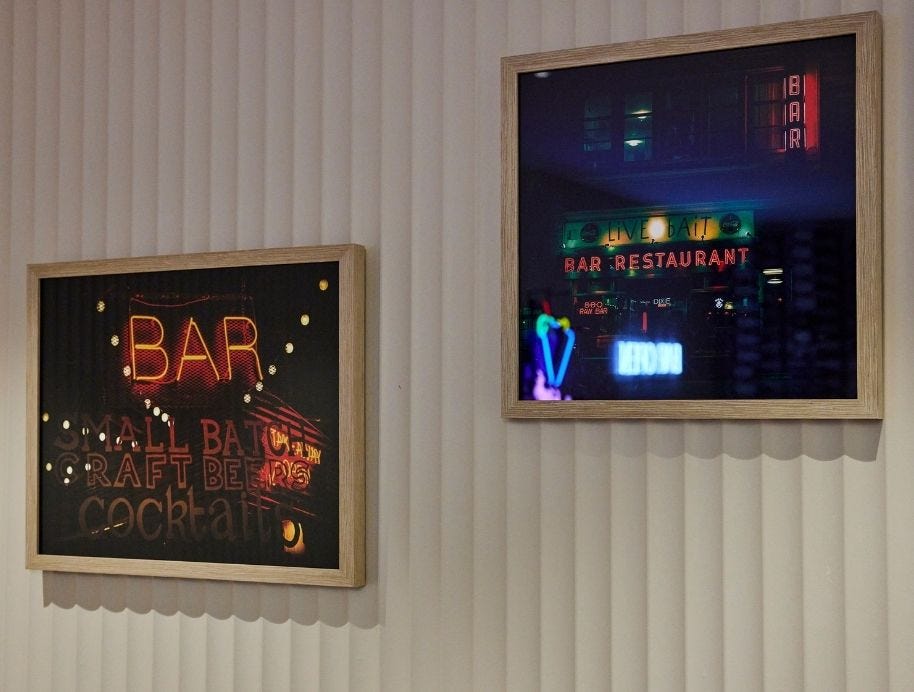 'Bar' and 'Live Bait' were the perfect choice for Tanya and Vito's basement wine cellar area.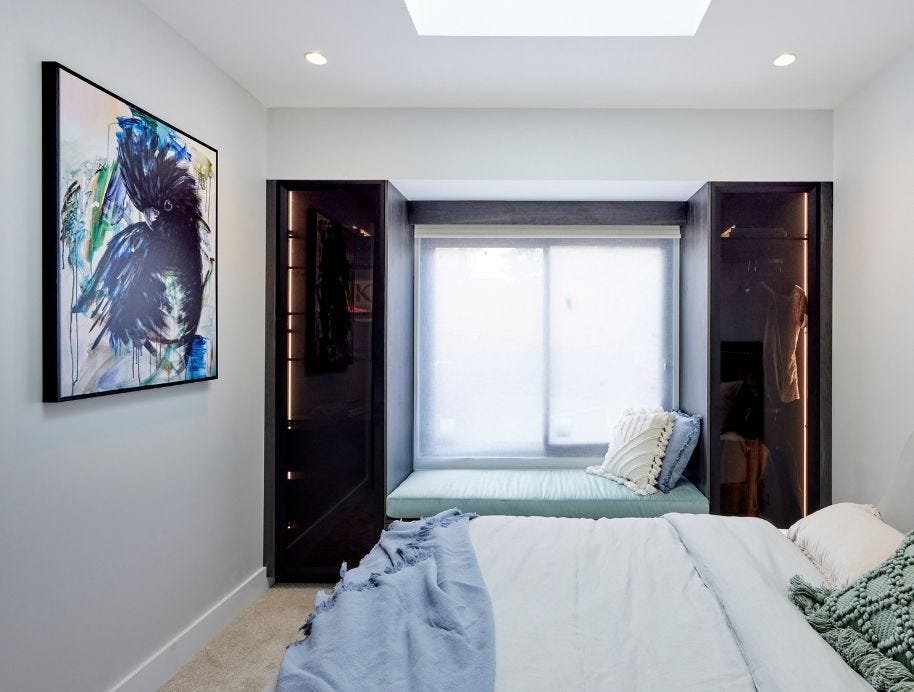 Josh and Luke selected artist Amanda Skye's 'Vincent Black Cockatoo' for their guest bedroom.

Once the key pieces are in place, Adrian says, the difference is instant and incredible.
"If the right piece is there everything comes together," he says.
"Take that artwork off the wall and all of a sudden the room feels empty, it feels like it's missing something."
Art is, Mitch sums up, the missing piece in finishing your home and finding the right pieces doesn't have to be difficult.
"When you have a big choice, you can start to see patterns in the type of works you keep going back to and then from that you can find what ties into your room, what colours are needed," he says.
"Even if you're not sure what you want, just by looking you start to recognise what works for you and your home.
"And once you have that, you'll see a big difference."


Take a look at Artist's Lane's incredible range of art HERE