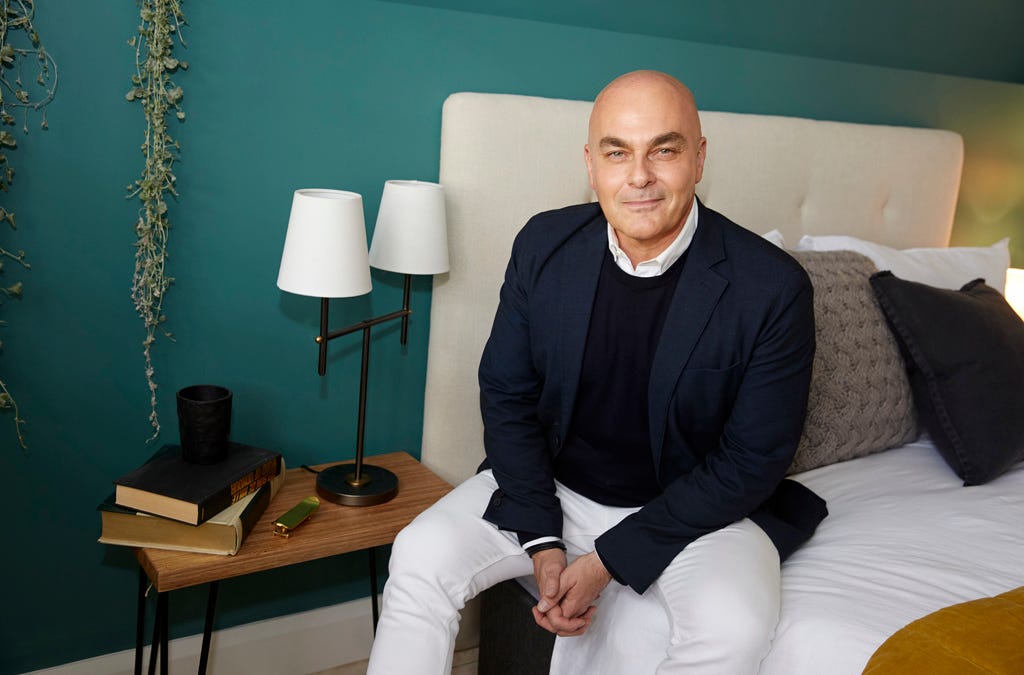 They may not have won Sunday night's Room Reveal, but Sticks and Wombat came very close, scoring an impressive 28 points for their delightful guest bedroom, taking out second place. And despite being told, just two weeks ago, that Buyers' Advocate Greville Pabst might not have a single buyer for their property, judge Neale Whitaker thinks they've got every chance of doing well, come Auction Day, and that they're on the right track.
"I don't share the worry," Neale tells Insider Style.
"Having done the show as long as I have, I know there is a buyer for every house. There is a lid for every pot. There definitely is.
"I think the boys are creating a great house. No, it doesn't flow quite as well as some of the others, but the envelope of those houses is magnificent.
"One thing I will say is that Sticks and Wombat do everything that they do extraordinarily well, so even if you don't necessarily like the aesthetic, the quality of fitout and execution is there."
He points out that four years ago, when Chantelle and Steve were competing on The Block, no one thought they'd win. And yet, it was the underdogs from Victoria who went home with First Prize on Auction Day.
"In the past, we have seen rank outsiders, underdogs like Steve and Chantelle, who walked away with $736,000," he says. "Because there was a buyer there who was desperate to buy a property at all costs.
"He got outbid, with House One, Two, Three and Four. He was damned if he was going to let it happen again. So Steve and Chantelle were up-bidded at the auction, and he outbid everyone."
Neale is also quick to point out that while the main house is now completed, we still have all outdoor spaces, the garage and studio apartment to complete. It's still anyone's game.
"So you can't necessarily equate the house that has the strongest aesthetic appeal, with the best result come auction time, and we're not finished yet" he says.
"They are all in there with a one in five chance. Sticks and Wombat are no different to any of the others."
Let's take a look at how Sticks & Wombat's style has evovled:
Did you like this blog? Subscribe to our newsletter to be the first to receive news from The Block! Subscribe now to receive $20 off your next order.