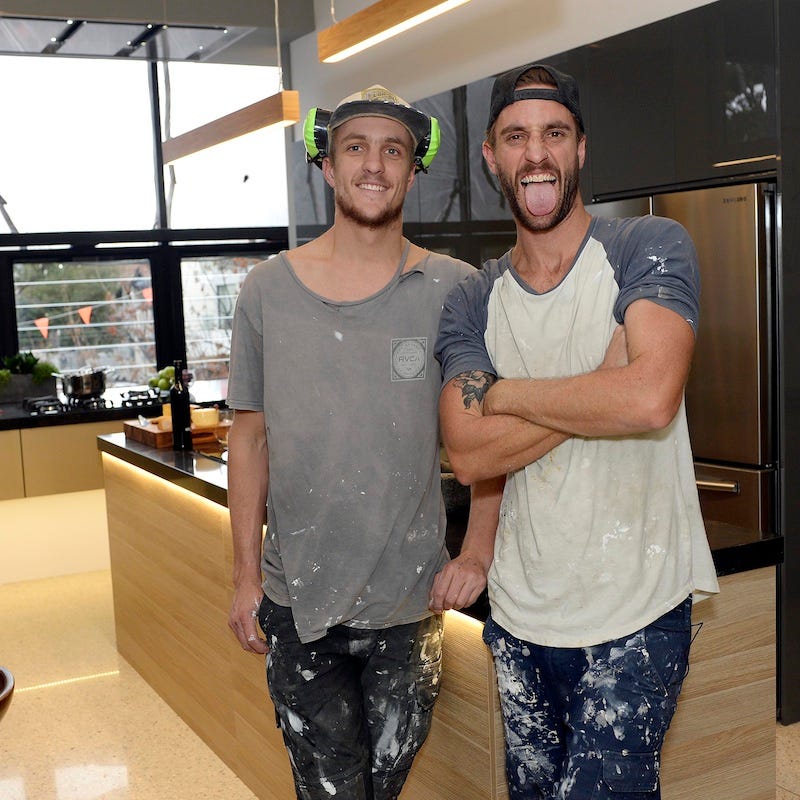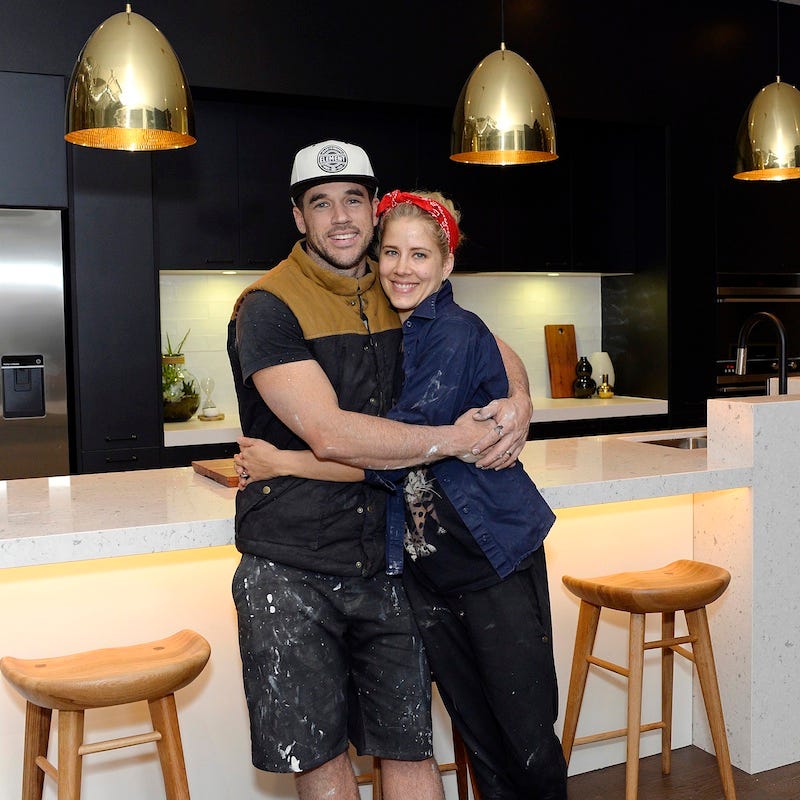 The judges were blown away by the Block: Glasshouse kitchens, and for the first time this season, they couldn't pick a winner, so Michael, Carlene, Simon and Shannon have to share the honours this week, not that they're complaining.
For the boys, it's a sweet victory after a hard week.
"The kitchen was nightmare for us," Shannon says.
"Everything went wrong," his brother adds. "Our kitchen was wrong, our plans were wrong, a lot of the cabinets were wrong because the plans were wrong, and our plans had to change so often... I thought we would come near last. I don't know if I just saw all the complications, and didn't see the good elements, but I was not expecting this, neither was Shannon. We're very surprised.
"It was Hell Week, and I'm just glad we're past it," Simon laughs.
The cause of their headaches? The boys' kitchen faces south, and had been planned with a wall blocking the whole window. Simon and Shannon knew they needed to get light through that wall, and even though their kitchen was ordered well in advance, with that wall in mind, halfway through the week, Shannon put his foot down.
"I just said, 'No, this is ridiculous, pull the whole wall down, we'll sort of plan it on the fly.'
"You plan as much as you can, but sometimes, you just need to make decisions, and that was the decision Simon and I made."
And it paid off. They clearly know their buyer, and the judges said this week was all about "romancing" those prospective bidders. They got all the functional things right, but didn't forget those small touches, like the artwork in their pantry, which add a real emotional appeal. It is, without a doubt, a perfect fit for their apartment.
To say it was a less stressful week for Michael and Carlene would be an understatement.
"Other couples decided to play around with their layouts, but we were really happy with what we were given," Carlene tells us.
Before she set foot on The Block, Carlene had grand plans for their kitchen.
"I decided going into the competition that I wanted black cabinetry and dark pendants in there," she says, "and we're very happy with the outcome."
So were the judges. It surprised Neale, who wasn't expecting to like a black kitchen, but he thought the combination of the cabinets, tiling and bench-top, all brave choices, was absolutely superb.
"I was really hell-bent on having our appliances be symmetrical on that back wall, I had to push for a few extra appliances just so I could get symmetry," Carlene laughs.
The win is an important one – just last week, the couples were even, with one win apiece. Now, two couples have broken away from the pack to take the (shared) lead.
"We were so stoked with our first room win, and we came onto The Block saying, 'If we just win one, we'll be so happy.' And winning the kitchen, that's all-time… Kitchens sell houses, and it's a big win for us," Carlene says.
The judges couldn't split them, but did you have a favourite? Visit Simon and Shannon's and Michael and Carlene's pages now to shop from their selections.