With a win under their belt, courtesy of Alice's Domain Challenge, the girls went into this week's Room Reveals feeling confident. They decided to continue with their trademark timber detailed ceiling, this time with a white backing - and the judges loved it.
"I love that roof," Shaynna said, upon entering their restrained, yet luxurious space.
But it was Neale who was most blown away.
"I have one word - and that word is hallelujah!" he enthused. "Somebody has finally given us a room that feels modern, and luxurious, and glamorous, and absolutely on-brief for the building we are in."
In fact, there wasn't much the judges DIDN'T love about their well-executed room, which featured a dark velvet bedhead, dark drapes, wall-hung timber bedside tables (with a stunning light beneath) and a well-placed leather chair. Feature lights gave the room a modern feel, and the dark joinery in the walk-in robe gave a beautiful, sophisticated feel to the space.
"I love those bedside lights," Shaynna said, before adding, "And those! I think they are my new favourite bedside tables - ever."
The room was functional as well as stylish, with well-placed switches, and plenty of storage space.
"It's almost impossible to believe that it's Bianca and Carla. I was really worried after that challenge...but this is next level," Neale said, before going on to say it felt like an extraordinarily nice boutique hotel.
Shaynna loved the proportions and layout of the room. "When you are laying in bed, you can see the gorgeous artwork, you can see this chair," she pointed out. And while they were disappointed the girls' didn't have time to finish, they were all pleased with the room, which also included that lovely black and timber sky-high walk-in robe, complete with brass detail.
"It feels luxurious in here and it feels beautifully bespoke," Neale said, before Darren added. "It's just next-level."
The girls admit they were surprised by their win.
"I didn't think I knew what 'luxe' was - so I am so glad the judges liked it," says Carla.
We think you NAILED it - well done!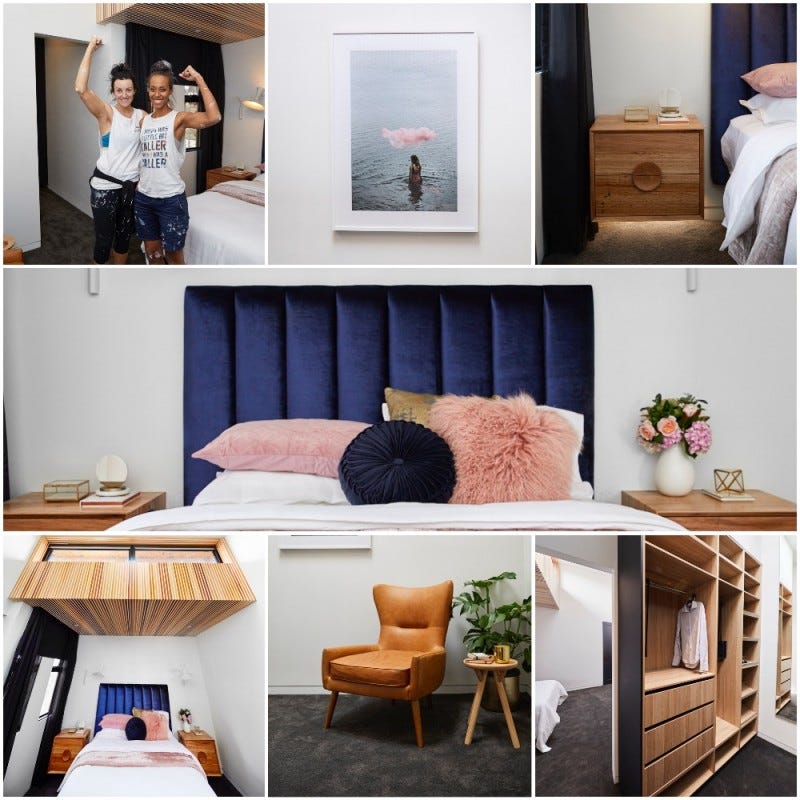 After what can only be described as a calamity at the eleventh hour, with the total dismantlement of their roof, it's a wonder Courtney and Hans even finished their room. But not only did they manage that, they ended up producing an exceptional guest bedroom space, which featured a grey-finish wardrobe (complete with lighting beneath and matte black handles), two beautiful "third choice" pendant lights, a plain bedhead and that gorgeous 'blush' bed linen.
"What a lovely colour palette. This is a winning colour for me," Neale said of their 'nude' coloured haberdashery. "I think that is absolutely beautiful and really sophisticated. And such a nice twist on all the pinks we have been seeing."
Darren was a particular fan of the artwork, which was chosen by Courtney to match the other muted hues in their room.
"Palms against pink is actually a fashion trend in interiors and they have an interpretation of [that] and I think that's really clever," he said.
Neale was a fan of the proportions of the room, pointing out that their space managed to feel bigger, and more opulent, than Kerrie and Spence, who had borrowed room from their guest bedroom in a previous week, making their footprint smaller.
While their choice of pendant lighting was controversial, Darren liked it, pointing out that the black of the poles, "ties in with the black of the chair leg, and the black of the bedside."
The blue plush velvet occasional chair was the perfect counterpoint, and all up, the couple, who very nearly looked as though they would have to forfeit, produced a beautiful, calming space.
"We were totally stoked by that," Courtney said upon hearing of the judges' effusive praise. "I'm just winging it from week to week. They seem to think I know what I'm doing, and I honestly don't - I think I'm just really lucky!"
Um, we think it's more than that, Courtney. Well done!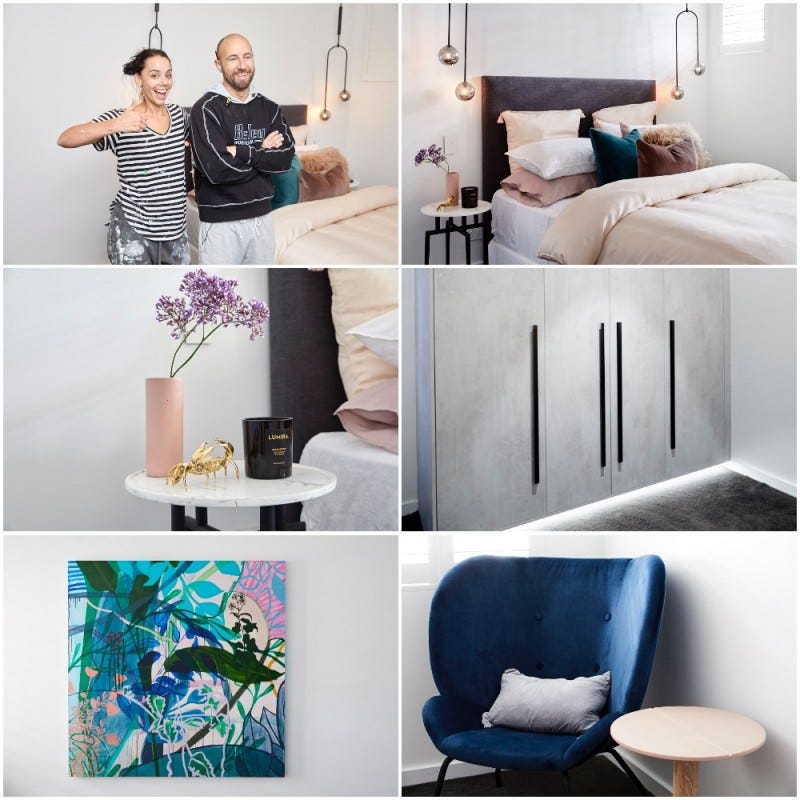 Norm and Jess well and truly proved they "deserve to be in the penthouse" with their stunning guest bedroom, which featured a beautiful over-sized green velvet bedhead, gorgeous built-in robes and joinery for the inbuilt desk space, as well as a lovely grey chaise lounge and some bespoke wall sconces. All up, it was a beautiful, luxe, very 'penthouse' space - and the judges were wrapped.
"Suddenly the luxe factor has shot up," said Neale, as he entered their room.
This was music to Jess' ears.
"I have learnt so much off the judges over the last week," she said. "So we have tried to implement what they have told us showing a bit of emotion in the room by adding a bit of class."
They achieved that in spades, with all three judges enamoured with Jess' beautiful choice of stunning green bedhead. Darren, in particular, was effusive in his praise.
"You've got this bold green, then this lovely, muted navy," he said of their impeccable made up bed. "There is lots of colour - but it's not overwhelming. There's lots of texture. Can you tell I love it? I love it."
Shaynna agreed: "I always love bedheads that go a width past the bed. It's absolutely gorgeous and it works really well."
The only thing that ended up letting down the couple were the placements of their bedside powerpoints, and an absence of a way to turn off the lights without the help of their automated system, Alexa.
Despite this, Jess and Norm were both thrilled with the feedback.
"The judges loved it. At the end of the day, it was just our functionality," Norm explains.
Well done, guys!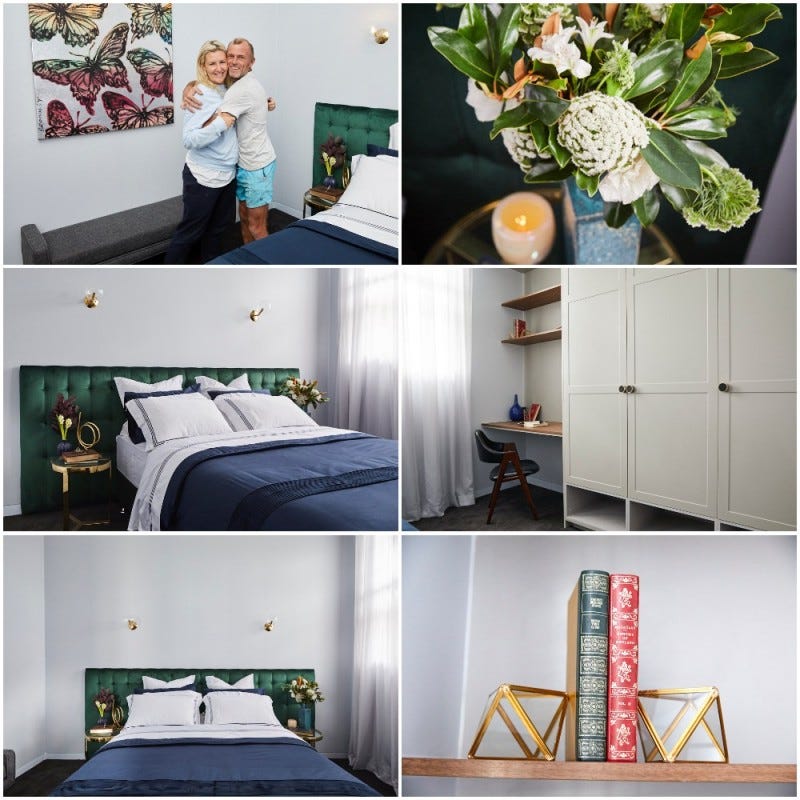 After their special one-on-one with the judges, Kerrie and Spence went into Sunday night's Room Reveal judging with a spring in their step. And rightly so. The luxurious space they created, which featured a silver bed head, plantation shutters, a beautiful artwork in shades of green and blue, and that built-in library with dark custom cabinetry, was a hit.
"It's so unusual," said Shaynna of the detailed joinery work in the library space. "I think this is going to be Spence's signature - his detailing."
Shaynna also loved the colour palette, and all three judges were big fans of the couple's luxurious walk-in robe space, which featured a floor-to-ceiling mirror, double shoe storage and ample hanging space.
Needless to say, Shaynna, 'The Storage Queen' was most impressed: "Look at all the drawers! And the double hanging!" she exclaimed. While they may not have ticked all the boxes, Kerrie and Spence produced a lovely luxurious space. "The styling here is far more sophisticated and adds a perception of luxury," said Darren.
And we agree - well done guys!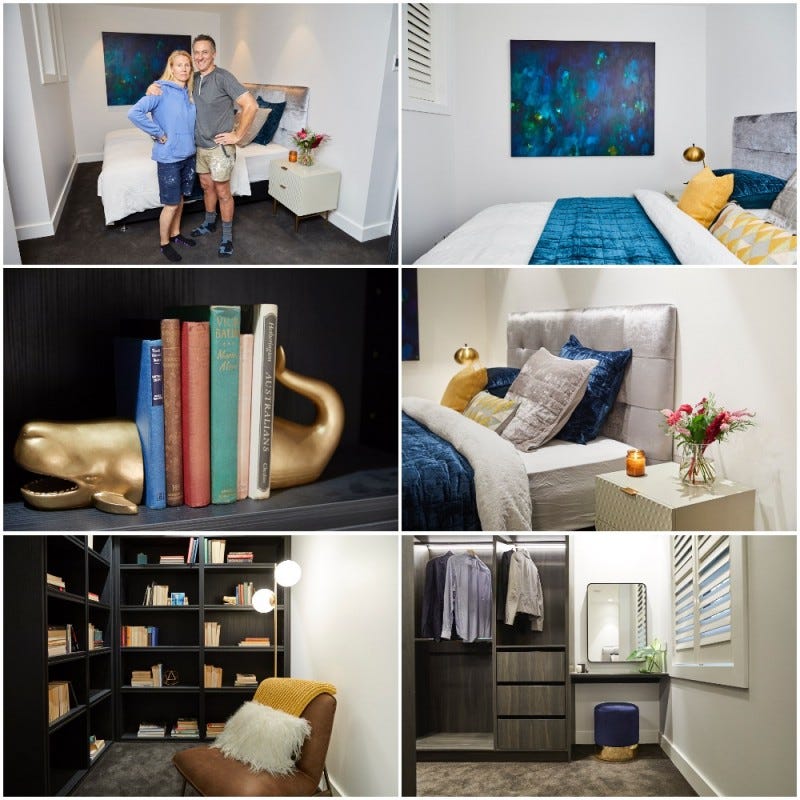 Hayden and Sara presented a beautifully understated guest bedroom this week, with a pared-back, yet "luxe" look. It featured two beautiful hanging pendants, artwork in blues and green, a glass top table situated in a nook, simple plush bedhead and linen in dark blues and greens. They also used marble hexagonal side tables to compliment the space.
But, arguably, the big hero of the room was that stunning coffered ceiling.
"This week we decided with our guest bedroom that we would keep a nice, clean look to the room. But with some nice detail in the ceiling," Sara explains.
And it proved a hit with the judges, especially Darren, who loved how well all their architectural features were executed. "Just about all of the architectural features are terrific," he said. "The skirting, the architraves, the ceiling, the cornacing - they are all beautiful."
Shaynna greed, noting, "their execution is incredible."
It was clear to the judges the couple had a much better layout than Kerrie and Spence's room, and their good-sized walk-in robe "with loads of hanging space" was also a hit. The couple chose light grey joinery, pared with a grey carpet, full-sized mirror and lots of storage, all executed to a high standard.
And although Darren, Neale and Shaynna weren't fans of their new "pared-back" look, there was much to like about the room, which, though basic, showed a lot of potential for buyers to put their own styling stamp on the space.
"We know we have the bones right. And we don't need to change too much in terms of getting the fit-out right," Hayden admitted. "It's just going to be 'How do we style to win?' I suppose."
Best of luck guys - we know you'll rise above.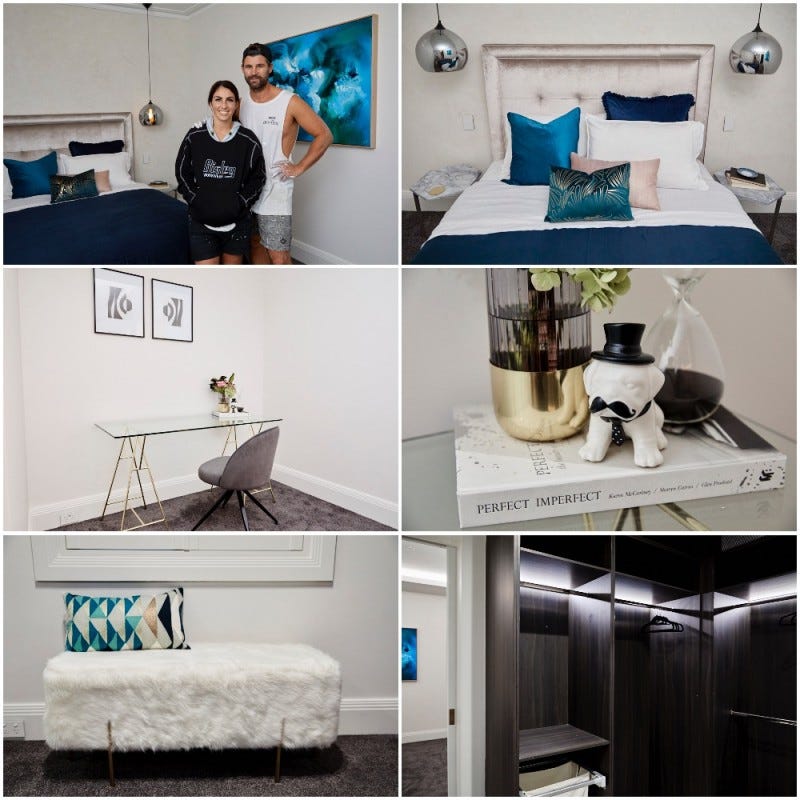 View all the couples revealed rooms in detail HERE
Did you like this blog? Subscribe to our newsletter to be the first to receive news from The Block! Subscribe now to receive $20 off your next order.