Talk about a comeback! Sara and Hayden finally broke their three-week losing streak, presenting a simply stunning deco-inspired main bedroom. They achieved their luxe, high-end look by painting a gorgeous blue-grey charcoal feature wall, including a stunning art deco-inspired upholstered bedhead with gold stud details, two deco bedside lamps, a pink fur throw and a lovely contemporary artwork in shades of blues and pinks.
It was a winning combination.
"I think that is a really lovely grand entrance - I love seeing that," Darren said, upon stepping foot through those grand, black double doors.
He particularly loved the coffered ceiling and the way it covered the curtains.
Shaynna, who had helped Sara via a one-on-one styling session was pleased she had taken her feedback onboard, and loved the simple, paired-back room they presented.
"The restraint they have shown is great, because they wanted all these textures on top of each other, but they have really pulled back," Shaynna said. "I think they have got what we have been saying right from the start and have started showing restraint."
Darren thought they had finally started to nail their brief of appealing to a top-end buyer.
"I think we have hit the luxe zone; we are right in the right spot," he said. "The deep navy charcoal behind the navy bedhead actually makes all that studding pop; it makes the shape pop.
"I love that they have got the ottoman at the foot of the bed that matches the bedhead - I think that is really elegant.
Neale agreed: "I like the way they have taken an art deco motif and played with it," he says. "They have created a room to me that feels modern."
Shaynna also loved their his-and-hers walk-in robe space. "It's well planned, well constructed and well styled," she said. She also liked the fact that sensor lights light the space when entered.
Needless to say it was music to Sara's ears. "I'm not used to having to give a winner's speach," she said.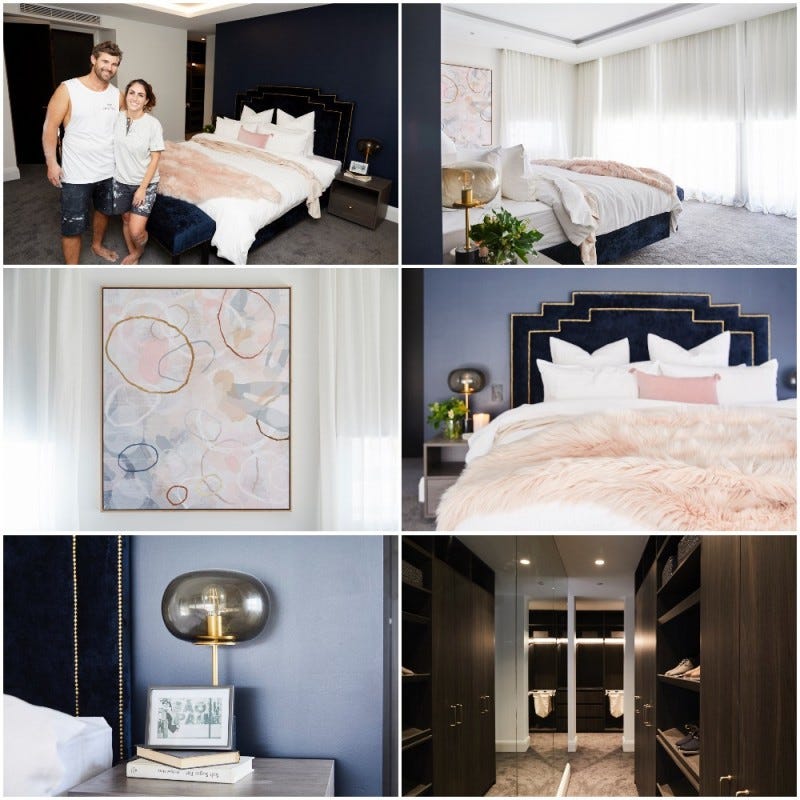 Kerrie and Spence wanted their master bedroom to feel luxurious; a space you actually long to spent time in. "We wanted it to be quite tactile, with fabrics you want to touch; something to snuggle into," Kerrie explained.
And we think they've nailed it, even if the judges thought it was a tad "forgettable".
The couple managed to create the understated glam of their space with the use of luxe linen, including a stunning plush velvet coverlet, which worked perfectly with their divine over-sized bedhead, complete with custom built-in technology switches and a luxurious sea-foam upholstered inlay.
A beautiful large artwork gave drama to the room, while dark drapes, carefully placed lights and dark veneered his-and-hers walk-in robes added both style and functionality.
"It's beautiful and romantic - but not too feminine," Shaynna said, upon stepping foot in their space.
"I love the velvet. It's one of those cues that says 'luxury,'" Darren added. "And [this] is a luxurious palette as well."
The couple admit they could have done more to make a bigger impact with their room, their 'blank canvas' style suiting a buyer wanting to put their own personal stamp on the space.
But their walk-in robes certainly had that all-important WOW factor, with Scotty saying, "This is the 'va-va-voom' the judges have been looking for."
We love your room, Kerrie and Spence!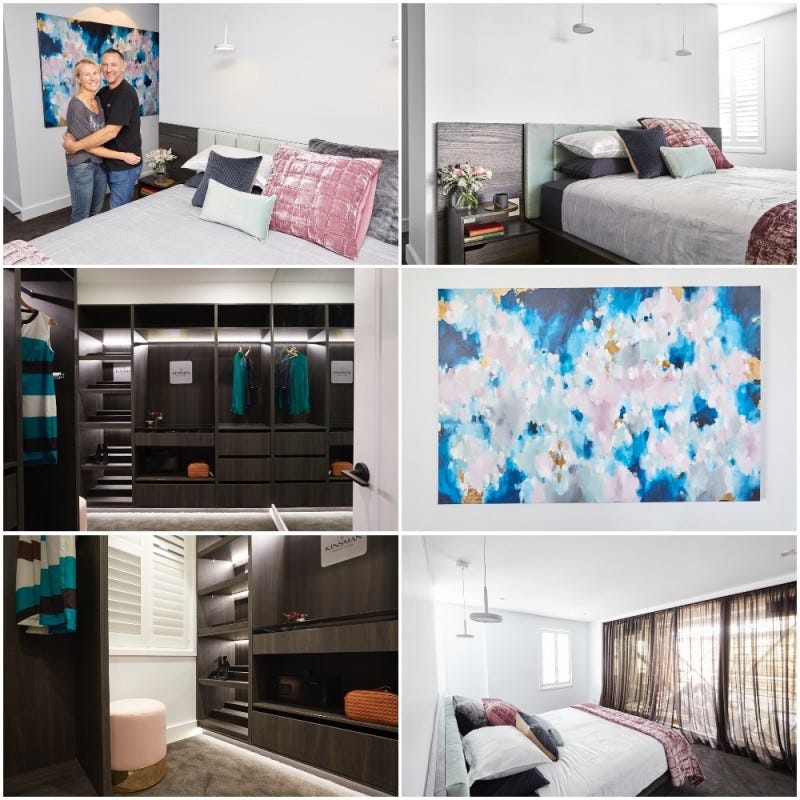 Jess and Norm only had 22 metres square to work with in their room. But as Jess insists "size really doesn't matter in the bedroom." They went for a high-end luxe look despite their size restrictions, opting to use marble detail, beautiful parquetry floors, and those stunning bespoke neon lights.
The judges all loved the couple's decision to include a custom-built frosted iron door, but were divided over the placement of a state-of-the-art mirrored TV, directly opposite the bed.
Neale might not have been a fan, but Darren loved it. In fact, he loved absolutely everything about the room.
"I am loving the floor. I am loving the door. This bed is full on," he said, saying he adored their use of colour and the styling of the linen.
Shaynna wasn't quite as effusive, but she did like the way the couple had styled their bed, even though it was far too high for her liking.
Neale agreed - he felt the space was far too cramped with such a huge bed placed front and centre.
But one thing all three judges could agree on, was their stunning walk-in robe space, which featured beautifully crafted cabinetry, a gorgeous blue velvet chair, statement marble bench top, and lashing of storage.
For Jess's part, she says she adores everything about their presented space.
"I wouldn't change that room for a million bucks," she said.
And we agree - we love it, too! Well done, guys.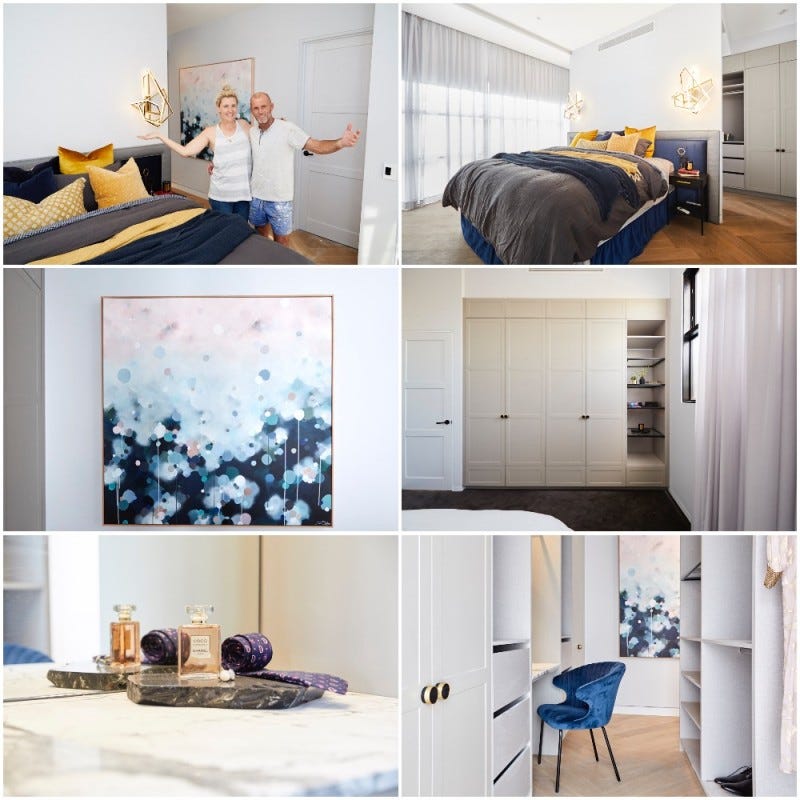 Bianca and Carla continued to impress with their subtle, moody 'monochrome' master, which still managed to feel inviting despite its broody interior.
"I think a master bedroom should be cosy and inviting. And I think it should have a sense of moodiness about it - that was the inspiration behind the room," Carla explained.
She managed to achieve this effect with the use of a dark timber feature wall, dark drapes, custom wooden side tables, parquetry floor, charcoal-coloured linen on the bed, and a timber cabinet under their state-of-the-art Art TV by Samsung.
It was this last item that impressed the judges the most - no mean feat considering Shaynna and Neale are notoriously opposed to the inclusion of technology in a bedroom.
"It allows you the luxury of television in bed should you want it. But when you are not watching, the TV it becomes an artwork," Neale said approvingly.
Darren also liked the room, saying he enjoyed the "dark, tonal, monochromatic 'grey on grey on grey' textures - it's very tactile."
"For a neutral palette to be so visually interesting...I think they have done that very beautifully," he added.
The judges were divided on whether the space, which they all agreed was quite masculine, might polarise buyers, with Neale pointing out that it didn't make enough of a statement.
Shaynna admits she wasn't loving their moody vibe.
"I feel this is so heavily masculine, with your dark drapes, your dark wall, your charcoal," she admitted.
But one thing they did all agree on was how well executed the girls' walk-in was. Even though it didn't have some of the bells and whistles of the other rooms, they liked the use of matte black and copper, paired with the oak laminate.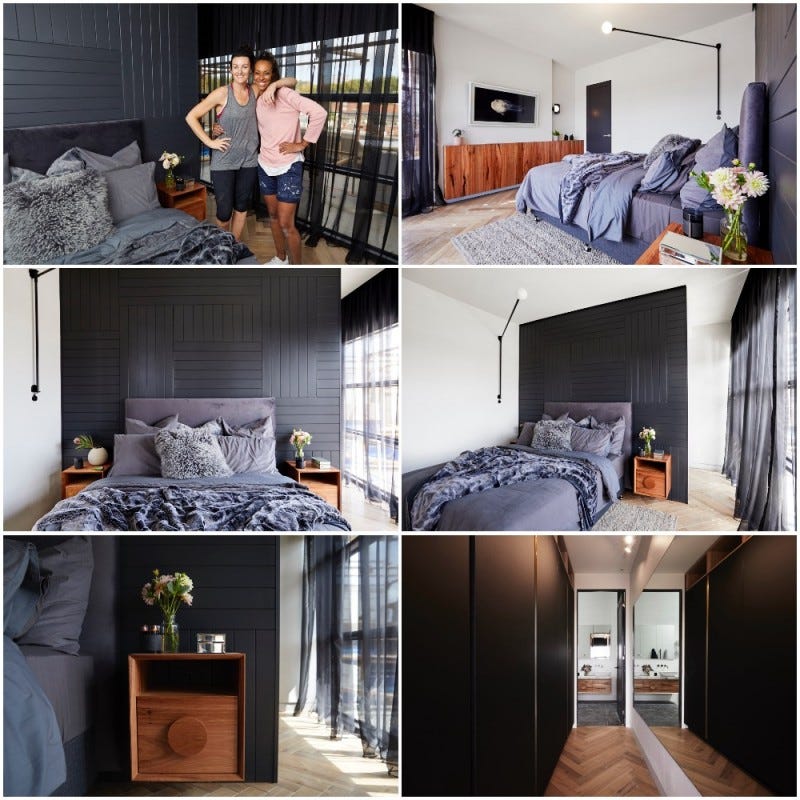 Although it was difficult because of the size of the space for the couple to finish to the standard they wanted, Courtney and Hans managed to execute a stunningly simple, yet stylish, main bedroom, featuring a plush pink bedhead, a large 'statement' fan, a round mirror, two dark pink velvet chairs and a copper table as seating area - and THAT controversial artwork.
Their deluxe walk-in robes, featuring that last minute marble stone-top bench, was an instant hit with the judges, who said the room had a lot of potential to win over buyers who could overlook its few basic flaws.
The biggest of these was the couple's choice of artwork, which Neale said might be his least favourite of any series to date. Despite this, he still found lots to like, especially the grand scale, which won over all three judges. As Scotty said, "To say the judges were blown away with the size of your master would be the understatement of this season."
Darren loved the colour palette on the bed; Shaynna also loved the pendent lights mixed with the mustard and the burgundy pillow. "I'm not usually a fan of burgundy, but I do think it works really well here," she said.
All three judges also liked the functional mood lighting and were effusive in their praise of the walk-in robe space.
"You still have the footprint, and if you get it right they think this could well win you this series of The Block," Scotty told them.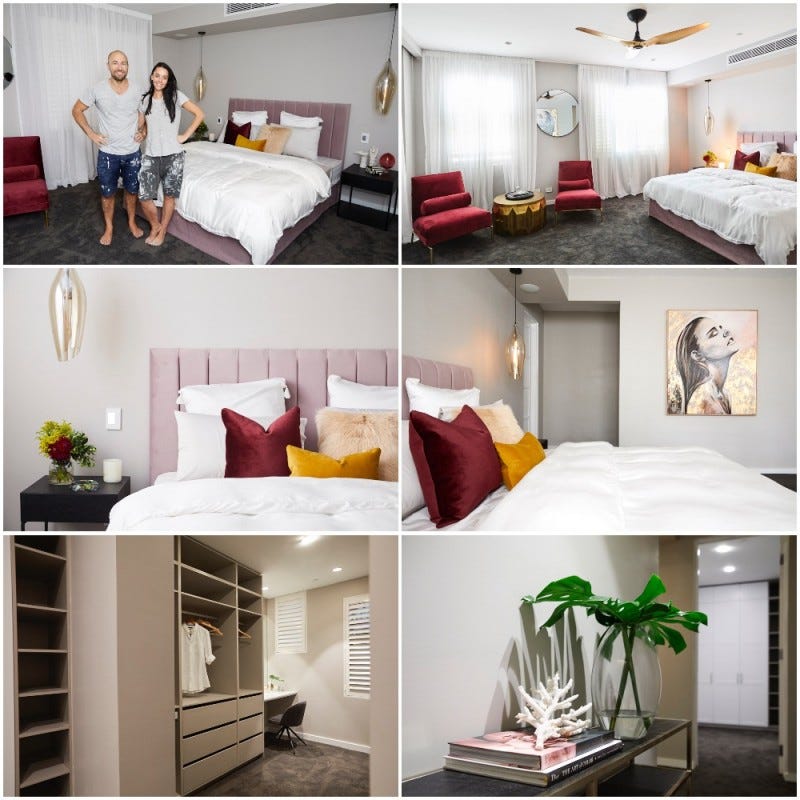 Did you like this blog? Subscribe to our newsletter to be the first to receive news from The Block! Subscribe now to receive $20 off your next order.