Courtney is the first to admit she went into this week thinking she'd missed the mark. But boy was she wrong! All three judges adored their space, awarding "the largest room in Block history" a resounding win.
Undoubtedly the feature of the room was the stunning Christian Cole handmade dining table, complete with parquetry detail and large carved legs.
Darren loved it instantly.
"It could be stuffy, or something that feels too old, or too heritage, but this beautiful parquetry top, with the curve of this green velvet - the whole thing just gets elevated into something that is really cool, and contemporary," he said.
Another feature that added to that "cool, contemporary" feel was the inclusion of quirky tribal details in the windows, a gorgeous artwork which Shaynna said had "heaps of personality" - and that hilarious Llama photographic print.
Neale agreed they had got the balance just right.
"The furnishings here I really like. I really like the different colour palette. I really like the very simple, tribal feeling to it, which connects to some of the artefacts they have got over there," he said.
Courtney and Hans chose to separate their giganteum space into three distinct areas - the dining space, which featured that epic table, a buffet and the painting, that central sitting area - complete with a state-of-the-art James Bond-inspired pop-up bar - and the area at the end, which featured the television.
Despite the inclusion of technology, so often a bugbear for our judges, they all agreed the couple had managed to make that part of the room feel intimate, and comfortable.
"The rug is a lot more residential and relaxed than the rug in Kerrie and Spence's room," Darren noted.
Despite Courtney's lack of confidence, all three judges thought she styled a knock-out room "which literally goes on forever."
"I think they have chosen some very sophisticated pieces, actually," Darren said. "This is almost the size of a self-contained apartment.
"Courtney and Hans have gone from zero to hero this week."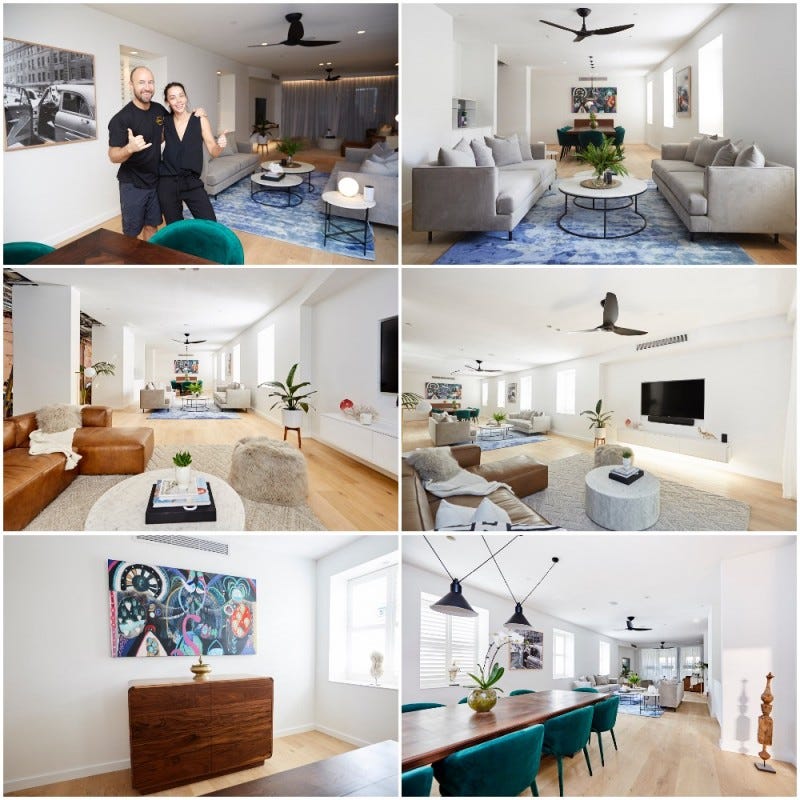 It's been a tough week for Kerrie and Spence, who, at one stage, considered quitting the show for good. But they stayed - and what a remarkable room they managed to achieve. Undoubtedly its hero was that beautifully-executed coffered ceiling, which Spence lovingly installed himself - despite the considerable obstacles that crossed his path.
Needless to say, the judges loved it, all appreciating the extra work that had to be done to get the roof detail finished in time.
"They have done a really great job, especially when you consider how much they bit off to get this ceiling done," Darren said.
Initially skeptical it lowered the ceiling height too much, by the end of his time spent in the space, even Neale was agreeing the coffering was a stroke of genius. In fact, he thought the whole room, which also featured a large eight-seater dining table with green velvet chairs, leather lounges, hanging neon disc lights, more of Spence's beautiful signature joinery on the bookshelves, and one absolutely stunning oversized rug, was a triumph.
"It's an easy space to imagine living in," he said. "I think there are a lot of things in here that a potential buyer is going to get very excited about. For me there are definitely more ticks here than crosses."
Shaynna agreed: "It's a thing that Kerrie and Spence do every week - they tick boxes."
The couple chose to complement their eclectic selection of furniture this week with two beautiful photographic prints, one featuring palm trees, which Neale thought were very evocative of the St Kilda area. Another feature was their 'smart technology', which all three thought was the perfect cherry on the cake.
"I love all the bells and whistles and anything that actually makes your life easier," Darren said.
Spence, this room nearly broke you - but my goodness, what a triumph!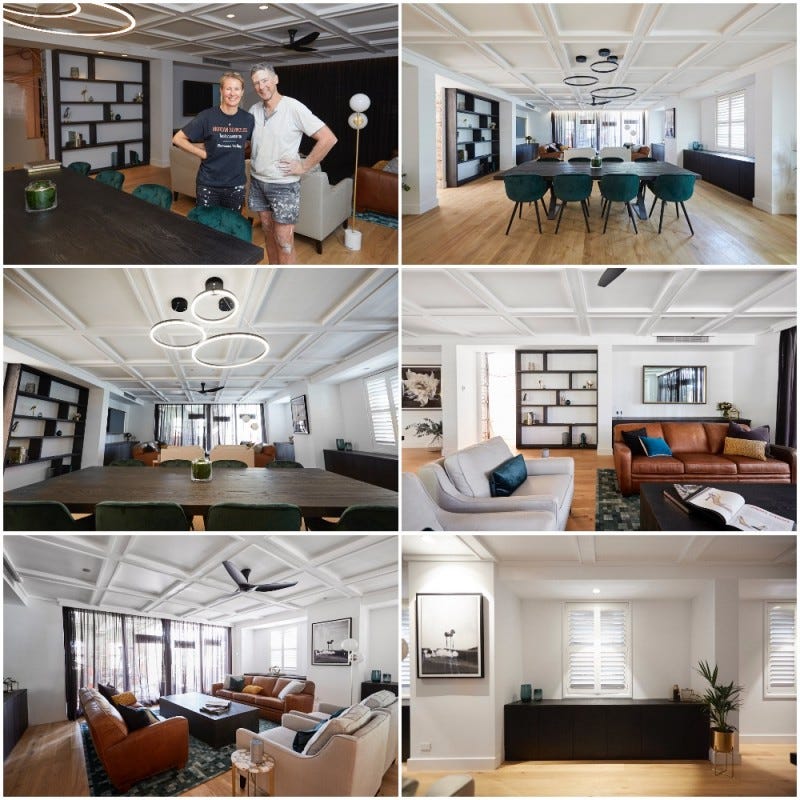 The judges might have felt they fell a little short, but we think Sara and Hayden pieced together a lovely living space, with a gorgeous relaxed, contemporary feel.
"It's a pretty modern fit out, so hopefully they think it fits in well with the last two rooms in particular. When the kitchen comes along, it should all tie in pretty nicely," Hayden said before Reveal.
Their space had a number of highlights, including that stunning central electric fireplace with neon under-lights, the feature wall with Grafico print of St Kilda, that grey-themed sitting room space, with grey couches, and marble-topped coffee tables, and the use of brass as accent.
Darren was a particular fan of the sitting room space, and thought their oversized L-shaped couch was perfect for a family. "I also love that we have got these occasional chairs," he said. "I really love [them]."
The couple chose these chairs, which featured stunning wood and brass detail, to tie in with other elements in their room, most notably the drinks cart and the coffee tables.
There was a lot to love in this room for Shaynna who thought the Venetian plaster the couple had chosen was done well.
"I love the colour and I love the fact it's like a beautiful column," she said.
She also liked the tone used throughout the room.
"I like the floorboards - they are a little bit darker than where we have come from, and they are quite gorgeous. I like the colour palette and I like the softness that's there. It's pretty similar to what they had in their master bedroom," she explained.
While some elements of the room left them underwhelmed, all up, the couple produced a lovely space, which, when their kitchen is revealed, will tie everything together nicely.
Well done, guys!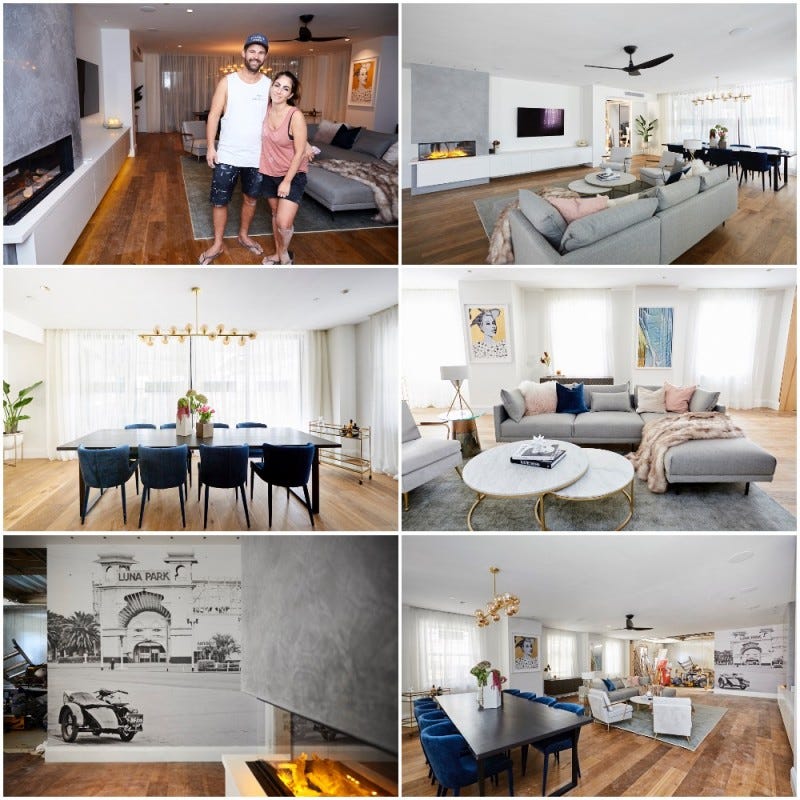 Jess and Norm's huge suspended fireplace played havoc with their layout this week. But despite their travails, the couple from Queensland managed to create a truly beautiful, pared-back space, which featured some stunning furniture pieces from an Indigenous not-for-profit organisation. It also saw an oversized olive tree, leather lounge, aboriginal art, a gorgeous sideboard and hints of ocre complete the look.
For one judge in particular, the result was near-perfect.
"I'm loving everything I am seeing," Darren said, effusive with his praise from the get go. "I love the lighting layout - I think that is so cool - I love the brown leather, that ocre/saffron colour, and I am in love with the olive tree."
For Jess, this was music to her ears. As was Shaynna's praise of the use of her fossil table, a piece sourced from the same collective, chosen to be the 'hero' piece in their room.
"This is divine. I haven't seen a coffee table like it, and I love it," Shaynna exclaimed. "And it's come from a not-for-profit co-op in an aboriginal community - I'm loving it even more!"
Neale was also a fan, praising their use of 'furniture as art' throughout the space.
"Norm and Jess have excelled themselves this week - they really have," he said.
"It's incredibly pared-back, it's incredibly simple. I love those chairs," he added, turning his attentions to the two mid-century-style blue upholstered occasional chairs, placed around the fire.
It was this placement, paired with the inclusion of that state-of-the-art fireplace that had Shaynna separating herself from the other two judges in their verdict. She thought the couple had made a serious miscalculation by choosing to include the fire, which both Neale and Darren thought was fantastic.
"The placement is possibly the worst placement I have ever seen," she said.
But Darren categorically disagreed , saying he thought it was amazing, and could absolutely see himself relaxing fireside with a glass of wine.
"It's grabbed me by the heart, this space," he said.
And you can't get higher praise than that. Well done, Jess and Norm!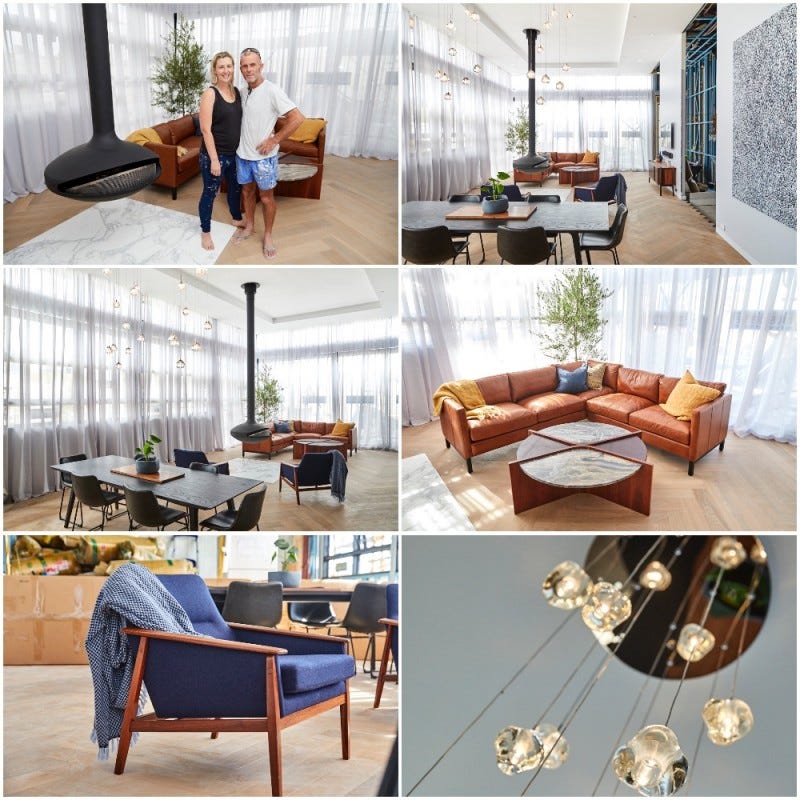 They might not have scored a win this week, but it matters not to Bianca and Carla, who admit their living area is their favourite space delivered so far.
"We are so wrapped with how it came together - and the fact we finished early as well was just a big bonus," Bianca said.
There was a lot to love about their light, bright, airy contemporary space, which featured a stunning designer pendant light, parquetry floors, gorgeous black diaphanous drapes, a huge statement art piece in hues of blacks and blues, a cosy sitting area, and a large dining table with eight seats in grey velvet.
Arguably, though, the statement piece was a stunning black sideboard, which featured the girls' signature round, wooden handle as decorative feature.
Darren loved it instantly, and was thrilled with the way the girls had managed to tie everything together. He also particularly loved their choice of art.
"It gives you a really glamorous black offset against these black, linear elements," he said.
He also loved the use of the black curtains, commenting that it showed off "the elegance and architectural drama of those wonderful windows."
Neale also loved the use of black in room, especially how it tied all the elements together.
"I love the cabinetry against the wall, and I love the artwork in here. It somehow works - I like the black," he said. "There's a real sense of luxury about it, and it feels very modern.
"I think the scale of the light, the artwork, the cabinetry, the dining table - it's a complete package."
All three judges agreed that the girls have a sense of what works in their space. And while it didn't go far enough for Shaynna and Neale, who would have liked to see them take more risks in their room, they were unanimous that they'd managed to deliver a beautifully functional, cohesive space.
"Bianca and Carla have a sense of what works," Darren said. "The legs [of the sideboard] play off the legs of the table, and also the chairs - it's like the whole thing is consistent because it references all the different things from all the different spaces across the whole apartment - and that is really considered very well-resolved design."
Well done girls - we smell a change of career coming on!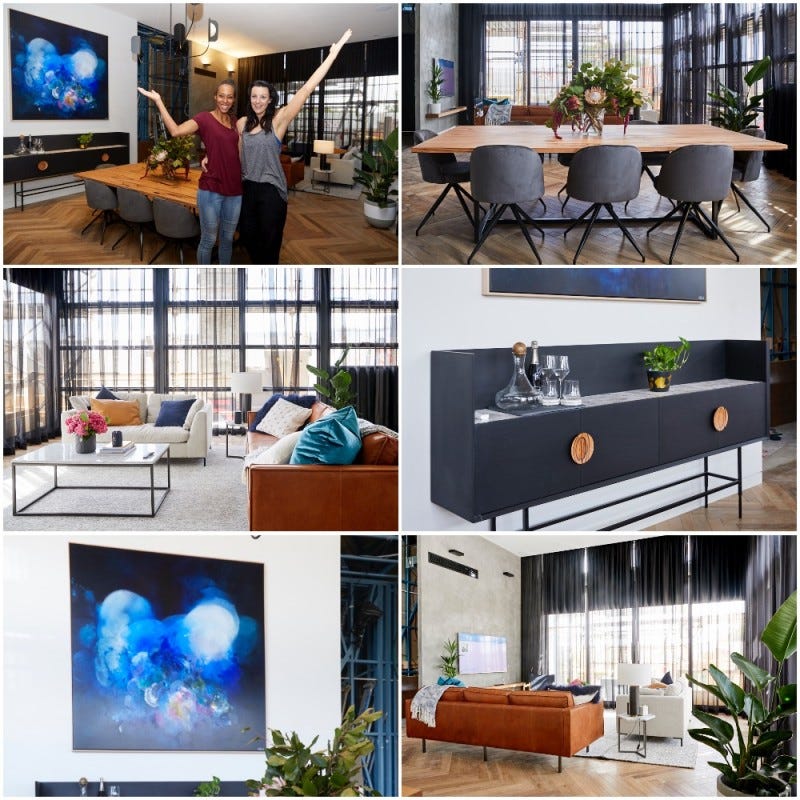 Did you like this blog? Subscribe to our newsletter to be the first to receive news from The Block! Subscribe now to receive $20 off your next order.