The fiery Perth contestants are in it to win it. We find out what makes them tick - and why they're the team to beat on this year's show.
You're married, right? How long have you guys been together?
Ronnie - we've known each other for 12 or 13 years.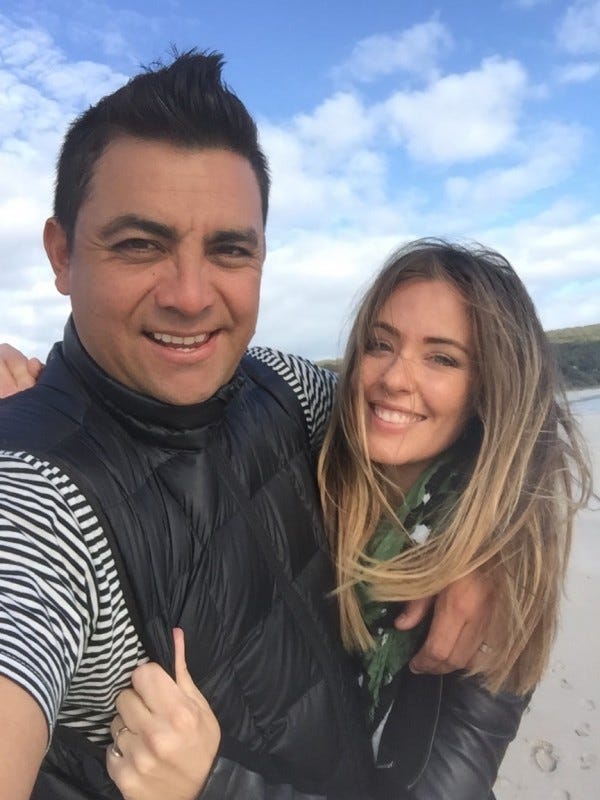 How did you meet?
R - We met at a Japanese restaurant. Our eyes locked. I was covered in all my plastering gear, and she was having lunch with one of her WAAPA (WA Academy of Performing Arts - Georgia studied musical theatre there for a year) girlfriends. They sat right next to us, and I remember thinking, 'Man, these girls are loud!'
There's a bit of an age gap. How old were you, Georgia?
Georgia - I was 21.
R - I didn't think much of it, then I bumped into her the next night...
G - The rest is NOT history! Then Ronnie was like, 'Yeah, I've got a son.' And I was like: 'No deal.'
/media/blog/car_ronnie_georgia.jpgRonnie & GeorgiaRonnie & Georgia
Brutal! So you weren't interested to begin with?
G - Well, the thing is, when you live in Perth, you go out and you see the same people all the time. So Ron became me and my friend's 'Free Drinks Guy.'
R - I was their go-to...
G - But then, after about four weeks of persistence, I was like, 'OK, I guess I'll give it a go.' And then it was every night from there after!
Ronnie, how old were you then?
R - I would have been 27/28. My son was two and a half...
Were you married before?
R - Engaged. I was with [my ex] for a year and a half, and we renovated a property together. But then it was all too much - renovating and bringing up a little kid - and we ended up not getting married and going our own ways.
Georgia, how was it, becoming a stepmum so young?
G - Ron was such an awesome guy, and a great, involved dad. But it was hard at the time - just because we were so young. But it's all been so worth it. And Geordie is great.
He's sixteen now - and you have two other kids together, right?
G - Yeah, Leo was five in June, and Charlotte is two.
I bet it was difficult to leave them all…
G - It was. We were all crying…
/media/blog/family.jpgRonnie & GeorgiaRonnie & Georgia celebrate daughter Charlotte's 1st birthday
R - But we're doing it for them. That's our motivation - we want them to go to good schools. I've watched every single season of the show, and we always thought we could do it. So much so, that Georgia had to stop watching it - she'd get too verbal!
G - You know when you feel like you're missing out? I'd be like,
'We could do that! Why are we not doing that!' It used to irritate me, and I couldn't watch it.
How did you begin renovating houses?
R - I actually started with my ex. We renovated a property together, and when we split, we both ended up with $30,000 each. I bought an old house in Morley to renovate. My parents had always renovated properties - from a young age we were moving from house to house - so I asked my dad for advice, and he said, 'Go buy a duplex block, and start renovating.' So that's what I did.
And now you're professional house flippers, right? Do you have other jobs too?
G - Yeah, I have a children's wear company called Alpha Basics. It's basics for little kids. I've had that for two years, but we are on a little hiatus right now.
/media/blog/renovating.jpgRonnie is a seasoned renovator
And Ron, you were working as a plasterer?
R - Yeah, a plasterer and handyman. And when we got the call about The Block we had just finished renovating a house in North Perth. So that was pretty full on. Also, about a year and a half ago I was a real estate agent selling houses in [Perth Suburb] Mount Lawley.
You've had quite a varied career, Ronnie. You used to be a semi-professional volleyball player as well, right?
R - I was playing in the Australian tour over here, at the Institute of Sport in Western Australia. I was obsessed. That's all I did. Because my dad was a plasterer, for cash, I would go work two days with him, then through the summer I'd just concentrate on the West Australian tour.
Do you still play?
R - Nup - it's just a social thing now, not competitive.
So back to The Block - what do you think your style will be?
G - I think our aesthetic in funny - we look at our renovations that we've done, and it has changed. But our last two, they've been older, federation-style houses and we've done extensions on them that have been about marrying the old with the new.
So you use new and old furniture, too?
G - We love using character pieces of furniture, like, antiquey stuff, with a contemporary chair. So I guess in the houses we've done, we've gone traditional, playing homage to the original house, but making it appealing to the modern-day buyer as well.
What do you think will be the hardest part of being on The Block?
R - We argue. Every decision is through an argument!
/media/blog/GeorgiaRonnie.jpgRonnie & GeorgiaRonnie & Georgia
Uh-oh - that doesn't bode well…
G - Yes, but we do trust each other's ability. I know Ronnie is amazing with construction and logistics - and I'm good at the other side. With time pressure, we'll just have to trust each other.
R - But I'll be throwing you under the bus as well!
How will you guys go with the other contestants?
R - I think I am going to be friends with everyone….
G - I am a bit fiery. When I'm confident about something, and passionate about something, and know I am right - I'm going to stand my ground.
How are you with confrontation?
R - I try to avoid it. Especially if someone is going to keep on cutting...
G - But you will stand up for yourself.
R - Of course.