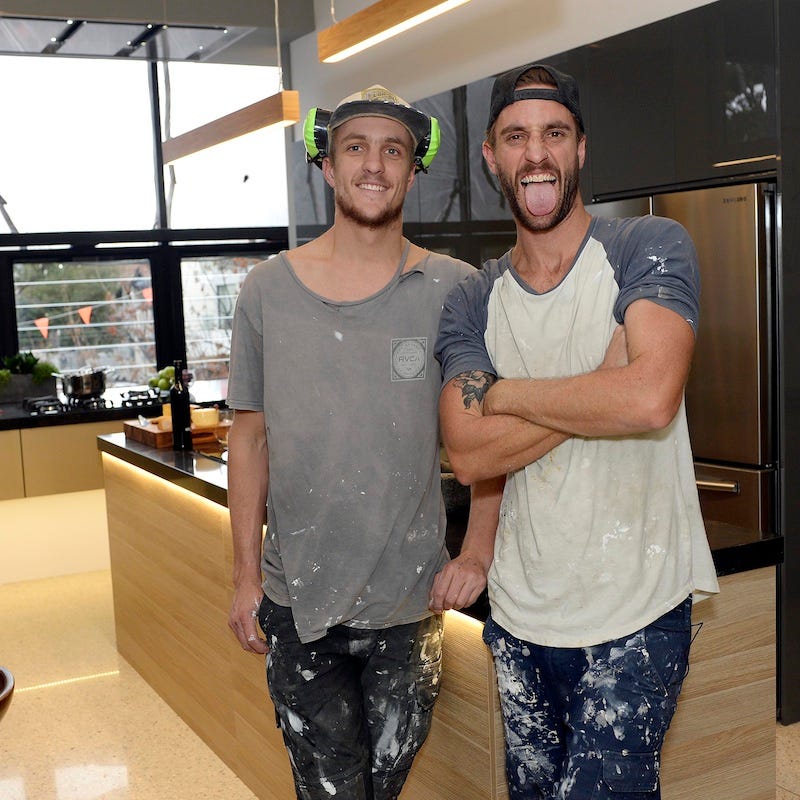 What did you love most about your kitchens this week?
Simon: The layout we got given, with the serving area and the bi-fold doors, because you can open that right up and it becomes like an indoor-outdoor area that will combine with our terrace.
Shannon: Because we had to rip out the wall, we had lots of space to fill. A normal kitchen bench is about 800mm deep, and we had to double that just to fill the space, so we have a 1600mm-deep bench and that vastness makes the kitchen look so grand.
Simon: And the big fridge. We love the big fridge.
Carlene: I love our pendants, they're just great. Get the look on the Block Shop now.
What did you love about the other winning kitchen?
Carlene: I like that the boys are quite visual with their apartment. They kept their timber tones in their pendants and they've got a vibe in their apartment… There's a theme running through their artwork.
Shannon: Carlene and Dee have the best styling on the block, and just the way they've styled their kitchens, they've blown everyone away.
Simon: I loved their use of colour and Carlene is very good at styling, she obviously knows what she wants.
Shannon: It's not Michael, it's Carlene [laughs].
Simon: I love their kitchen sink and the bench, I think it's really – I can't describe it – the feel of it, and the butler's pantry, everything's really fresh and has a really warm feel to it.
Halfway through The Block, how are you feeling?
Carlene: Two wins in a row! We're feeling so happy. The downstairs is going to be our seller, and we're loving how it's all coming together.
Simon: We're not really feeling physical fatigue, but mentally, it's a little more challenging than I thought it'd be, because this isn't a typical jobsite. The Block requires so much of you.
Shannon: You push yourself absolutely to the limits. It is very exhausting.
Simon: I don't get to surf, I don't get to be in the water, I don't get to see my girlfriend. Being in the construction game, I'm used to the physical slog, but I'm definitely feeling it mentally.
What did you think of the kitchens this week? Did something catch your eye? You can shop by room now.