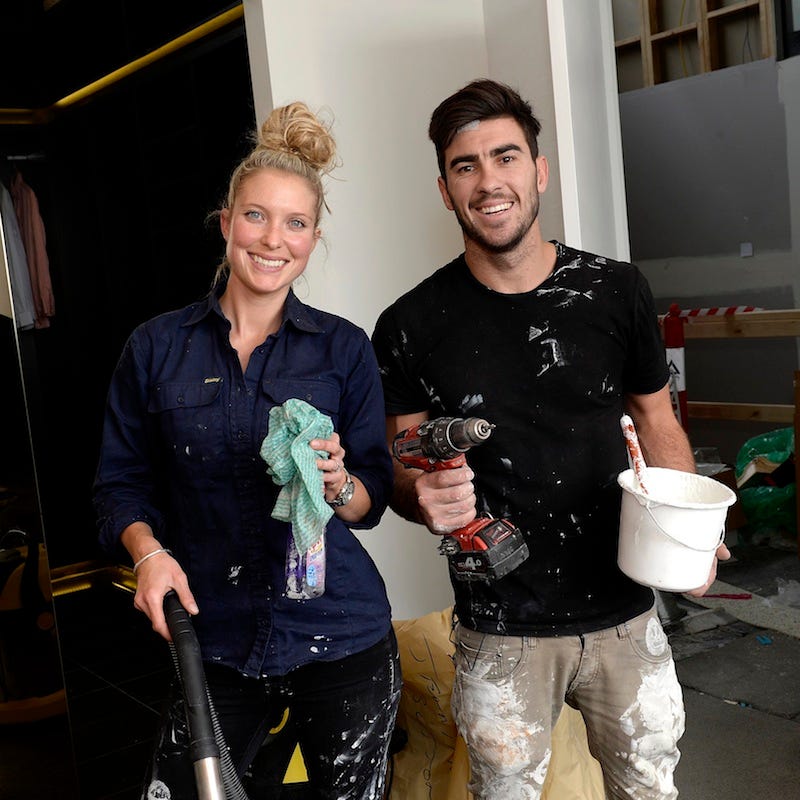 Are there any features in the other couples' rooms that you've been impressed by?
Max: I love Chris and Jenna's showerhead. It was just really –
Karstan: This week, Max.
Max: Oh! [laughs] Okay… Simon and Shannon's room. I just love the sheer size of it. They had a nice seating area in their room where you could envisage yourself sitting down and having a cup of tea in the morning. I just think they utilised their space really well.
Karstan: And they had a really big walk-in robe. It was more of a fourth bedroom… Massive!
Anyone else's?
Karstan: I liked Chris and Jenna's. I loved their wall, very creative. It's a big risk but I think the buyers will like it.
Was there anything in your room you wish you could go back and change?
Karstan: We'd probably just go with a different carpet, maybe get Darren Palmer's range and get an extra half a point! [laughs]
What's one Melbourne store you can't live without?
Karstan: Piccolo Espresso & Wine Bar for me… Every morning we're down the road having a coffee. Without that shop, I don't think I'll make it.
Max: Botanics, the florist we use every week. They're really unique. We have a beautiful vase at the end of our bed, and they're very clever in the way they put greenery together.
Karstan: Not to mention you go there for a wine before every Reveal and they love you.
This season, our Blockheads are presenting some of the best rooms we've ever seen: Browse their rooms now and you can own your own piece of The Block.