Meet the Melbourne mum behind this STUNNING range of reusable bamboo tableware…

Ugly plastic plates and cups crowding your kitchen? Sick of going to picnics and chucking everything in the bin afterwards? Meet the Melbourne Mum who's single-handedly re-imagining reusable bamboo tableware - and helping save the environment in the process. The best bit? It's absolutely GORGEOUS.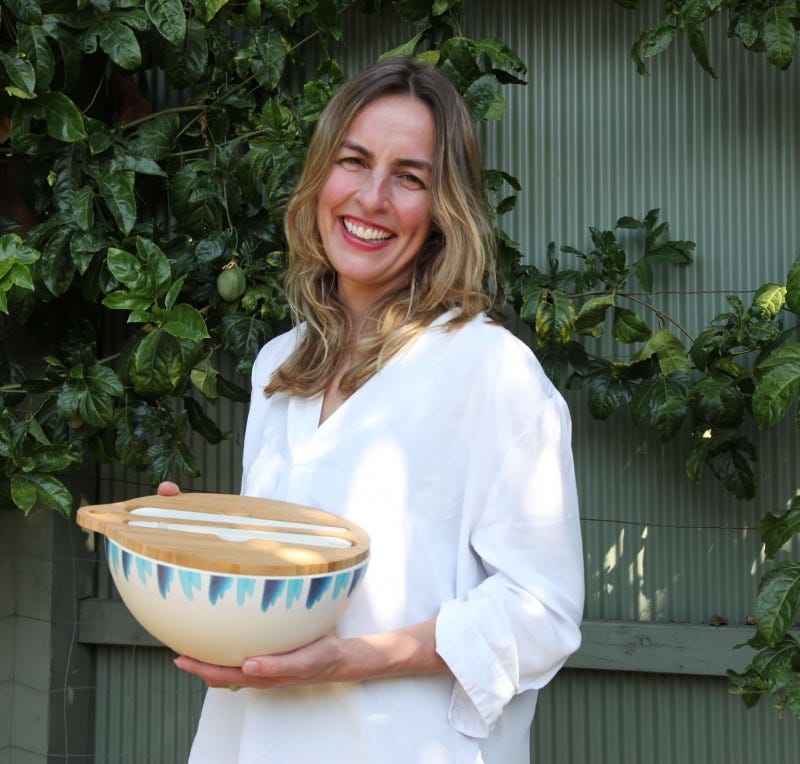 Emilie O'Connor, Founder of Emilie O'Connor Homestore.
How did the idea come about to create your homewares - you have a background in textiles and set design, right?
Yeah, I had a textile company in London for over ten years, doing bespoke and high-end fabrics for interior designers and special projects - I once designed a poker room for Richard Branson's son! Because my background is in theatre design, I like telling a story, and I like working with different clients, but one of the things I found when I was doing all that was that there weren't too many 'middle of the range' things that related to everyone. And lots of my friends couldn't afford to buy anything I was working on!

That's never a good thing...
Yeah! God, I think about it now, and some of it was made with semi-precious stones, embroidered in. It looked amazing, but you could say it was out of most people's reach - and not very practical!

Your prints were picked up by upscale fashion houses like Liberty's of London - and is it true you once designed a video clip for The Spice Girls? That's next level!
It is! I left college and worked for this company, and we did loads of music videos for people like The Spice Girls, [UK pop artist] Billie Piper and Westlife. Then, that moved into me doing ads - but that was a bit soul destroying, because in the end, you're just working for big brands. That's why I started this; to try to create a product that's really accessible to most people. And as a counterpoint to those big brands...

Did you start it up after you moved to Australia?
I've been here about two years now, and I had to wait for my visa to come through, so I wasn't working. Then I started doing commercials here again, but I was looking for different products to work with, and researching how to get stuff made. I began looking at tableware - I wanted to carry on doing designs with prints on them, so that is where I got the idea from. And also - we love food in our house! And I love salads…!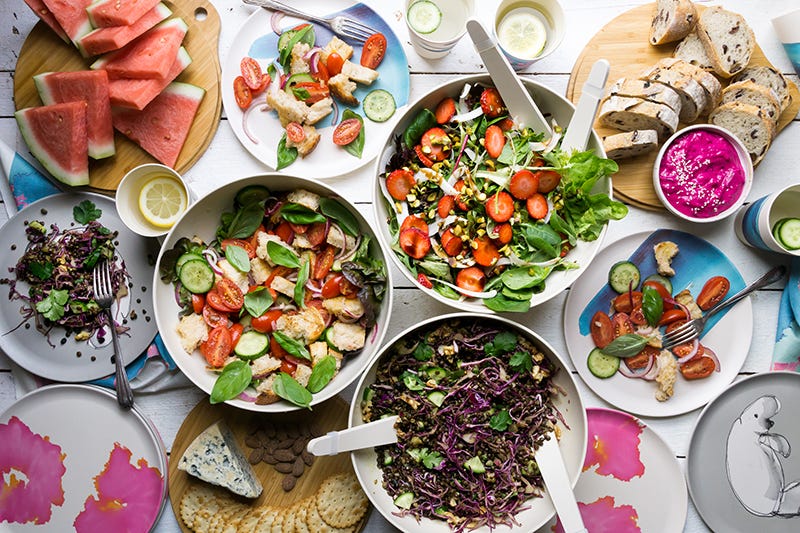 Seriously, how stunning is this incredible range? Who wouldn't love salad if it came in these bowls? YUM!

The whole reusable bamboo thing fits well with the Australian climate, and the way we live our lives…
Yeah, it's a really sustainable material, and lightweight - perfect for our transient lifestyles; going to get-togethers at friend's houses, picnics, camping...or just at home. And it works as giftware too - we designed these beautiful printed cardboard gift boxes, so you can give a tableware set or a salad bowl present, with no plastic packaging. They're great for birthdays, wedding gifts, housewarming and Mother's' Day gifts - and you can re-use the box afterwards for storage.

Emilie, pictured with her beautifully designed printed cardboard gift boxes.

A lot of your products are inspired by the Great Barrier Reef, is that right?
Yes, that's right - the whole collection is based on the sea, and Australian life. Five per cent of the profits go to help restore the reef.

How lovely! We love that gorgeous Dugong design...
I did lots of research into endangered animals in Australia, and he popped up on the radar - I think they are an underrated animal! I did loads of different sketches, and he was the one that everyone liked when they came and looked at the drawings I'd left around. So we stuck him on a plate - and he's actually the best seller here!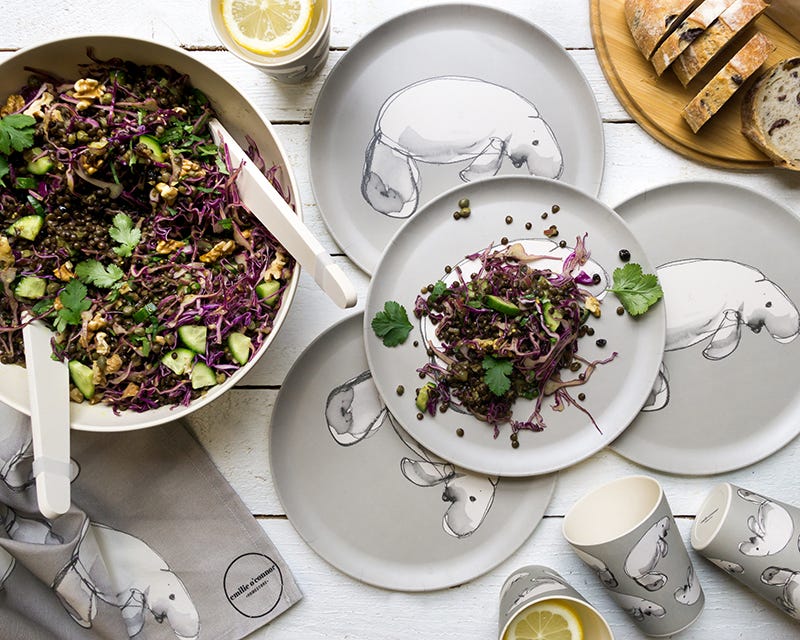 These eco-friendly, compostable bamboo plates feature Australia's own beautiful but endangered 'Derick' the Dugong.

Tell us more about the products you offer...
So it's cups, plates and a salad bowl. But the salad bowl has a lid on it, which doubles as a chopping board and a cheese platter. And in that lid there are salad servers, so you can take it on a picnic, or use it at home - it's all compact. You can either buy everything individually, or as a set, and the set has four plates, four cups and a bowl, and the cups and plates all pack into the bowl.

That's nifty! And it's so beautifully designed - a lovely alternative to all that plastic tat you accumulate at home. Or those plastic plates and cups you throw away at the end of a picnic or party!
I know! We just did a six year-old birthday party for my son, and we took all the bamboo ware there, and I thought, 'Oh god, I have done so many years of chucking everything away at the end of the party.' This is really easy to take home and wash in the dishwasher. And it's great to take away camping, or if you're taking a salad to dinner - without the glad wrap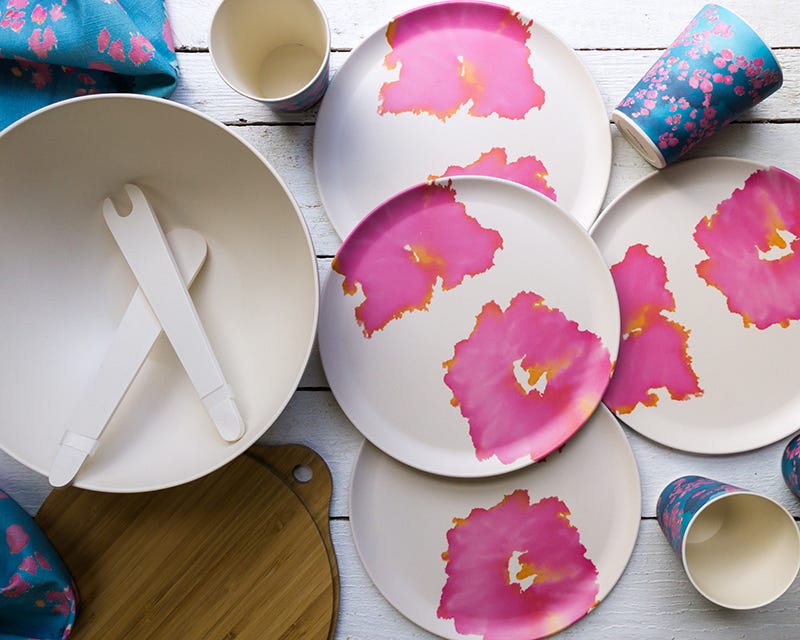 Made for dining at home, picnics or camping, all cups and plates fit inside the salad bowl for easy carrying and storage.

We'd much rather have your gorgeous range than those cheap multi-coloured cups everyone seems to have...
Yeah, I had them for ages, and kept thinking, 'There must be a way to do this better.' Also, when you use them a lot, they feel disgusting after a while - these cups are really nice, because they feel more porous, and they're a bit more natural - they're just a bit better, I think.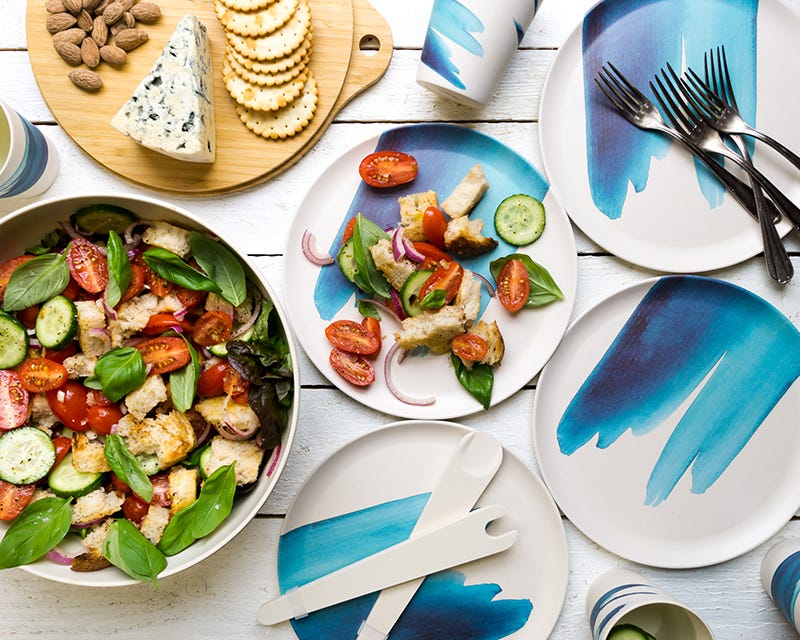 The 'Wave Series' is inspired by the Great Barrier Reef's tidal patterns, this striking design aims to spark and inspire conversation and action. Note: the salad bowl lid doubling as a cheese board!

You mentioned you have kids - how old are they now?
I have an eight month-old - I started this business just before I was pregnant. I had him in July last year and we nicknamed him the BB (short for Business Baby). And I have a six year-old, and a 21 year-old daughter.

How did you find starting a small business while having two small children? Was it challenging in those first few months?
The first few months were actually alright as he slept alot- it's now, because he's moving! It's like, 'I want you to be stationary and asleep, so I can plan things to do while you're sleeping!' But I think you're so in the middle of it, that you don't really realise - you just get on with it. I actually really like that it's a business that works with families, and is aimed at creating a fun, happy home; families, friends and dinners - it all ties in with my life.

Emilie with super cute 'BB' Business Baby.

In the lead up to Mother's Day, Emilie O'Connor Homestore is offering 20% Off Coral Reef Bowls.
These bowls are an ideal gift for mothers and loved ones. Shop the Coral Salad Bowl on sale HERE.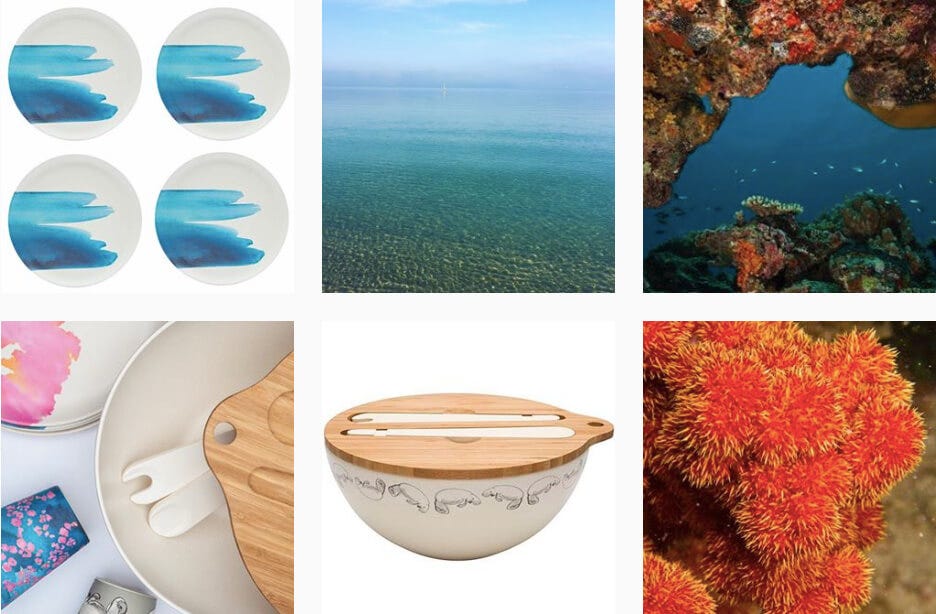 Emilie O'Connor Homestore donates 5% of profits to the Barrier Reef Foundation, so you know your gift is contributing and giving back.

Check out Emilie O'Connor's divine full range HERE

Did you like this blog? Subscribe to our newsletter to be the first to receive news from The Block! Subscribe now to receive $20 off your next order.

This is a sponsored post in conjunction with Emilie O'Connor Homestore.