Meet Melbourne based abstract artist Fern Siebler who grew up in a small regional town where her passion for "Earth, the flow of nature and all things colour began."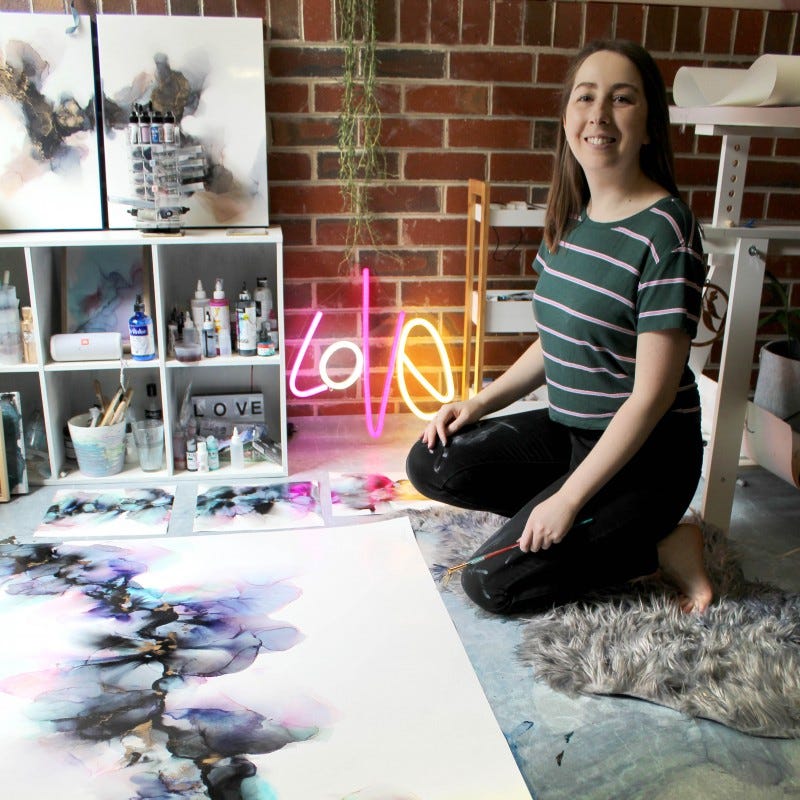 Fern pictured here in her Melbourne studio "Which is our garage! But honestly, I think I could create anywhere there is space and light."

Tell us a little bit about your background?
I am a trained graphic designer (BA.Communication Design) and a self-taught artist. My abstractions are best known to be layered and flowing, inspired by the fluidity and movement of the earth's elements.

How long have you been producing your art?
I have been painting with an artistic career in mind for just over four years now. I have been creative for as long as I can remember though, I always loved drawing and painting as a child. I then went on to study graphic design and worked in the industry for several years.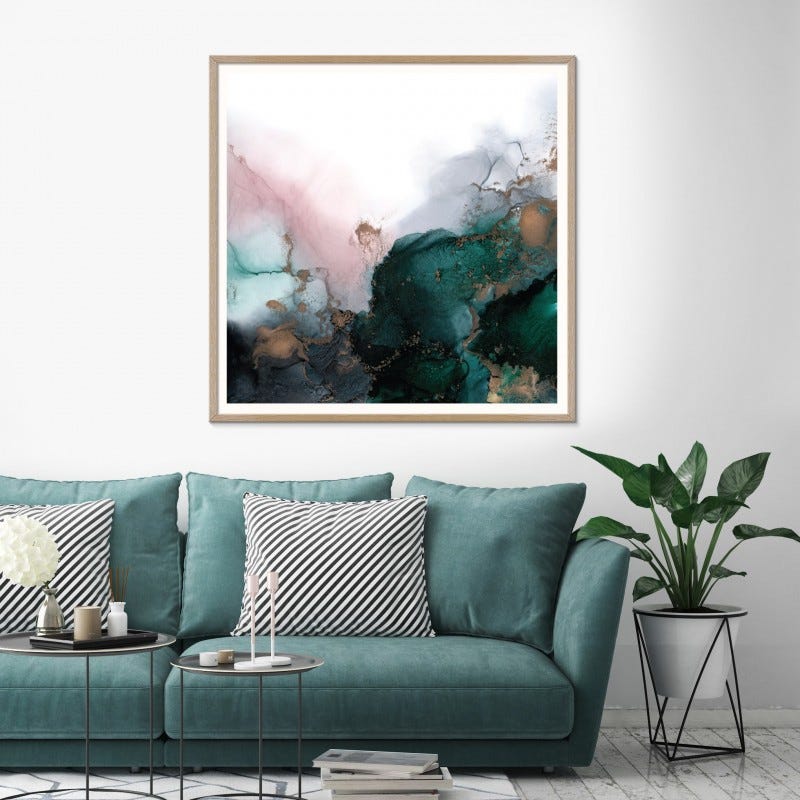 The stunning 'Emerald Valley' print by Fern Siebler.


Where do you draw inspiration from?
Much of my inspiration is drawn from nature and my own personal experiences. Painting for me is a deep and emotive process. It might be that in the moment I am inspired by a particular memory of a person, a place or a colour. The fluidity and movement of nature is such an incredible force. To me, in this, I find endless inspiration.
I grew up in regional Victoria in a small town called Taggerty. Ever since I remember, my mum and sister have always been picking up leaves on nature walks or pointing out macro details in nature, and I think this has definitely helped me to see the little details and find my own inspiration from nature. I love the ebb and flow of the ocean, sunlight flickering in the tall trees or tiny little details of plants and flowers.



Fern's artwork 'Make Me Blush' featured in Tess and Luke's formal living room on The Block 2019.


How long does it take you to create a piece?
For me, it really depends on the size of the piece, if I am working on a really large piece, sometimes up to 200cm it can take me a few weeks. I also like to have time with the artwork to decide if it is finished or needs more details.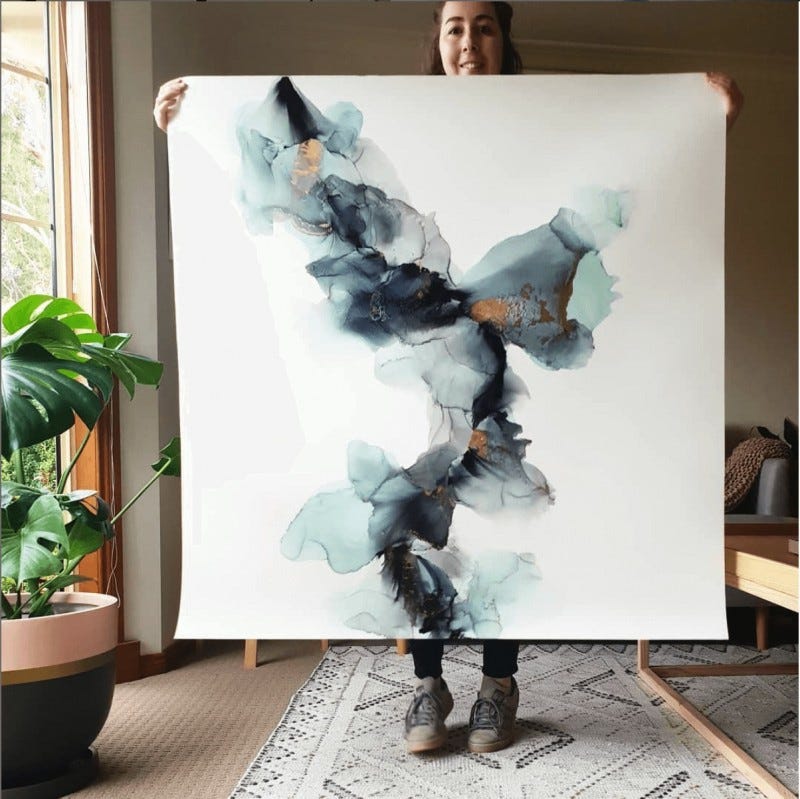 "Painting for me is a deep and emotive process," Fern told Insider Style.


How would you describe your personal aesthetic?
Free-flowing, intuitive and expressive. I find that in any medium I paint in, I lean towards these billowing sort of compositions, fluid strokes, soft layers and fine, intricate little details. Also, gold, I love to use gold in almost everything I touch.




Not somewhere we always find art hanging but even Fern's stunning art popped up in Josh and Luke's Master Bathroom on The Block in 2021.

How do you come up with a name for your artwork?
Often a name will just sort of come to me while I am creating or after the piece is finished. I like to paint filled to the brim with inspiration and whether that is from nature or life or my clients, there's always a perfect name that finds its way to me.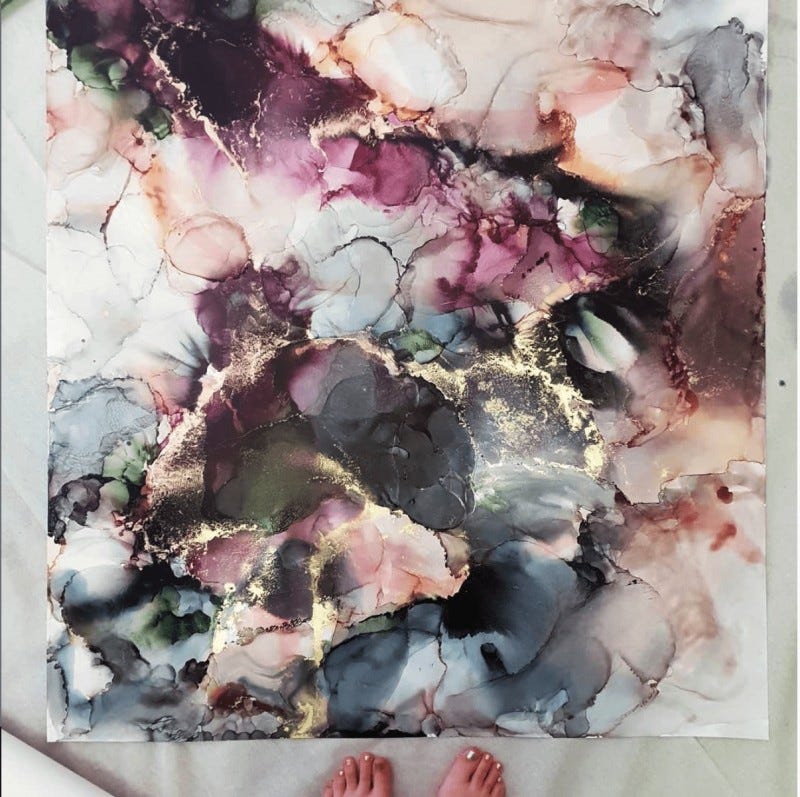 "My clients love GOLD or metallic detailing" and we have to agree it looks stunning in Fern's signature abstracts.

Has your artwork ever appeared on The Block?
Not yet, fingers crossed! I have been lucky to collab with previous contestants Hannah and Clint x Artist Lane on a range of prints.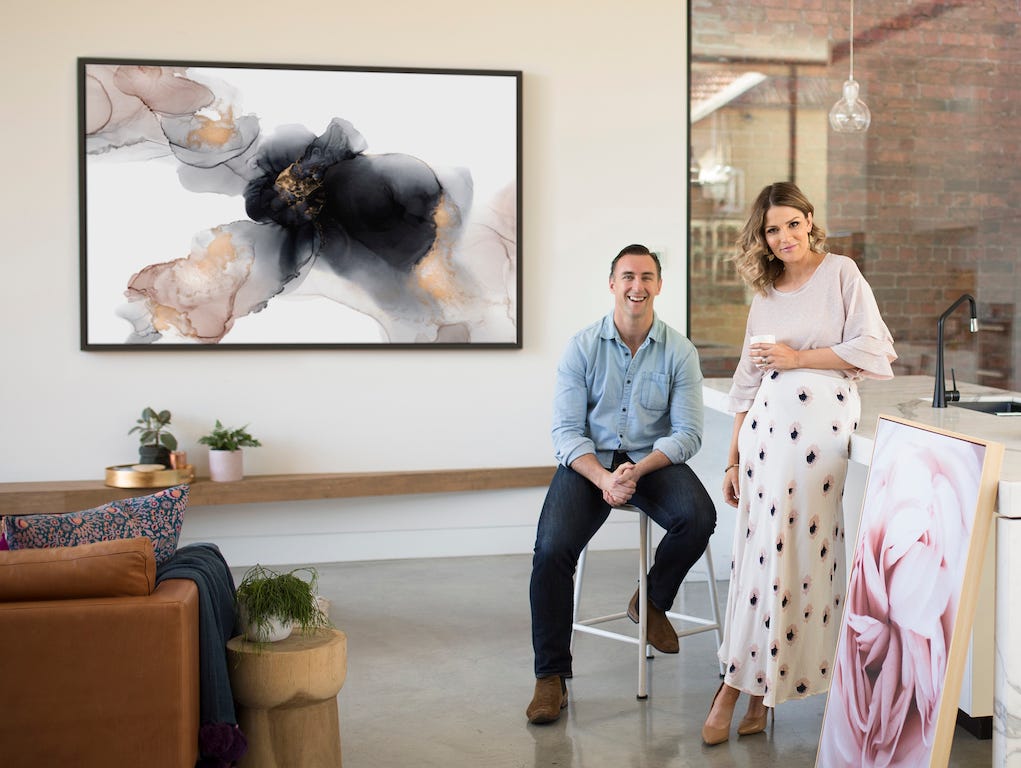 The loveable Melbourne couple came together with Artist Lane and Fern and created a beautiful collection which includes one of our favourites 'Make Me Blush'.

Where has your art ended up?
I am grateful that my art has made it's way across the world to many people and homes. I have sent to Dubai, US, Canada, New Zealand to name a few. The most extreme example I have of delivering a framed piece is via speedboat to my brother and his partner who are caretakers on Three Hummock Island in Tasmania.

Are there any particular artists that inspire you?
I have always really admired the work of Agnes Cecile. There's something I find entrancing about her style that to me is so free, yet controlled. I have found artists to be so kind and supportive, and have been lucky to make friends with a few lovely local Australian artists.



Kirsty and Jesse featured not one but two gorgeous prints by Fern in their 2021 master bedroom!

Where do you like to create your art?
I normally paint in my studio at home - which is our garage! But honestly, I think I could create anywhere there is space and light. I do like to surround myself with plants and colour to keep me inspired.

Do you have a soundtrack you like to create to?
Yes! Being alone in the studio a lot I definitely find music helps keep me energised and motivated. I think I have listened to ALL of Spotify, I like to mix it up but my absolute favourite would have to be Vance Joy. There's something calming yet chaotic about lots of his songs that inspires me.

How do you fit your art around life/work?
It's a balance. Art has become a huge part of my life and who I am. I think I'll always find time for it because of that. I'm not sure who I'd be without it!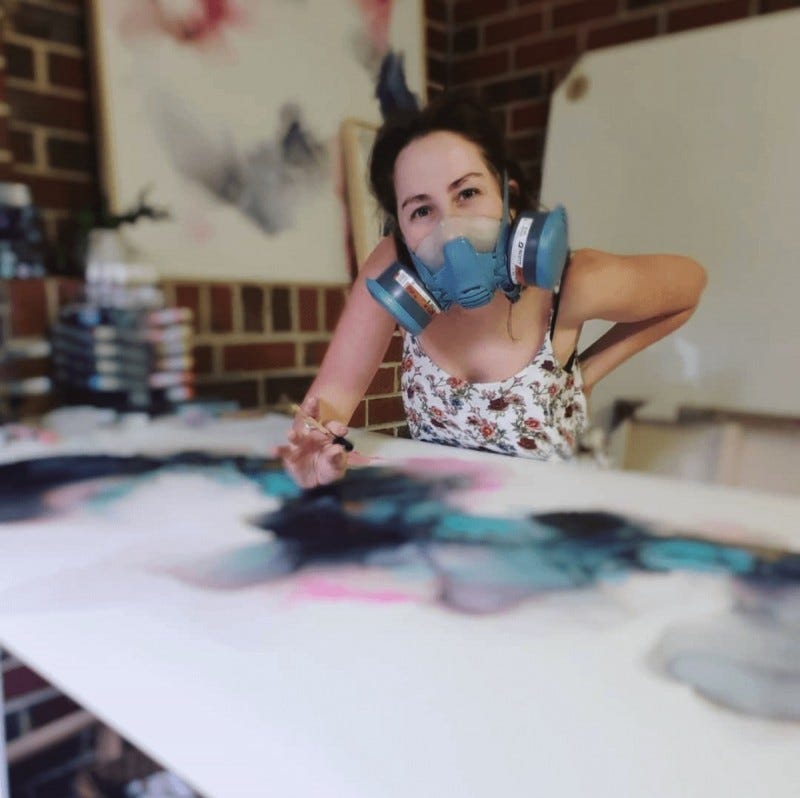 Fern please always find time for art - we LOVE your gorgeous pieces.