Meir is an Australian company that since 2012 has seen phenomenal growth under the helm of its passionate founder Rick Bazerghi. "Our products are available in over 550 retailers globally, including 70 different countries and we don't have any sales teams," he tells The Block Shop. "It's very organic."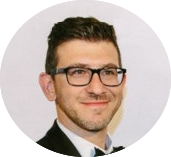 Rick, Founder of Meir.
What was your vision when starting Meir?
We wanted to offer a product to the market that was delivered very differently. Say yes to warranty claims, have fair prices and a no questions asked returns policy. At the core of it, it's about doing the right thing for our customers and clients. We live for the homeowner. We want people to love their homes and give them the power to make the best decisions for themselves and their family.

How is Meir different from other tapware companies?
We take customers on an amazing journey from the first point of contact, such as our Instagram page or our website, and into a seamless buying journey, both online and instore through our distributors such as Reece.
We also offer amazing after sale support. You could be calling at 2 O'clock in the morning on Christmas Day, and somebody is ready to answer your call.
Our products are designed and manufactured with high quality European components and priced competitively, but our products are the vehicle that allows us to do what we do best, and that is to offer a fantastic service and experience for our customers worldwide, that challenges the status quo.
Black tapware is here to stay.
I don't think it's even worth the conversation. If you look in bathroom stores around Australia, even globally, black tapware products now take up almost 20% of showroom space. That's what the market wants, and stores are now reacting to the demand.
We are the global benchmark for black tapware, however, we're excited to introduce our new colours, Champagne, Tiger Bronze and Chrome.
What can you tell us about the new colours?
It took us more than two years to design and create our new ranges, as we wanted colours that would work with most palette and hues that are trending now, as well as future colour schemes for years to come, in both domestic and commercial projects on a global market.
Our Champagne and the Tiger Bronze products are handmade and we're extremely proud of this. Our colours are unlike anything in the world, which is due to the extensive care and handling in the finishing process. For example, the Tiger Bronze, starts with a layer of nickel to protect the product, we then apply a thick layer of chrome, followed by gold plating and the final layer is our unique black nickel. After the plating has been completed, we take the product to a grinder, with precision, and start to remove most of the black nickel, revealing an unmistable gold undercoating that produced a brilliant and bespoke colour that is unique, every time.
The brushed gold and black tones work with a wide range of materials such as timber, marble and stone, concrete and a wide range of colours such as white, grey, blue, light and dark tones and more.
Our Champagne products look particularly fantastic with darker hues, such as navy blues, dark greys and concrete stone, while being versatile enough to provide a stunning look when paired with lighter tones and stone.
The Champagne is considered our most elegant colour from our new range. A combination of chrome and soft rose-gold, it provides a stunning and sophisticated tone that sets the benchmark for style in tapware design.
Why is customer service so crucial for Meir?
Building or renovating a home can be incredibly stressful, and we understand that. Unlike a tradie that doesn't turn up on time or whitegoods which arrive three weeks late, we do exactly what we say we're going to do or we'll make it right. The bond that we build with our customer is incredible and unique. We do it because we can go to sleep at night with a smile on our faces, knowing we've helped to make our customer's dream home a reality, and our staff are proud to say they work for Meir.
Check out Meir's extensive range HERE

Did you like this blog? Subscribe to our newsletter to be the first to receive news from The Block! Subscribe now to receive $20 off your next order.