Let's start with Michael and Carlene's main bathroom. How amazing are those white glossy tiles in a herringbone pattern against the darker ones? Marble: need I say more? Neale was a fan of another beautiful tall door and said it had a real sense of theatre. Shaynna (and her all-important storage test) was impressed with the built-in drawers, however she thought the lights needed to come down. Shaynna was also concerned about the practicality of the shower with the steps being slippery (and I would have to agree). Neale said the bathroom says confidence and I have to agree; these two are ones to watch.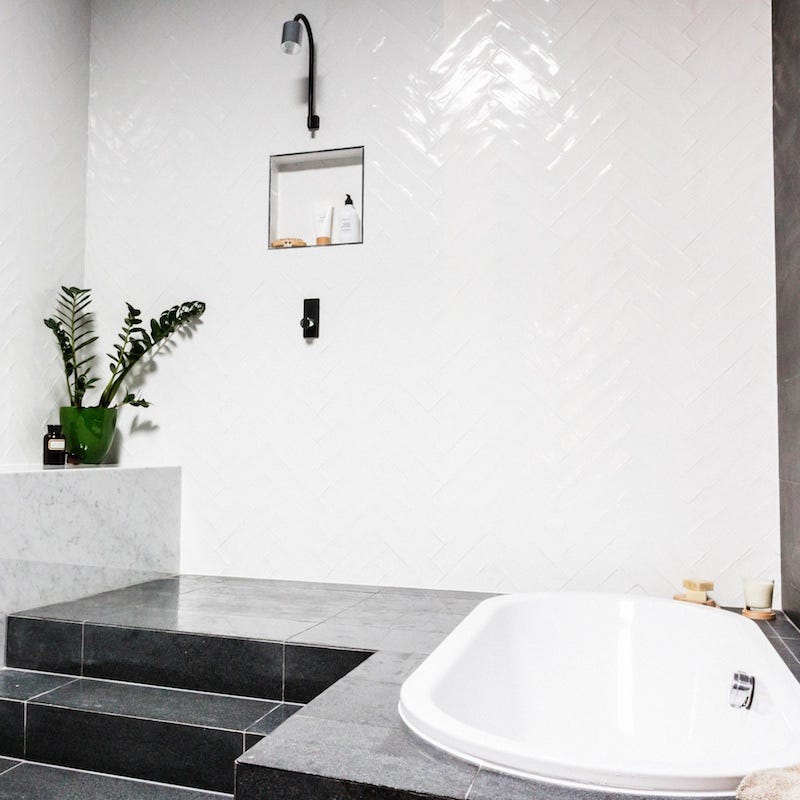 Get Michael and Carlene's look: beaker pendant light, tube pendant light, rounded pendant light,stoneware cup, candle.
As I write this, I am still trying to get my head around the fact it's only week two of The Block and Chris and Jenna actually delivered this room. It's out of control! I am in love! It is a fine example of bathroom perfection and they most definitely deserved the perfect score they received from the judges. I love the fact that it has direct access to the guest bedroom, the wet room style shower area and the light box. You can tell a lot of thought and planning went into this one.
Shaynna's mouth dropped wide open, she said it felt enormous and I have to agree. She called it the perfect Melbourne outdoor shower as you're inside but it feels like the outdoors. Darren said the cabinetry was perfect (you would want to it to be with Chris being a cabinet maker). Neale said it was truly world class and a million dollar bathroom.
Get Chris & Jenna's look: pendant light and hand wash.
To read more about our Blockhead's bathrooms by the Interios Addict, click here.