What can we expect from the new Block series set in Brighton, Victoria featuring five homes from five different eras spanning from 1910 to 1950s
The 1910s
'Art Nouveau' was the style that dominated the early 1900's. Floral and other plant-inspired motifs were popular Art Nouveau designs, as were female silhouettes and forms. A variety of materials were used in architecture and interior design, including glassware, jewellery, poster art and illustration, as well as painting and sculpture. Imagine an art museum with gilded paintings, organically shaped curves, leather sofas, decadent, grand and lavish rooms.
Art Nouveau slowly died just before 1920, and Art Deco (c. 1908-1935) began to take over...
Roaring 1920's
The 20s were characterised by Art Deco with luxurious and extravagant interiors, featuring geometric furnishings and architecture. Wealth truly made its mark. Design, textiles and graphics all came together as one. Modernist art and architecture flourished. Think round mirrors and bold geometric textures, gold and rich colours and decadent design work.
Shop by Art Deco style HERE
The 1930s
The glory days! By the 1930's mass production meant that everyone could enjoy the art deco style. As travel became popular animal skins, ivory, mother of pearl, and tortoiseshell began to appear in the home. Unlike the twenties, the colour schemes in the thirties home were very light. Cream and ivory were commonly used, as well as light pastel pinks, yellows, and greens. In contrast, curtains and upholstery featured dark greens and reds. Mirrored surfaces were frequently used in chrome or inlaid wood accented walls. The geometric shapes found in the twenties continued to be used in the thirties and could be found in kitchen linoleum and wallpapers throughout the home. Buildings looked like ocean liners with curved sun-trap windows, edged with blue railings and portholes.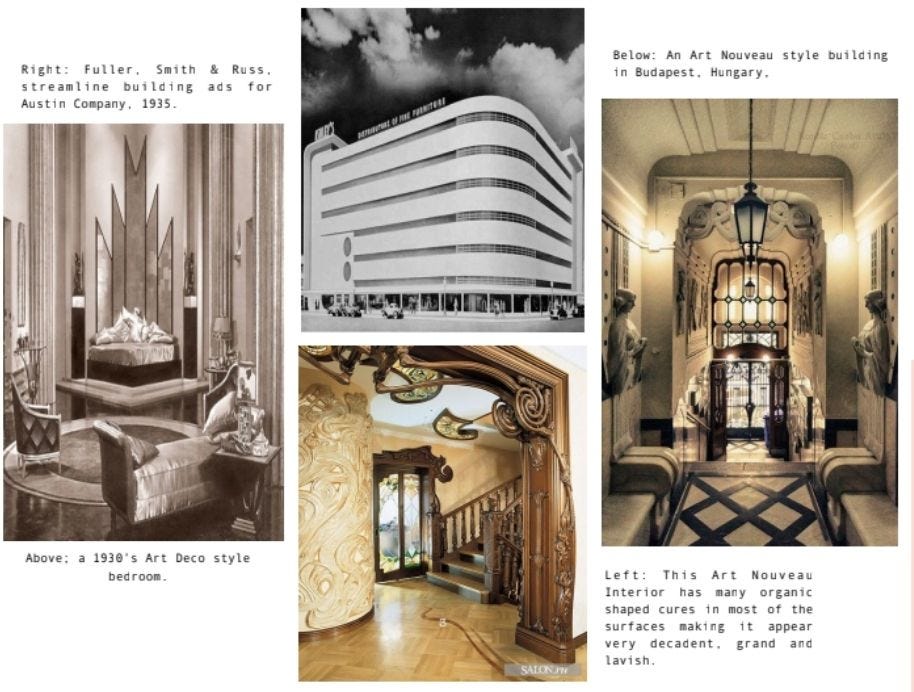 The 1940s
We came together! The early 1940s was dominated by WWII, so new designs remained at a standstill, primarily due to material shortages. As production picked back up, people were ready to start new lives, and redesign their homes, especially rooms that would accompany guests. In the mid- to late-40s, interiors were both functional and fun as people were enjoying family life again. The days of rationing and frugality were over and people had money to spend on home interiors and electronics.

During the war homes were kept minimal, with a lack of colour, looking rather drab, reflecting the mood of society. After the war, homes were innocent, sentimental, patriotic, traditional, with Art Deco features carrying over from the prewar period. Due to the housing shortage after the war, prefabricated homes were in high demand offering small and basic layouts, small windows with a 30-40 degree pitch. Floral patterns were popular for bedrooms, living areas and wallpapered bathrooms. Kitchen and dining rooms had cherry or apple motifs, gingham, roosters and chickens.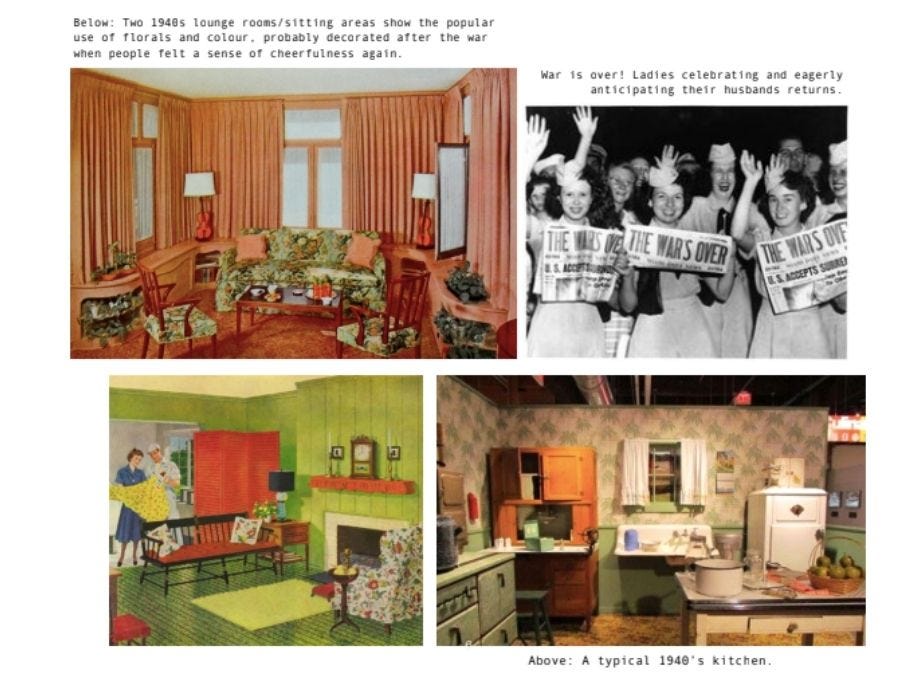 The 1950s
The rock n' roll years! During the 1950s, a sense of uniformity pervaded amongst society. Conformity was reflected in the home. By the end of the fifties, 90% of homes owned a television, and people spent their spare time hanging out at diners and listening to music via the jukebox. People enjoyed entertaining in their family rooms and always kept their gardens immaculate to impress neighbours.

Contemporary 1950's houses were characteristically low pitched roofed houses and often replicas of the architecturally designed modern buildings of the time. The inside of the homes was often open plan and the design allowed for economical use of building materials. The design featured either vertical weatherboards or light coloured brick or cement sheet exterior walls. Houses had a large window and it was common to see a stone or varnished timber feature walls inside the house. 50's homes were perfect for young families. They had informal family rooms, open floor plans and backyards. The interiors of homes were bright, inviting, and casual. Wall colours were normally neutral or panelled in light wood, but these homes were still colourful. Bright, lively colours could be found in seating, furniture, and flooring. While wall-to-wall carpeting remained popular, vinyl, cork, and concrete were also used due to the ease of cleaning. Minimalism was very popular in this era, and even windows were frequently left bare.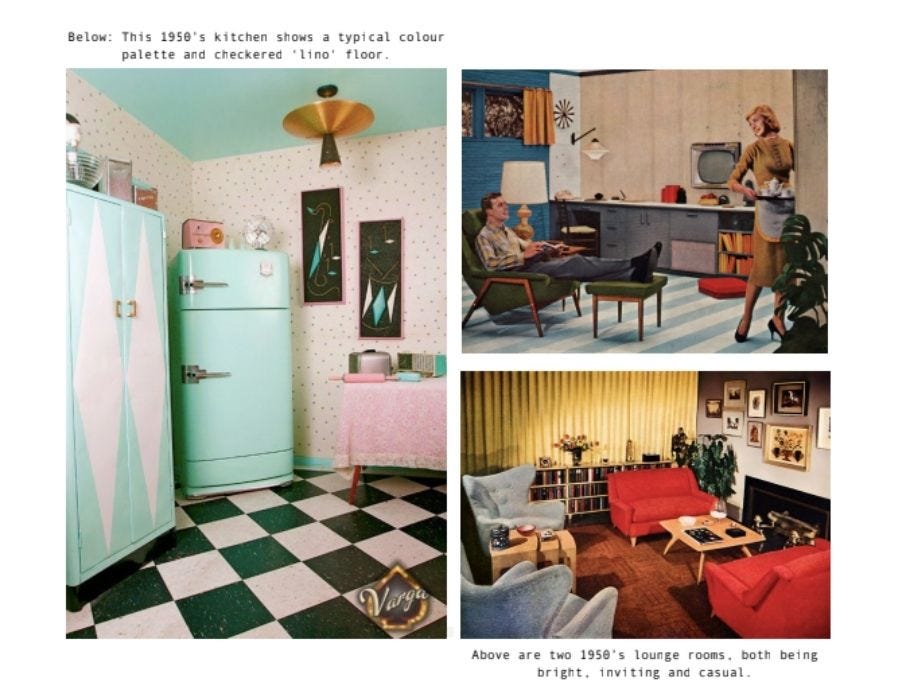 What is your design style? Take this fun quiz to find out!
Shop by style:
Art Deco: For those who wish they could live in The Great Gatsby and can't pass up a geometric pattern, Art Deco style can bring all the glamour of the past into our everyday lives.

Bohemian: Do you own more plants than furniture? Yes...? Then you've come to the right place! Here at The Block Shop we have a fabulous range of bohemian-inspired pieces including Moroccan cushions, patterned rugs and eclectic wall hangings to create a boho-chic interior.
Contemporary: Is your home free from clutter and mess? Yes? We thought so! A contemporary design style has an emphasis on clean, crisp lines and a simple colour palette. The Block Shop stocks a range of your favourite materials including metal, glass and steel which you can combine to give you that minimalist simplicity you crave.
Farmhouse: Do you dream of mason jars, plump sofas, a big farmhouse table and a porch in the sun? The modern farmhouse style is known for its warmth and simplicity and we can help you create your dream abode with oodles of character. Let us show you how to create the perfect balance of vintage and new furnishings to create a welcoming home.
French Provincial: For those that dream of high-end style, with a Parisian touch, The Block Shop can help create a French Provincial masterpiece with a modern twist. Whether it's linen fabrics, oak washed furniture or tufted bedheads, The Block Shop has a range of boudoir pieces that will bring sophistication into your home.
Hamptons: From off-whites, icy whites and ivory hues...do you spend hours procrastinating over the various white paints on offers? Create your dream Hamptons-inspired coastal cottage decorated with natural textures and the raw, un-finished charm of reclaimed timber.

Industrial: Is your dream home a converted warehouse in New York City? The Industrial design style takes cues from old factories and industrial spaces, converted to lofts. Here at The Block Shop, we love combining raw building materials with stylish industrial elements to create chic modern homes.
Scandinavian: Have you heard of Kaare Klint, Josef Frank or Hans Wegner? That's because they're the names of famous Scandinavian interior designers. Scandinavian design combines beauty, simplicity and functionality through the use of clean lines, organic textures, and minimal shapes. The Block Shop stocks the perfect array of Scandinavian inspired furnishings to create your dream Nordic-inspired home.
Vintage: Do you love strong colours? The mix of old and new? And an interior with soul? The Block Shop's range of vintage-inspired pieces will help you create an eclectic interior without your home looking like an op-shop. Shop our range of vintage wallpapers, art prints and pendant lights.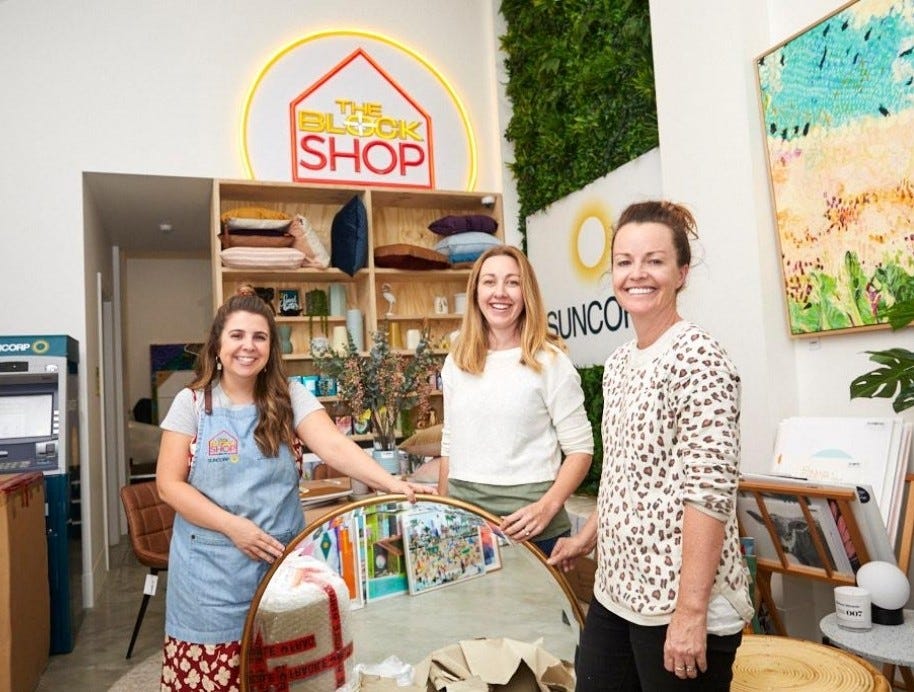 Many thanks to our superstar guest editor @harriehighpants AKA Danielle Colella, Interior stylist extraordinaire. Pictured here doing her thing helping Block favourites Jenna Densten and Deb Saunders.


Take a first look at The Block 2020 HERE

Meet the 2020 Block contestants HERE