When we first met Dan Reilly and Dani Wales, they were a two twenty-somethings with dreams of "having a bit of fun and walking away with a bit of money" on series five of The Block.
/media/blog/FrontPortraits-4773.jpgDan Reilly The BlockChumps - Dani and Dan/media/blog/Couples5-3900.jpgDani & DanDani & Dan
Fast forward five years and the feisty couple's lives have certainly changed. Dani has quit her job in finance and is now working full time on renovation and construction projects, through the couple's company, Red Door Project.
Dan is now 'Foredan', appearing nightly on the show he once competed on (he was even nominated for a Best New Talent at the Logies in 2016).
Dani admits she still has troubles wrapping her head around the fact her partner is now a bona fide TV star - but she couldn't be more proud.
"It's still funny seeing him on the show," she admits "I never in a million years thought anything like that would end up happening - no way.
"Actually, we talk about that a lot - way back when we did the show, Dan was really funny, and really engaging, but not so great when it was a 'Solo Dan to Camera' stuff.
"But watching him develop has been really cool. I tell him every series, 'I'm so proud of how far you have come.'"
/media/blog/Day_2-53.jpgDani and DanDani and Dan on The Block
After they wrapped their first stint (the couple also went on to compete in the show's All Stars season in 2013), Dan set about becoming a certified builder, gaining experience through external projects, and renovating the couple's own home (their beautiful Seddon House, which they purchased for $462K, and which sold for a whopping $1.3million last year).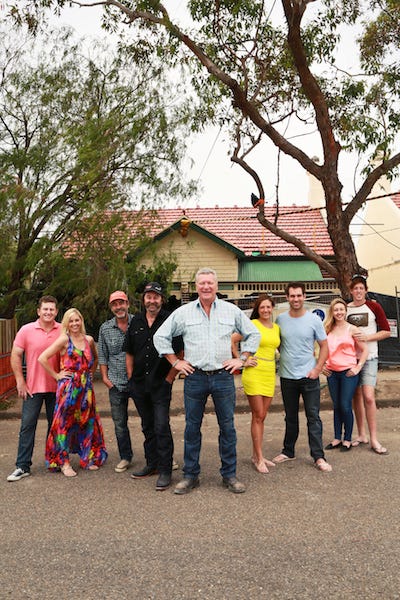 From when we met, 8 years ago - just the change in him, in every aspect, is just incredible."
As Dani speaks with us, her partner is in the kitchen, quoting on a renovation/building project for a client.
"Like, he's on an excel spreadsheet! And I'm like, 'S--t, who are you?'" she laughs. "He's so driven."
So does Dani ever wonder what their lives would have been like if they HADN'T put that Block application in?
"I have never really thought about what might have been," she says. "All I can think about, if anyone asks, is that The Block absolutely changed our lives. "We will forever be indebted for them picking us."
"When new contestants come on, and they might bitch and moan about social media, or whatever, I'm like, 'Get over it. It's so hard at the time. It's mentally exhausting, and emotionally exhausting. But if you ever have that experience, you come out the other side of it, and you do well.'"/media/blog/EP24H4Shell-007.jpgShelley CraftShelley with Dan and Dani