Check out this amazing commissioned mural!

The owners of this house went away for the weekend - and came back to a surprise jungle in their living room.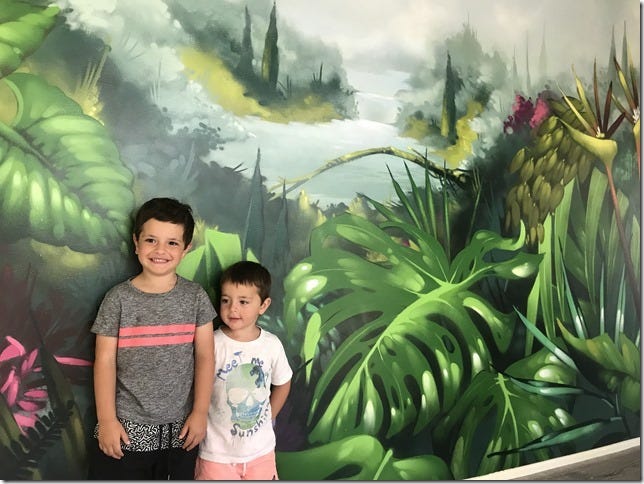 Image Supplied: Caleb and Harrison stand in front of their new lounge room mural
It takes real guts to go on holidays, leave the keys to your house with a relative stranger and give them free reign to paint whatever they want in your living room.Yet, that's exactly what Melbourne couple Peter and Alexandra Ruys did when they commissioned artist Steve Cross - whose work was featured in Ronnie and Georgia's lounge and main bedroom last year - to paint a mural in their home.
We chat to Peter about their enormous leap of faith. And whether they're happy with the results...
What made you decide to commission an indoor mural from Steve?
I met Steve when he was as a tattooist, about 16 years ago. I started with a couple of small tattoos, and then ended up getting a full back piece done by him. Over the years I've followed him on Instagram, and I saw that he was doing more and more fantastic art and murals...
And that inspired you to ask him to do something at your place?
When we did a full kitchen renovation that extended into our unused dining room, we ended up with bland, seven-metre wall running down the front half of the house. We were talking about trying to find some nice big paintings to hang along there, but we didn't know where to start - and with two young boys, there was no time to browse.
So true…
We also knew we didn't want the wall to look cluttered with picture frames - we wanted it to blend in and disappear somehow. At this time Steve was posting pictures of a three-story wall he was doing at a restaurant in Chinatown and it just clicked.
And your wife was onboard?
I discussed with my wife Alex the idea of getting the whole wall painted by Steve and we decided it was worth a shot. I messaged Steve and asked if he had ever done this style of work in a residential house - I wasn't sure if he'd be interested, or be willing, to do it. But he was keen and we eventually worked out a good time to do it. We decided to leave the house to Steve while we went on a family holiday for a week so that we would be out of his way and the paint fumes wouldn't be too strong with us in the house.
Did you have an idea of what you wanted, or did you leave it up to him?
We loved the rainforest scenery he'd done on the restaurant wall and thought something like that would be great, and suit our home. Steve made the effort to come out and have a look at the space and made sure we were all on the same page. We discussed bringing a similar colour scheme from the outside gardens into the house, but we left it up to Steve as to whether he wanted to add any wildlife to the nature theme. We were aware that we wanted something contemporary and not too "out there" - it needed to suit the space.
Were you nervous when you left him behind in your home - what if you hated what he came up with?
There was definitely some nervous excitement when we left Steve to work his magic. But we were never in doubt that we would love the result. We trusted Steve completely and wouldn't have decided to do this project with any other artist. We didn't even want progress shots sent - we wanted a total surprise when we came home.
How excited were you to return to your home and see what he'd done?
We were really excited. It made our holiday extra special and exciting knowing we would be arriving home to see the wall. It was like having a house makeover and coming home for the big reveal! Naturally, we were extremely happy with the result. By the way, besides the mural, there was no sign that Steve had even been there! No mess, and not a single drop of paint or overspray anywhere. He even went above and beyond and watered the garden for us!
Are you glad you took such a massive leap of faith?
This project really didn't feel like a massive leap of faith to us. We were just really excited that Steve was willing to do it for us. Sometimes I forget it's there and I look up and think, 'Wow, we're really lucky to have this in our home!'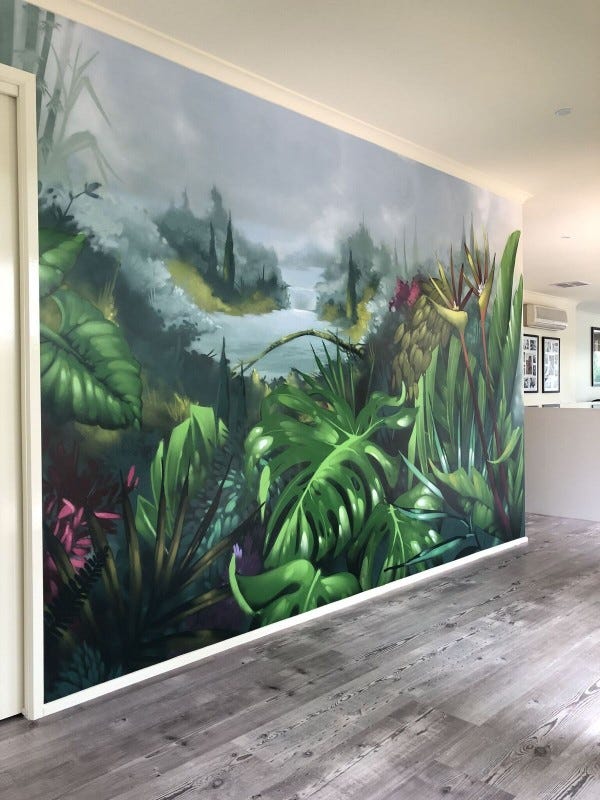 Imagine coming home to this on your wall - AMAZING!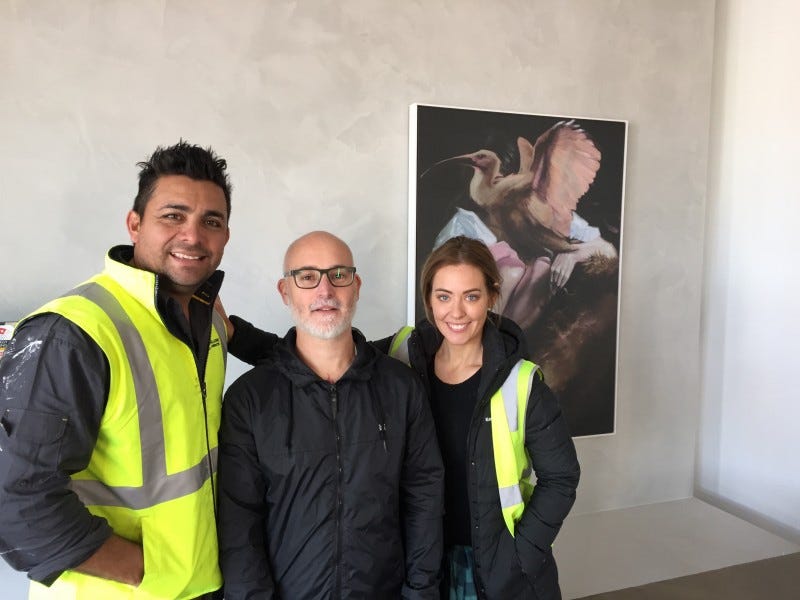 Shop Steve's Artwork at The Block Shop like 'The Catcher Print' as seen in Georgia & Ronnie's Dining Room in The Block 2017.
Check out Steve's Instagram page HERE
Did you like this blog? Subscribe to our newsletter to be the first to receive news from The Block! And subscribe now to receive $20 off your next order.