Two of our favourite Blockheads are renovating again - and they're tearing their hair out!



Six years on, Bec and George are at it again, renovating up a storm on their latest project. Suckers for punishment? (Photographer: Marcus Hart images)


When they first appeared on The Block back in 2013, Bec and George already had experience building a home from scratch. Suckers for punishment, six years on, they're at it again!




Family site visits (Picture: instagram @becandgeorge)


The couple, who competed on Sky High, taking home a profit of $242,000, recently posted an update on their Instagram page, telling fans they're deep into a renovation/new build project for George's family.
"Exhausted. Anxiety through the roof. Ready for a break. But still smiling because we know we have been here before and there is light at the end of the tunnel. Annnnnnnd we have windows in!!" Bec wrote.
The couple certainly have a lot on their plate - last year, they also welcomed baby Lenny to the family, a sibling for three year-old Archie.

So CUTE! "Archie very well may be third generation builder, by the looks of it!" Bec says. (Picture: Instagram @becandgeorge)


The home they are currently working on is actually for George's dad - they have split the existing home into two, and are documenting the new builds along the way.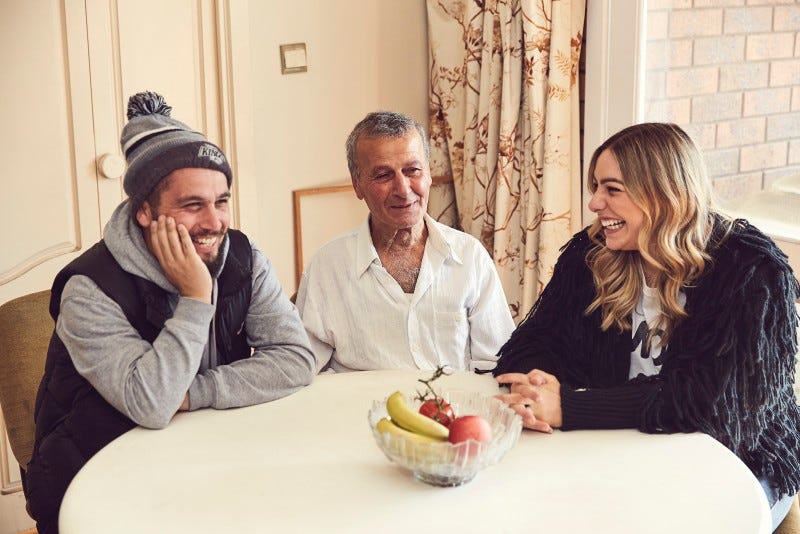 George's father Nick, AKA "the brains behind the build of our next Reno," says Bec. (Photographer: Marcus Hart images)


We are currently filming this as a web series," Bec wrote. "It's George's family home, so one house will be for his dad and the other, most likely, his brother. Season Two is our next family home!"According to another post on her personal Instagram, Bec says the series will eventually screen on 9Life.
"We are currently filming as the build progresses and (if no more delays) we will be live online May 2019 and also on @9life@ready.set.reno with our mates @michaelandcarlene. It's going to be a big one!"

Bec and George pictured with fellow Block buddies Michael and Carlene. Come on George - where is your flannelette shirt? (Picture: Instagram @becandgeorge)


(Photographer: Marcus Hart images)
We can't wait to see what they do - and to see what's in store for their next mega project. Keep on keeping on, you guys!


Did you like this blog? Subscribe to our newsletter to be the first to receive news from The Block! Subscribe now to receive $20 off your next order.