Hayden and Sara's first-place getting kid's room was an instant hit with all three judges.
"This room says kids straight away!" Shaynna said, upon stepping foot inside their beautifully executed space.
The couple from New South Wales kept things simple, but the inclusion of functional, stylish additions - like the ingenious nook above the bed, the flat-pack wardrobe that matched the heritage detail of the door and an in-built study desk - gained extra points with the judges.
Darren particularly liked the layout of the bedroom noting, "it's smart to place the bed beside the door so parents can check on kids when they're asleep, without disturbing them."
All the judges loved the beautifully styled play area in the room, which featured a large teepee, soft toys, scatter cushions and a statement rug.
The artwork on the wall also gave the room a fun, fresh feel, and Shaynna adored the pin-striped bed head, which she said gave the room a great "circus" feel.
Neale agreed: "You have created a haven for a young child out of what was a festering fleapit just 48 hours earlier," he noted. "You have chosen sophisticated but neutral colours for the walls - not an obvious choice – but it works really well with pops of colour in all of the furnishings and styling."
The room showed that Hayden and Sara - and their trades, which Scotty noted were all working to a high standard - may be the team to beat this year.
"Neale thinks you have delivered a very cute room – and a room that makes you smile – which is exactly the feeling you want to create in a kid's room," Scotty said.
And we agree - well done guys!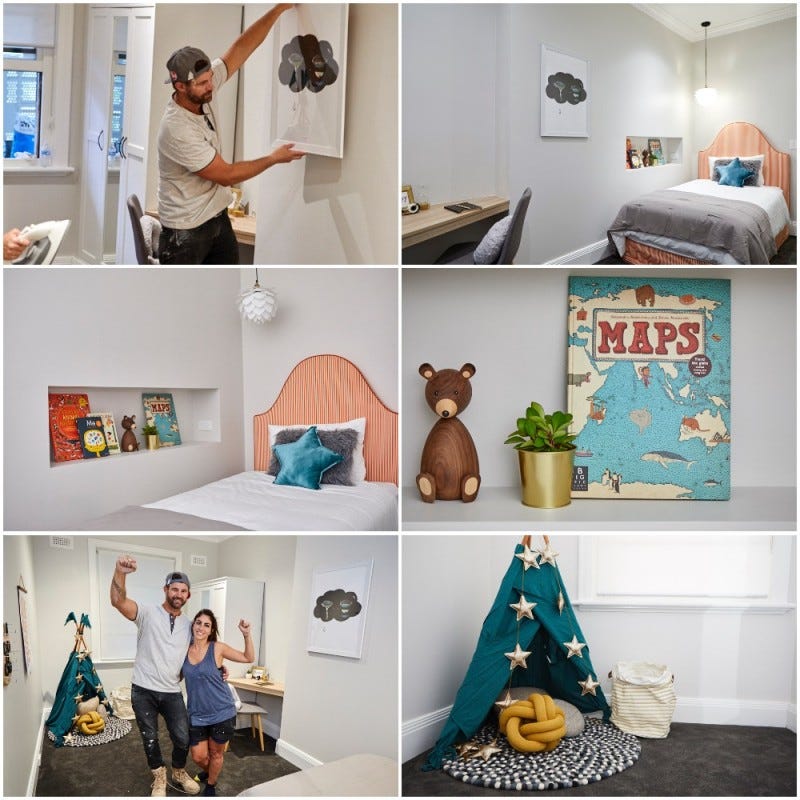 Kerrie and Spence sure do love a challenge - and they knocked it out of the park with their gorgeous kid's room, which featured a breathtakingly beautiful coffered ceiling, executed in just 48 hours by builder, Spence.
Scotty was blown away he'd had the time to complete it, while Shaynna was left speechless by the "gobsmackingly detailed" addition to their room.
It was undoubtedly the 'hero' of the space, but other details also added to create a beautifully simple older child, or teen's, bedroom.
Neale was particularly impressed with the colour palette, saying it "harks back to the original era of the building," creating a calm oasis amidst the hustle and bustle of Saint Kilda.
Other, smaller details, like the use of a "Nanna chenille" bedspread, a dark upholstered bedhead and the photo portrait of a horses on the wall, all added to the feeling of sweet nostalgia that flowed throughout the perfectly-executed bedroom.
Their space had a contemporary feel, without being too young-skewing - perfect for an older child.
"It was very clear to all the judges that you are a team to be reckoned with," Scotty said. "You nailed your time management and were also clever with your budget by playing to your strengths, putting effort into the ceiling to achieve wow factor."
We can't WAIT to see what you do next, Kerrie and Spence!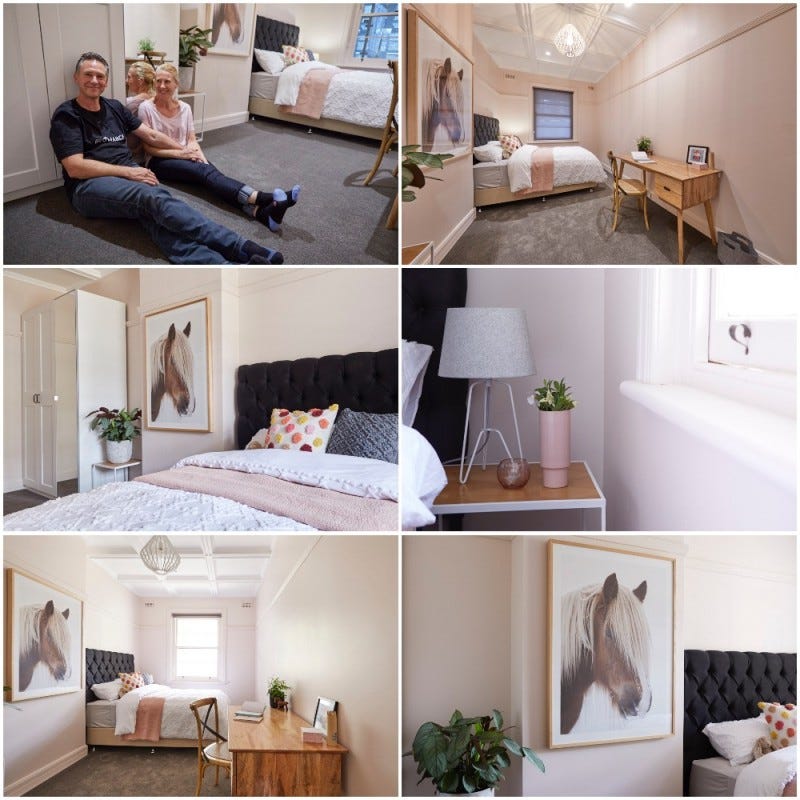 It was a bold choice for Bianca and Carla to opt to paint the ceiling of their kid's room a darker colour. But it was one that paid off for the netballing besties, with their sweet 'night sky'-themed bedroom scoring a respectable third place - and plenty of praise from the judges.
Unfortunately for the girls, their gorgeous pendant light broke at the last minute, but Darren admitted he could see their vision.
"You would have seen the lovely play of shapes and light and shadow," he said, before admitting it would have been "magical" if they had pulled it off.
Adding to that sense of magic, were strategically placed star decals and star bunting on the bunk bed, which added to the fun, 'fantasy' feel of the room.
From a functional point of view, the room worked really well, with Neale noting it was a "clever little room". He loved the placement of the double bunk bed, which the girls said they thought would be perfect for sleepovers.
A blanket box for toys and ample room to play at the rear of the room also scored them points for functionality, with the judges noting "it's a play room, as well as a sleeping room."
Neale, in particular, was a fan, saying it felt like an old-fashioned nursery, ingeniously re-imagined for a modern era.
"This is out of the box thinking," he said. "It's different – and there's an intimacy about it."
The girls did a great job of recreating a look they first saw on Pinterest - we think they've pulled it off perfectly. Good work, girls!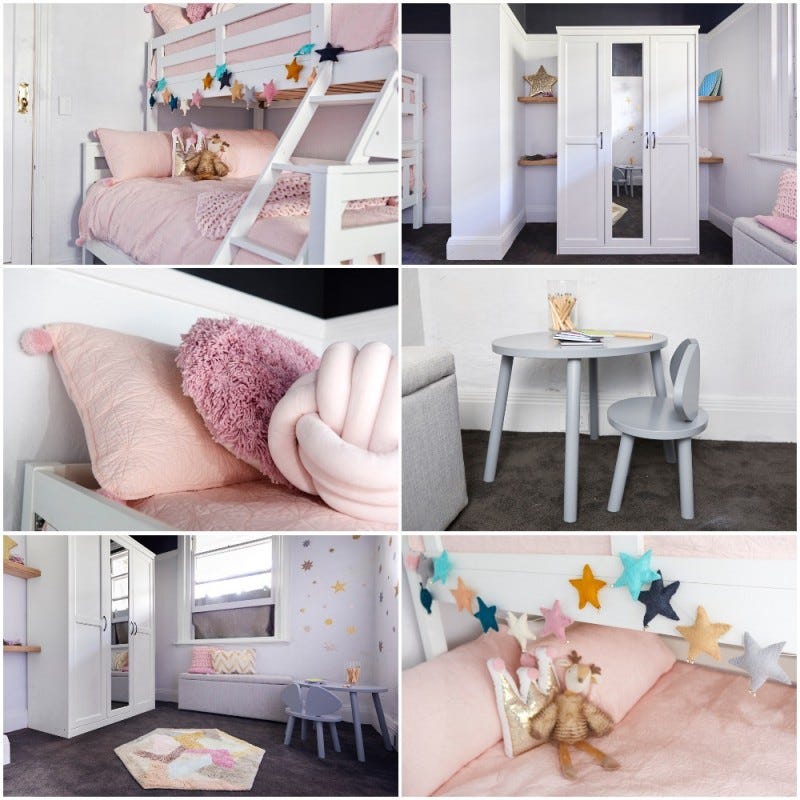 Norm and Jess were judicial with their spending, shelling out much less than the other couples to create their space. But it mattered not - the mum and dad couple from Queensland managed to pull off a great kid's room, which Jess admitted was inspired by her daughter, Matilda.
"What we wanted was to make her feel like a princess," Jess explained. "So we've got these floor-to-ceiling drapes, and we created a lot of pieces in there that educated her about the world."
These included brightly coloured artwork, and a gorgeous little stuffed lion's head, mounted to the wall in a 'vignette' style, which Darren loved.
Unfortunately the couple ran out of time to finish, but the judges could still see what they were trying to achieve, with Shaynna saying she loved the lightness and brightness of the room.
Darren loved the v-j panelling on the walls, which he said was "a quick and easy way to cover up the walls", while Neale loved the little details, like the ethically-sourced toys and tiny furniture, which lent a sense of fun.
Norm and Jess added functionality to their room via a bed with masses of storage beneath, placed at the end of the room, and curtained off to create a fun little 'cubby space.' All three judges loved this, though were less enthused about its placement beneath the window.
All up, it was a well-executed space, which suffered from having a lack of time to finish.
"What the judges did really love was the great creativity you showed in this first challenge," Scotty explained. "They think you delivered a very thoughtful room with lots of personality."
Well done, you two! We love it too.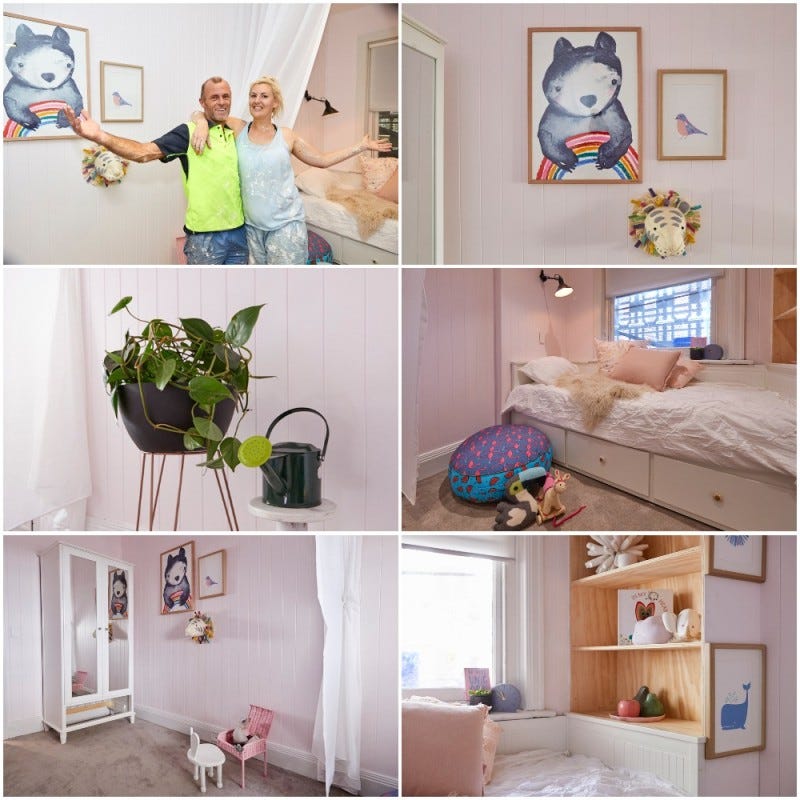 Courtney and Hans might have finished in last place, but it wasn't for lack of creative ideas. In fact, all the judges loved their bold decision to wallpaper a cloud motif onto the room's roof, creating their sweet 'up-up-and-away' themed room.
"We wanted hot air balloons, planes, travel and adventure," Courtney explained, with Han's adding that they wanted to create "something quirky" in their children's bedroom.
Darren thought they succeeded.
"Courtney and Hans both fly - and how could you tell? Planes, helicopters, hot air balloons and clouds above. A great room to inspire the imagination," he said. "I think it's a big show of effort - really cute and whimsical."
The couple chose a dark-coloured upholstered bedhead and added plenty of in-built storage - including under the window, which also featured a daybed above it.
Unfortunately, execution let them down, and they were marked harshly for this. But the judges all agreed that if they'd had more time, they may have been able to pull off their vision.
Shaynna, in particular, liked the rug and all the stuffed toys, saying they were "wonderful and whimsical," as well as the sheets on the bed.
All agreed it wasn't the strongest start, but that the only way is up. Scotty agreed:
"Neale, felt very much like he did in Norm & Jess room - a room that is filled with childhood magic, but let down on execution," Scotty said. "He thinks anybody who can land a plane should be better on detail."
Better luck next time, guys.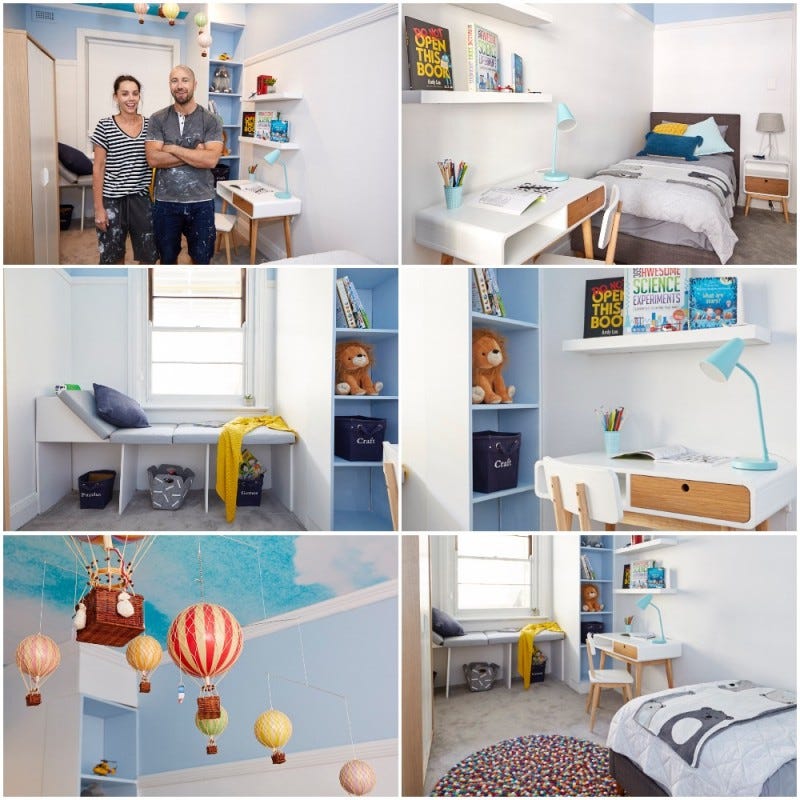 Did you like this blog? Subscribe to our newsletter to be the first to receive news from The Block! Subscribe now to receive $20 off your next order.