Rialheim is a ceramic studio based in Robertson, South Africa. The brand was founded in 2012 by Rial Visagie with a small group of ceramic artists and specializes in shapes and glazing techniques that are inspired by Africa's diverse cultures and beauty.
An expression of our culture and emotions through craftsmanship and design using African soil, fire and water. We proudly design and manufacture all of our products on our farm in Robertson hence our slogan Ceramics, Reimagined • Handcrafted in South Africa. Our goal is to produce authentic items that are functional and fun whilst we explore the use of African clay.
Our collection is driven by the need to create whilst being inspired by our surroundings that are filled with the beauty of Africa and its people. Our current range, The Brave Collection, draws inspiration from the continent we call home (My Africa), the farm where we live and work (My Farm) and the most southern point of Africa (Cape Agulhas) where two oceans meet.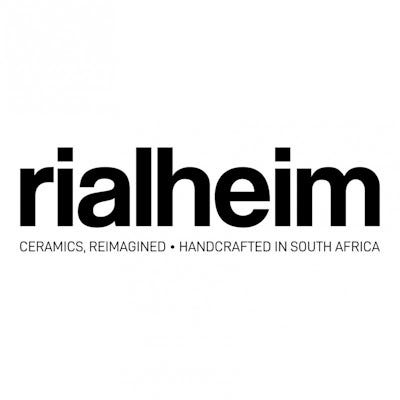 Filter
8 per page
12 per page
20 per page
36 per page
48 per page
12 Products

Filter
8 per page
12 per page
20 per page
36 per page
48 per page
12 Products
Filter
8 per page
12 per page
20 per page
36 per page
48 per page
12 Products