A year after winning The Block, Queenslanders Tess and Luke are happily settled back into their normal life.




So, a year later... can you believe you were on The Block?
Whenever we are having a nice moment together taking life in, we often look at each other in disbelief about the year that was. The Block seemed like something that would never happen to "normal people" – but it does.
What's life been like since?
Life went back to "normal" for us pretty quickly, but then again does it ever go back to "normal"? We live a really nice, calm and quiet life in Cairns and every so often we get noticed by someone and its really lovely to be congratulated and recognised for the hard work. We love meeting new people and The Block has definitely made that happen for us. We have had some amazing work opportunities that have taken us to different cities and experienced things that we never would have before.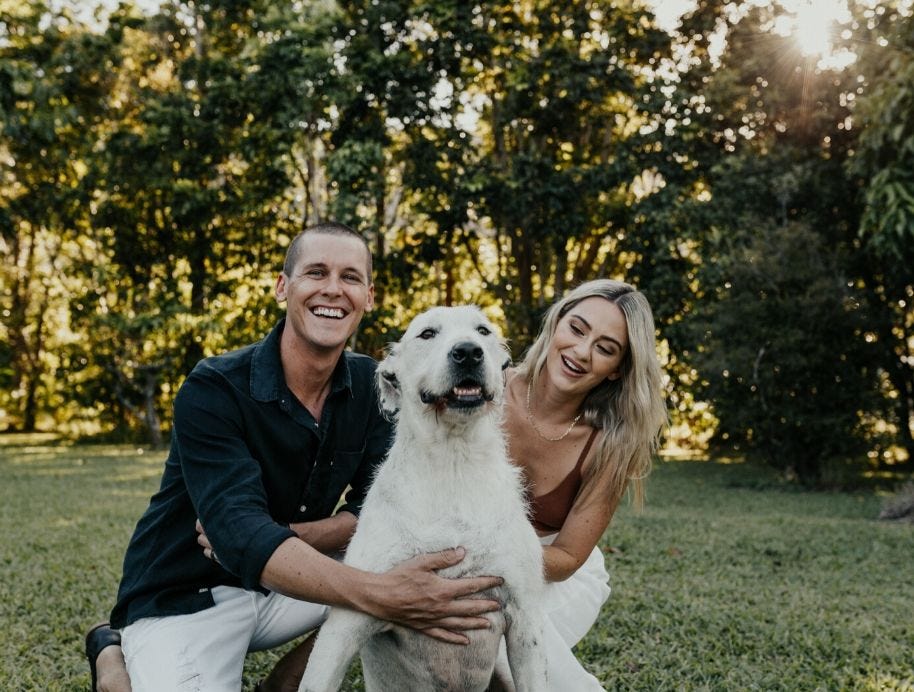 Tess and Luke pictured with their very much loved fur baby Tilly girl.

Did you follow up on the dreams you were competing for?
Our dreams in life is to be happy, comfortable, busy and surrounded by the people we love so to us, we have it all. A big dream was to buy an acre in the Northern Beaches in Cairns and start our build and it looks like it's going to start very, very soon!
What does a typical day look like for you now?
I (Tess) work for Luke now. So, every day he goes off to work while I do the office work and sit with Tilly and doing normal every day chores etc. I am also working on our website that should be launching soon and always playing around with our house plans. He comes home and we are in the office until about 9/10pm. It's very normal. We have recently started doing Building & Pest Inspections which we are passionate about. We know how important it is for people to know exactly what they are purchasing and investing all of their hard-earned money into (especially first home buyers). We are determined to succeed with the business and strive for only the best.
Has life returned to normal?
We don't know if life will ever be "normal" again, but we have definitely caught up on our sleep and aren't as stressed (haha). We live very normal lives like everyone else, but we definitely have amazing opportunities that we wouldn't have had before.
What has changed? Any new opportunities opened up post Block?
We have worked with some amazing brands, worked with tourism for Cairns and we are always being contacted to collaborate with amazing designers and brands for when we build our home. We are blown away that people want to work with us because to us we are just… Tess and Luke. We have been able to see so many different parts of Australia and we are so thankful for The Block for that.
Tess and husband Luke stunned the bookmakers in 2019 by making the most money over reserve and taking home an extra $100,000, delivering them a massive total of $730,000 in winnings.

Have you done any more renovating?
We have been sitting on our hands for a while. We are in the process of buying one acre out at the beaches and have been in the design phase of our home for a few months now. It's going to be a long process but the build is going to be absolutely amazing. We can't wait to take everyone on the journey with us!
So, you're still living in the same area?
We sold our home while The Block was being aired and now we live out on the North side which is where Tess is from. We are caring for one of our grandmothers' homes for the family while we are planning our build. Cairns is home for us, it's such a beautiful town and we are so blessed to be able to call it home.

Do you still keep in touch with the other Blockheads?
Absolutely! Deb and Andy, Matt and Elise and Jesse and Mel – we talk almost every day. We were really hoping to catch up in October but Covid unfortunately prevented that from happening. We also chat to a lot of past contestants too that we have just really hit it off with. We are also always in contact with our builders as well. We met so many genuine, amazing people.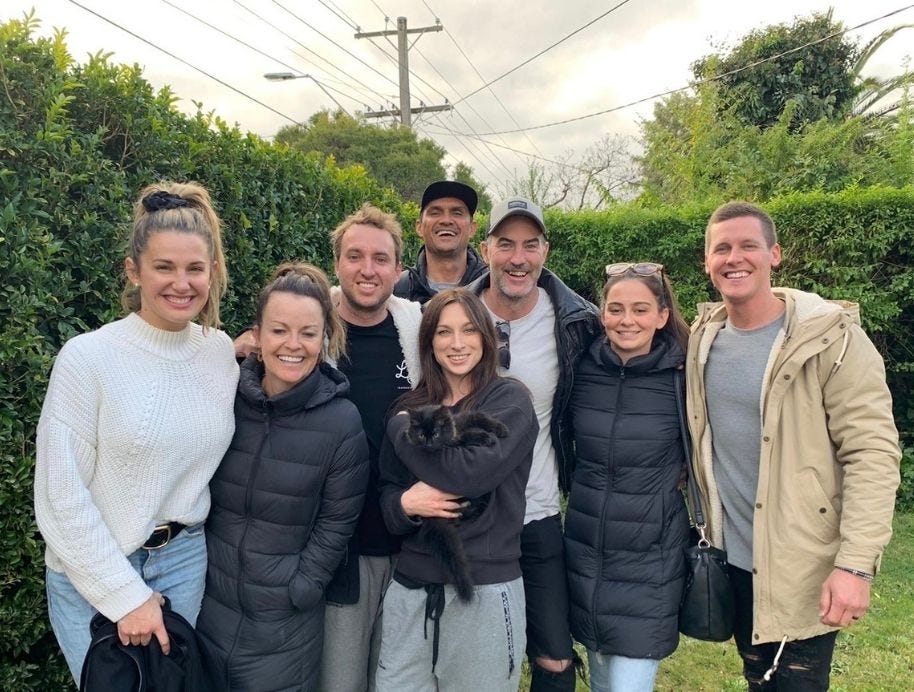 These guys all have an amazing friendship that has continued well beyond The Block.

Who are your Block besties?
In all honesty, we can't pick besties from our season. We are so close with the other 3 couples and we have such different relationships with all of them. They are the most genuine, down to earth, "what you see is what you get" kind of people we have ever met. We can't believe how lucky we are to have formed such a close bond with people that we would never have met in the "normal" world.

What was the worst part of your experience on The Block?
The sleep deprivation and the size of the build. We still can't believe we did it. Watching this season of The Block, sometimes it's hard not to get jealous. They are always painting on a Thursday or Friday, looking bright and fresh eyed for room reveal on Sunday, having a family dinner on a Monday night…. It looks amazing! Granted they have other massive hurdles, like doing The Block during a world-wide pandemic. We aren't jealous of that, that's for sure.
Favourite past Block Couple?
Us! If you can't love yourself and be your number one fan, who can? We are proud of ourselves for getting through "the biggest block ever"!
How has COVID-19 affected you?
Life in Far North Queensland didn't change as drastically as it has in other parts of Australia. We were out of work for a little while because people obviously put a hold on buying property. Sadly, Tess's two grandmothers passed away only months apart during the pandemic. It was hard to not be able to see them while they were well and only wave from the other side of the glass. And it was tough to not be able to give them the send-off that they deserved either. We also gained a new nephew during the pandemic but unfortunately couldn't really see him or hold him for a month or so. You don't realise how much you take for granted in life until you are prevented from doing things that you would do every day. Now life in Cairns is very normal and we can only hope that it continues to head in the right direction for the rest of Australia.
What would you buy yourself from The Block Shop?
What wouldn't I buy myself from The Block Shop? That was our saviour on The Block, we absolutely loved it. The girls there are so helpful and are amazing at tracking things down for us. I personally loved their styling items.
Now there's no judging, what's a perfect Sunday afternoon….
We like to wake up around 7 am, walk our dog Tilly, have breakfast at home and either enjoy the day around the pool or go out for a nice lunch on the water. We will generally always see our friends on a Sunday afternoon too for drinks and dinner.
What was it like to come back as an All Star team?
It was quite nerve wracking actually. It was almost a little too soon but the site was completely different to our year. The builders and contestants seemed to always have a smile on their face and the build seemed much more manageable. It was a much calmer site and it was awesome to see not only our block family but the camera crew, sound crew, runners and producers that we worked with last year and missed so much!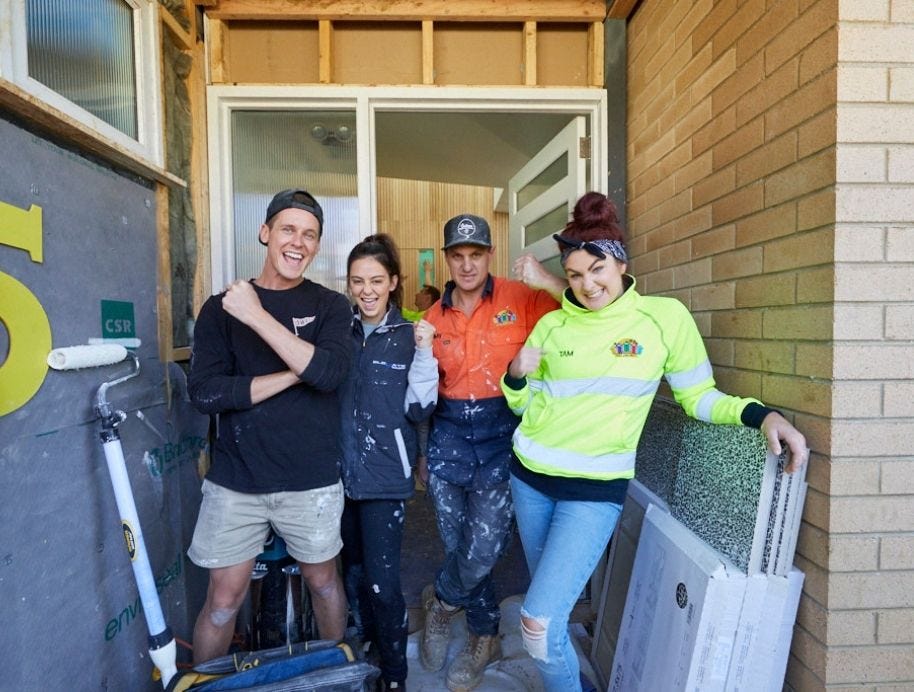 "Queenslanders mate, they are bred tough!" Tess tells The Block Shop on working with Jimmy and Tam.
How do you think your partners from the new Block Crew are going?
Jimmy and Tam are doing an awesome job. They seem to keep their head down and bum up! We wanted to go and just work for them. We know how much we would have appreciated the help on hallway week so we didn't want to let them down. We were over the moon when we quickly realised they were also hard workers and just wanted to pump out the work. Queenslanders mate, they are bred tough! We hope that they walk away with not only some cash, but some really genuine friends from this season. We remember always just thinking to ourselves that you aren't guaranteed any money when coming on the show, but you can walk away from the show with happy memories and amazing friends. Do what you have control over and don't get caught up too much in the competition. What will be, will be.
Auction day is fast approaching for the new crop of contestants, any advice for them?
Dress like a winner, don't go in with any expectations and really take in the moment of sitting on that couch. It's a once in a lifetime experience.
And what about life after The Block, any wisdom to share with the new crew?
If you want a career in building, interior design, styling etc then get to it straight away. The Block can open the door to many opportunities in life. Also, don't get too big for your boots. The thing that Australia loves about The Block is that normal, every-day Aussies get given a chance of a lifetime. Remain humble and grateful.
So, with all you know now, would you do it again?
We always ask each other if we would ever do it again and sometimes it's a "maybe" and sometimes it's a "maybe not". We had such an awesome experience with such an amazing crew that it just can't be replicated. If we could do it again with our friends, then of course!! But sometimes, going out on top is the way to go out.

And if you did, what would you do differently?
We would stop and smell the roses more often. Get a coffee together at the Maccas van, have family dinners during the week, have a wine with each other during the night, remember the laughs more than the tears and make more of an effort to have fun. The aim would be to not get caught up in the stress of it all and have FUN. Then again, would they ever do a Block as big as the monster that The Oslo was?

Catch up on everything Tess and Luke and take a look back at their Block home HERE

Where are they now? Catch up with past Block contestants HERE