Its been a busy time of late for one of our all-time favourite Block couples from 2017 or how Hannah likes to refer to it as "The Stick's & Wombat season." Hannah and Clint who are now a party of FIVE, share with us life after The Block, their branch out into the art world and the motherhood juggle.
 

Could they be any more gorgeous? Hannah and Clint welcomed their third babe to the family little Archie last November. (Photographer: Amy Oliver)
 
In the immediate Block aftermath, what did you do? Did life return to normal?
I don't think life ever returns to normal after you have been a contestant on The Block? Life was pretty crazy immediately following the show. The Block is a big deal for Melburnians!
We did get recognized a lot! It was kinda weird in the beginning but it somehow just became our new-norm I guess. We both missed the kids incredibly towards the end. It was one hell of an emotional rollercoaster for our family. Our biggest focus, once the show had wrapped up, was just to spend as much time as possible with the kids. Getting back into our routine and rebuilding our little family unit.

How did you spend your winnings?
We went on a little family holiday but other than that we haven't really touched it! Our winnings are currently sitting in the bank accruing interest (boring I know) but when the time is right we will use that towards our next house. 

Have you done any more renovating?
We needed to take a break after the show but we definitely caught the reno bug. We would love to get stuck into another project soon though. Who knows? Watch this space!



Hannah and Clint pictured in front of the amazing Elsternwick transformation and that memorable pink door. 
 
Who are you still friends with from the show? 
We still keep in touch with all the contestants. Some more than others. We have spent the most time with Josh & Elyse since we finished and often catch up when our schedules align. I love following everyone's journey post block. Ronnie & Georgia are doing some pretty amazing things at the moment and we're loving their new series - Quick Room Flips on Ch 9's The Block 365. 

Nerve-wracking times! Ronnie and Georgia alongside Hannah & Clint at the 2017 Block auctions.
 
What was the best part of your experience on The Block?
We learnt so much about ourselves and our own capabilities. Never in our wildest dreams did I think we were capable of renovating a project of that size in 12 weeks. The Block pushed us both to our absolute limits! We left with such a huge sense of pride and accomplishment. Our relationship grew stronger than ever and we're both so grateful we got to share this experience together. Never have we been more proud to standby one another. 

What was the worst part of your experience on The Block?
The fatigue was next level- nothing can ever prepare you for that!

Would you do it again?
Clint and I are very much of the mindset of never say never, but I think everything in life comes down to timing. Right now? The answer to that would be no, but look, you never know what's around the corner. Never say never. 



We would love to see these guys back renovating soon!
 
You and Clint have curated a collection for Artist Lane. How did that come about? 
We were fortunate enough to use some of their pieces in a few challenges and room reveals during the show, and when they reached to see if we might be interested in collaborating, I just couldn't say no. I have a huge passion still for artwork and styling. We were able to take full creative control over the artists and the photographic prints that we selected.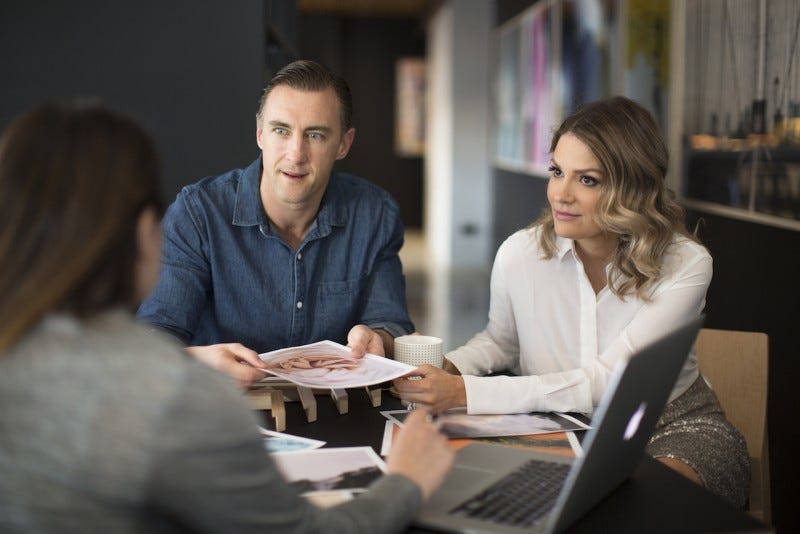 Hannah and Clint both expressed the importance of their art collection price point. "We splashed some cash on The Block but that's not our real life".

How is your collection going? Will be seeing anymore?
We've had such an overwhelming response with our collection. I've loved collaborating with some of Australia's finest female artists. So much creative energy has gone into this project. We're currently working on a new collection with Artist Lane and I'm sooooo excited to share this with everyone.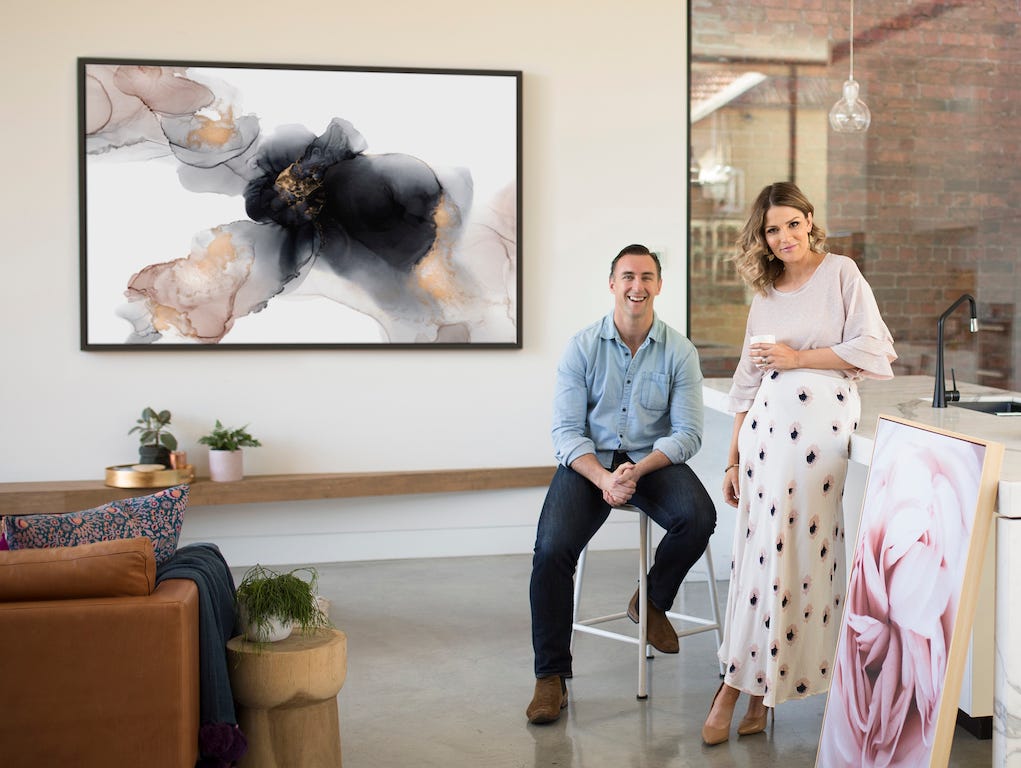 Hannah and Clint with stunning pieces from the collection including 'Make Me Blush' and 'Cabbage Rose'.
 
What is the most rewarding and most challenging part of motherhood?
We have added to our brood and welcomed baby Archie to our family 5 months ago- he's delicious and we can't get enough of him! For me, the most rewarding part would have to be what we learn from each other. Their unconditional love and hearing "Mummy, I love you" My children are my biggest achievement that life has given me and I love seeing their smiles every day. As for the most challenging. I would have to say the sheer relentlessness of it all! Like it doesn't stop! Ever! I think as Mother's we constantly battle with 'mum guilt'. I always question if I'm giving enough to my kids? Was I too harsh? Am I spending equal quality one-on-one time with them? Do they feel loved? It's a constant mental battle. At the end of the day, I just want them to feel happy, safe & loved.

What has been the most magical moment of motherhood?
Seconds after delivery all 3 of my babies and having their little bodies placed in my arms.



An incredibly beautiful Hannah pregnant with her now 5-month-old son Archie. (Photographer: Sweet Mary Photography)




(Photographer: Amy Oliver)
 
What are your time management tips? How do you juggle it all?
Life with two school-aged kids and a 5 month old really forces you to get your sh*t together! Gone are the days of lounging around the house in our pj's watching ABC for kids all day. There's school pick ups/drop offs, homework, after school sports and activities. Archie has pretty much learnt to sleep on the go. Generally speaking, I'm pretty organised. I lay everything out the night before. I pack school lunches before I go to bed and always cook in bulk. Having said all that somedays are just a complete and utter epic failure and my kids eat 2 min noodles for dinner. I like to call it balance. 
 
How will you be spending Mother's Day? 
Hopefully, I'll be treated to a sleep in and a bedside coffee delivery. 



We hope you get that sleep in and all important coffee! Happy Mother's Day Hannah.
 
Did you like this blog? Subscribe to our newsletter to be the first to receive news from The Block! Subscribe now to receive $20 off your next order.