Here are some of our favourite locally-made products
With Australia Day just around the corner, we thought it only fair we gave a mighty shout-out to all those local Aussie businesses doing the hard grind to bring their fabulous wares to our homes via this site. Makers of Aus - we salute you! Now take a break, head outside, and enjoy a snag or two in the sun. You've earnt it!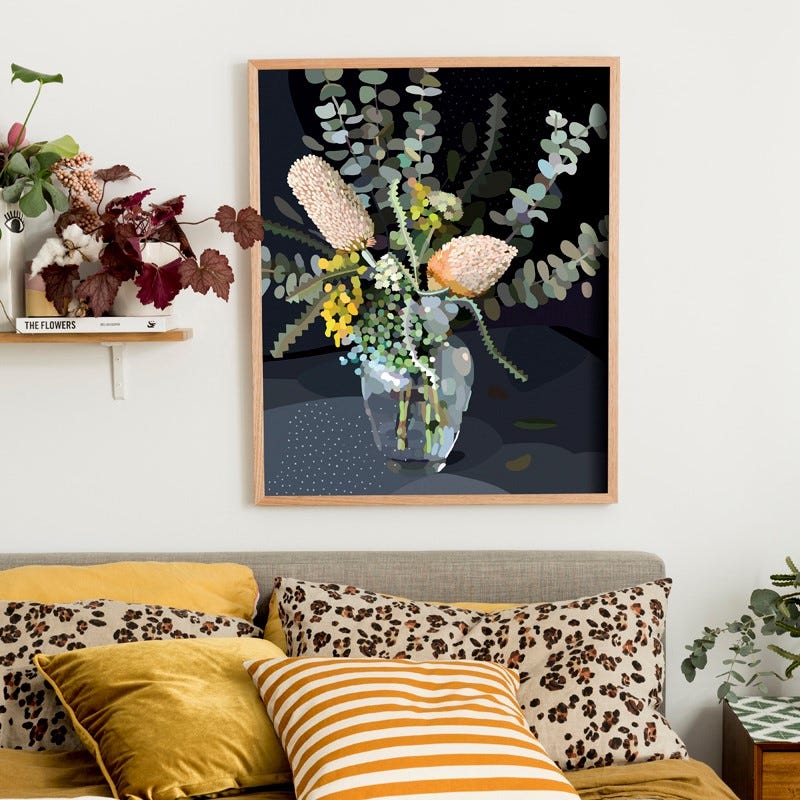 How divine is this native flora print? Kimmy Hogan works out of her home studio in Geelong, Victoria, and she prints everything locally - so you know her artwork is 100% Australian. "It's overseen personally by me and my gorgeous assistant, Rose," Kimmy tells us. "Together, we really enjoy the process of printing and filling your orders. It gives us an opportunity to be involved with every aspect of the 'making' of the art, and to see the process through to completion. We put a lot of love and care into every single one of your orders." Pictured is Bloom III, a limited edition print by Kimmy.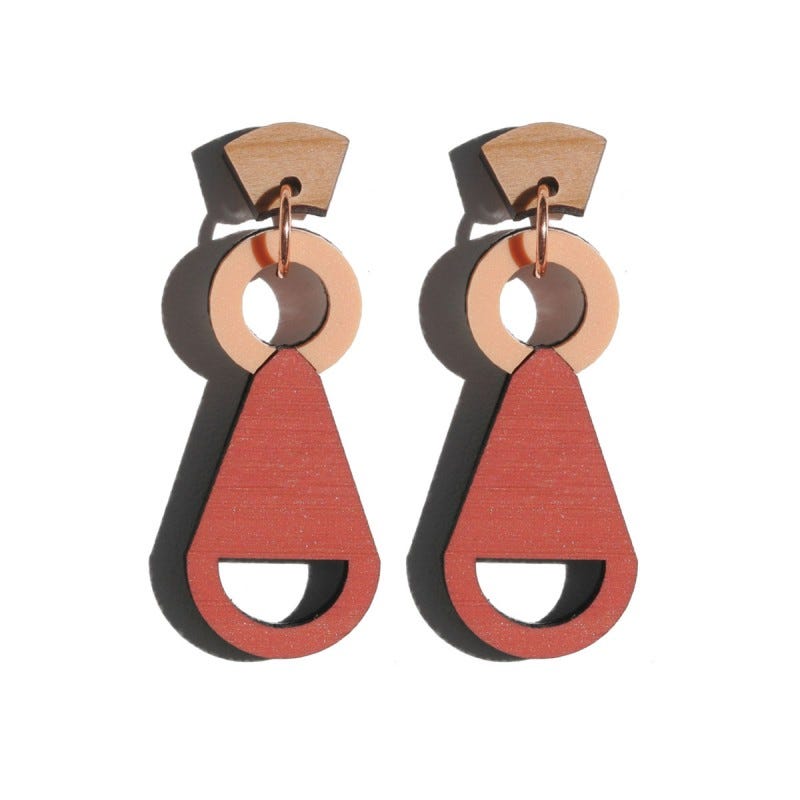 These earrings are EVERYTHING! Martha Jean make seriously cool contemporary jewellery, often with unexpected textures, colour and shapes - like these beauties! All of their divine pieces are designed and made in Australia, in Martha Jean's studio in Balnarring, on Victoria's Mornington Peninsula. We are all in LOVE with these sculpture earrings, in terracotta. Check out Martha's gorgeous range HERE.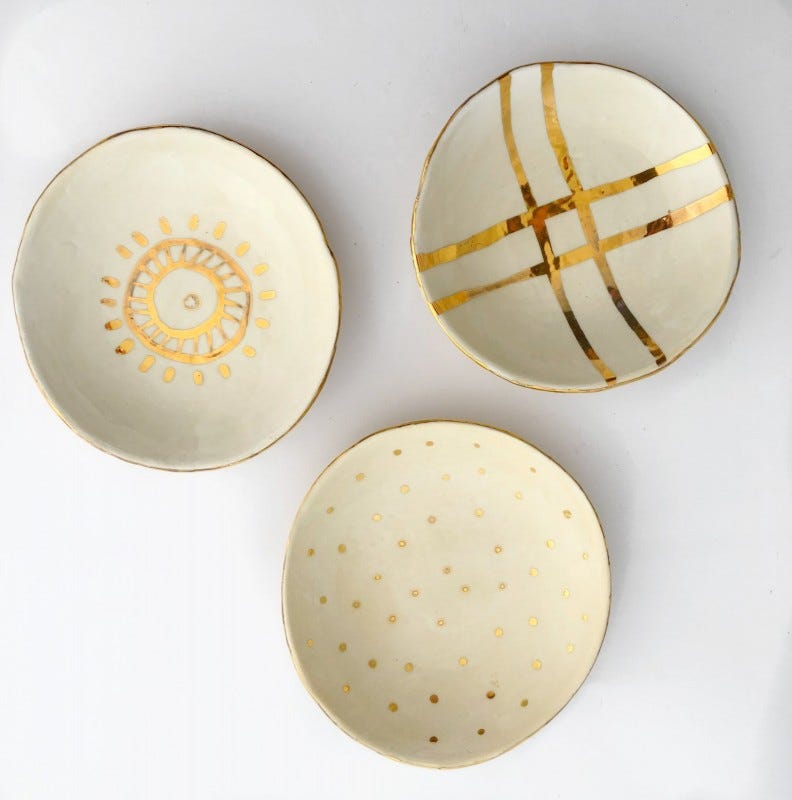 Carla Dinnage works from her home studio in Melbourne and is the sole creator of a stunning range of decorative tableware. She employs a range of methods, mostly hand-building and rolling her creations. Carla uses a stoneware/earthenware blended clay, and hand paints with underglazes, which are then glazed and fired to 1200 degrees. Each piece is individually handmade and hand painted, and have their own unique qualities - just like these gorgeous 'White and Gold Luster Bowls' which we absolutely HAVE to have for our house. They come in a selection of gorgeous colours - check them out HERE.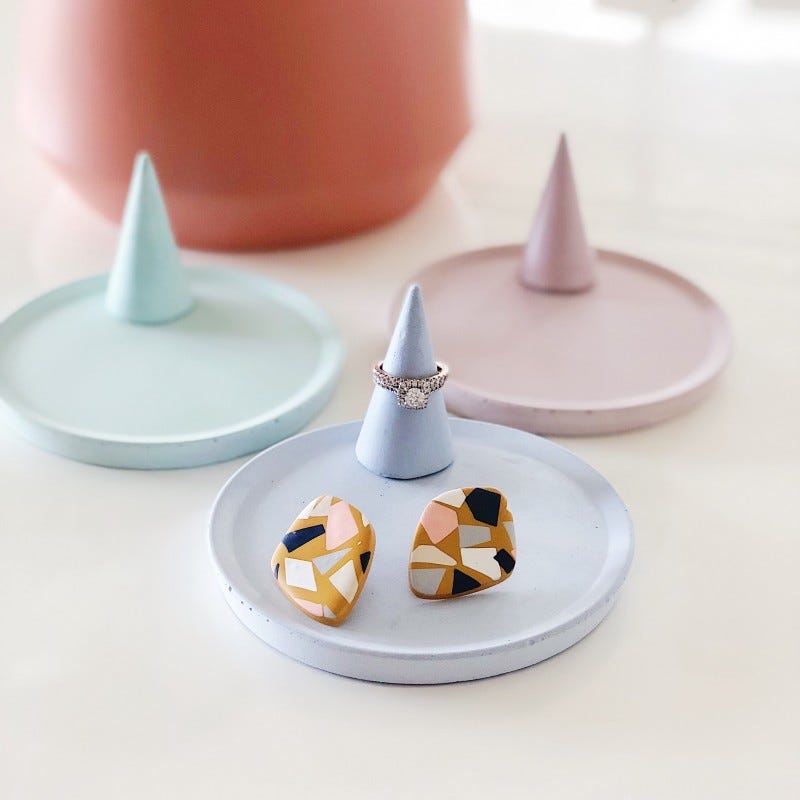 How cute and FUNCTIONAL are these terrific jewellery holders? Coral & Herb is a collection of beautifully handcrafted homewares, designed and created with love by Simone in her studio in Bendigo, Victoria. These 'jewellery minders' are hand cast, sanded, sealed and finished with a clear surface protector underneath to protect bench tops from any scratches. The end result is a beautiful, minimalist piece of home decor that will look great on your dressing table, bedside table, or by the sink to keep your rings safe while washing up. A steal at $19 - and available online now.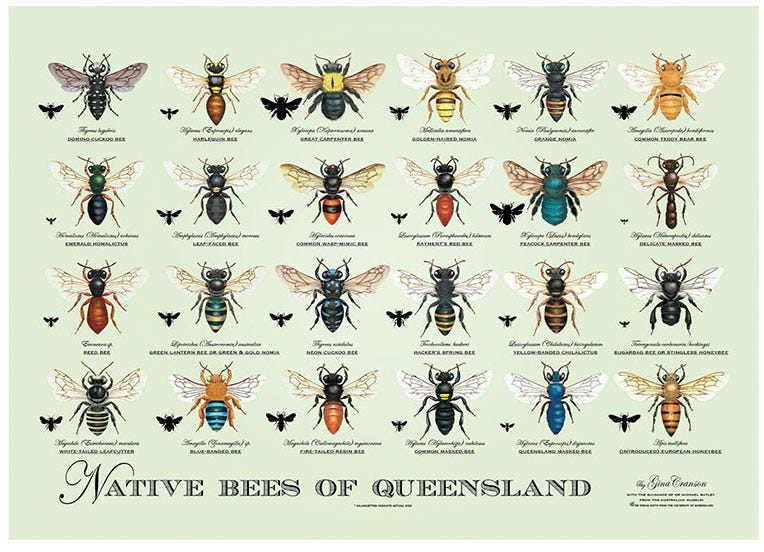 Gina Cranson is a natural history illustrator from Newcastle NSW, who specialises in illustrating bees. She hopes to open the world's eyes to the wonders of nature through her exquisitely detailed watercolour illustrations - and we think she's definitely succeeded. Gina's various prints and posters of native bees serve not only as handy identification tools but also as beautiful pieces of wall art. They're printed locally by Dobson & McEwan Master Printers. The Native Bee posters are available in other states HERE.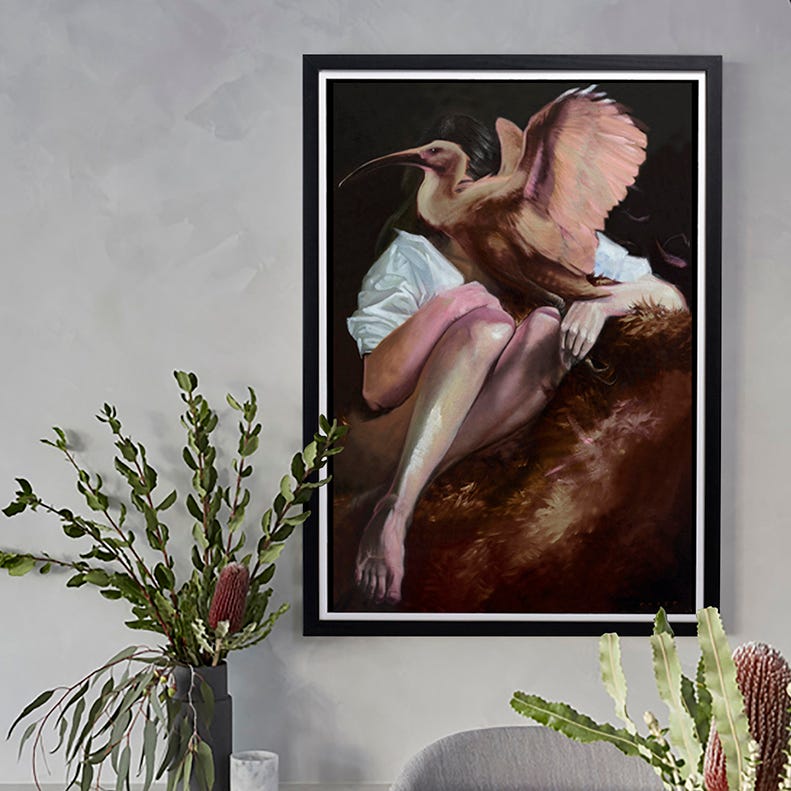 Steve Cross is a Melbourne-based multi-disciplined visual artist. As well as working with acrylics and oils, Steve is also a celebrated street artist, his work featuring on walls across the country and all over the world. Highly collectable, his work has been exhibited nationally, and he has been involved in exhibitions from as far back as 1988. Steve sells limited-edition, signed, high-resolution prints on heavy-based quality stock through The Block Shop, as well as stretched canvases. Oh, and Ronnie and Georgia used his art in their covetable Elsternwick home in 2017 - he even painted them a mural in their outdoor area. We LOVE everything about this moody print...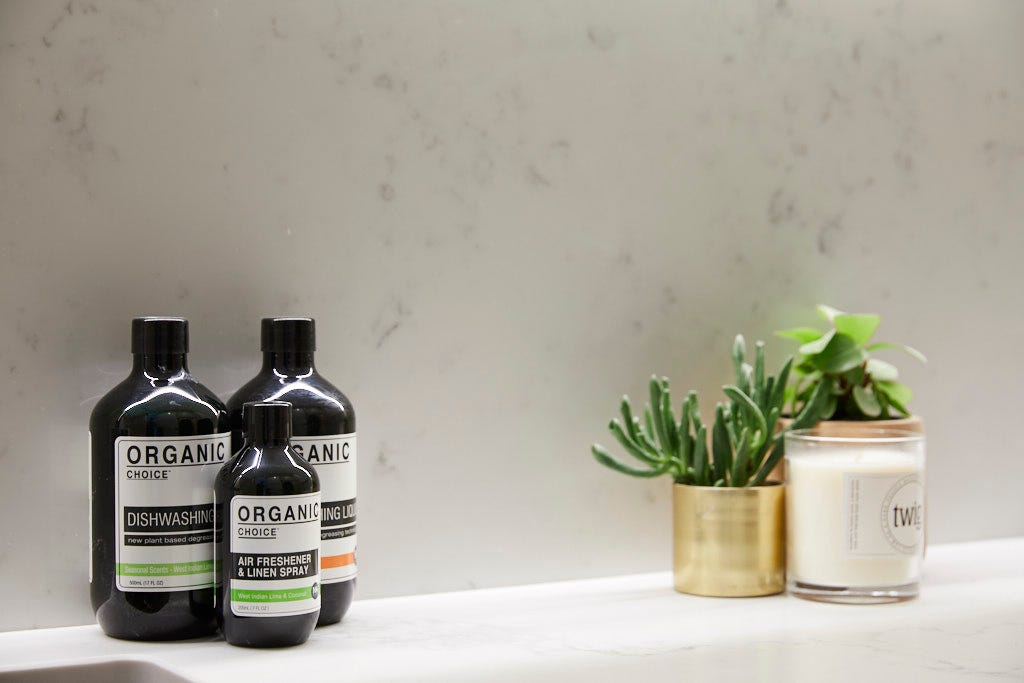 Organic Choice is a healthier alternative to other home cleaning products. Their range is eco-friendly and environmentally sustainable - and best of all, it's Australian made! You can also feel good, knowing their products are not tested on animals and have a gentle formulation that's friendly to hands - and the planet. As seen in Norm and Jess' Laundry in The Block 2018, the 'Multi-purpose cleaner' is great at $5.50 - and is made from locally-grown lemongrass and Australian Myrtle. YUUUUM! View the range HERE.


Abode Living is a family-owned and run business, manufacturing in Melbourne. Everything's made right here - the company have their factory, office and warehouse right behind their showroom! All in one spot! "Having this facility at our fingertips means we can develop, design and adjust our products - or even custom-make items - with our world-class materials," Abode tell us. Pictured is the 'Ryder Cushion' which is constructed from premium suede leather and is going STRAIGHT onto our couch thanks very much.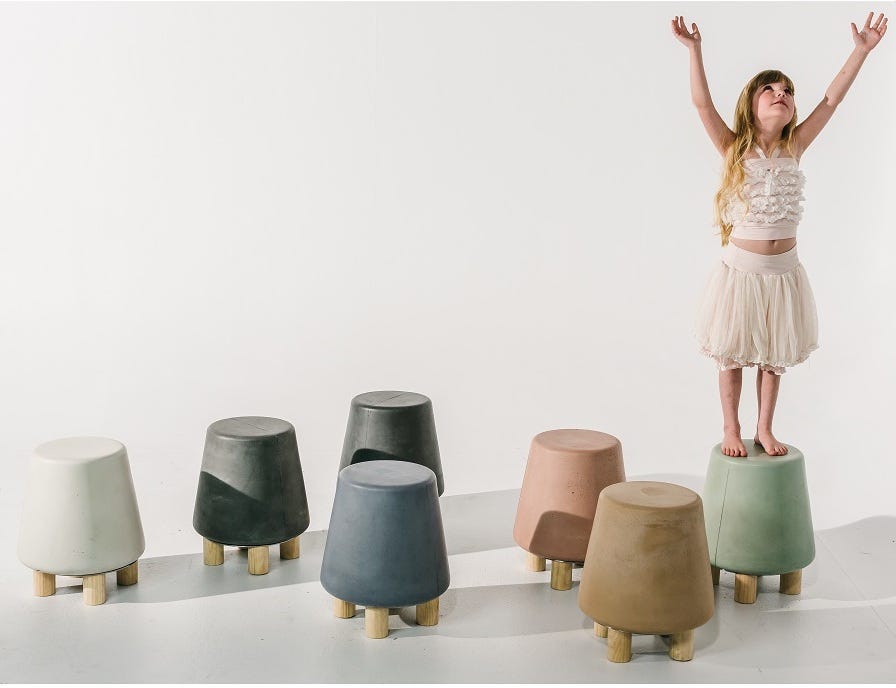 Nood Co is a contemporary concrete furniture and homewares company - designed by our very own Matt Di Costa, who competed with wife Kim on The Block, way back in 2013! Nood Co has revolutionised the world of concrete furniture, and has a range of stunning concrete sinks, mirrors and stools, like the awesome - and very covetable - 'Kevin Stool', pictured. Eagle-eyed viewers will also remember their blush pink sink featured prominently in Ronnie and Georgia's gorgeous guest bedroom ensuite. View the range HERE.

To shop more Australian decor click HERE

Did you like this blog? Subscribe to our newsletter to be the first to receive news from The Block! Subscribe now to receive $20 off your next order.