Damian Corney, the man behind Grafico— The Block's go-to custom print company— talks trends, tricks and out-there requests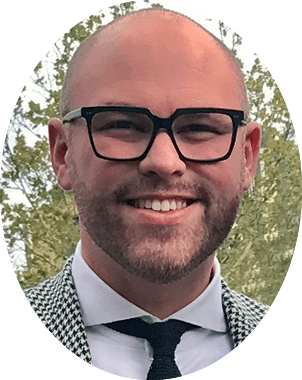 Damian Corney, Managing Director.
Tell us about Grafico...
We've had the business going for about 13 years. We're a design print and signage company essentially, but we've got a few specialty arms of the business, namely the custom print wallpapers and custom print mosaic tiles. We have another part of the company that looks after all of the custom vehicle graphics and signage. We're pretty go, go, go here. We work a lot with short deadlines.

How do people choose what to put on their walls?
People ask us our advice all the time, just like The Block contestants do. Our sales and design teams then work with them. Some people are quite firm, and they say, "This is exactly what I want" but then you'll have others who say, "This is the theme, can you help us find an image?" If someone wants an old map or a photo, we'll source it and we'll find the appropriate hi-res imagery and we'll design it to match the space and make it work. It's always pretty exciting and it's a lot of fun.
What if someone changes their mind?
All of our wall coverings are removable, so it's not catastrophic if you make a bad decision.

How easy are they to install?
A lot of people DIY install them because they're self-adhesive. They're like a big sticker. Very rarely do we get people saying, 'I totally stuffed that up, it's in the bin,' because it's pretty forgiving. Having said that, we still install a lot of what we produce. There are plenty of clients that just can't be bothered to do it themselves and I'm one of them. I can do it, but I get our team to do it for my own house.
Do you ever get any out-there custom requests?

Probably the quirkiest one we've done is Michael Jordan slam dunking in the middle of someone's shower in our custom print mosaic tiles. That was pretty cool.
What big trends are you seeing?
Continuing on from last year, the big florals are still super popular. Really luxurious big floral prints. It's definitely a bit of trend.
How does The Block influence what people are choosing?
People are more confident to do more 'out there' things now. Instead of just doing a grey wall, they're more accustomed to seeing what we can do on shows like The Block, with big floral prints or vintage maps on a whole wall. People are more willing to go for it. Years ago, we would be producing these graphics predominately for commercial spaces. People now realise that we can create something really tasteful that has a lot of impact.
Click through these images to see a diverse range of some of Grafico's incredible wall coverings:
Find out more about Grafico's work over the different Block seasons and challenges HERE

Shop Grafico's range of custom wall coverings HERE

Did you like this blog? Subscribe to our newsletter to be the first to receive news from The Block! Subscribe now to receive $20 off your next order.