Love Steph and Gian's facade? Yep us too, here's everything you need to know to achieve it!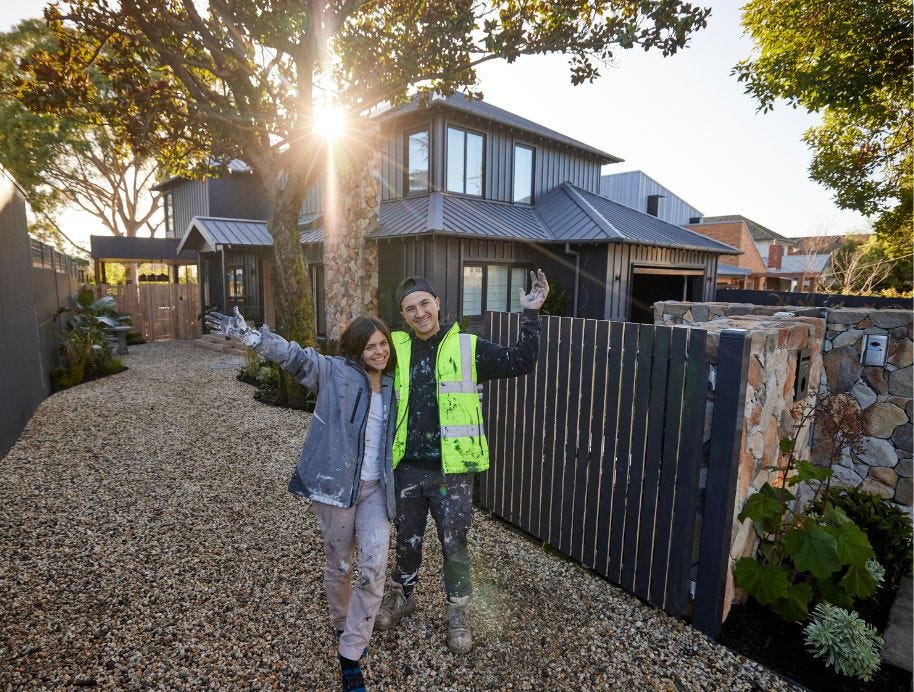 Steph and Gian take out The Block 2023 with a history making win, largely thanks to the stunning board and batten exterior using Hardie products to create this show stopping facade.
The Board and Batten look has gained immense popularity in recent years for its timeless appeal and versatile design. If you've been following the latest trends in home renovation and design, you might have noticed this classic style making a comeback, the Board and Batten look has featured on The Block for the past two years.
Steph and Gian in House 4 on The Block, have showcased the beauty of the Board and Batten look using Hardie™ Fine Texture Cladding and Hardie™ Axent™ Trim, making it a standout choice for homeowners looking to upgrade their exteriors.
In an ironic twist, House 4, Jenny and Dylan of The Block 2022 also went for this look, let's see if we can make it three from three on The Block 2024!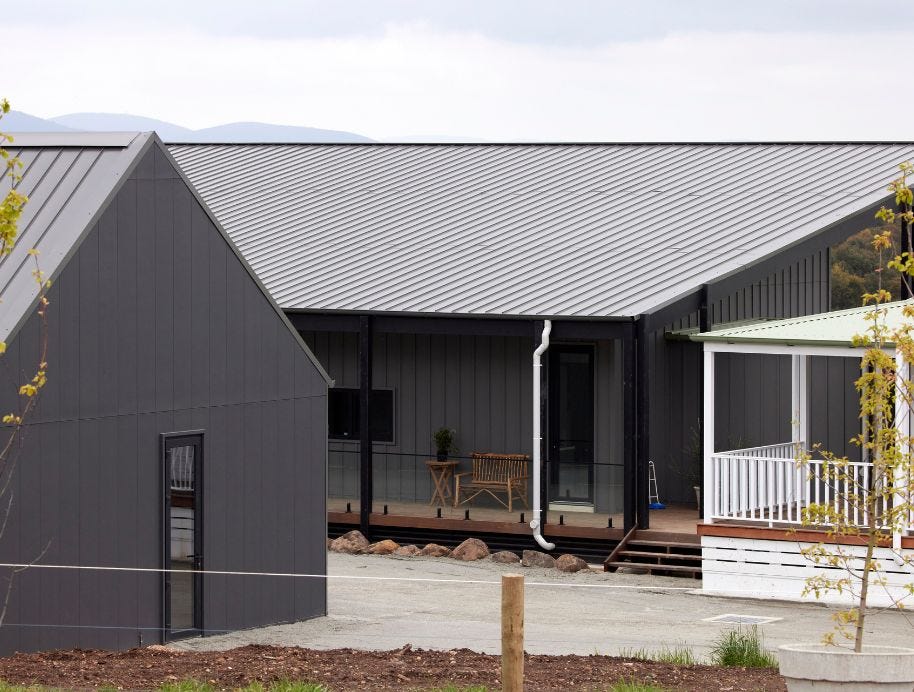 " The Hardie™ Architectural Collection has the ability to transform any space, no matter the profile or combination of cladding boards – it's all about texture!" says Steph from House 4!
"I think it's really important for beginner renovators to know when you choose the timeless style Board and Batten look, that you can paint the Hardie™ products any colour you choose, which can dramatically change the look of the house and add that curbside appeal" Steph who throughout the season got to work alongside Julian Brenchley, The Block Architect, Steph said it was an absolute dream, being an architect herself, it was a career highlight.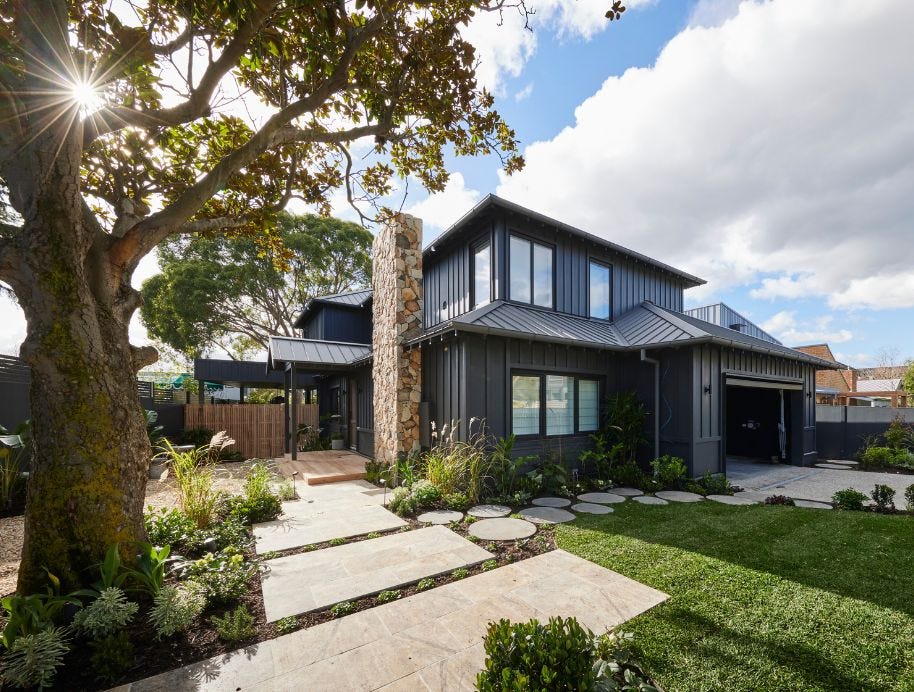 Block fans overwhelmingly agreed that Steph and Gian had the best facade on The Block 2023!
We delve into the world of Board and Batten and discuss how to achieve this look using James Hardie products. Whether you're planning a complete exterior renovation or just looking for some fresh inspiration, this trend is worth considering.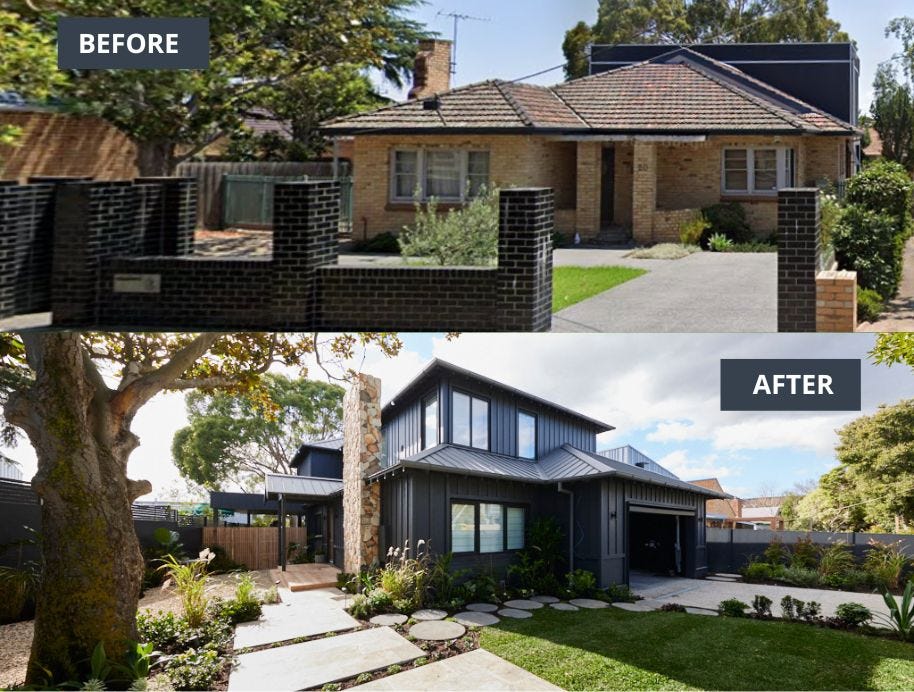 The incredible transformation of House 4 Steph and Gian's winning Block House with the board and batten look.
What is the Board and Batten Look?
The Board and Batten look is a classic architectural style that dates back centuries, often associated with farmhouses, cottages, Hamptons and Cape Cod-style homes.
It's characterised by alternating wide, vertical boards such as Hardie™ Fine Texture Cladding (the "boards") and narrow strips Hardie™ Axent™ Trim (the "battens") that cover the gaps between the boards. The result is a distinctive, textured pattern that adds depth and visual interest to any exterior.
​​While it's a hot trend right now, the style actually dates back nearly 200 years. And that may be part of its appeal to homeowners.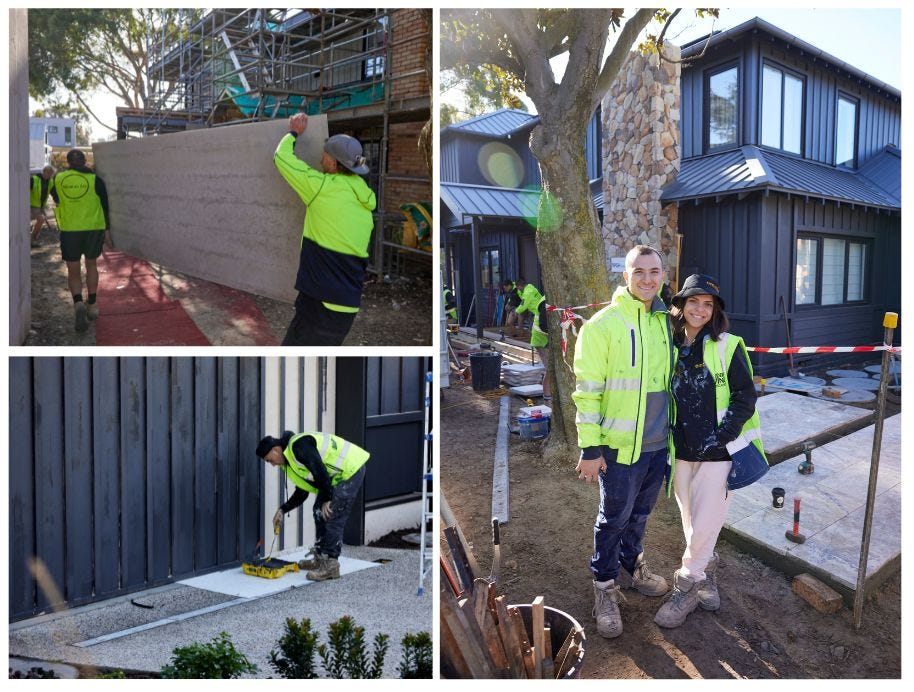 The James Hardie team were onsite at The Block to assist Steph and Gian in House 4 complete this transformation.
BOARD AND BATTEN CLADDING BENEFITS
When it comes to cladding options, board & batten stands out as a traditional and adaptable solution that has numerous advantages. Discover how the timeless elegance and useful benefits of this traditional method can enhance the exterior of your home.

Aesthetic Appeal: Board & batten cladding adds a touch of traditional warmth and rustic character to any home. Its unusual vertical lines produce an eye-catching texture that goes well with farmhouses and modern kinds of architecture.

Durability: Crafted from high-quality materials like fibre cement, board and batten cladding boasts exceptional durability. It can withstand the harshest weather conditions, including heavy rain, snow, and UV rays, ensuring your home remains protected and beautiful for years to come.
Design Versatility: Modern board and batten cladding allow for creative expression and customisation. With options for wider panels and decorative battens, homeowners and designers can play with spacing, colours, and cladding profiles to achieve a personalised and unique look.

Low Maintenance: Unlike timber boards that may require more frequent upkeep, board and batten style made with fibre cement needs minimal maintenance. Its resistance to rot, pests, and weather means you can spend less time on maintenance and more time enjoying your home.

Longevity: Board and batten cladding's robust construction is very durable, providing lasting beauty and protection to your home for decades. Its ability to resist warping, cracking, and shrinking adds to its longevity.

Potential for Increased Property Value: Investing in a board and batten style look can boost your home's curb appeal and overall value. Potential buyers often appreciate the timeless charm and durability of this cladding style choice, potentially making your property more attractive in the real estate market.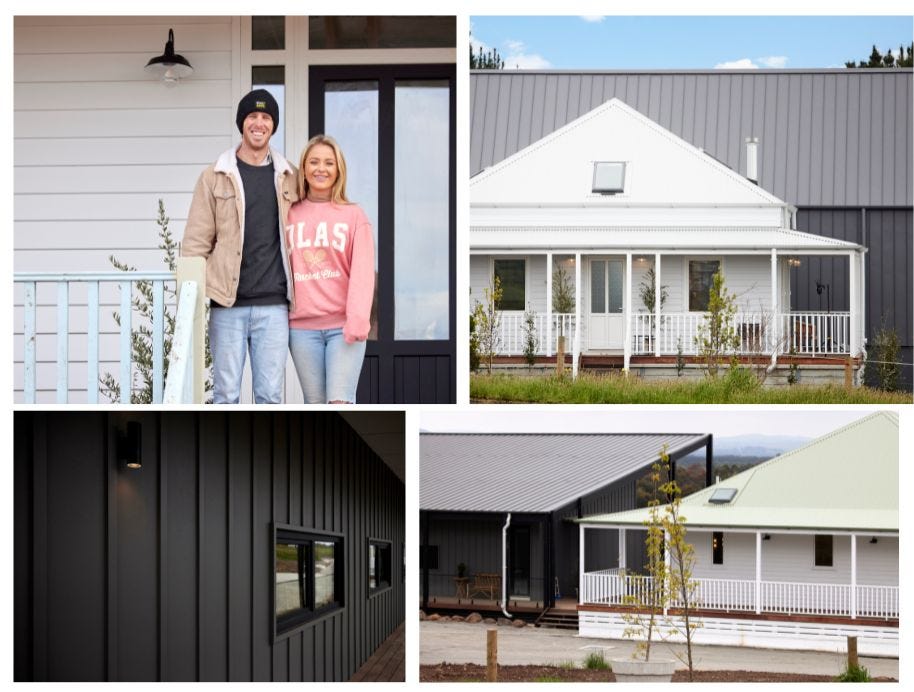 Jenny and Dylan created a unique facade on The Block 2022, by using a combination of Board and Batten on their extension, and Linea™ Weatherboard on the existing house.
The Board and Batten look, as seen on House 4 of The Block in 2022 and 2023 is a trending design choice for homeowners seeking to enhance their home's exterior.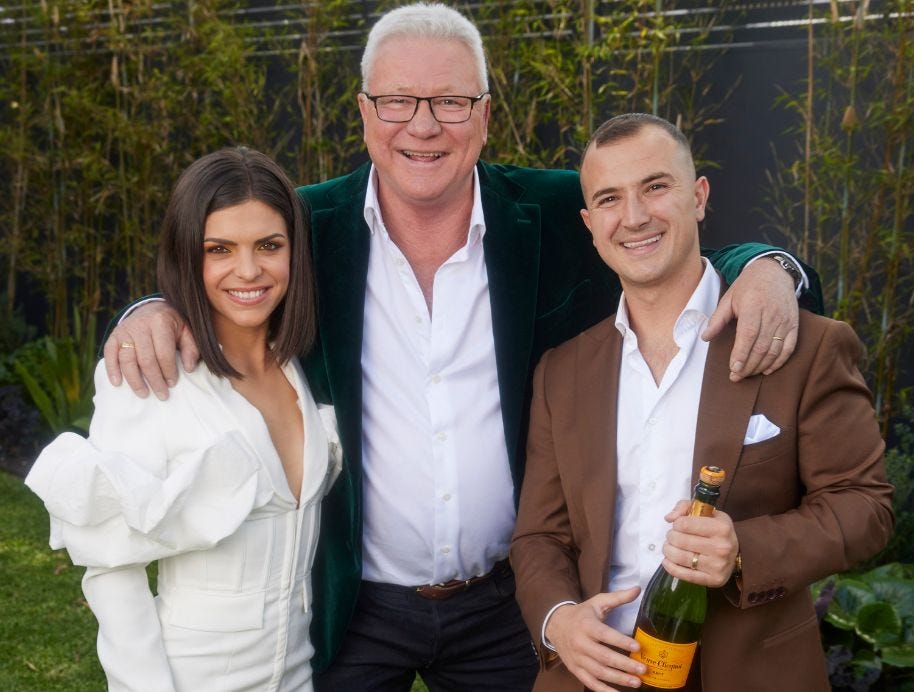 Scott Cam pictured here with Block Winners of 2023 Steph and Gian, Steph thought about every single detail in this house, and knew from the beginning House 4 had the best facade on The Block thanks to the board and batten facade Julian Brenchley had created.
Achieving this classic style with James Hardie cladding products is a smart and durable choice that can significantly elevate your home's aesthetic. If you're considering a renovation or simply want to stay on top of the latest design trends, the Board and Batten look with James Hardie is a fantastic option that can make your home truly stand out on the street for all of the right reasons!
Want to know what your design style is? Take the quiz here.