Brooke Rudzis of Sunday Minx explores the trend of the Monochrome Bathroom...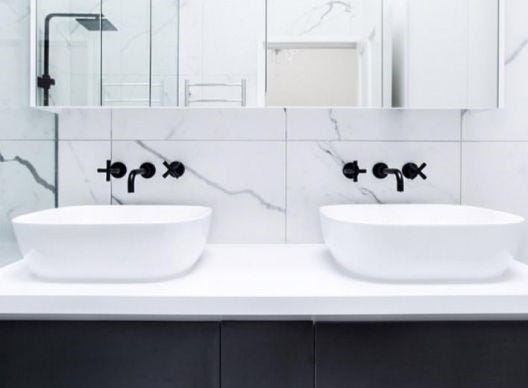 Traditionally bathrooms are bright and white! Yet darker tones and dramatic, contrasting hero features are becoming increasingly popular. We explore the rising trend of the Monochrome Bathroom and the Top 3 things to consider when choosing this statement style.
1. Keep It Simple
Less is almost always more. The skill to achieving a beautifully chic, monochrome bathroom is finding balance between dark and light. Consider the impact of major pieces in the space and offset with contrasting hues.
Keep lines simplistic and elegant.
2. Texture
A simple colour palette can be enhanced with exquisite tiles. Think about shape, texture, size and pattern. A small, carefully selected, black tiled wall can create a stunning feature without overpowering the entire room. Alternatively black grout is a popular option, especially against white subway tiles.
3. Hero Pieces
Black bathroom hardware and free-standing baths were thought to be a passing fad, however their powerful yet elegant appeal has made critics reconsider.
Black taps and showerheads are a clever and contemporary way to introduce a dramatic style to your space without creating a dark and moody den. Complimented with white on white tiles and basin, you have a winning combination.
If you love the monochrome look yet aren't ready to commit to a long term bathroom renovation, perhaps the Sunday Minx SHADOW Bath Towel Collection is the perfect solution! Featuring a striking combination of black, white, charcoal and dove grey in modern geometric patterns - SHADOW will be a handsome addition to your bathroom space!

To shop Sunday Minx's range of amazing towels click here.
To give your bathroom a refresh check out our range of beautiful bathroom products here.
Enjoyed this blog? Get our blogs delivered straight to your inbox by subscribing here. And if you sign up today we'll give you $20 off your next order.