Why the TradeMutt guys decided it was time to talk about a tough subject

When chippies Dan Allen and Ed Ross first met in 2014, Dan was three years out of his trade and Ed was just starting.
As the two fresh arrivals on a building site, they soon formed a friendship based on getting the job done and having a bit of fun while they were at it.
Before long, Ed was Dan's new apprentice and like most workmates, they filled in the hours dreaming of plans that might help make their work easier or at least a bit more interesting, including one idea for some workwear that might get them out of the typical khaki and hi-vis that was their industry's unofficial uniform.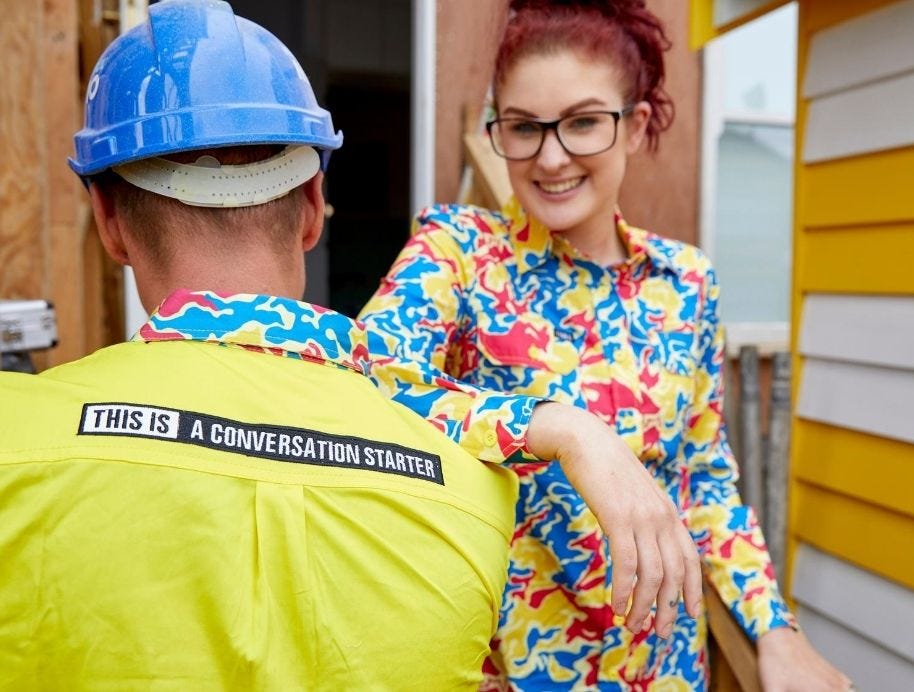 Jimmy and Tam standing out from the crowd wearing TradeMutt on The Block.

It was just a pipe-dream that probably wouldn't have gone anywhere Dan says, until one day in 2015 something happened that made them rethink the idea.
"Towards the end of the year I lost one of my best mates to suicide," says Dan.
"That was a real eye opener for me and in the weeks, months and years after that I realised how much of a lack of understanding there was about mental health in this country particularly with blokes in the construction industry.
"Mental health is a really heavy subject in our industry, something blokes don't often talk about and we thought: 'Wow, wouldn't it be good if we could take a bit of a different approach to chill out the subject and make it a bit more approachable?'.
Taking their original idea of more colourful clothing, the pair came up with a plan to create workwear that was something different, something impossible to ignore and use that as an opportunity for men to start a conversation in the workplace.
And TradeMutt was born.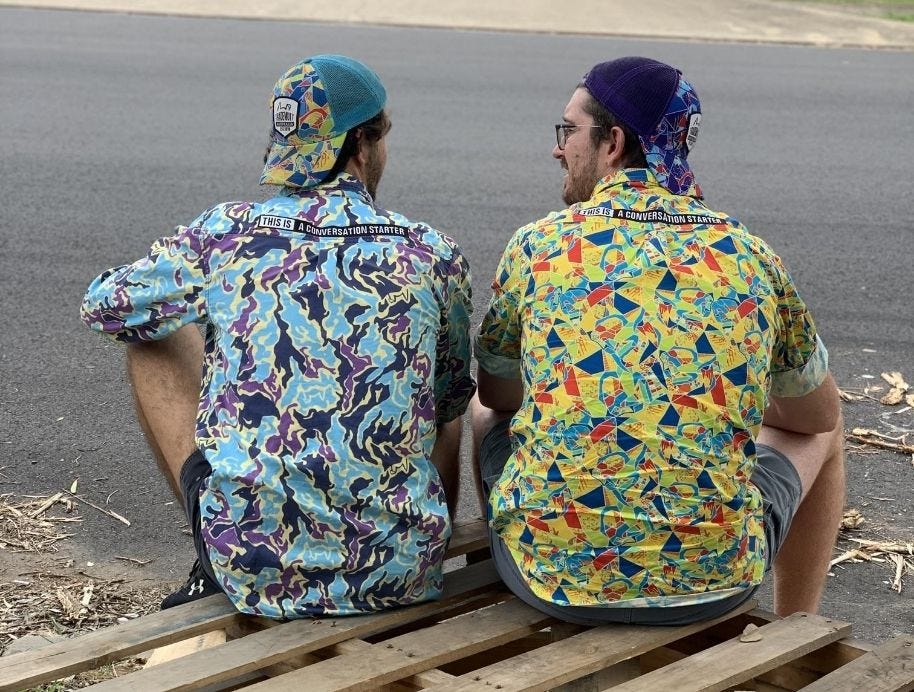 Ed and Dan came up with a plan to create workwear that was something different, something impossible to ignore.

Their range of shirts, hats, hoodies and more are a riot of bright colours and patterns with "This Is A Conversation Starter" embroidered on the back. They're hard-wearing, comfortable and fill the needs of PPE requirements but more importantly, they are absolutely guaranteed to get the question: "What's with the shirt?".
And that's exactly the point, says Dan.
"The shirts are very disarming," Dan says. "They disarm the person wearing them, but they also disarm the people who come up and ask about them and when it comes to mental health one thing that people really need to do is let their guard down and drop that tough-guy façade.
"That level of relationship between two complete strangers can build just by taking a conversation slightly deeper than they usual: 'Hello mate how's it going?' conversation is incredible.
"Their bond and their connection is immediately far more genuine and that's a massive part of this for us."
By establishing bonds, the pair hope anyone needing to talk when they're struggling with mental health issues will have a wider circle they can turn to.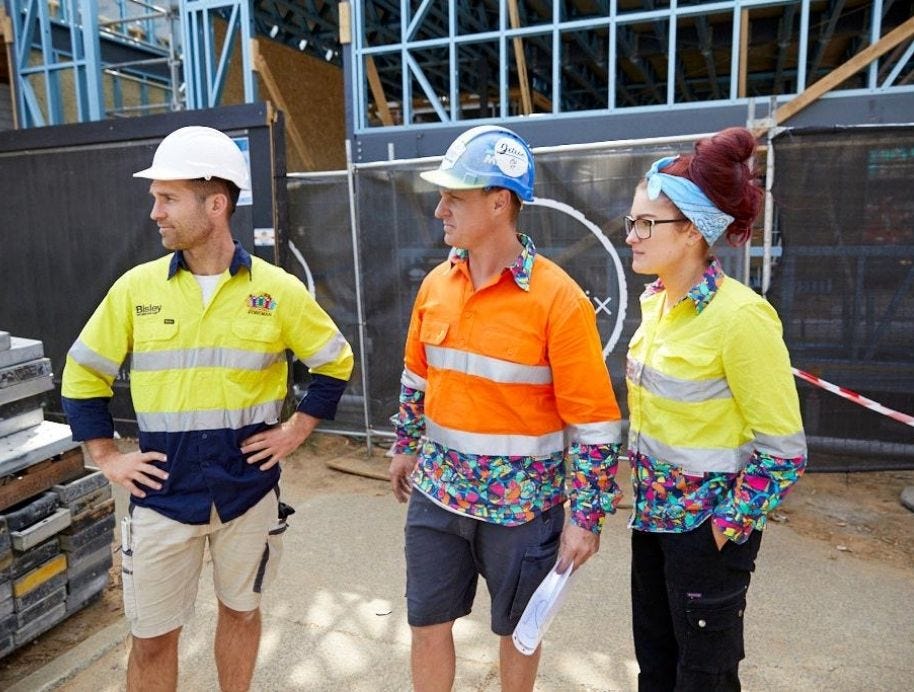 Foreman Dan needs to get himself some TradeMutt!

And if they need to talk to a professional, TradeMutt can help there too.
"We knew we had a major responsibility to be able to follow through when somebody needed more help than just peer-to-peer chat", Ed says, "so we've started the This Is A Conversation Starter Foundation, or TIACS, which is a text and call service direct to a clinical psychologist currently running between the hours of 9am and 5pm Monday to Friday.
"There are so many people out there hurting and not really knowing where to go, so this gives people access to private sector mental health professionals for nothing. And we've been overwhelmed with the response to that."
Queensland Block contestant Jimmy knows first-hand how strong the response can be.
He wore a TradeMutt shirt on The Block site and was immediately asked what it was all about.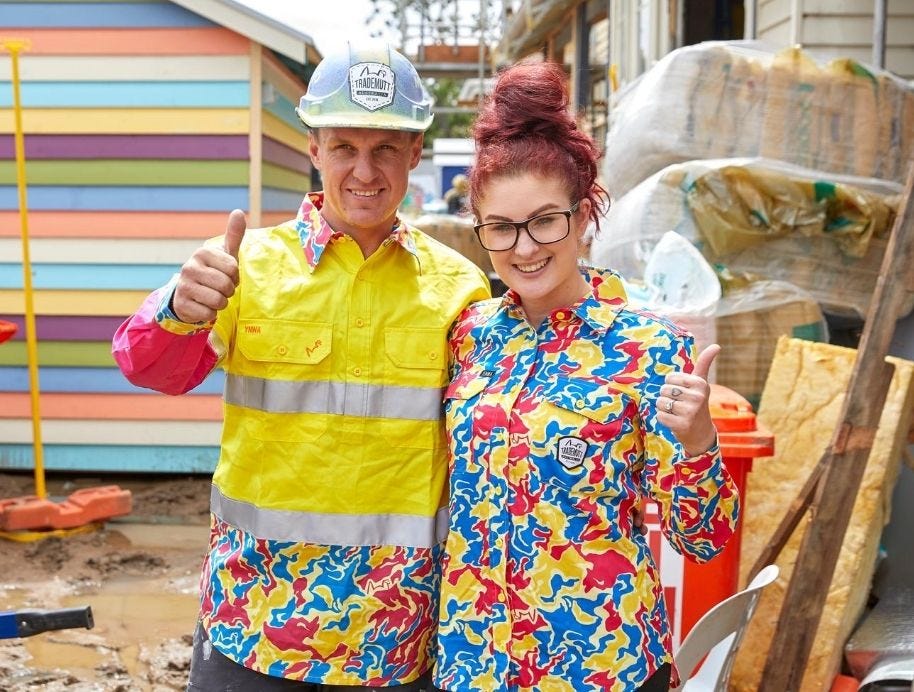 Jimmy wore a TradeMutt shirt on The Block site and was immediately asked what it was all about.
"Straight away people were asking what it was about," Jimmy says.
"And I was happy to tell them. By putting on the shirt you're saying OK, this is a safe space to talk about things you might not otherwise bring up. And if that helps someone who's doing it a bit tough, then that's an awesome thing to do!"
Dan and Ed admit mental health is "a very complex space", but hope that by building links in the workplace, they can help.
"We now believe that we're far more than just a couple of chippies who are making work shirts," Dan says.
"Everyone has a story, everyone has mental health. The ability to talk and to give people a reason to talk, we know how powerful that is.
"We have a large responsibility to keep this work going based on the trust and the goodwill that we have built with our community to do right by them and also by the rest of Australia.
"We want to see a massive change."
One loud shirt at a time.
Shop TradeMutt HERE