We've got all the tips and tricks you need to make your laundry a space you'll actually want to spend time in
It's an oft-ignored room in the house - a spot to dump unironed clothes, store household bric a brac or stick the dog when you go out for the day. But with a bit of pre-planning and design know-how, you can turn your laundry into an oasis of calm functionality. Read on to find out how you can design the perfect laundry space.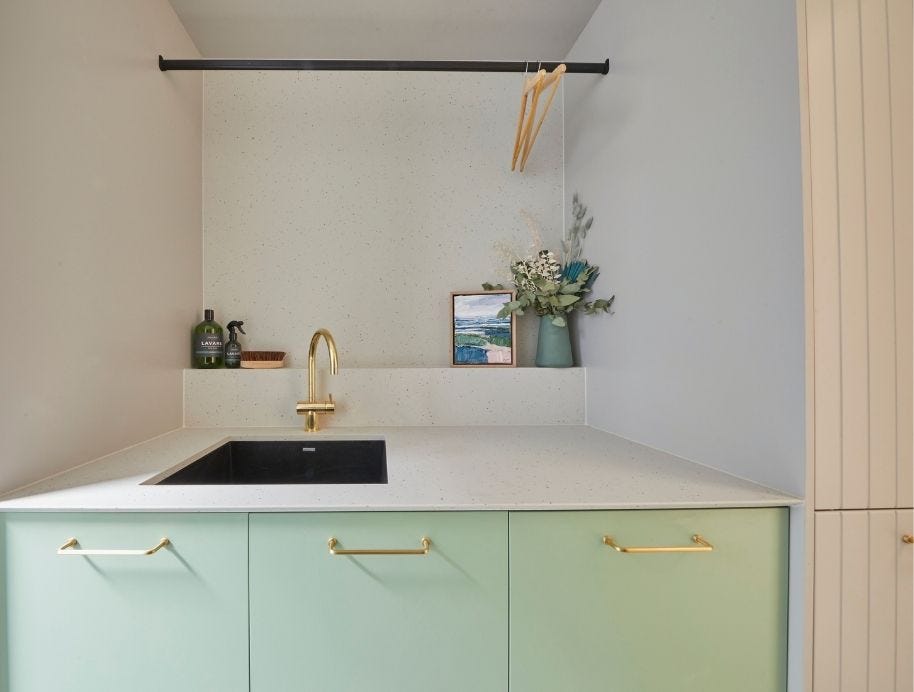 Jimmy and Tam created an exceptional winning laundry in the Block, 2020.

12 Tips To Design Your Dream Laundry

1. Your first consideration should be laundry functionality
We can't stress this enough - there's no use having a good looking laundry if it doesn't actually function the way you want it to. It's important to consider just how you use your laundry - and plan accordingly. "Functionality needs to be at the centre of your design plan," says Block judge, Neale Whitaker. "Aesthetics are important, but the purpose is the primary consideration. Nobody says it shouldn't look good, but the laundry is a hardworking room."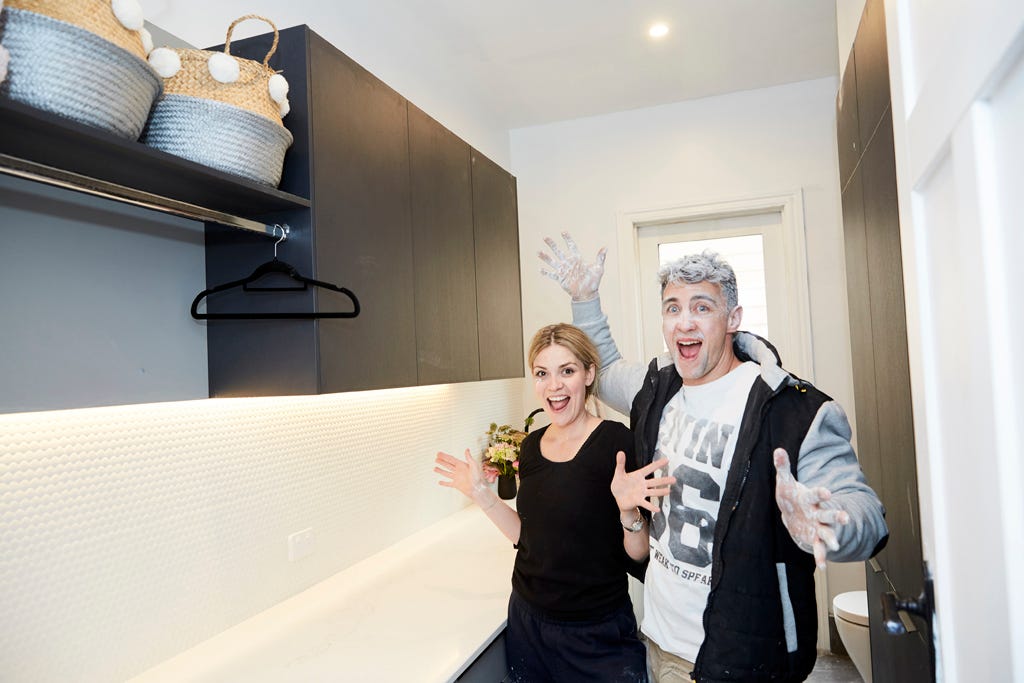 Hannah and Clint combined glamour and functionality - with storage for miles! They also included custom spaces for hanging and a spot for storing cleaning materials.

2. Plan your laundry design – Then plan again!
Yep, it might be boring and tedious, but make sure you spend LOTS of time working on your floor plan for this space. You need to make sure your laundry has enough room for a multitude of must-haves, including a washer and dryer, a sink, countertop space, storage and laundry baskets. You also need to make sure you have room to move and work. Plan everything out before purchasing inclusions - you can thank us later.



Deb and Andy's winning laundry space which Shaynna adored with its storage and rattan touches.


3. Choose your laundry room appliances first
Or at least have a good idea of the dimensions of the products you might like to purchase, or that you already own - benchtops can be built around your appliances and sink. You need to make sure your bench is also deep enough - this is usually a minimum of 650mm, and you also need to consider whether you will be using a top-loader or front-loader washing machine. Knowing which way your appliance doors open is also a must - this will dictate where you place your machines.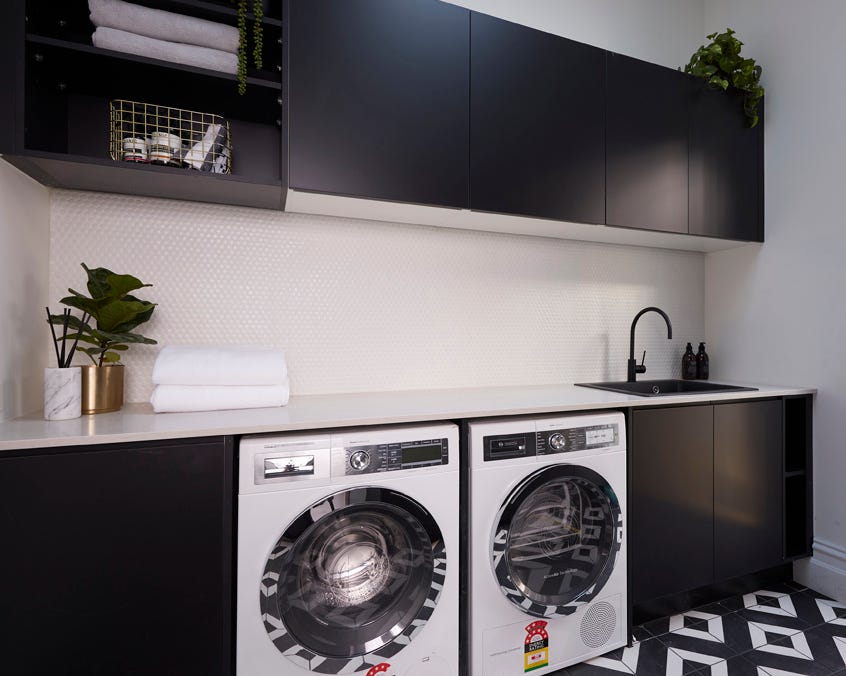 Ronnie and Georgia created an impressive laundry, complete with dark cabinetry and a bench deep enough for their appliances.

4. Don't forget a spot for in your laundry for mops and brooms!
"Maximise cabinetry as much as possible. Consider tall cupboards to store items such as brooms and mops," says Darren Palmer. And he's right - functional storage in laundries is an absolute must. You'll need to include room for everything from cleaning products and pet supplies to dirty washing and that tiresome ironing board. A combination of cupboards, overhead storage and drawers work well in this space. If budget is a concern, think about using open storage - just make sure you keep your things neat.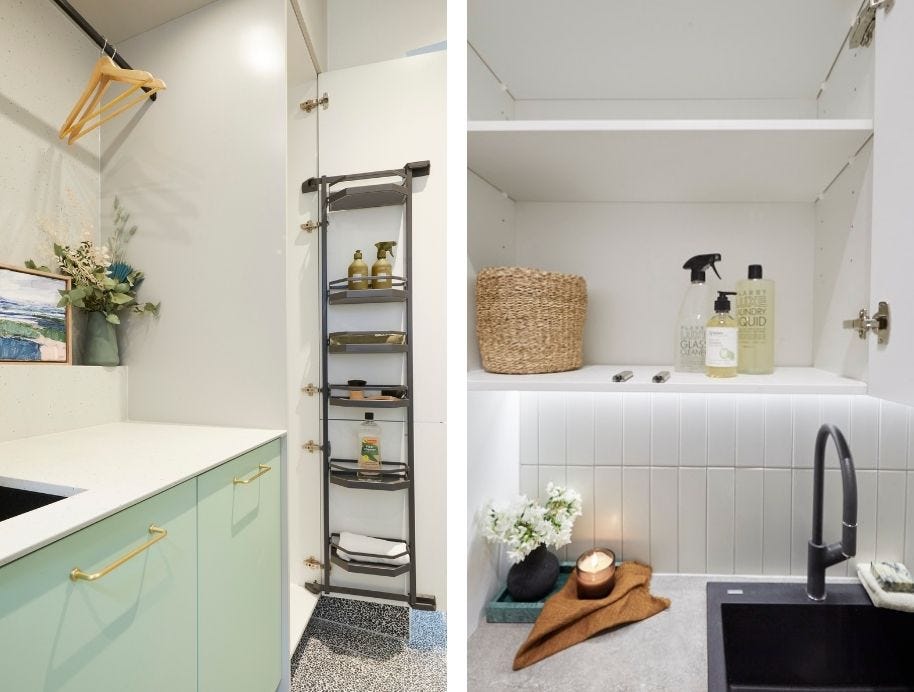 Functional storage in laundries is an absolute must.


5. The laundry is a good spot to be thrifty
The laundry is a good area for reigning in the budget. "Even just including open shelving instead of built-in cabinets is a good way to save some cash," says The Block Glasshouse's Carlene Duffy. You might also want to consider using laminates over expensive marble. "They've come a long way in recent years, and you can achieve marble or timber looks for a fraction of the price," says Darren. Regardless of which tops you use, just make sure your wet space countertop has a non-porous surface - this is a must.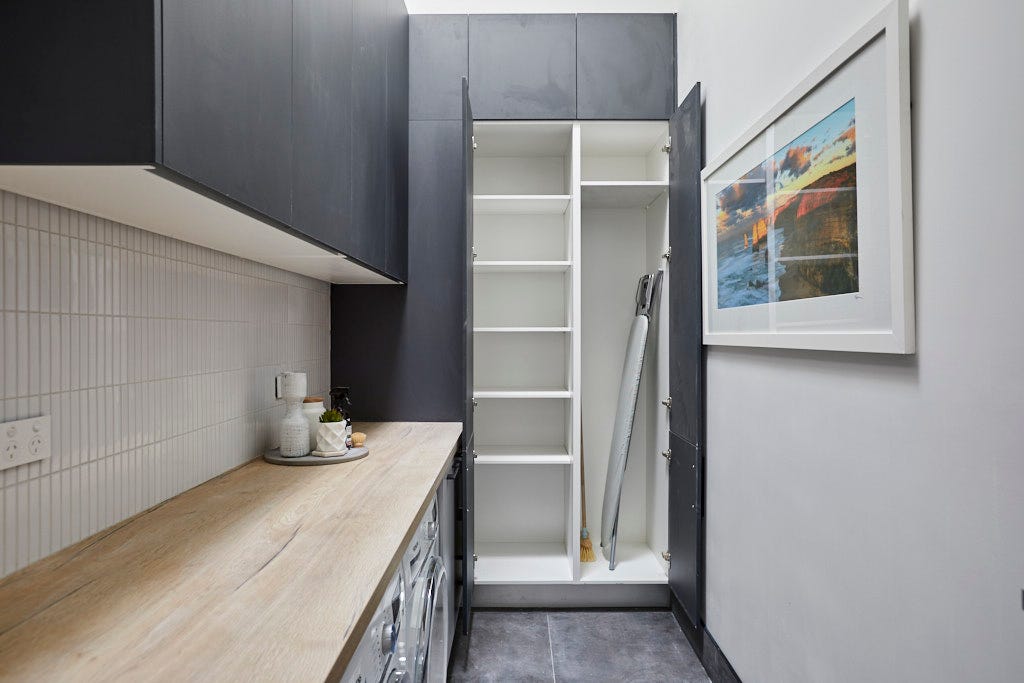 Bianca and Carla's laundry space, complete with timber benchtops and sky-high cabinetry - to store those pesky brooms and mops!

6. To conceal or not to conceal your laundry appliances?
Concealed appliances are all the rage across Europe - the Europeans actually love to integrate their laundries into their kitchen areas, hiding washers and dryers behind doors. This is a good option if your room is being used for dual purpose - who wants to look at ugly big washers anyway? Just be mindful that this will impact significantly on your budget if you choose to hide things away.

7. Don't forget your laundry exhaust fan
Having a well-ventilated laundry space is an absolute must. If you're designing from scratch, think about positioning yours adjacent to an outdoor space - that way you can leave the door propped open if you're home, providing fresh air to the room which will help with drying anything left to hang indoors. Ideally, you'll also want to position your outdoor line near the laundry door, thus minimising travel time (we're all about the short cuts!). Regardless of access, make sure you include good exhaust fans into your designs - excess moisture in laundries can cause significant damage that's costly to repair, not to mention the health issues that arise from damp and mould. Get that breeze a-flowing!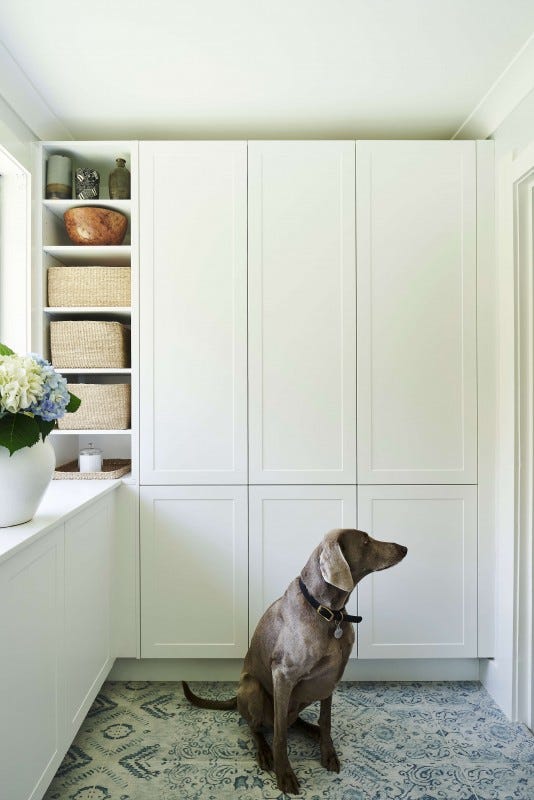 Inside Neale Whitaker's South Coast home where he designed his washer and dryer to be hidden within the cabinetry on one end of the laundry, while the other end features plenty of storage for linen. (Photographer: John Paul Urizar)

8. Opt for a neutral palette
"Your laundry needs longevity and durability so neutral palettes are generally the best option," says Neale Whitaker. And Darren agrees although he's all for adding bold statements to plain base cabinetry. "Don't be afraid to be bold with your design choices. You can create any number of looks if you start with a simple grey or white cabinetry as your base – then accessorise creatively." If budget is a concern, opt for cheap pre-made white cabinetry, and perhaps splash out with a statement matte black sink and tapware, or a marble splash-back. Trust us - no one will ever know.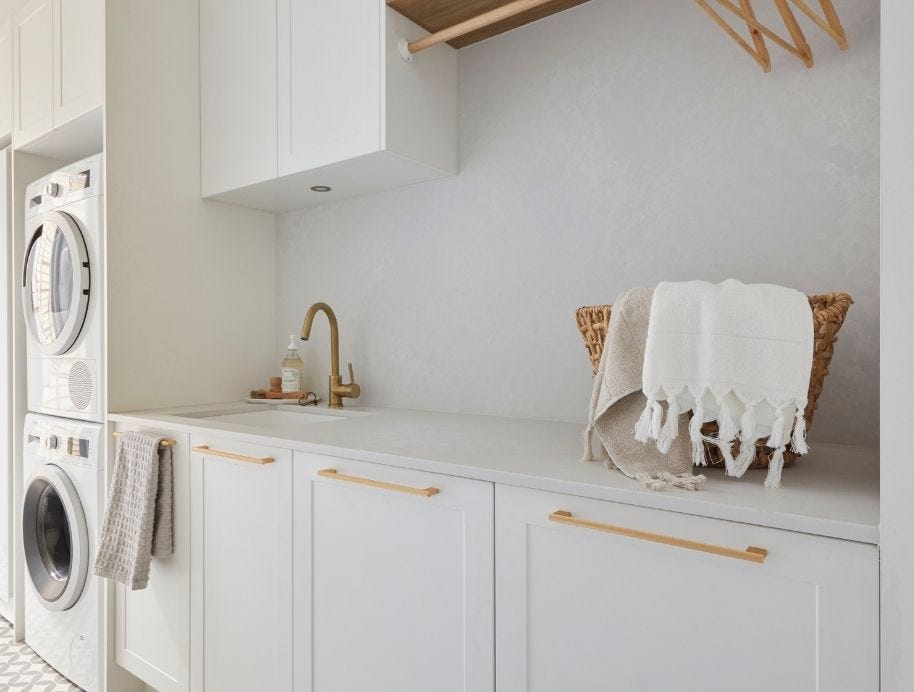 Luke and Jasmin opted for a neutral palette in their 2020 Block laundry.

9. Include a laundry bench for folding clothes
Above the washer/dryer is ideal - that way you can simply remove your clothes, and start fluffing and folding accordingly! If you want to get super organised, create an open space in your cabinetry for every member of the family to have their own designated spot, and have them collect their freshly ironed or folded clothes. Let the onus be on THEM to put their things away. Although be warned, this may backfire, and you may end up with a laundry that resembles a walk-in robe!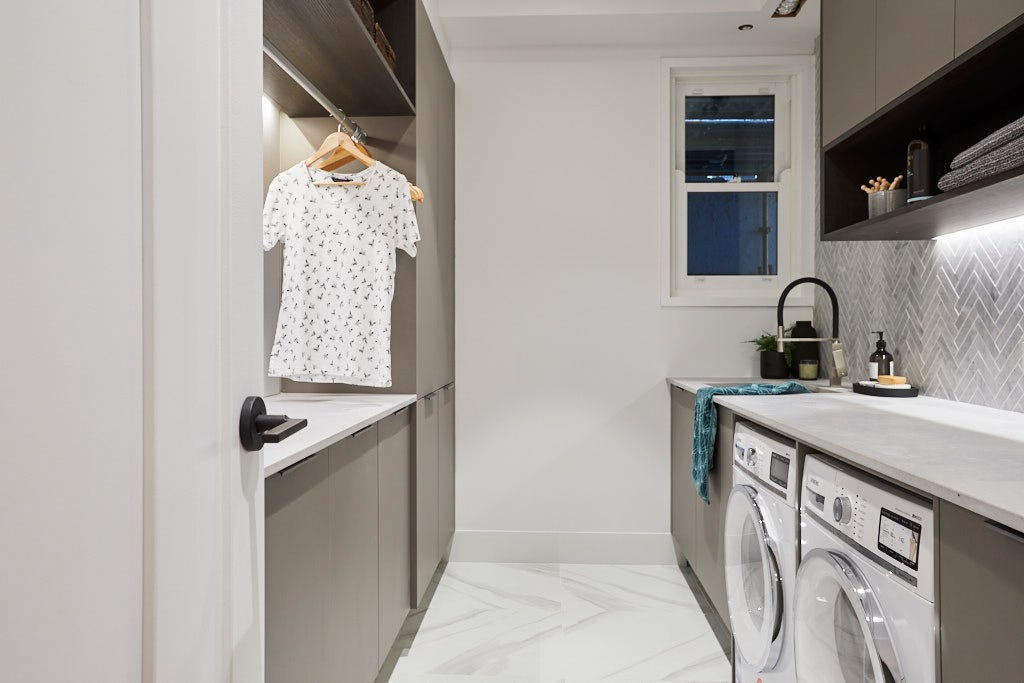 Above the washer/dryer is an ideal spot for bench space- that way you can simply remove your clothes, and start fluffing and folding accordingly. Not to mention the splashback tiles Kerrie and Spence choose are just spectacular!


10. Got pets? Don't forget them in your laundry plans!
If space allows, consider including dedicated spaces for your pets in your laundry design. This might mean a spot for their bed or a designated place where they eat (or poop, in the case of a cat who uses a litter tray). If you use the laundry as a place for your pet to chill while you're out, think about making it as comfy as possible for them, with outside access if possible via an in-built dog or cat door.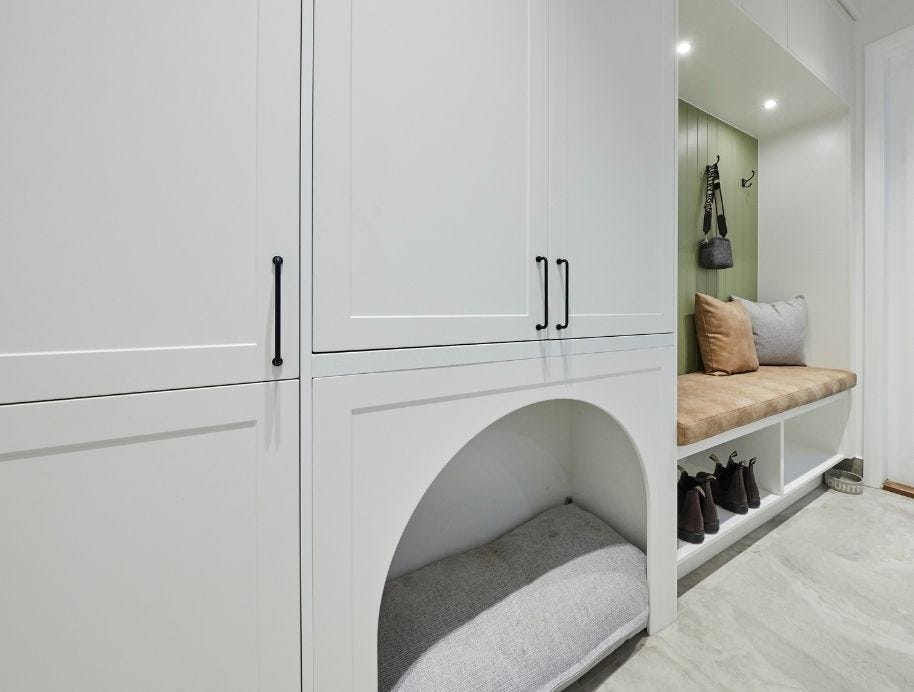 Sarah and George included a built-in dog bed in their Block laundry and mudroom.


11. Include a rod for hanging clothes in the laundry
This is a game-changer, especially in places like Melbourne where the weather can be more than a little inclement. Kara (The Block: Fans vs Faves) is a particular fan of including rails for indoor hanging: "[Remember to include] lots of room for hanging shirts that have just been ironed or don't need to be ironed," she says. "We won't design a laundry now without some hanging space because it's been so handy."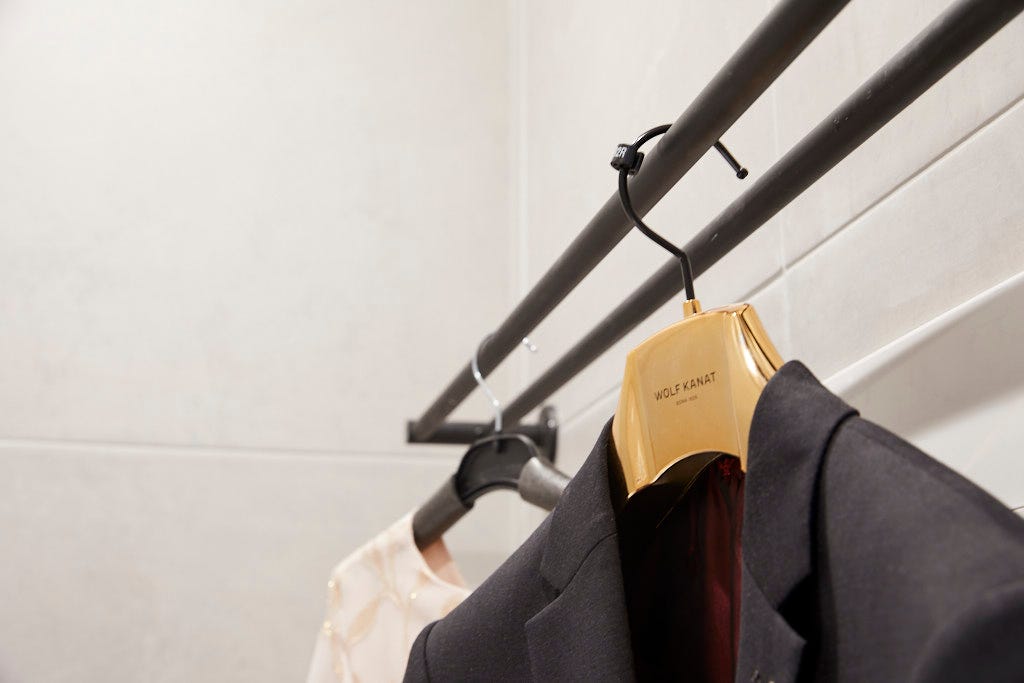 Ensure you include a rod for hanging clothes - this is a game-changer!

12. Laundry lighting is important
Task lighting is perfect for including in laundry spaces that might be tucked away in bathrooms. Having lighting above the sink/shelf will mean you can always see what you are doing, even if your laundry is hidden in a cupboard someplace else. If you can, try to make your laundry as light and bright as possible - this will help with drying if you plan to hang your clothes - and think about placing your hanging area next to a source of natural light.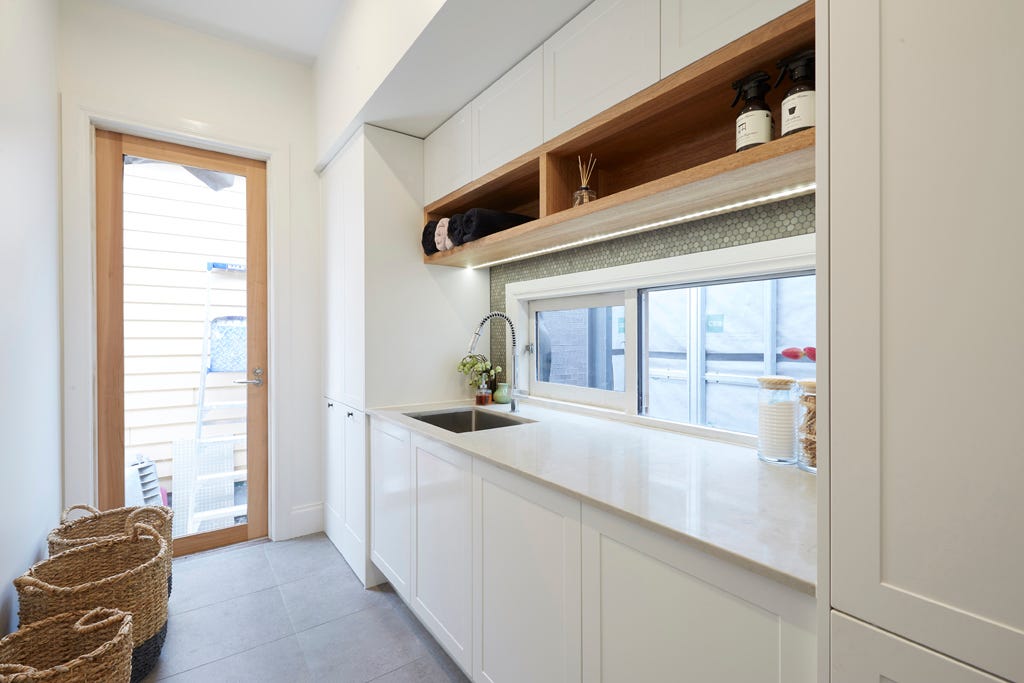 Josh and Elyse were able to create a laundry space filled with lots of natural bright light.

Looking for an easy way to transform your laundry? The Block Shop has a great range of Laundry Accessories and more HERE