Ronnie and Georgia scored the first '10' of the competition, for their beautifully styled, "whimsical" children's bedroom.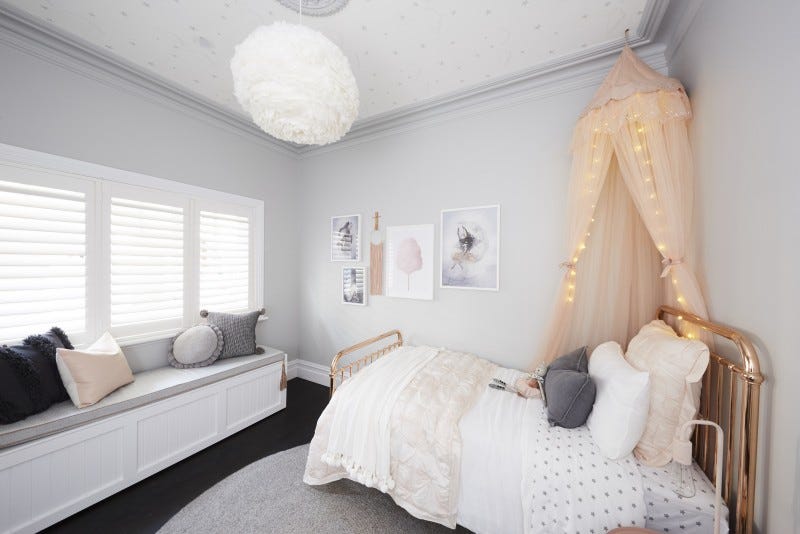 Needless to say, the couple were elated - especially as it was their third win of the season.
"I think I've just figured out the formula. You don't have to go big. You just have to do something beautiful," says Georgia.
A big part of the reason they did so well was the inclusion of beautiful cloud wallpaper, placed on the ceiling to give the illusion of sky.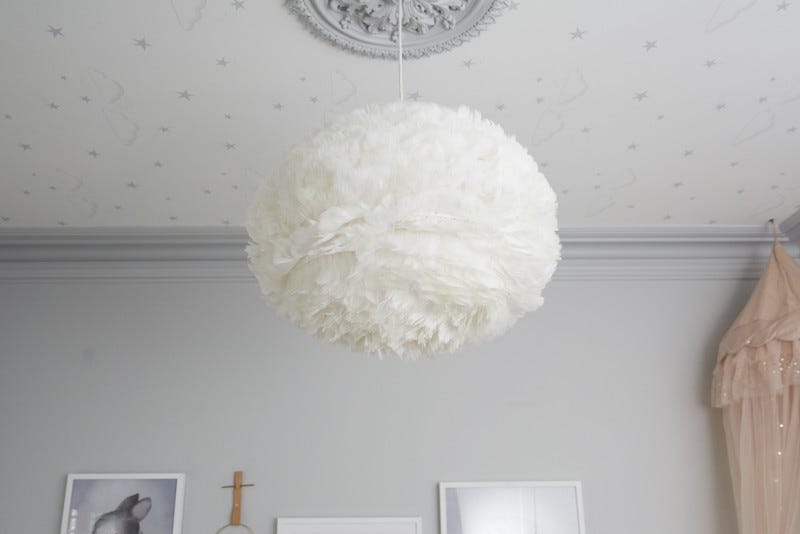 "When [our daughter] Charlotte was born, I was thinking of those ideas," says Georgia of their decision to include the sweet little detail. "I saw something similar on Pinterest all those years ago, and remembered.
"I had to get it in from the UK, but it got here in three days, and I think it looks great."
Georgia opted for a softly girlish room, including a stunning gold bed from Incy Interiors, Mrs Mighetto 'The End of the Forest' artwork, a beautiful Vita Copenhagen Eos Feather Pendant Light, and a sweet 'ta da' canopy over the bed.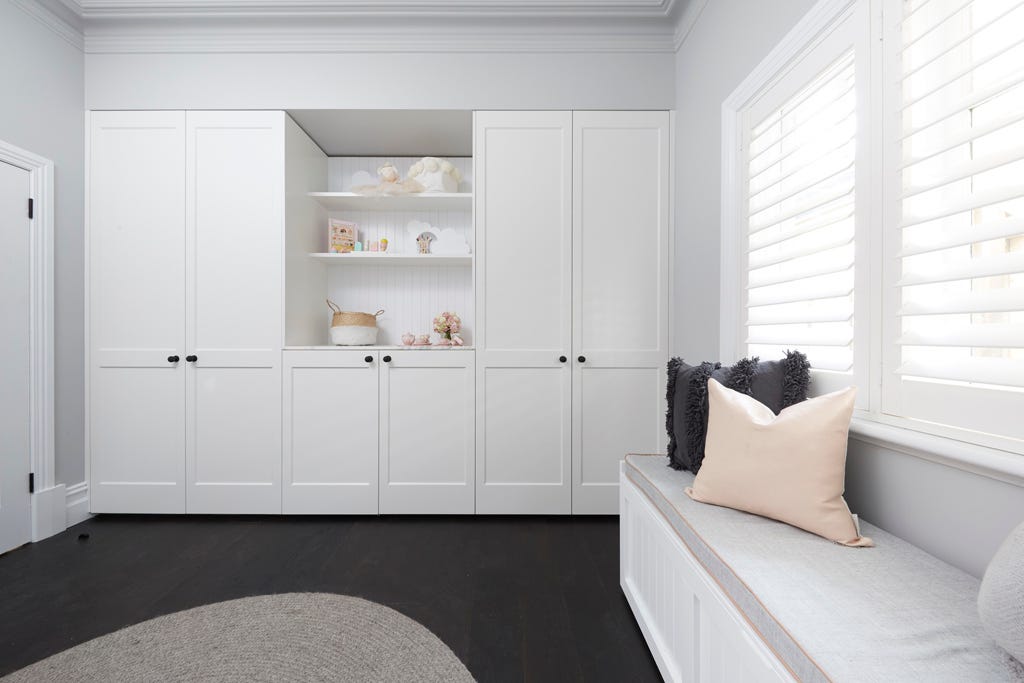 The judges unanimously loved it - with Neale awarding the couple a ten for their efforts and Shaynna saying it was one of the best children's bedrooms she had ever seen on The Block.
"They have thought of everything," she said. "Functionality, they've gone traditional, but also worked with a modern palette.
"The children that come in here will have memories for the rest of their lives."
To shop Ronnie & Georgia's winning style click here. To read more about Ronnie & Georgia click here.
ELSEWHERE ON THE BLOCK:

This week's runners up were Sarah and Jason, who presented a gorgeously understated "Into The Wild" children's bedroom, complete with beautiful zebra wallpaper from Eurowalls.
Staying with the African animal theme, they also included a hilariously whimsical giant gold rhino, matching rhino bookends, and a fun, framed animal jigsaw.
"It's got a lot of versatility to it," Shaynna said, pointing out that the addition of the beautiful pink velvet chair made it non-age specific.
Darren agreed: "It's got a sense of whimsy without being childish," he said.
SaveSave
SaveSave
SaveSave
SaveSave
SaveSave

They're young at heart, and this year's 'big kid' competitors - no wonder Sticks and Wombat pulled off such a fantastic children's room. Neale particularly loved it, calling it "the stuff of kid's dreams."
The standout feature in their fun space, was a climbing wall, erected from floor to ceiling - and Neale couldn't wait to try it out. The wall - a hit with all three judges - worked in beautifully with their gorgeous double-decker bunk bed, custom made with inbuilt lighting. Artwork was done by For Me By Dee, who also provided the beautiful native animal pillow cases, which worked well with the striped bed linen.
The only thing that let them down was their badly hung wallpaper, but other than that, the judges all loved the proportions of their unique space.
SaveSave
SaveSave
SaveSave
SaveSave
SaveSave

Despite winning this week's Domain prize for their decision to include a second mezzanine level, Josh and Elyse only managed to come in at third place for their understated space.
This was mostly due to their decision not to include heritage features, and to style the room for an older child, making it as non-age specific as possible.
"We were going for a rustic, surf feel," says Elyse, who chose to include a stunning large-format surf photograph from fellow contestant, Sticks.
This worked well with the leather bedhead, and gorgeous built-in joinery, all adding up to a "mini apartment" feel, which Neale especially liked.
"Kids love to feel as though they have their own space," he sad.
Save