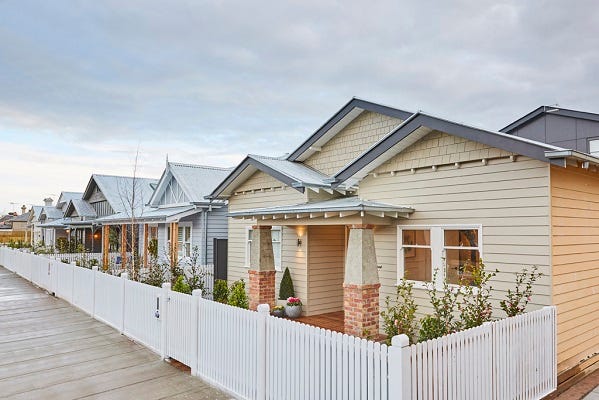 Judge Neale Whitaker admits he's been blown away by the overall standard of the houses this year.
"I have been judging on the Block since 2010. So I am into my seventh year and eleventh season," he says. "Every series grows on the previous one, but this one is, without doubt, the most ambitious series yet."
A fan of heritage renovations, Neale says he's been particularly excited by the houses' completed transformations this year.
"I love the fact we have gone back to houses," he says. "I've got nothing against apartments but I think this series has been perfect, I love the fact we have got five houses next door to each other.
"I love the fact the houses have been transported into Elsternwick from other parts of Melbourne, and I love the backstory of the houses themselves. The fact they are 'same-same, but different.'
Although he didn't meet the contestants during filming, Neale says he can appreciate the enormous challenges they have had to overcome each week to present their rooms.
"Darren, Shaynna and I, we don't meet them until considerably late in the season," he explains. "So our impressions of the couples come from their work. All I can say is that I have never seen such a high standard so early on. The standard that they delivered, right from the get-go, has been incredibly high.
"I think it's gold, personally - TV gold," he adds. "But architectural, and renovation gold too.
"I love the fact the show is breathing life into these old houses. That, quite frankly, would otherwise have been demolished."
This is certainly high praise - especially from Neale, who doesn't bandy a compliment around willy-nilly. But as he explains, it's come at a cost.
"Judging has been, probably, the most difficult it has ever been, because the standard is just so high," he explains. "Each week, it's about splitting hairs to find things to fault. Which is a great position to be in."
For Neale, who also has other TV commitments over on Foxtel, where he hosts the new series, Love it or List it, this series has made him more eager than ever to return again for next year's Block.
"I keep coming back, so I must love it," he laughs. "I can honestly say each new series feels like starting again.
"I have never, ever, reached the stage where it feels like 'Groundhog Day', because every series is different.
"There's always that sense of excitement and anticipation when you walk in that door."
See you next year, Neale!
Let's take a look at all of the winning rooms from this season of The Block:
Did you like this blog? Subscribe to our newsletter to be the first to receive news from The Block! Subscribe now to receive $20 off your next order.