We deep dive into the history of this controversial old building
The Gatwick Private Hotel was designed by Harry Raymond Johnson Architect, then City of Saint Kilda councillor for West Ward. It was one of a number of substantial apartment buildings and private hotels constructed in Saint Kilda during the interwar period. It was a three storeyed stuccoed building on three street frontages executed in a restrained Spanish Mission style. The Gatwick was one of the last of the substantial private hotels erected in Saint Kilda in the interwar period to cater for a more upmarket clientele.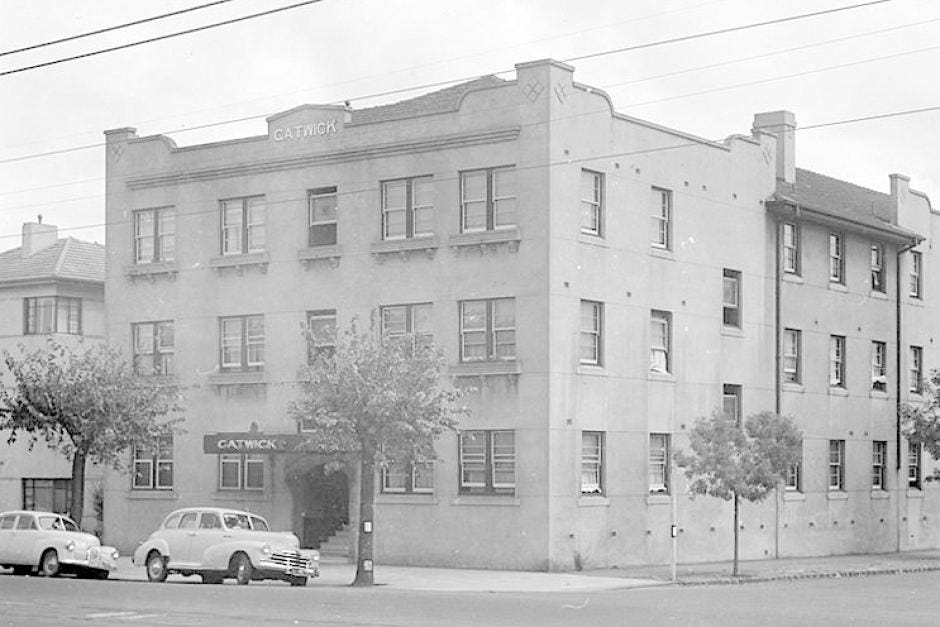 Photo Courtesy State Library of Victoria: Rose Stereograph

When it opened its doors for the first time in 1937 it was advertised as a luxurious private residential hotel with 'lovely wall to wall carpets', large lounges, a card room and three bathrooms on each floor. The bedrooms had private telephones linked directly to the Exchange and 'a hot water service enclosed in a delightful compact cubicle'. There was a noted oriental chef, Alex Julius, and all of this was available for just three guineas per week!

During World War Two, it provided accommodation for the United States armed forces when officers from Base Section Four headquarters at Port Melbourne, under the command of Colonel Galloway, were billeted at The Gatwick and also at The Prince of Wales Hotel in Fitzroy Street, where an officer's club was established.

At this time, both establishments were highly regarded for the facilities they provided, although The Gatwick lacked a dining room, so ladies were entertained at The Prince of Wales where it was said that the freezer was stacked with ice-cream and the pantry full of unprocurable goods.

In 1944 The Gatwick changed hands, and it was owned from 1944 to 1977 by Louis Whyte a well known landowner from the Geelong area. An advertisement in September 1946 describes the hotel as under new management, extensively renovated and refurbished and that this exclusive accommodation was available for a limited number of permanent guests. No tariff is mentioned in the advert.

In the following years it seems that standards at The Gatwick and other guest houses declined. At some time in its history, like many other buildings, it became a short or long term rooming house for people of more limited means rather than a 'gentleman's hotel'.
In 1977 it was purchased by Ronald and Vittoria Carbone as joint proprietors. In 1978 it was one of twelve boarding houses listed in a Saint Kilda accommodation guide. Rooms were advertised at $20 per week or $25 bed and breakfast. The bathrooms were shared but each room had its own vanity basin with hot and cold water and linen blankets were provided. There was no kitchen for tenants. The building was described at this time as 'old but fairly clean' and the owners advised that they would accept 'pensioners, people on unemployment benefits and families.'

After the death of Ronald in 1983, Vittoria's twin daughters Rose and Yvette helped their mother run The Gatwick. Vittoria, or 'Queen Vicky' as she became known, ran the guest house until her death in 1998. She held the view that "everyone deserves to be treated with respect" and, according to her daughter Rose, she ran The Gatwick "more like a home than a hotel". Her daughters continued to run the hotel until its decline lead to its sale to Channel Nine in 2017.

As one of the last boarding houses in St Kilda, The Gatwick was often perceived as the reason for many of the anti social activities happening in and around Fitzroy Street. The last of the long term residents has now been rehoused and The Gatwick is poised for a new incarnation.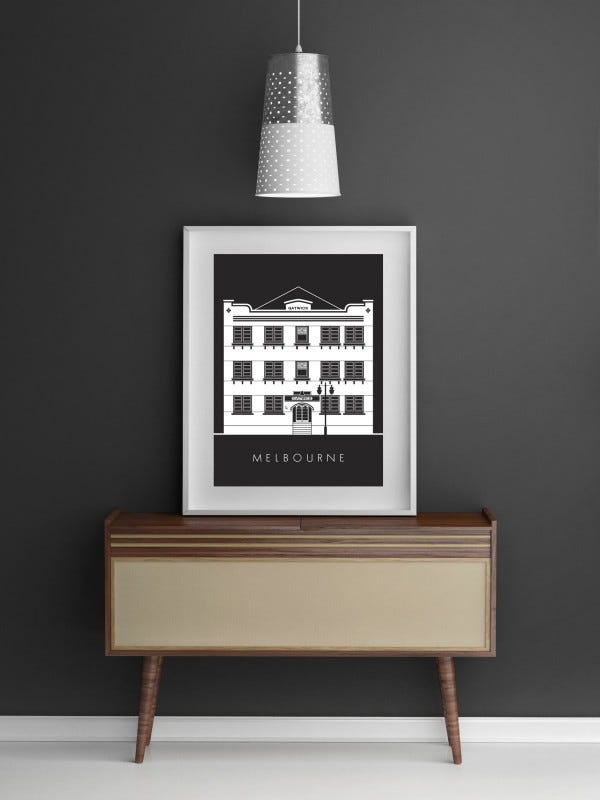 Did you like this blog? Subscribe to our newsletter to be the first to receive news from The Block! Subscribe now to receive $20 off your next order.