They've been one of The Block Shop's favourite suppliers for years now, their furniture and lighting popping up in several seasons of The Block. We chat to Kylie Porter-Wright, who runs the Adelaide-based company with her husband Daniel, about how she makes her successful small business work...

Kylie Porter-Wright, who runs the Adelaide-based Black Mango with her husband Daniel.

Tell us a little about Black Mango and how it came to be?
Black Mango is my Husband Daniel's baby, really - he was ready for a shift in direction within retail and we took the plunge to change from bricks and mortar stores within Adelaide to the online space. It has been a great decision, allowing us to grow together, and be flexible for our family.

What sort of things do you sell?
At first, the focus was on lighting - smaller and easier to deliver - although we soon discovered that our customers were not afraid to order larger pieces online. And with our online support, and the beauty of customer reviews, our customers' confidence grew and grew - and we are now shipping truckloads of large pieces (and still plenty of lamps) all over Australia every day!

What is it like working so closely with your husband, and juggling home/work life?
On the whole, we work really well together. I am the 'creative, flighty' one and he is the operational, 'all about logistics', steady one. Stacey is our Graphic Designer Extraordinaire, and pretty much creates magic from my quick snaps. Julie is our Warehouse Manager, always smiling and picking and packing our customers' orders with such joy and care.



El'ise and Matt's stunning Block studio room featuring the gorgeous Black Mango Emerald Charlotte Chesterfield Bedhead and the stylish Dean Black Glass Table Lamps along with the Brooke Ottoman foot stool in the walk-in robe wardrobe.

How does being an online business differ from being a regular 'bricks and mortar' store?
Being an online business doesn't mean that we can be away from the day-to-day operation every day. However, it can mean taking the laptop to an open space and starting the day at a café outside, or working from home around our children - which, to me, means the world and makes our busy lifestyle do-able and enjoyable. We treasure our team, and it's a pleasure to work together every day, continuing to evolve.

What's New for Black Mango in 2019?
We are now solely operating out of Adelaide, which, as a family, has been a wonderful transition. To now have everything under the same roof - warehouse, office, showroom - creates a wonderful flow, from beginning to end.



The Arlo Coffee Table styled to perfection with the Black Mango Cloud Sofa.

What are your favourite design trends for 2019?
Personally, I am a rattan/cane girl at heart - it ignites my inner boho! I thought this trend may have started to fade this year, although that is certainly not the case. We are super excited to be adding some more rattan pieces to our range soon.

What Block trends are you loving this year?
As much as I am attracted to clean, crisp white walls and neutral colours, the splashes of wallpaper featuring in El'ise and Matt's apartment over the last few weeks has left me really inspired! I love florals, usually displayed in prints around our home, or simply the indoor plants dotted around the place - although I may need to do a wallpaper tutorial and get creative!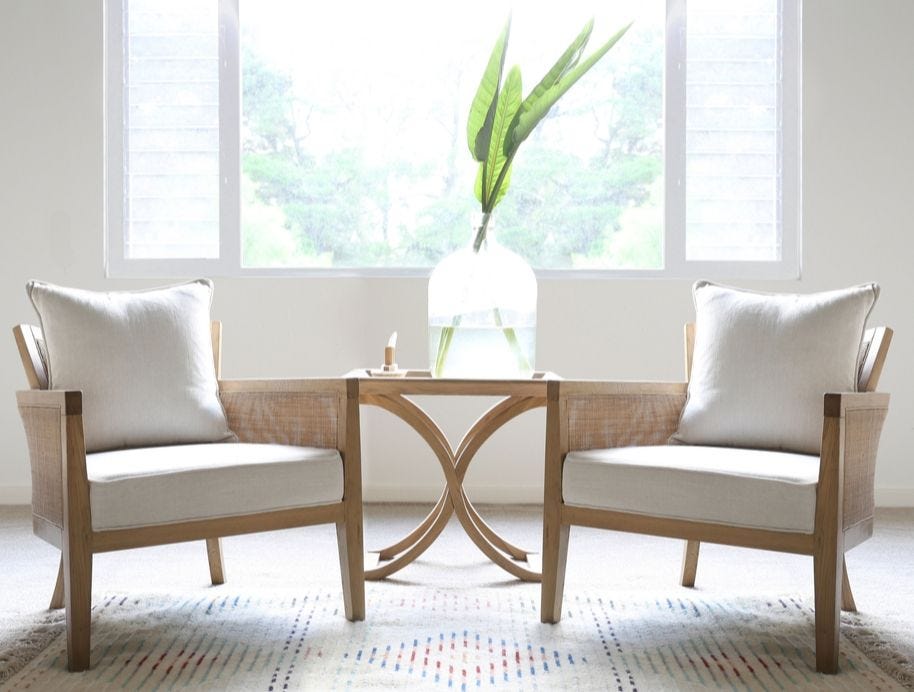 The classic Hampton Club Chair and Evie Side Table "I am rattan/cane girl at heart - it ignites my inner boho!" Kylie tells Insider Style.

Have you had any of your furniture or lighting featured on The Block before?
We have been fortunate enough to have pieces featured on The Block in the past, and this year is no exception - we are super excited! We also sell through The Block Shop. The relationship we have with The Block Shop team is a treasure - we share the same values as retailers, It's all about the customers, being online, and still being personable; being available to assist above and beyond.

"How simple, chic and classic were the Dean Black Glass Table Lamps by Black Mango featured in El'ise and Matt's room? This was definitely my highlight" Darren Palmer tells Insider Style.

Who is your favourite Block contestant for 2019?
Oh! That isn't fair, you can't ask me that! Truly, this year I love certain design aspects from every apartment - they have all taken it to the top shelf, in regards to fit out, thought-out design and beautiful aesthetics. Deb and Andy's neutral palette appeals to me and reflects what we have going on in our own home. El'ise's styling gets me every week - I love how they bring it together for Reveal. And, of course, Mitch and Mark! What can I say? Their forward-thinking is genius. Thankfully, I think I got around those questions without really choosing one…!

Who do you think will win?
Hmmmmmmmmm, Deb and Andy!

Shop Black Mango's extensive range HERE

This is a sponsored post in conjunction with Black Mango

Did you like this blog? Subscribe to our newsletter to be the first to receive news from The Block! Subscribe now to receive $20 off your next order